One of the places I was most excited about visiting on the south coast of Sri Lanka was the highly Instagrammable Coconut Tree Hill Mirissa.
A gorgeous mound that reaches out onto the sea and is covered in swaying tropical palm trees!
It's definitely one of the most Instagrammable spots in Sri Lanka and I'm sure you've already got this place high on your list.
I have to admit, although I could see the hill from afar in Mirissa, I found the entrance of this place a little difficult to locate. Not to mention the walk up here was a little challenging.
In this ultimate guide, I'll give you all the details you need for visiting the famous Coconut Tree Hill and my top tips.
Heading to the south coast of Sri Lanka? See the best places to visit here or my complete Sri Lanka archives here!
How to get to Coconut Tree Hill in Mirissa
As I mentioned before, I actually found the process of finding Coconut Tree Hill a little difficult on my visit. When I got here a few years ago, there weren't as many guides and information about it then! However, it's easier when you know how.
You can easily access coconut hill from Mirissa Beach as it's located on the East side of the strip. You'll see it way before you reach it.
If you're approaching Mirissa beach, you will need to walk a little bit far. You will pass the famous Parrot Rock, then walk over a series of boulders that gets you onto the Secret Beach.
Then, just keep following the coastline around until you reach the pathway for the tree hill. The whole journey will take you around 10-15 minutes on foot from Mirissa beach.
If you're visiting Sri Lanka in the Monsoon season, sometimes beach access may not be possible. But, don't worry. You can also head in from the roadside.
You'll pass Varagalle Point and Bandaramulla temple. Keep heading up the road and you can cut in from the street towards the coast. Then, head on up Coconut Tree Hill.
The journey up to palm tree hill
I'm not going to lie, compared to those little squares on Instagram, the journey here can be quite deceiving.
Of course, the hill looks absolutely amazing in photographs. But, most people only show you photos of the top of the hill. No one really seems to explain the fact that climbing the hill can be a bit of a scrabble.
The Coconut Tree Hill is a mound that's mainly mud and gravel. So, if you're wearing flip flops or sandals like I was (with little grip), you may find that climbing up or down here will be slippy. This is especially important to remember in the rainy season!
On my way back down the hill towards the Secret Beach, I ended up slipping and falling here quite badly. Luckily, I only had a few scratches but they were pretty painful.
Just a little heads up, mind your step on the way up to the hill!
On that note, don't forget about travel insurance. I always book with World Nomads. Click here for a quote.
The best time to visit Coconut Tree Hill Mirissa
As one of the top Instagram spots in Sri Lanka and one of the top things to do in Mirissa, this place gets packed out easily!
Most of the time, people want to visit to get some nice photos. If this is what you want, it's best to visit this location early.
The absolute best time to visit the palm tree hill would be at sunrise as then you get the best lighting and no crowds. But, if you can't face an early morning, visiting any time before 9 am should be fine.
Once it gets to around 10 am, it will be packed for most of the day until nighttime. Locals, tourists, and even wedding photoshoots happen here! Not to mention that people visit to just hang around. So, getting up early for clean shots is crucial.
If you're debating which month to plan your trip to Sri Lanka, I'd definitely avoid October. I visited then and it rained all the time! But, as it was off-season, hotels and flights were cheap.
The best time to visit Sri Lanka would be in December – February in the high season. But, the shoulder months of March – May are also a great time!
What to expect while you're here
Once you've climbed to the top of this amazing hill, you'll see so many palm trees staring back at you!
I would definitely recommend having a look around the hill after you've finished snapping your photos.
The hill juts out onto the coast and, if it's a sunny day, the crystal clear waters are beautiful to admire from here. You could sit and relax a while in between the palms.
The tree hill is open 24 hours a day and the entry is completely FREE! So, it's a great budget activity that you can do at any time on your trip to Sri Lanka. For me, this was definitely a highlight.
My top photography tips
As I mentioned earlier, if you want to take clean photos here I would get up early. This means any time before 9 am. Sunrise is ideal.
For the most effective shot, I found that standing as far back as I could was best. This got the most amount of palm trees inside the shot and looked far better than within the grove.
If you're bringing a tripod to take photos, make sure this is firmly planted in the ground. Or, bring something to weigh it down. It was incredibly windy and exposed on top of the hill and my tripod nearly went over!
I found that due to the wind, I would get a lot of sea spray on my camera. This is something to be mindful of as you don't want splotches on your lens. If you have a protective cover or lens hood, I would use it.
The best place to stay in Mirissa
Knowing that I wanted to take photos of palm tree hill early, I made sure that I stayed at a hotel that was nearby.
I checked in to a gorgeous place right next to the Secret Beach and Coconut Tree Hill called Maison D'hotes Sanda Beach.
The hill was a two-minute walk from the hotel and it meant that I could get up at sunrise and not have to travel very far. I really appreciate my sleep haha.
Not only was the accommodation reasonably priced, but it was also spotless and the family who owned the hotel were so friendly! Everything in the hotel had been imported from Paris (hence the name) and my room was lovely and peaceful in a quiet and safe part of Mirissa.
I would highly recommend it! Click here to book.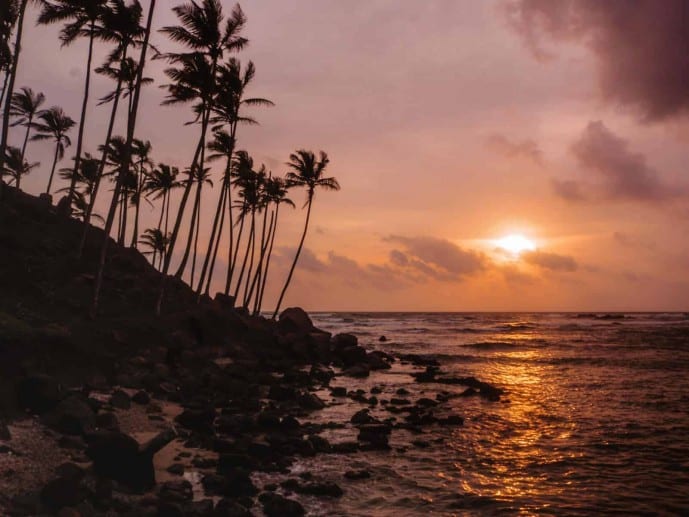 Looking for more places to visit in Mirissa?
Mirissa was one of my favourite places to explore Sri Lanka's south coast. Not only was the beach area pristine, but there were also many things to see and do here!
You could explore the main strip of Mirissa Beach with an amazing range of beach bars to relax in and sip a coconut. Or, head over to Parrot Rock when the tide is out. Click here to see my complete guide.
No visit to Mirissa would be complete without a visit to the famous No. 1 Dewmini Roti Shop. This place has any sort of Roti you could think of! I had an avocado one and it was incredibly delicious. They also do cooking lessons if you're interested.
After your visit to Coconut Tree Hill, you could explore Secret Beach which is an amazing spot to chill out on. I found as a solo female traveller I was bothered far less here!
Click here to read more amazing places to visit in Mirissa
Heading around Sri Lanka? See my travel guides
My ULTIMATE Sri Lanka Bucket List
Instagram vs. reality of the Palm Tree Swing at Dalawella
Top places to visit in Galle Fort
A complete elephant safari guide in Udawalawe
A complete guide to Polonnaruwa
Places to visit in Nuwara Eliya
Like this Coconut Tree Hill Mirissa guide? Save it for later!