One of the most intriguing and mysterious places that I had the pleasure of visiting in Sri Lanka was Polonnaruwa. An important ancient city in Sri Lankan history.
Home to the Sinhalese kings and queens of the old and previous resting place of the tooth relic of Buddha, it's a heritage site full of ancient gems to discover!
If you're taking more of a cultural route on your adventures through the coconut island then you best put this UNESCO world heritage site on your list.
You'll meander through stupas, ancient palaces, step-wells, temples, Buddha statues, coconut pitstops and more.
Here is my quick but insightful Polonnaruwa travel guide with places to visit.
How to reach Polonnaruwa?
Polonnaruwa is located 2 hours away from Sigiriya, around 4 hours from Kandy and is part of the cultural triangle of Sigiriya, Polonnaruwa and Anuradapura.
So, it's definitely worth making your way here from Sigiriya and exploring the wonders of the Lions Rock.
Read more – my top tips for visiting Sigiriya!
Personally, I found the most convenient option of public transport in Sri Lanka to be buses.
Not only were they super cheap but they were frequent and you were never a few hours away from anywhere you wanted to go!
If you're heading here from Sigiriya, buses run regularly to Polonnaruwa from the main town of Dambulla nearby.
From Dambulla, there are many buses heading to Polonnaruwa, Anuradapura, Kandy and even Colombo.
There are trains that head here from Colombo fort. But, you have to stop at Trincomalee first, then you have to head to Gal Oya for Polonnaruwa. It looks like a long journey.
Where to stay in Polonnaruwa?
I stayed in the super cute Thenuja Guest. It was a cheap, clean and conveniently located guest house off of the main area so it was like an oasis from the busy roads.
The owner was SO lovely and was totally cool with me cancelling my reservation for one night as I wanted to travel on to Kandy with some friends!
Bike rental from here was a mere 250 rupees for the WHOLE DAY! That's just over £1.50!
Such a steal and they were really cute vintage bikes with a little basket for your bag or water.
There was also air conditioning which was a lifesaver in the humidity of Polonnaruwa and beer.
Life's always better in heat when there is a cold beer to crack open! Click here to check available dates and rates.
How to get around Polonnaruwa?
Without a doubt, the best way to explore the ancient city of Polonnaruwa is by bicycle.
This way you can get out in the fresh open air, cover a lot of the site and take a tour at your own leisure.
A little known fact about me, I am terrified of cycling!! When I was a little kid, I broke my arm when I fell off my bike (I went over the handlebars) and it took me 10 years to finally get back on the saddle.
But, I'm getting better and better each time and I couldn't believe I actually enjoyed this bike ride through the ancient sites.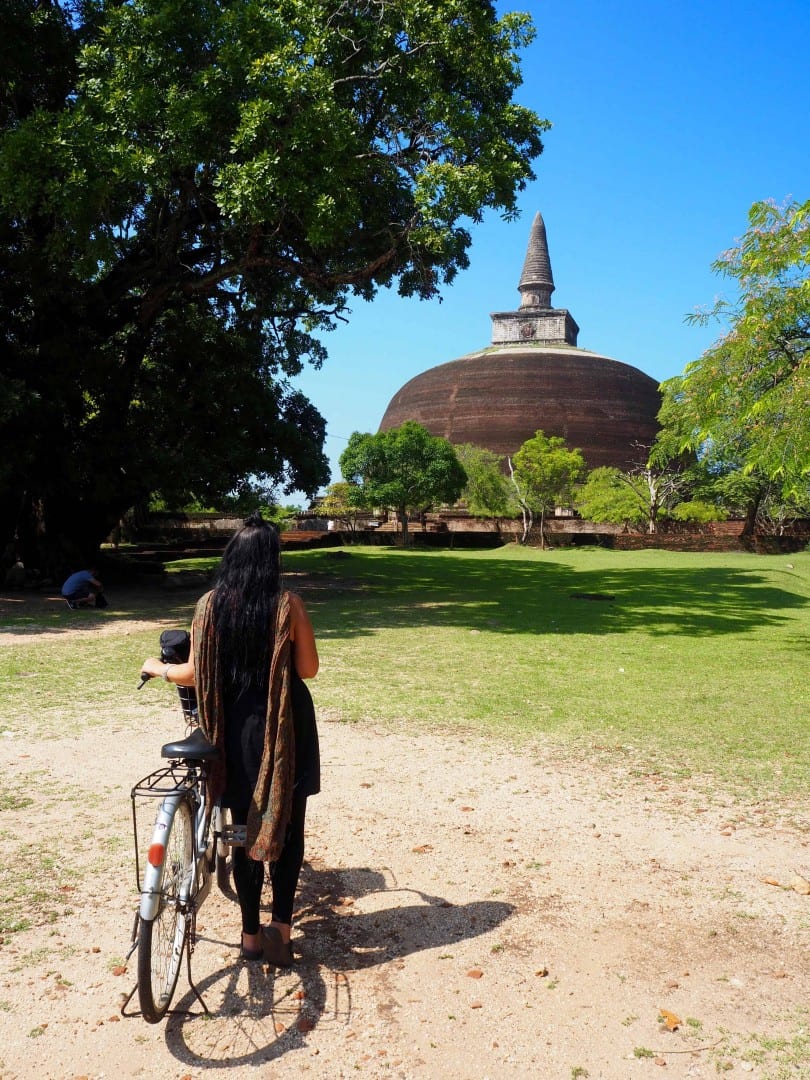 I would say that walking is also a good option, but, you may find there is a lot of ground to cover and one day may not be enough if you're exploring on foot. Plus, it's positively boiling!
So, you may find walking to be exhausting as it's all open with little shade.
Tuk-tuks (3 wheelers) taxis and your own transport can also be driven around the site.
There is a main through road going all the way along and ample parking is available to stop off at the main points of interest.
We saw A LOT of school trips when we were there with their school buses parked all over the place so be warned, this place gets busy!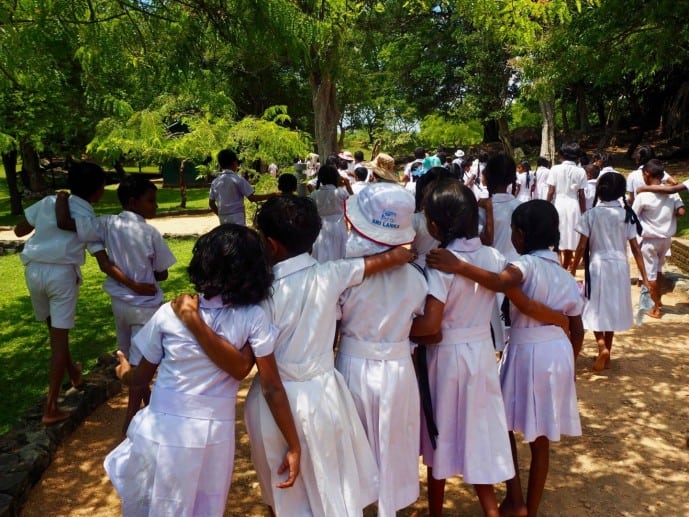 What is the cost of entry to Polonnaruwa
The ticket prices for Polonnaruwa are quite hefty at $25 USD per person. But, it is a UNESCO world heritage site and your contribution goes towards the upkeep of this wonderful place.
The opening times for Polonnaruwa are 7 am – 6.30 pm daily.
Places to visit in Polonnaruwa – you cannot miss these!
Admittedly, I'm a little bit of a history buff. I just find that learning about history is such a great way to understand a country and I love to imagine what it would have been like all those years ago.
What's great about Polonnaruwa was that, although some of the ancient sites are ruins, many of them were still almost fully intact. So, you got a really good picture and a history lesson through the stupas and temples!
I wouldn't necessarily say you need a guide to get around these sites. Most of the points have tourist signs in English to let you know what part of the city it would have been and what it was used for in ancient times.
I'm just going to highlight some of the most important ones here.
I don't want to spoil it for you and I think that you'll have much more fun exploring the hidden gems around here on your own!
1. The sacred quadrangle
One of the most famous pictures of Polonnaruwa comes from the sacred quadrangle or Dalada Maluwa.
This is the heart of the ancient city and used to be home to the sacred tooth of Buddha which now lies in Kandy.
The Vatadage or circular relic house is the most impressive of the buildings here and has Buddha placed in the middle of a perfect circle.
Locals stroll the monument clockwise in prayer.
Beyond this, you can visit the other ruins in the area including the Hatadage, they're all very impressive in their own way.
Top Tips for exploring the sites: Make sure you take off your shoes if instructed when walking around the ancient sites and never get a photo with your back to Buddha!
2. The Citadel
The Citadel area of the site is what's left of the royal residences, home to the Sinhalese kings and queens.
Polonnaruwa holds the remains of Parakramabahu's Palace.
The palace is mostly in ruins today, but I love how a lot of the carvings still remain in the brick and stonework.
A fine example of this is the Council Chamber which has some beautiful carvings of elephants, monkeys and tigers!
Some of the supports for the roof are still there on top. Although they don't support anything now, the pattern makes it look so effortlessly picturesque.
3. Lankatilaka Vihara
This striking Buddha statue goes all the way back to the 4th century and was built by King Parakramabahu.
This statue was actually one of my favourites because of the way it had formed over time.
It was uneven but that made it even more interesting to look at and wander around.
About five minutes after I took this photo however around 50 school kids showed up for their school trip!
4. Gal Vihara
Gal Vihara is a series of four Buddha statues that have been carved out of granite rock.
These statues are considered some of the best examples of ancient Sinhalese carving work and so it's a popular site for this reason! You must check it out.
Buddha is usually presented in the four images which present different stages of his life.
These are; sitting, standing, walking and reclining. You'll find all these stages here and they're beautiful.
Top Tip: Watch your feet. Not only is the floor a million degrees, but you also have to take your shoes off and walk over quite a lot of little pebble stones.
If you have socks, I would highly recommend keeping them on.
5. Rankoth Vehera
One of the largest stupas in Polonnaruwa and the 4th largest in Sri Lanka is Rankoth Vehera.
Built in the tradition of Arunadhapura and constructed in 1187 AD, it's one of the most revered stupas on the ancient site. It's entirely made out of brick and has a unique beauty to it being all reddish in colour.
When I was circling I couldn't find a way inside the stupa, so it was a hot walk over pebble stones to do a whole 360 turn back to my shoes.
I wouldn't say that circling the whole thing is necessary as it looks the same from all angles! Save your feet.
6. Take regular (coconut) breaks
I would highly suggest spending a whole day in Polonnaruwa, or the good part of a day to make sure you see everything.
If you need to take a break don't fret and make sure that you stop off at many of the coconuts and drink points.
All these stops will have a batch of fresh coconuts on the ice to chop open for you to drink – it is honestly so refreshing after a long day of cycling!
Where to eat in Polonnaruwa
There isn't a wealth of restaurants in Polonnaruwa to choose from. There are a couple of cheesy Western remakes like 'Pizza house' etc. but I really fancied trying some local food.
Banana Leaf was the perfect place to stop off. It was a beautifully chaotic local diner that provided a Veg and Non-Veg buffet.
The language barrier was quite strong here but all that strife was worth it for the mouth-watering food!
Firstly they'd plonk a massive helping of rice into the middle of your plate, then you could choose as many little side dishes as you want.
This included Beet curry, Pumpkin, Aloo, Paneer etc. You also got Papad which is like a fried Poppadom and you could choose add ons like a drink or set yoghurt.
As much as I love to eat local, I'm a bit of a sucker for a Coca-Cola so I added this with my meal. Judge me if you want, but I like my home comforts!
It was relatively cheap at around 400 LKR and the owner, once we worked through talking in very loud voices, was such a lovely guy. Really genuine, sweet and cared about his customers.
Every local in the area was eating in there so it must be a good thing!
Note: There are no proper eateries in the heritage site itself only snack bars, you have to exit and go to the main town itself for restaurants!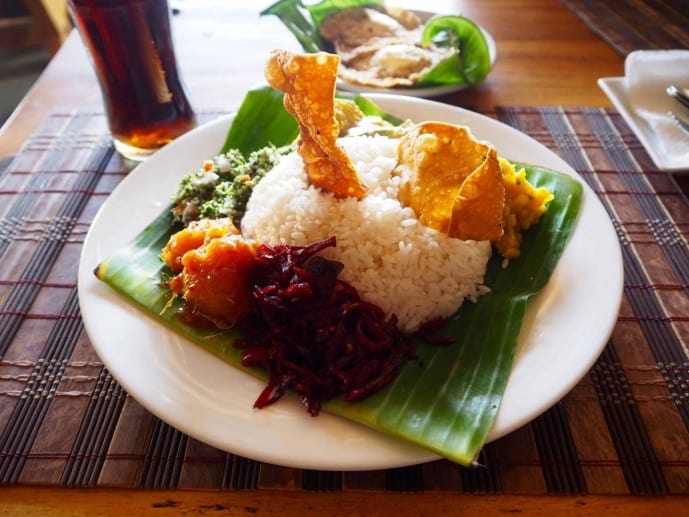 Save this Polonnaruwa travel guide for later!
So that's my Polnnaruwa travel guide for the ancient city in Sri Lanka.
Anuradhapura is the 'go to' ancient city on most travellers bucket lists in Sri Lanka but, I believe that Polonnaruwa has a lot to offer a history lover too.
The main reason is that it draws in fewer tourists, so you don't feel like you're battling with people to enjoy exploring the sites.
I'm not sure if I'd go back to Polonnaruwa again after exploring it once but I definitely found that it's stuck with me as one of my favourite ancient cities in Asia. Make sure you don't skip it!
Read more of my Sri Lanka travel guides
My ULTIMATE Sri Lanka Bucket List
The top places to visit in Galle Fort
A complete guide for Nuwara Eliya
Tips for hiking up Sigiriya Rock
The Ultimate Udawalawe Safari guide
A complete guide for the Sri Lanka south coast
Like it? Pin it!