Before I even got to Kandy, everyone was telling me to avoid it; "Oh, it's not as nice as Ella", "It's too busy, so we didn't stay long", "It's just a tourist trap" and to a certain extent this is totally true.
Kandy is touristy and busy, but it's also not somewhere that I would take off your list anytime in a hurry.
It's a fascinating city which is full of rich heritage and culture. It's also known as Sri Lanka's royal city and that's because, in medieval times, ancient kings used to base themselves here.
Today, it's a UNESCO world heritage site and one of the most revered places of Buddhist worship in the world due to the Temple of the Tooth.
Kandy has a lot to offer holidaymakers as not only does it have a lot of attractions and scenery in the hills, its infrastructure provides restaurants, hotels, and facilities in abundance.
Which may come as a welcome change from the more remote areas of the island.
Here are 9 unbelievable places to visit in Kandy in just two days!
How to get to Kandy in Sri Lanka
As Sri Lanka's most touristy town, the transport networks to get here are vast with the option of trains and buses from all over.
From Colombo airport, you can enquire about a direct taxi to Kandy which will save you a rather dreary day in the capital city.
But, these don't come cheap. Bus connections to Kandy can be found almost all over Sri Lanka.
I personally loved the bus travel, although it was a little hair raising.
By train, you can easily catch one of the many services heading to Kandy from Colombo fort train station. It only takes around two and a half hours and there are around 8 daily services.
Click here to read my top tips for train travel in Sri Lanka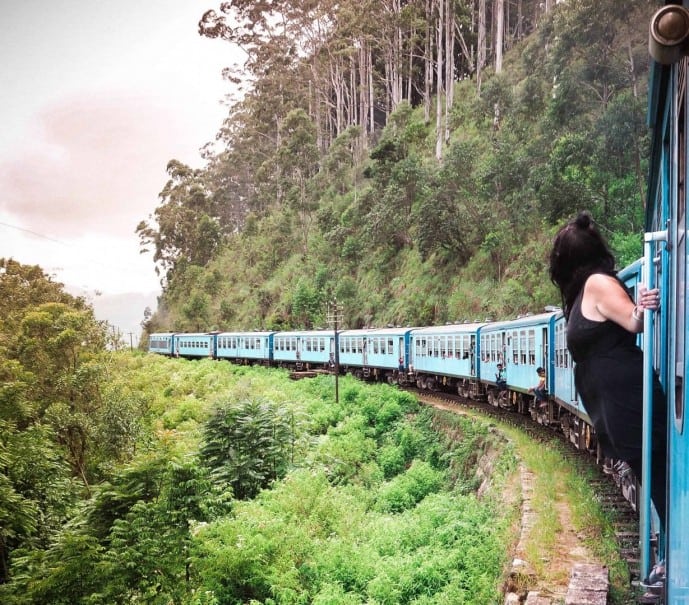 How to travel around Kandy
If you want to tick off all the places to visit in Kandy, I would highly recommend hiring auto-rickshaws to take you around.
Now, if you're not familiar with a rickshaw, it's a 3 wheeled vehicle that is almost like a suped-up motorcycle with a box on top to sit on!
A lot of rickshaw drivers will try and make you get a packaged day tour with them, but I wouldn't recommend these.
Depending on how many places you visit, you may find you'll pay double what you would just for individual journeys due to 'waiting charges'.
Also, I hate when I feel rushed exploring a city. Being a photographer, I like to take my time.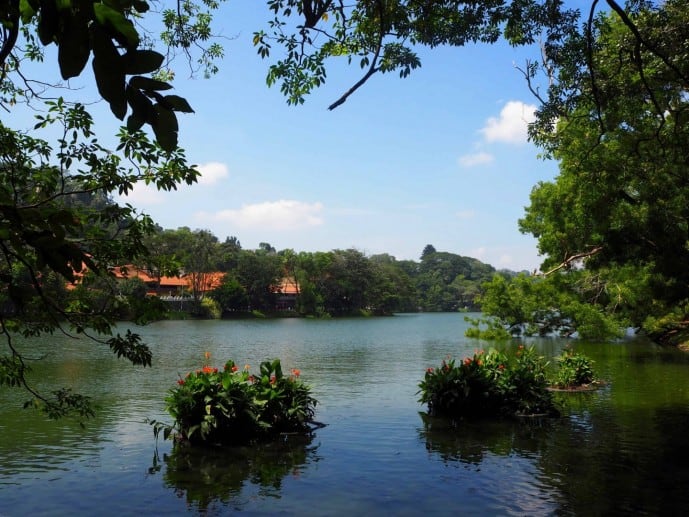 9 Unbelievable places to visit in Kandy, Sri Lanka
1. Visit the temple of the tooth
If you only have time for one thing to do in Kandy, let this be it. Now, you're probably wondering, why is it called the Temple of the Tooth?
Well, it's because Buddha's tooth relic lives here and is considered the most important in Sri Lanka.
The relic has had many homes on this island and has played an important role in politics as it's rumoured that he who holds the relic, governs the country.
Pilgrims gather every morning in the temple to pray and bring offerings of flowers and it's a beautiful sight to behold. Frangipani, lotus, and jasmine flowers are placed in tribute to the relic.
I would highly recommend buying an offering if you want to get up close to see the tooth.
Buy an offering in the temple itself, not from the hawkers outside as the ones in the temple are cheaper and fresher. It should be around 150-200 rupees.
Attending Tevava at the Temple of Tooth
One thing you also cannot miss is the opening ceremony here at the gate to the inner chamber called Tevava.
The Tevava is a fantastic affair of drums, colour, and music and it really builds up the suspense of joining in line with the locals to catch a glimpse of the tooth.
The temple officially opens from 5.30 am until 8 pm but here's a schedule for the ceremonies from their official website
Seeing the Tooth Relic in the Temple of Tooth
Photography is not allowed in the inner line (the line closest to the tooth) but you can take photographs just behind it with the floral offerings.
Even though I was in the inner line with my offering, I could hardly see the tooth when I reached the window.
I just saw the overwhelming glisten from the golden casing around it. You will be hurried along pretty fast, so it's all a bit of a blur!
Top tips for visiting the Temple of Tooth
Top tip: Ladies, you will need to cover up your legs and shoulders to go inside, so make sure you bring a shawl and dress appropriately. This also goes for men wearing shorts.
There are some hawkers that are outside the complex selling shawls and longyi's (long wrap-around for men) but they are a rip-off.
They also do a rental but that sounded gross to me as it's so hot, you're bound to be wearing a sweaty scarf. Make sure you haggle hard.
Tickets are 1500 rupees for foreigners and 750 rupees for SAARC countries.
2. Visit the Royal Botanical Gardens
This was one of my favourite places to visit in Kandy as it's just so pretty to walk around the different flora and fauna and simply take in the sights.
It was an oasis from the busy streets of the city and I could have lost myself in here for hours.
Although this is the main attraction in Kandy, it's actually in a place called Peradeniya which his around 5.5km out.
It's easily accessible by bus from the main bus stand in Kandy which will cost you around 15 rupees! Super cheap.
A rickshaw will cost you around 400 rupees and you can even get the train to the Peradeniya station from Kandy station if you'd prefer.
My absolute favourite part was the magnificent palm tree avenues that were showcased. Did you know that there are over 2600 species of palm trees?! Me either.
This place is perfect to bring along a picnic or relax with a book. It's a paradise for the senses.
Tickets are 1500 rupees which are steep but, it is totally worth it and you can spend as long here as you like.
3. Meet the big Buddha in Kandy, Bahiravokanda Vihara
A beautiful statue that towers over the city is the big white Buddha in Kandy or locally known as Bahiravokanda Vihara.
I personally couldn't wait to see it. Not only does a statue on a hilltop has an allure to it, but it also has some amazing panoramic views of the whole city!
The best time in my opinion to go is at Sunrise as this is when the light looks the best on Buddha's face.
But come sunset, the sun lights up the view of the city so it's all down to personal preference.
Either way, you can grab a Tuk-Tuk up the hill for around 300 rupees or walk it.
Even though it looks high up, it doesn't take all that long to reach it.
Here are some top tips for photo etiquette with Buddha in Sri Lanka:
Do not stand with your back to Buddha when taking a photo, this could get you arrested and is highly offensive
Don't wear your shoes when standing near Buddha or entering a temple when stated
Do not make any faces, or act inappropriately in front of Buddha
Don't stay idle in front of Buddha, you will get in trouble for that too!
Tickets are 250 rupees. For more information, see here!
4. Stroll along Kandy lake
Kandy lake acts as the heart of the city and it's another place that cannot be missed when you're here.
It's so beautiful to stroll along at any point of the day but, it's exceptionally beautiful at sunset when the colours of the sky turn a burnt orange.
There are plenty of places to relax on the benches and just take in the views, but you will be joined by all the traffic and noise.
But, I will warn you. Be careful walking around the lake if you're a woman alone.
I was persistently harassed walking around the Temple of the Tooth by men who were either selling, asking for money, or just wanted to 'talk'.
Even though I asked them to leave me alone, I couldn't get rid of them. At one point a guy stepped in and helped escort me to the theatre house and asked the guy to leave me alone!
So, just make sure you have a means of transport available and/or avoid it at night.
5. Watch a cultural Kandy dance performance
One of the most popular things to do in Kandy is to watch a Kandyan dance performance.
If you visit and you didn't go you visit Kandy isn't really complete in my opinion.
It's an amazing spectacle that brings to life ancient heritage through music, drumming, magic, and fire-walking!
There are a couple of performances which happen every night in different playhouses, but, I would recommend the one that takes place in the Red Cross building at 5 pm.
The proceeds go towards the charity and it was a really high-quality show.
It is pretty touristy and you'll find that tour groups en masse will fill the hall, so get there early to avoid missing out! Tickets are 1000 rupees per person.
6. Try Kottu Roti at the Muslim Hotel
Sri Lanka has its own delicacies and in Kandy, you will find a lot of restaurants selling tasty local meals at a budget price. One of those places is the Muslim Hotel.
It's not actually a hotel but a famous local eatery filled with quirky eccentric waiters and the noise of Kottu Roti being prepared.
If you're not familiar with Kottu Roti it's a popular Sri Lankan dish made by chopping a type of bread called roti and mixing it with vegetables, egg, and or meat.
The chopping is very distinctive and it includes two knives (which almost resemble swords) and beating the roti against the counter making a sort of tune as it goes.
Kottu Roti is a staple budget meal in any travellers books and you cannot leave this island without trying it.
So, I would definitely recommend trying some here in Kandy.
7. Take the train from Kandy to Ella!
Most tourists, after they have explored Kandy take the train to Ella. It's arguably one of the prettiest train routes in the country and you can see the amazing scenery as you meander around the hills!
My top tips for taking this train would be to make sure you take a reserved seat in 2nd or 3rd class.
That way you can hang out of the doors like the locals and get some fantastic photo opportunities too.
Some people make the mistake of NOT booking reserved and then wonder why they have to stand up the whole way.
Plus, if you book a first-class carriage the doors don't open.
Click here to read my ultimate guide to this train journey so you don't make any mistakes
Don't miss these amazing places to visit in Kandy!
Kandy was a great stop in my itinerary as I love to see a country's cultural heritage.
In the 21st century, we can be so hooked up on social media and technology, that it's nice to step back in time and see some history come to life!
If you were thinking of skipping over Kandy, I would highly recommend you don't.
Yes, it's a little touristy and expensive but it's also captivating and will get you inspired.
Make sure you fill up your precious 48 hours with all these amazing things to do in Kandy, Sri Lanka's cultural capital.
Read more of my Sri Lanka travel guides
My ULTIMATE Sri Lanka Bucket List
The top places to visit in Galle Fort
A complete guide for Nuwara Eliya
Tips for hiking up Sigiriya Rock
The ancient town of Polonnaruwa
My complete guide for the Sri Lanka South Coast
My ULTIMATE Udawalawe Safari Guide