There are many examples of social media making certain things go viral, but none so much as the Insta-famous Dalawella beach swing in Sri Lanka!
I mean, what could be more fun and photo-worthy than swinging from a palm tree over the Indian Ocean? Nothing, that's what.
However, although social media has made this activity the latest craze, there is SO much about this palm tree swing that Instagram doesn't tell you.
A prime example would be the fact that it's really hard to actually get on the swing in the first place!
So, in this post, I'm going to give you a behind the scenes look at this tree swing and the reality behind getting the money shot.
Here's an honest guide for the Dalawella beach swing in Sri Lanka!
Heading to the south coast in Sri Lanka? Read the best places to visit here! Or, click here for my ULTIMATE Sri Lanka Bucket List!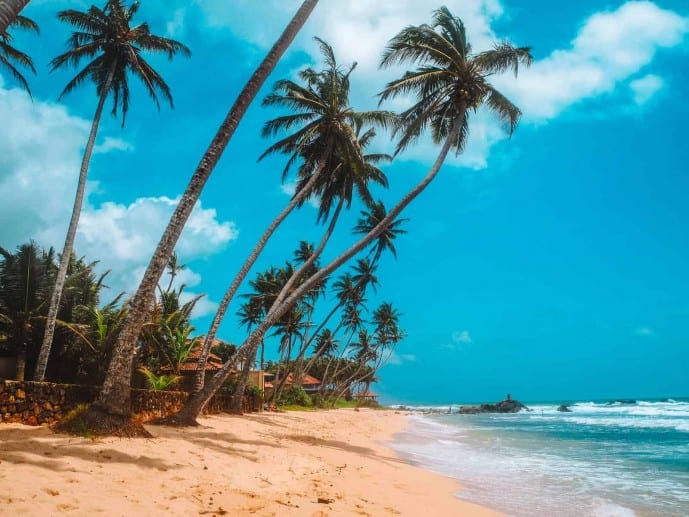 What is a Palm Tree Rope Swing?
Well, to be exact, it's a rope that's been tied to the top of a lone palm tree. Then, at the end of that rope is a hoop that allows you to put one foot through it. This is what allows you to swing from the tree.
There's a bit of a knack to it but if you can master the moves, it is a lot of fun and you can get some awesome photos from it too!
Palm tree swings in Sri Lanka are easily becoming one of the most popular things to do Everyone who visits the coast wants a photo.
When I first visited Sri Lanka a few years ago, there were only one or two palm tree swings to find on the south coast. But, with the Instagram craze, new swings seem to be popping up all the time now.
The original and most famous rope swing on Instagram is the Dalawella beach swing. This is the one I visited on my trip.
How to find the Dalawella Beach Swing
If you were interested in visiting the original beach swing, then this can be found on Dalawella Beach near Unawatuna on the Sri Lanka south coast.
The south coast is only around 150 kilometres from Colombo and you can easily reach here within 2 / 3 hours by train.
Unawatuna has its own railway station. So, you can easily alight there and get a rickshaw or walk the 2 kilometres to Dalawella beach.
If you're already on the south coast, you'll be pleased to know that everything is quite compact and you can get cheap local buses up and down the coast. This allows you to 'beach hop' quite quickly!
For example, if you're staying in Galle, grab a local bus heading to Tangalle. Then, alight at Dalawella. The journey cost me around 30 rupees.
If you're in Mirissa or Tangalle, grab a bus heading to Galle and alight at Dalawella. There's only one road on the south coast connecting all the beach towns. So, there's no risk of getting lost.
Alternatively, you could hire an auto-rickshaw to take you to Dalawella from Unawatuna, Mirissa or Galle. Or, most travellers rent a scooter which is also a cheap option.
Once you reach Dalawella Beach, take a walk along the coastline until you spot a palm tree with a rope tied around it. This is just in front of the Dream Cabana guesthouse.
Unless there are people on the swing already, the rope will be tied up on the tree. This is to stop people using the swing for free as it does come with a charge.
When you arrive at the palm tree swing, just enquire in at the beach hut to have a go! The staff are really friendly and will help you out.
Dalawella Beach Swing fee
Before 2017, the palm tree rope swing was completely free to use. But now the swing comes with a fee of 500 rupees for unlimited swings.
It's fair enough really as they do have a business to run! The guys are super friendly here and they do give back to local communities with the money you spend. This goes towards the upkeep of the beach and making sure the swing is safe with upholstering etc.
I admit this can be a big chunk out of a backpacker budget, but don't sweat it too much. You won't think about the money you've spent after you got your awesome shots. Plus, with unlimited swings, you can swing all day if you wanted to.
The Dream Cabana do serve up food and drinks. I've heard that sometimes they will let you ride the swing as part of your bill. So, you buy food, you get to swing! This may be better if you're on a strict budget.
Personally, I went in the morning before food was served and didn't mind paying. As I was travelling solo, I asked the guys to take some photos of me as well. Look at this cheeky photo he took with my camera haha!
What Instagram does NOT tell you about this palm tree rope swing
Before I visited Sri Lanka, the palm tree swing shot was something I wanted badly and I was SO excited.
All the pretty pictures and squares on Instagram made this swing look effortless and easy and it seemed pretty straightforward to get my photos.
However, when I got to the Dalawella Beach Swing, I was shocked at how you had to ride the swing.
Firstly, you had to climb the palm tree quite a way up to reach the rope. Secondly, you had to put your foot in the swing and then you had to leap off the palm tree to get some momentum.
Bearing in mind that I just scrape over 5 foot, I knew this was going to be a big problem for me.
I couldn't get on the swing!
The guys said, "oh, it's easy – watch us and see". Then, they effortlessly climbed up the palm tree and swung on the swing.
But, when I tried to scrabble up the palm tree to the swing, I couldn't do it. I just kept falling.
Then, we tried on the beach and my leg couldn't get in the swing or reach the loop. I was too short.
The guys were physically lifting me up but it was just so difficult. In the end, they actually got a plastic chair for me to stand on. A PLASTIC CHAIR PEOPLE!
It was tragic and embarrassing but I thought, why not? I wanted my shot and no one would know if it looked good after the fact right?
Wrong.
Even though I got on the chair which solved the height problem. I couldn't get my foot in the rope and physically lift myself up to stand on the swing.
So I pretty much canon balled it around on the swing! Then I got my foot stuck in the rope and I facepalmed the floor. Sandy face.
It was just a nightmare and I was SO worried I'd fall off into the sea on the rocks. Epic fail.
My photos weren't too bad but definitely a far cry from what I wanted. Damn my incredibly short genes.
How to (correctly) ride the Dalawella Beach Swing
For me, the palm tree rope swing was a definite Instagram vs. reality moment. Although the swing snaps online looked so effortless, I found it a trial.
However, I know that I'm just one bad example. There are many people who were able to ride the palm tree rope swing easily. So, don't worry too much – I'm sure you'll be fine.
Here are the instructions that the guys gave me to correctly ride the Dalawella beach swing;
Firstly, you'll need to climb up the base of the palm tree. You'll need to climb up on all fours, using your hands and feet. Then hug the trunk of the tree with your left arm.
The guys will help you hold onto the rope with your right hand, then you can put your right foot inside the rope loop.
Use your other foot to push off the tree. Let go of the trunk and then grab the rope with your left hand! So both hands are now on the rope while you're swinging. Your left foot will be on top of your other one in the rope loop.
And then, you're SWINGING! You do need lots of momentum to ride faster or wider, so make sure you push off the tree with enough force.
It's important that you either get the guys to help you or listen to their instructions carefully so you don't end up hurting yourself.
I will warn you though that the rope on your feet and hands starts to hurt after a while. So, if you do it enough times you'll start to get rope burn.
There is SO much that Instagram doesn't tell you here. But, it's totally worth it if you can master it to get your shots. You may need to ride a fair few times before you get the hang of it.
On that note, don't forget about travel insurance! Click here for a FREE quote with World Nomads
Tips for getting that perfect shot
I found that visiting at sunset or during the day was fine for taking photos here. I wouldn't get your hopes up for a sunrise shoot as the guys won't be up at this time to open the swing.
It is better if you can stand up on the swing. Don't do what I did as being scrunched up looks pretty ridiculous.
The guys here are really nice and will take photos for you if you're travelling solo. Alternatively, set up your tripod on the beach and put it on a fast shutter mode. The guys could press the shutter or click your Bluetooth remote for you.
Your fee does give you unlimited swings and they will remember you if you decide to come back later. So, if it's too busy for photos, you could easily return at a quieter moment.
Where to stay near Dalawella Beach
If you're wanting to stay near the beach swing itself, there are a few properties that are located at Dalawella. This means you're nice and close to the swing.
For example, most tourists opt to stay at the Dalawella Beach Resort by Deco that provides amazing chalets and an infinity pool right on the beach.
But, if you were looking for more infrastructure, I would recommend staying in Unawatuna which is just a short rickshaw ride away. This has many bars and cafés nearby so you're not restricted as Dalawella itself is quite remote.
If you have the cash to spare then I would recommend staying in the Nooit Gedacht Heritage Hotel which is the Original Dutch Governors House! Cocobay Unawatuna is also an amazing property.
If you're on a tight budget, Spirit Bird Hostel has some great reviews by fellow travellers!
Read more of my Sri Lanka travel guides
My ULTIMATE Sri Lanka Bucket List
The top places to visit in Galle Fort
A complete guide for Nuwara Eliya
Tips for hiking up Sigiriya Rock
The ancient town of Polonnaruwa
The Ultimate Udawalawe Safari guide
Save this Dalawella Beach Swing guide for later!