One of the prettiest libraries I've ever visited has to be the Munich Law Library or Juristische Bibliothek.
It looks like something from a storybook with its dark wood shelves, ivy-clad decor, and winding staircases. It's meant to resemble a bright warm forest to read in.
As a lover of fairytales, dark romances, and Gothic buildings, I couldn't help but feel like this book trove could be Beast's library from Beauty and the Beast.
Honestly, it felt like a dream to enter this place and I relished exploring the different levels and discovering all of the shelves of books.
I would highly recommend booking a tour if you're in Munich. Here is how to visit the magical Munich Law Library aka Juristische Bibliothek in Bavaria Germany!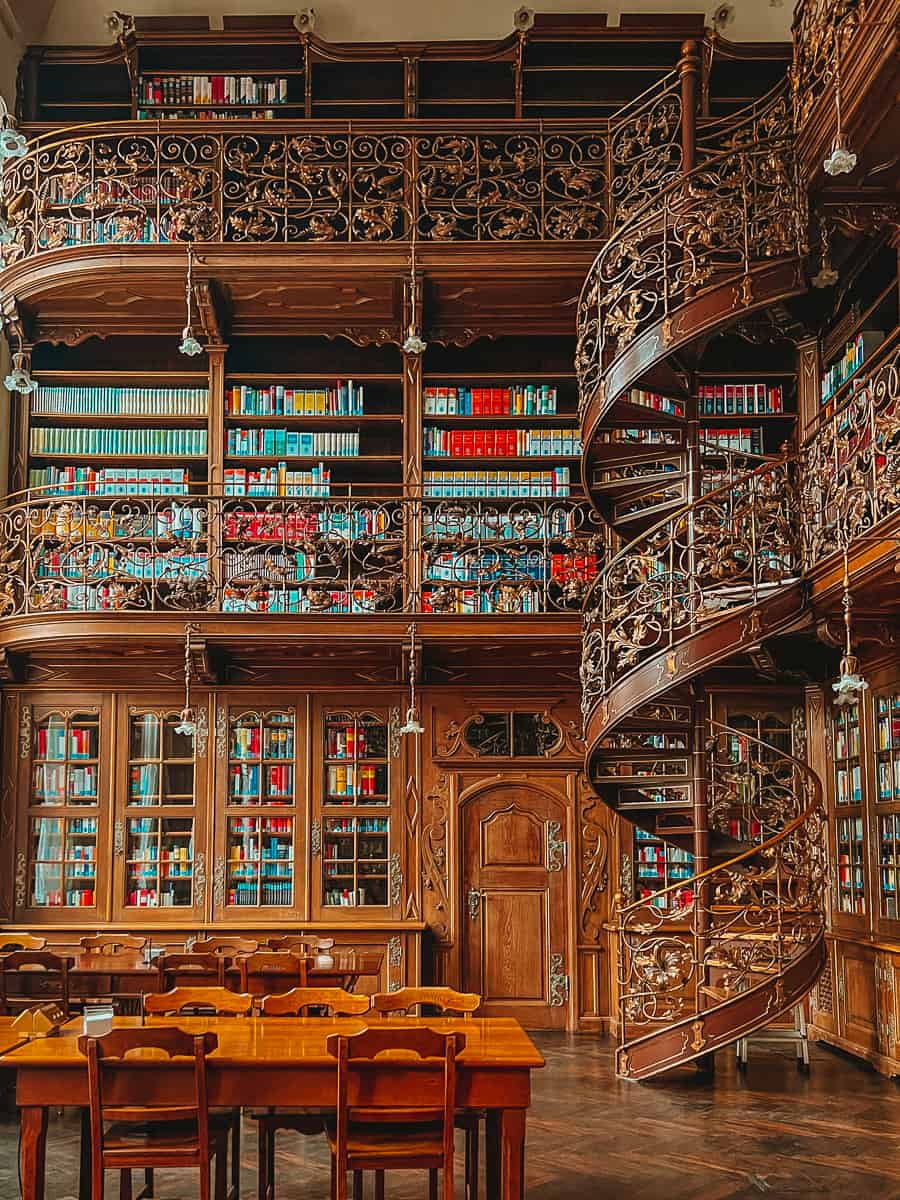 Juristische Bibliothek history
The Munich Municipal Law Library is exactly that, a library for lawyers or students studying law.
It is filled with books about law proceedings, government acts, and citizen rights and can be found in the New Town Hall that was built between 1867 and 1908.
Although most of the New Town Hall was strict with the Neo-gothic revival design. The architect, Georg von Hauberrisser, had free rein to design and build this room however he wished.
So, he decided to build this Art-Nouveau library like a bright warm forest to provide the perfect atmosphere for reading. He brought the outside inside!
It had rich wood levels, ivy lamps, and vine-covered staircases. The details are spectacular.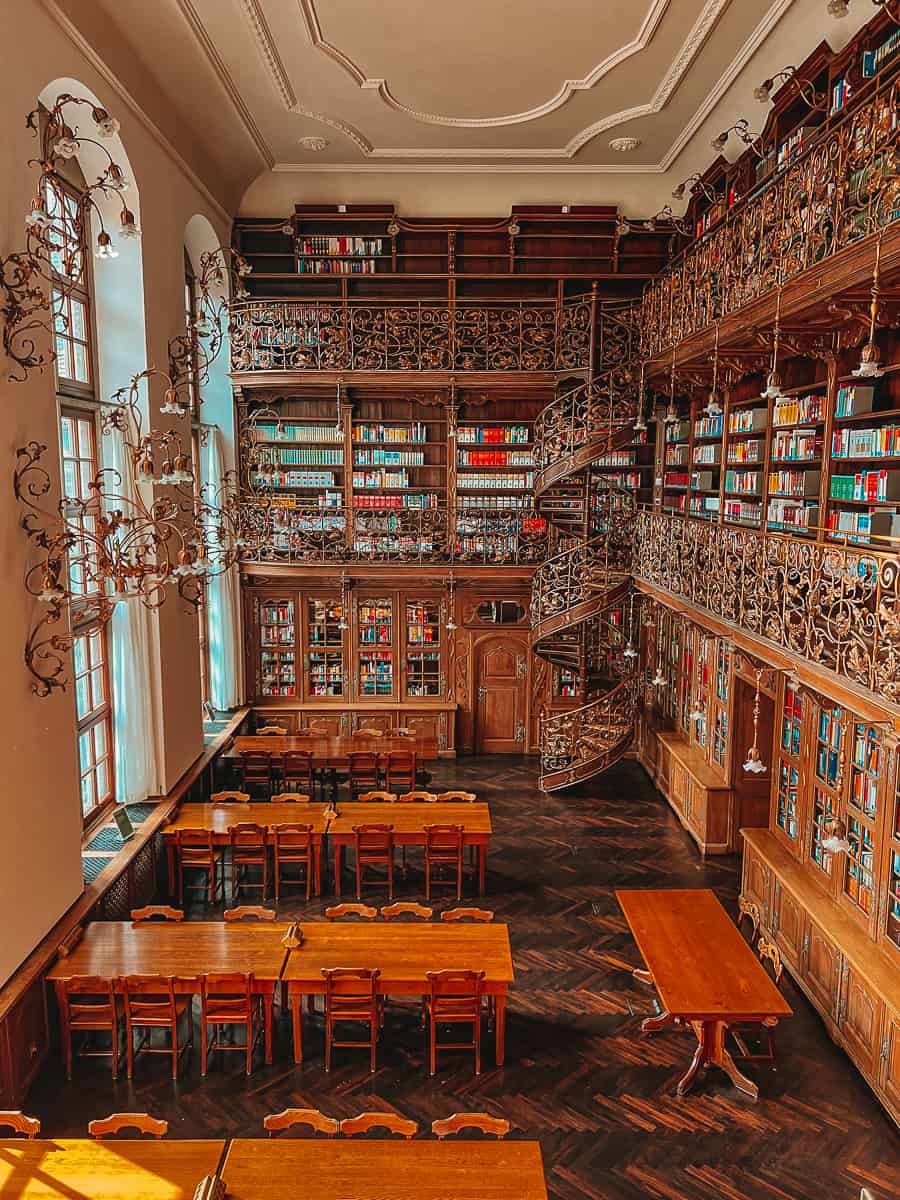 This law library caught the attention of filmmakers and it was featured in films such as "Cabaret" starring Liza Minelli.
There was originally a painted mural ceiling but it was damaged during WWII and the reconstruction left it white. I would have loved to have seen the original painting!
Regardless, it is still one of the prettiest libraries in the world and one I urge you to visit if you're a book lover. It's now world-famous due to going viral on social media platforms.
Where is the Munich Law Library?
The Munich Law Library is located on the upper floor of the Munich New Town Hall or Neues Rathaus.
This is the famous building which can you can see in the main square of Marienplatz which is home to the famous Rathaus-Glockenspiel.
Although this building looks like something from the middle ages, it was actually built in the 19th century in the Gothic Revival style.
It suffered major damage during the Second World War and so most of the buildings and rooms inside are now reconstructed.
But, it's still well worth exploring the inside as it looks like something straight out of a fairytale or the Wizarding World of Harry Potter!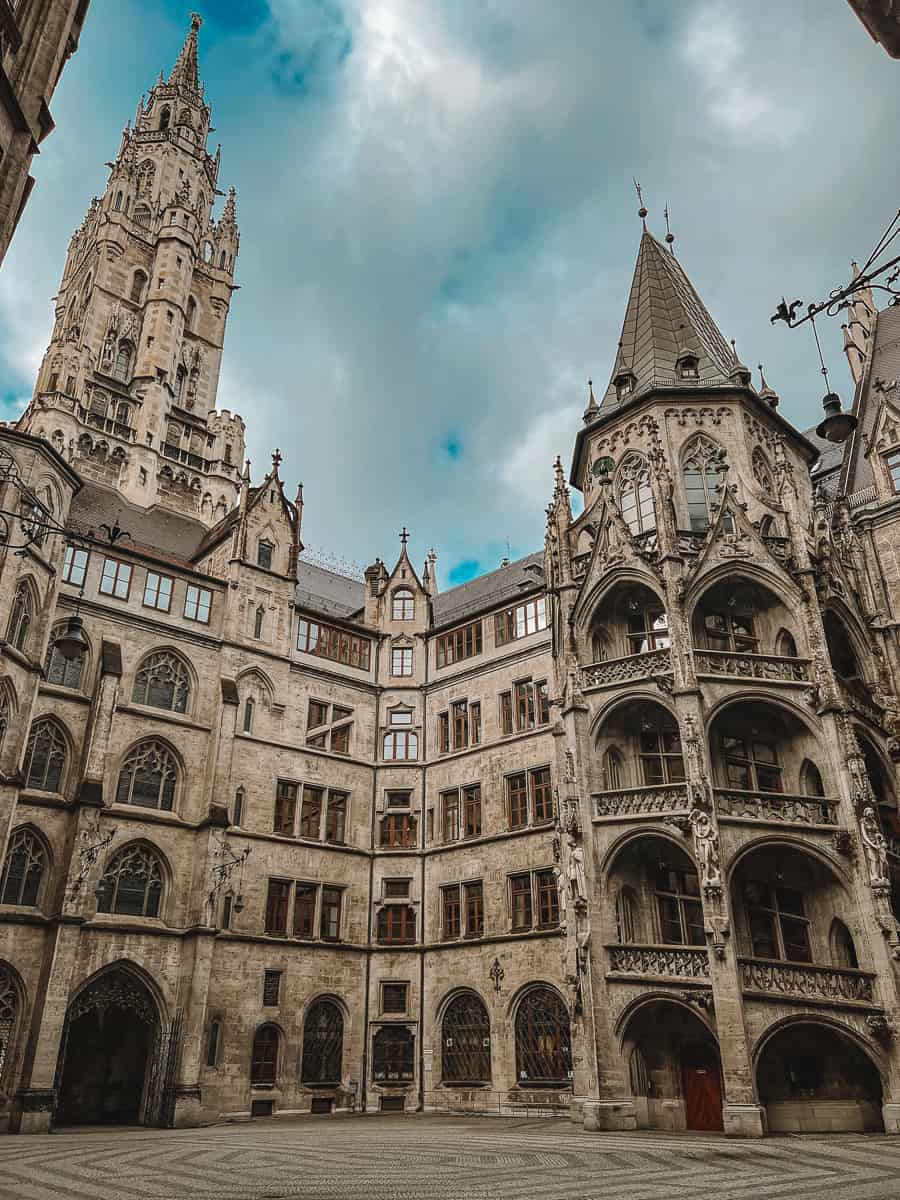 How to visit the Munich Law Library or Juristische Bibliothek
The good news is that you don't have to be an aspiring lawyer to visit the Munich Law Library. You can visit Juristische Bibliothek in the New Town Hall.
But, you should note that this library is a working space for those studying law and not a tourist attraction. It's not normally open to the public and they are pretty strict on that.
So, if you're a tourist and you want to visit for fun or photography, you would need to visit the library as part of a guided tour.
Luckily, Simply Munich run guided tours of the New Town Hall which includes a stop at the Munich Law Library on a weekly basis!
Book a Munich New Town Hall tour
If you wanted to explore the magical Munich Law Library as a tourist, you would need to book a Munich New Town Hall tour.
It's really easy to do this via the Simply Munich website. Just select a date and time and then pay online!
Tickets are 20 Euros for an adult and 12 Euros for a child. If you have a Munich card you get a slight discount.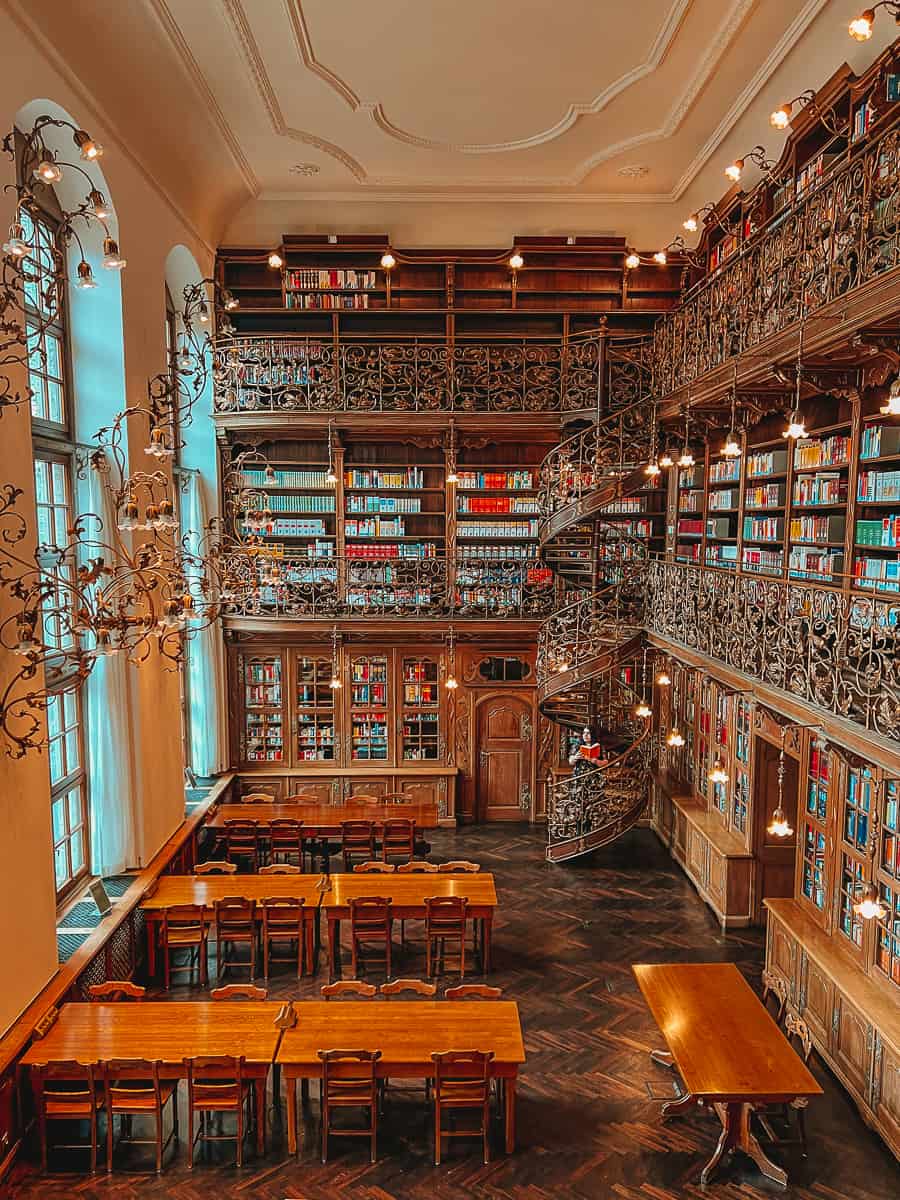 The guided tours run for 90 minutes and you'll learn the history of the Neo-gothic building.
You'll visit the law library, vaulted staircases, the city hall balcony, and the conference rooms where the big political decisions happen in Munich.
Click here to book your Munich New Town Hall tour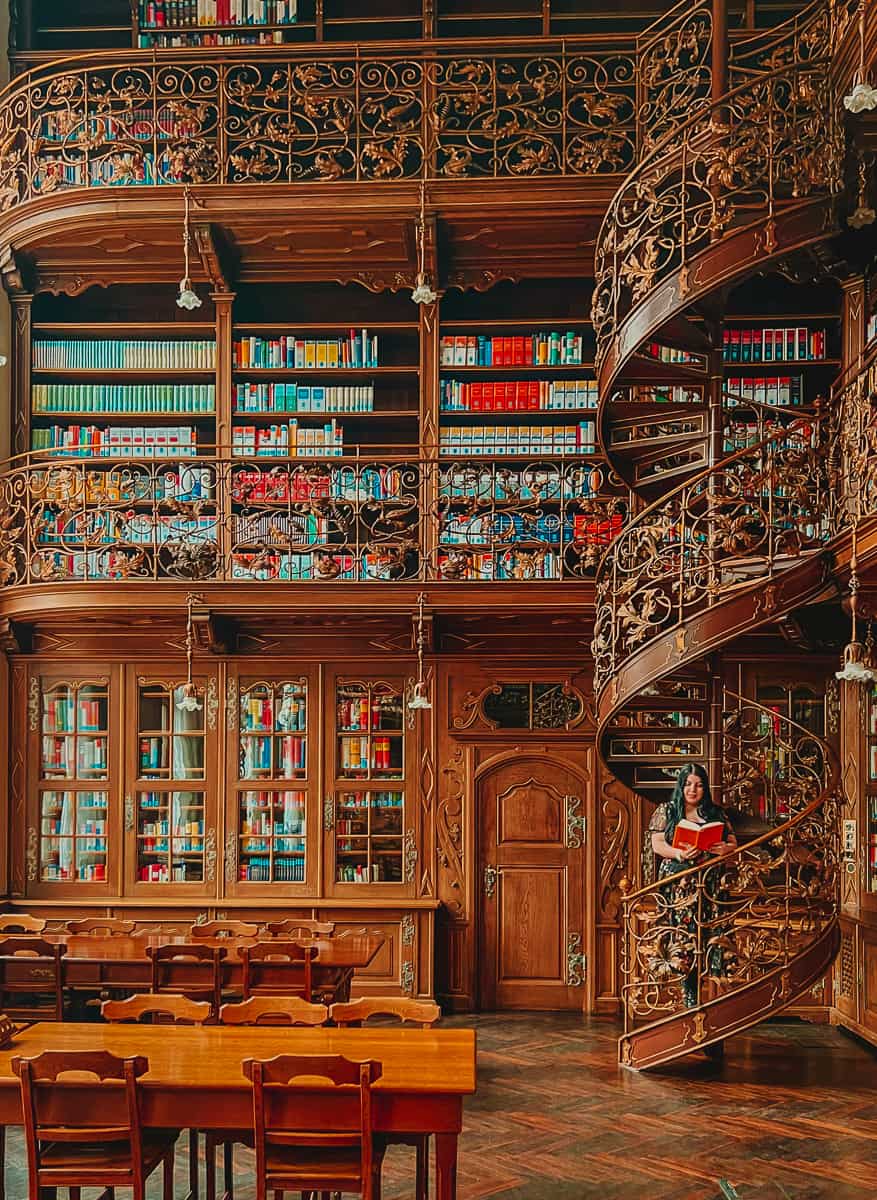 Exploring Juristische Bibliothek
On your tour, you'll get to see this Art-Nouveau library in all its glory! It has 3 levels, 2 winding staircases, and endless volumes of books.
Although this library does look like something from Beauty and the Beast, it is still a law library and so you'll find the books are purely non-fiction here.
All of the volumes are in German and are about laws, municipal history, legal proceedings, folios, and court cases. Which to someone who is not a lawyer or law student could be considered very boring.
Even the book I'm 'reading' in my photos was a book about the rights of citizens who are unemployed. Definitely not my typical read at all. I'm more of a fantasy romance reader.
It would be a dream to fill this library with fictional books, fantasy volumes, or classics, don't you think?
As it's designed like a warm forest, you'll also find that this library has large windows to let in lots of light. When it's dark outside there are ivy lamps that give off a golden glow!
There are some beautiful libraries in the world but the Munich Law Library is by far one of the prettiest I have ever seen.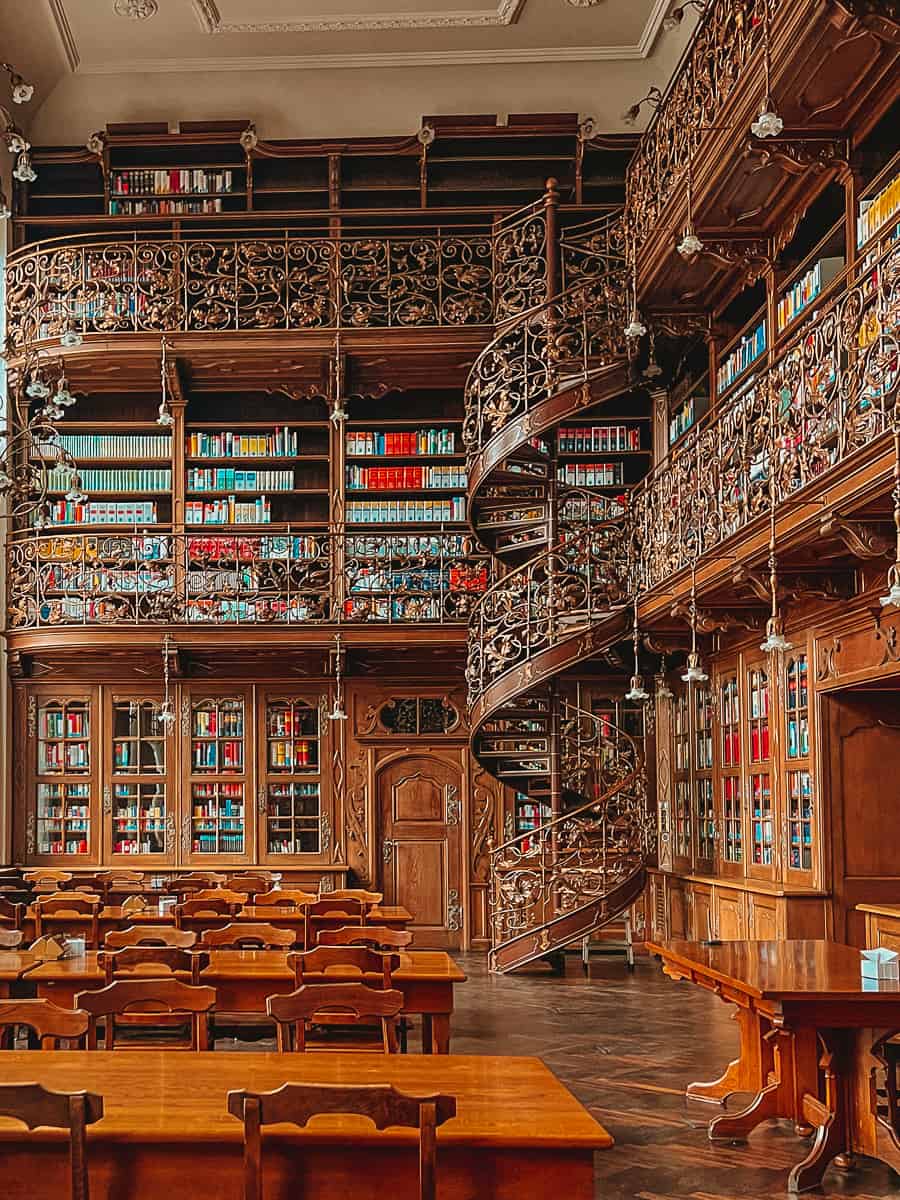 Other things to do in Neues Rathaus Munich
Although the library is (in my opinion) the highlight of the New Town Hall tour, there are other rooms and interesting things to see in this incredible building.
From the vaulted staircases that look like something from Hogwarts to the conference rooms and special balconies overlooking Marienplatz.
Here is what else you can expect to see on a New Town Hall tour of Munich!
1. Climb up the vaulted staircases
So, as soon as you leave Marienplatz and ascend the stairs of Neues Rathaus, you will start to feel like you're in a Harry Potter movie.
The Gothic revival architecture is not only reserved for the outside and you'll find almost all of the staircases here have vaulted ceilings, hanging lamps, and stained glass windows.
Every floor has these incredible ornate gold designs, rich wooden doors, and gargoyles. It will make you feel like you're exploring Hogwarts!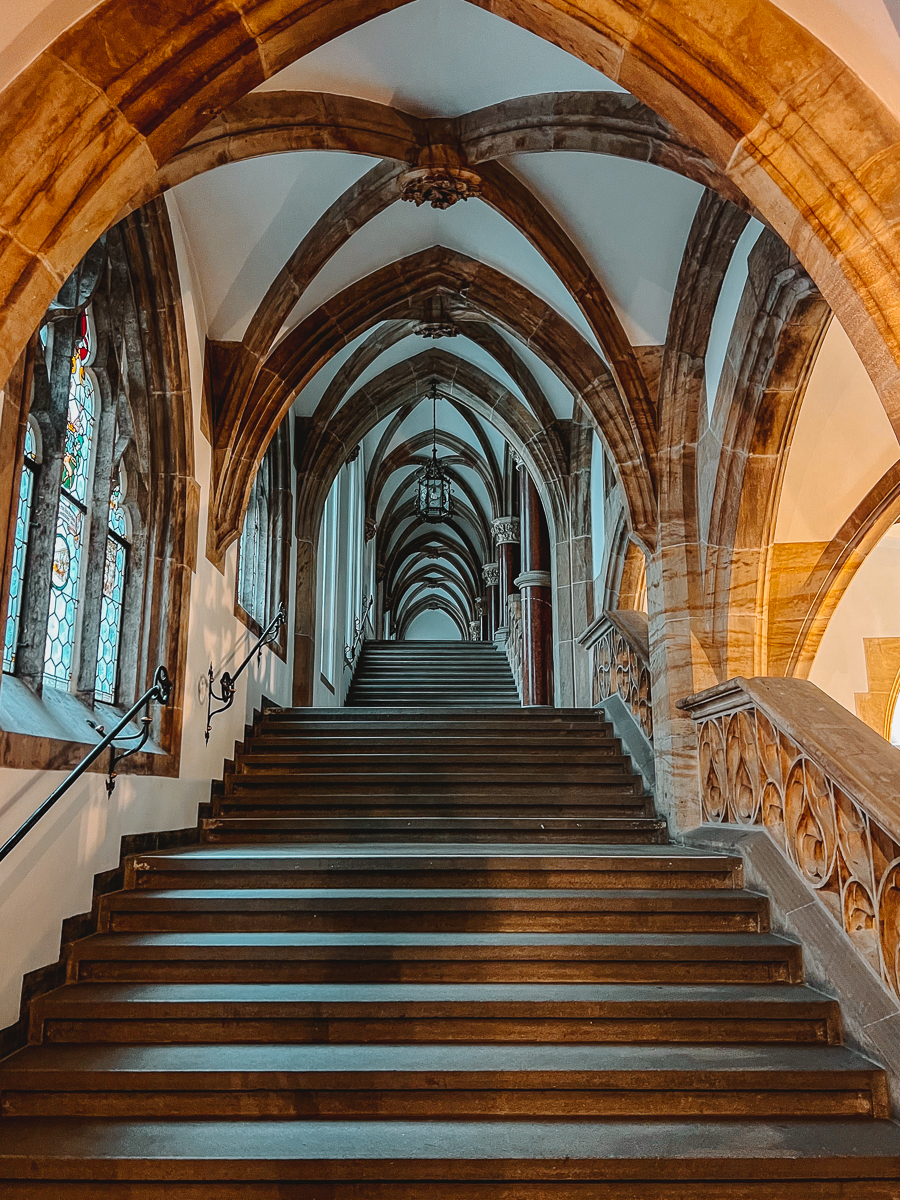 2. Explore the conference rooms
The conference rooms here are so impressive. They have hammer beam ceilings, large fireplaces, chandeliers, and wonderful paintings.
There is a smaller conference room (my favourite) and a larger one and this is where some of the large decisions happen in the city of Munich.
In the larger conference room, you can find a huge oil painting of the "Monachia".
In the centre of the painting is a woman who represents the city of Munich in human form. Around her are people that represent the different trades of Bavaria.
As well as political meetings and events, these spaces can be rented out for private functions and weddings (how romantic?!).
It sounds like a happily ever after out of a storybook but it's a raffle ticket draw and only a few couples get picked out of the thousands of applicants each year!
3. Step out onto the City Hall balcony
One of the special features of the Munich New Town Hall tour is being able to step out onto the City Hall balcony!
This is usually reserved for the mayor and special guests of the city. It was the stage for FC Bayern's championship celebrations once upon a time.
So, when you step out onto the balcony, you really feel like you're a special VIP!
You get such a unique view over Marienplatz and you get to be up close to the various statues on the walls like Luitpold, the Prince Regent of Bavaria.
You can see the Old Town Hall, St Peter's Church, and all of the tourists below visiting the heart of the city.
4. Climb up to the Neues Rathaus tower!
Most people know about St Peter's Church tower which provides panoramic views over Munich and Marienplatz.
But, did you know that the Munich New Town Hall also has an observation deck that you can visit?
It may be easier for some as it has an elevator that you can use to get to the top in seconds instead of climbing 300 steps!
From the top, you'll receive breathtaking views of the city. On a clear day, you can see for miles and miles.
It's good to note that a visit to the tower isn't included in the New Town Hall tour and requires a separate ticket.
Click here to book your visit to the Neues Rathaus observation tower
5. Explore the Neues Rathaus courtyard
If you just wanted to explore some of the New Town Hall in Munich without booking a tour, you can enter the inner courtyard from Marienplatz.
Here, you can admire the Neo-Gothic architecture like all the vaulted ceilings, gargoyles, and statues on the buildings.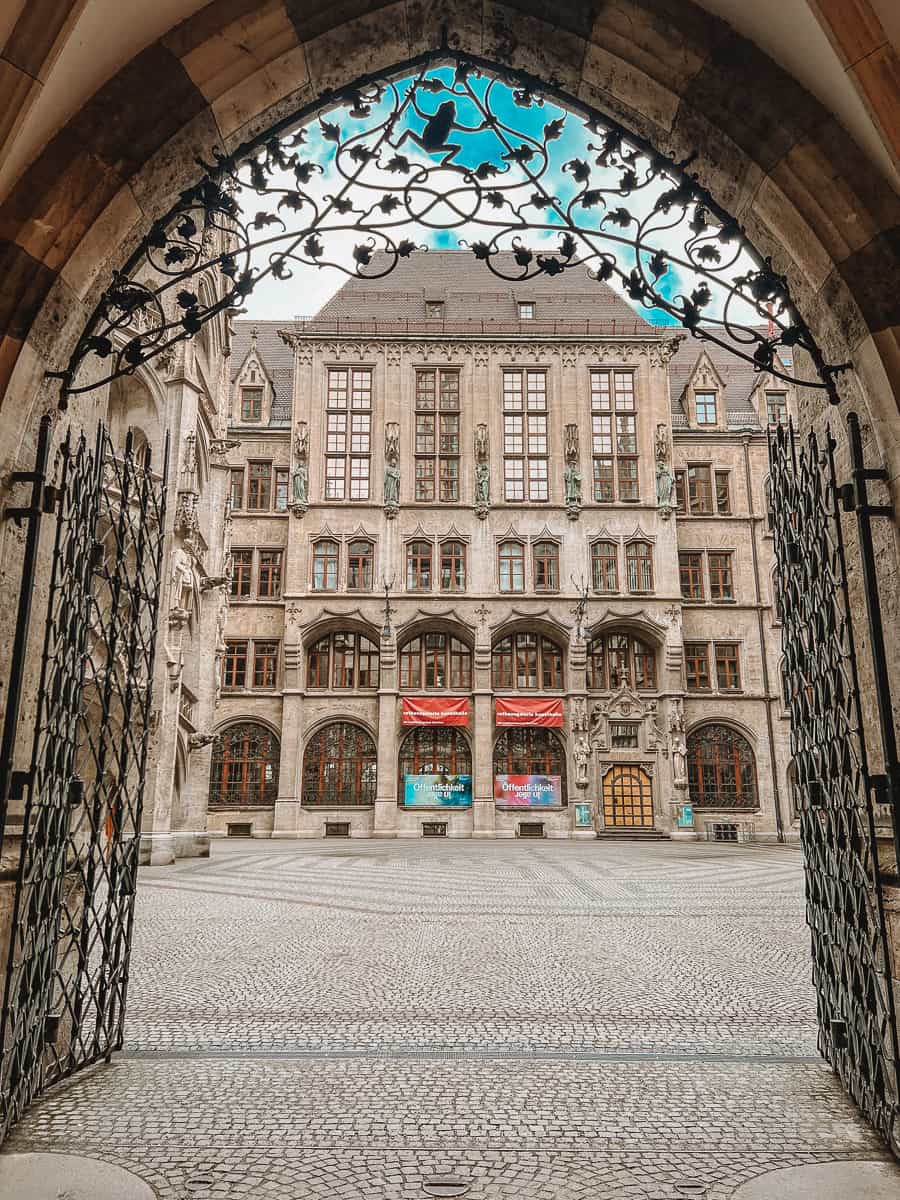 My favourite part was this winding tower that you can see. It totally reminded me of a wizard's tower or something out of Hogwarts.
If you're on a New Town Hall tour, you will walk up the winding staircase inside this tower! You'll climb to explore the different floors where you'll discover the Munich Law Library.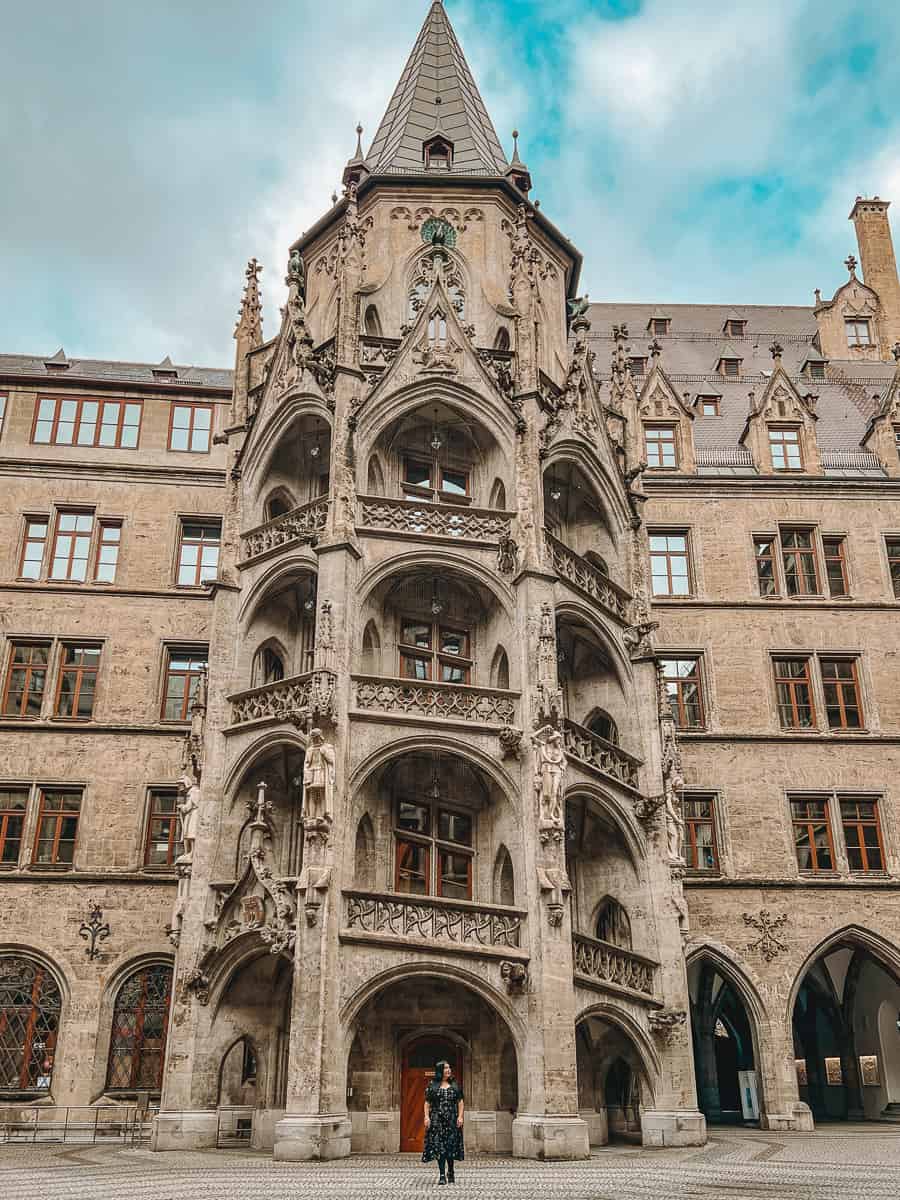 6. Watch the Glockenspiel
Again, another free activity that you can experience at the New Town Hall is to watch the famous Glockenspiel show at Marienplatz.
Every day at 11 am and 12 pm (and 5 pm in summer), the Glockenspiel chimes and plays out small stories from the 16th century.
It has 43 bells and 32 life-sized figures that come alive! You'll first see knights jousting in honour of the wedding of Duke Wilhelm V to Renata of Lorraine. After, you'll watch the coopers dance.
It's very sweet and well worth watching on one of your mornings in Munich. Just gather with the crowds in the main square and look up.
Also, don't forget to visit the Glockenspiel again at night time around 9 pm to see the night watchman blow his horn and see an angel bless the Münchner Kindl.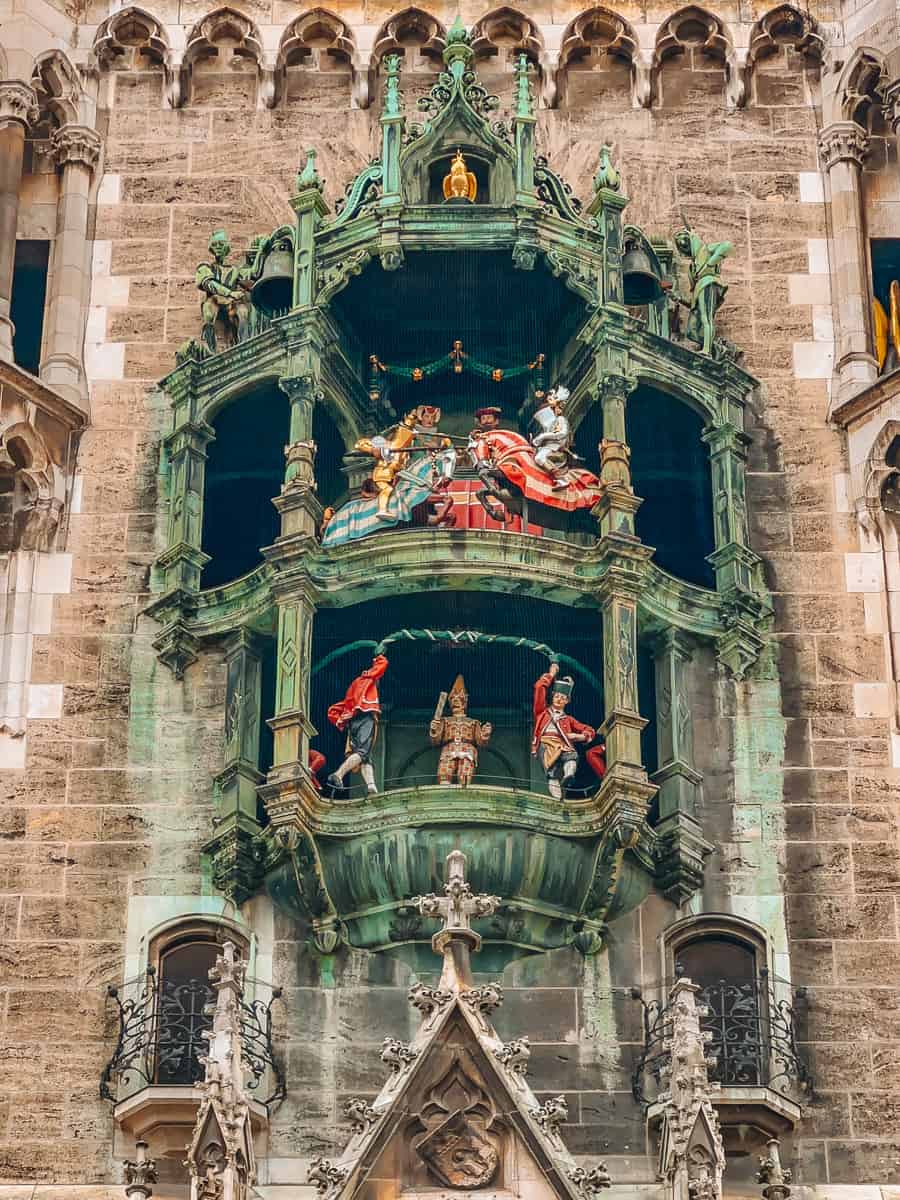 7. Eat at Ratskeller Munich
If you were looking for some refreshment after your Munich New Town Hall tour, I would highly recommend Ratskeller which is a restaurant found underneath the building.
You'll be dining by candlelight and underneath colourful vaulted ceilings. There will be gargoyles, oil lamps, and Neo-gothic decor and the entire place is a vibe. Again, I felt like I was dining in a Disney movie here.
The menu is traditional Bavarian food and I would go for the bratwurst they have on offer.
It came with potatoes, veg, and a rich sauce and was delicious. They also have a great range of local beers and wines.
Note: during the day you may not need a reservation for lunch but I would definitely make a reservation in the evening time to guarantee a table. You can do this via their website.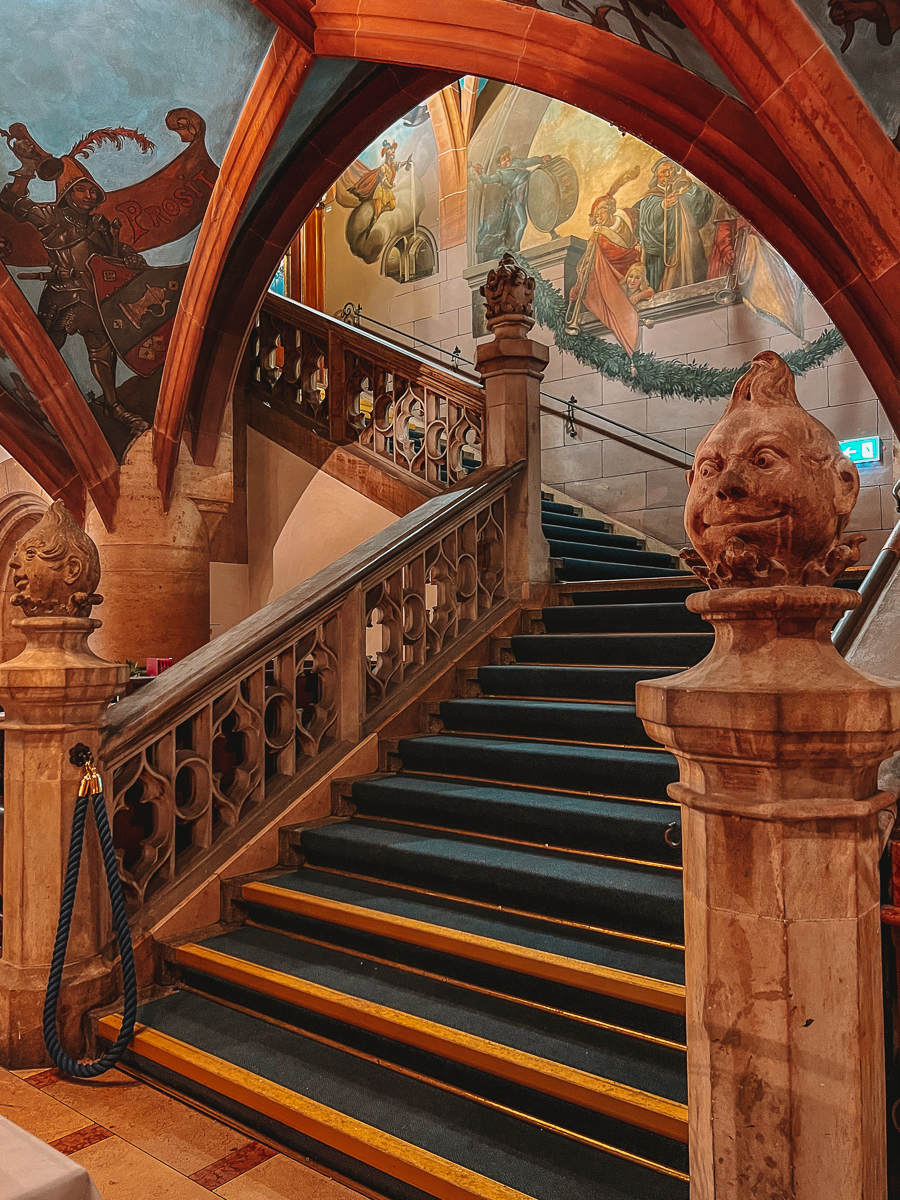 Looking for more magical things to do in Munich?
Munich is the capital of Bavaria and is filled with incredible historic buildings, streets, and palaces to explore!
Just nearby, you can climb up to St Peter's Church tower to get incredible views over Marienplatz. But, be aware that there is no lift and you'll be climbing just over 300 steps.
I would also recommend heading into the beautiful Asamkirche on Sendlinger Strasse. Inside, you can find one of the most gorgeous church interiors I have ever seen.
Residenz is another museum that is a must-visit in the city. It was the former royal palace of the Wittelsbach monarchs of Bavaria.
It has hundreds of rooms but the most famous is the Antiquarium which was a former ballroom!
There is also the Nymphenburg Palace which was a summer residence for Bavarian Kings. The Grand Ballroom and the Hall of Beauties are a highlight.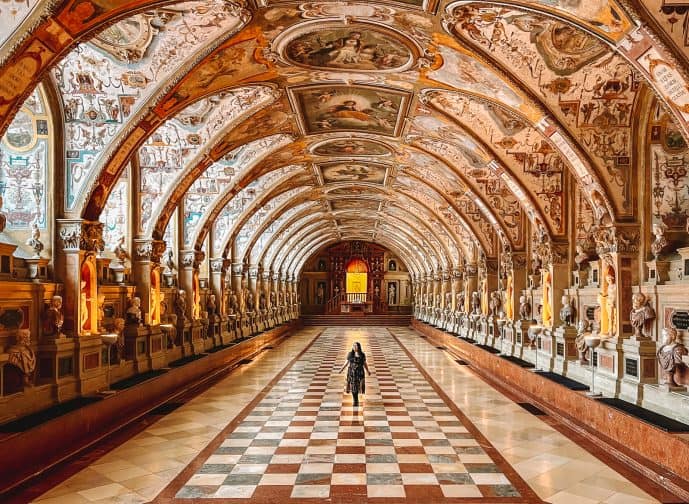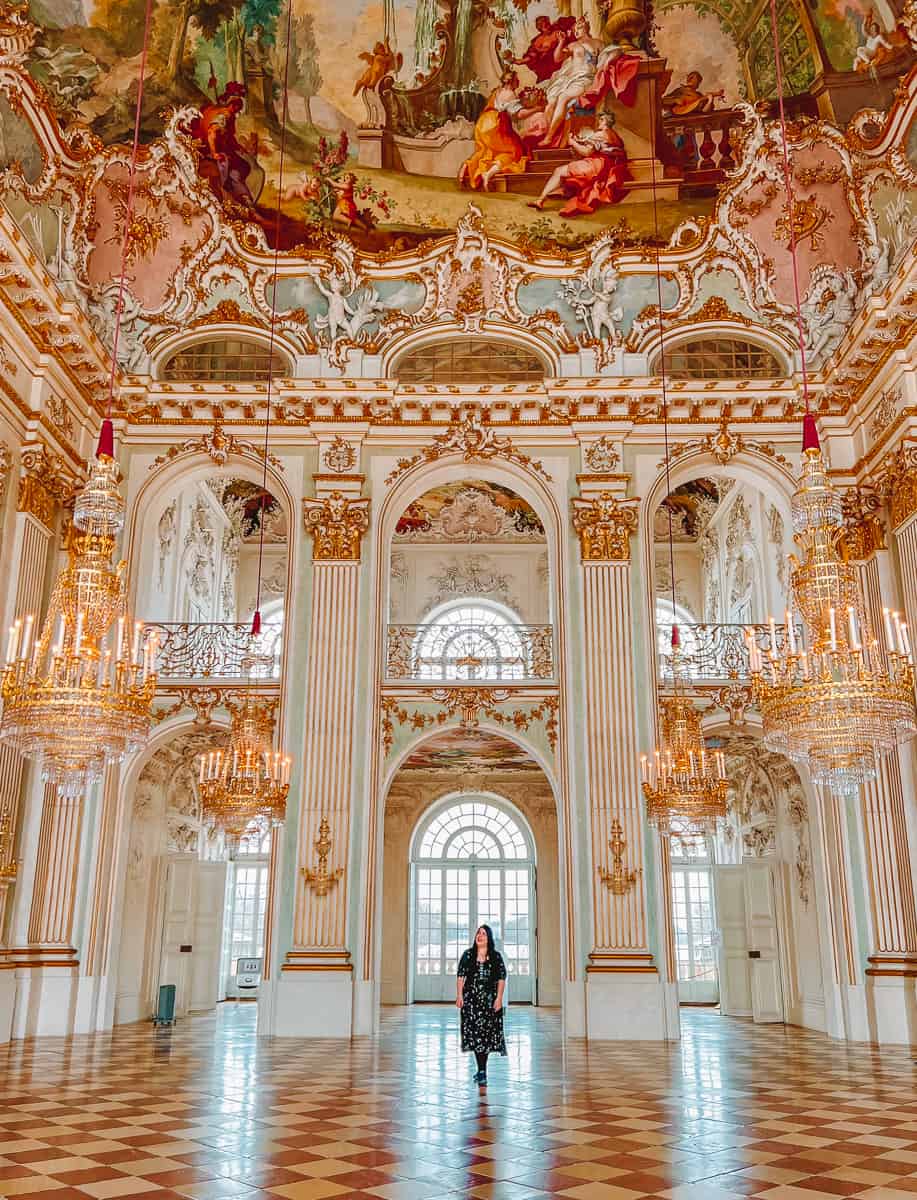 Or, why not take a rest in one of the Munich beer halls? Hofbräuhaus München is the oldest and most popular.
It can be rowdy but serves up beer by the litre, pork, and potato dumplings to the sounds of traditional Bavarian music.
One of my favorite buildings in Munich was Justizpalast. It's an incredible photo spot! But, be aware you have to go through tight security to enter.
Plus, there are lots of gardens, Olympia park, and the BMW Welt (world) to explore too. It's an incredible city with so much to do.
Read more of my Germany guides
How to visit the fairytale Wiblingen Abbey Library
Magical Plönlein in Rothenburg ob der Tauber
is visiting Neuschwanstein Castle in winter worth it?
Is Hohenschwangau Castle worth visiting?
Is it worth going inside Neuschwanstein Castle?
Save how to visit the Munich Law Library for later!
A big thanks to Maximilian, Stephanie & Simply Munich for making this visit to the Munich Law Library happen! It was a dream come true to walk up these staircases. Although I was a guest, all opinions are my own.