Although there is an endless choice of amazing bookshops to visit in Hay-on-Wye. No visit to this Welsh border town would be complete without a visit to Richard Booth's Bookshop.
It's named after the late bookseller and ingenious entrepreneur Richard Booth, the self-proclaimed 'King of Hay'! He was the founding father of this vibrant independent economy.
Also, this second-hand bookshop is what remains of the first chapter in the inspiring tale of becoming the World's First Book Town.
Although Richard Booth is no longer with us today, his literary legacy lives on and has inspired millions around the world.
With annual events like Hay Festival and over 50 Book Towns established around the globe, it's ensured that Hay-on-Wye will forever be a sanctuary for the written word.
As well as being a famous bookshop, it's now more of an institution in the town boasting a cosy café and independent cinema too!
Here's a complete guide for Richard Booth's Books and why you must visit in Hay-on-Wye.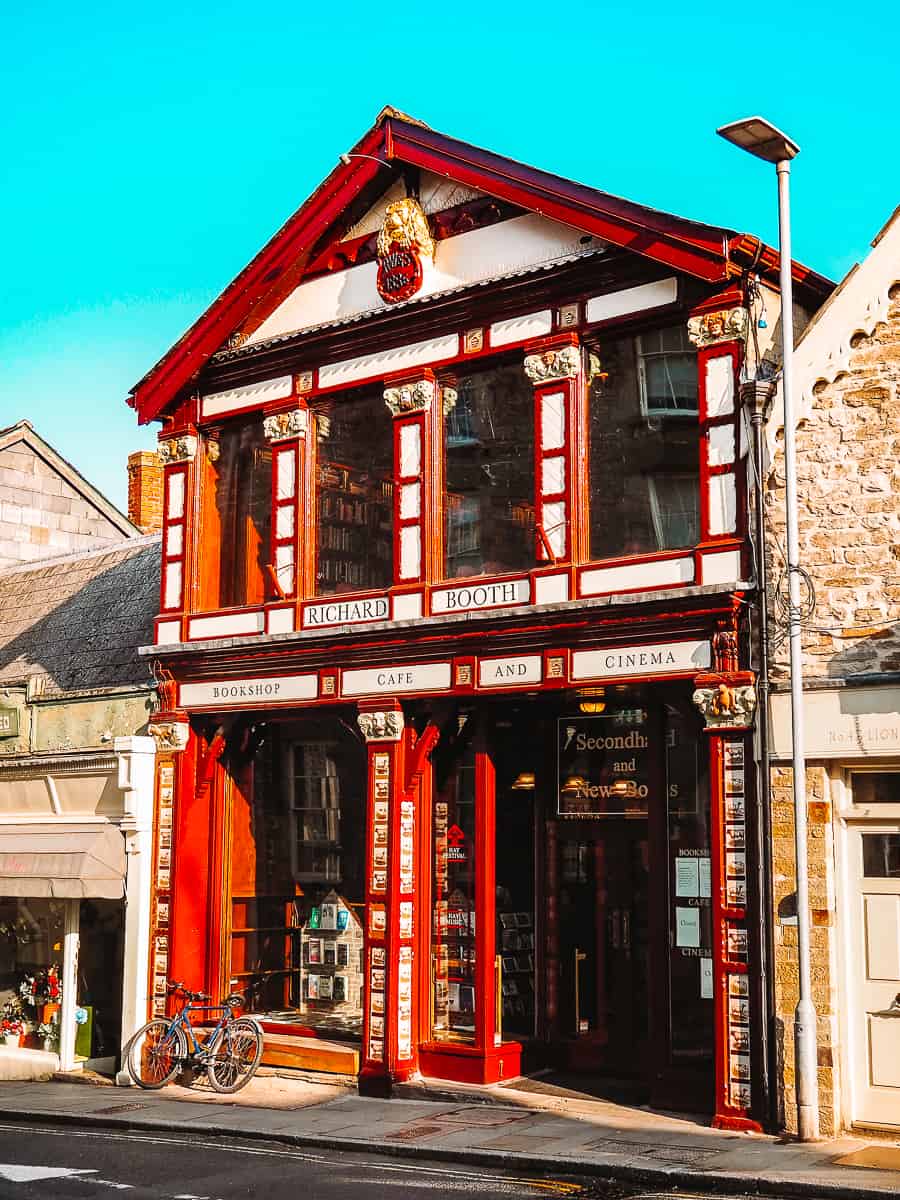 Firstly, who was Richard Booth?
The man that would later become the self-titled 'King of Hay' and creator of 'Book Towns' didn't always have the vision set out to be a second-hand bookseller.
He was born in Plymouth in 1938 but was eventually brought up in the sleepy market town of Hay-on-Wye which sits on the English-Welsh border.
After he left his hometown to be educated at Rugby School, Mereton College, and, finally, the University of Oxford. He reflected on how many boys just like him left their smaller towns for the big cities and how this had a detrimental consequence on rural economies.
So, after he inherited his uncle's prominent Brynmelyn estate, he decided to open his first second-hand bookshop in Hay-on-Wye in 1961. It was called The Old Fire Station which rather was aptly named as that's what it used to be!
This move was also majorly fuelled by the news that many libraries in the USA were closing down. So, he decided to fly overseas with some of Hay-on-Wye's residents to buy many of these unloved books and give them a new home in Powys, Wales.
While he was in the states, he saw that capitalism in America had truly taken hold. It was full of faceless shopping malls and big umbrella companies. It was like looking into a portal of what the future of England would become.
Booth believed that an independent economy was the only way to fight against it. So, after this majorly successful book hoard, he went on to open over half a dozen bookshops in Hay-on-Wye!
Although it may be quite a common occurrence nowadays, this was quite a cutting-edge move for entrepreneurship in the 1960s and 70s!
The self-proclaimed 'King of Hay' & Hay Festival
The sleepy border town of Hay-on-Wye soon started to make a name for itself after that. But, what really put it on the map and made tourism skyrocket would happen on April Fool's Day in 1977.
It was on this day that Richard Booth, who was rather fed up with politicians, would ride down Hay-on-Wye's high street on top of a horse.
He was wearing a homemade crown and DIY ermine robe and decided to declare himself the King of Hay! The town was also named an independent sovereign state with its own flag and held cabinet meetings.
Although it seemed absolutely bonkers to many, it was an ingenious idea on his part. This tongue-in-cheek proclamation made headline news and it soon drew in visitors from around the globe.
Many residents then followed suit to open up their own second-hand bookshops. Eventually, there were over 30 bookshops that opened their doors in the town. It's was then coined the World's First Book Town.
Around a decade later, the Hay Festival of literature and arts was founded in 1988. Its first year saw around 1,000 people attend.
But, with it quickly gaining popularity and Bill Clinton himself calling it the "Woodstock for the mind", this number has now risen to half a million!
Each year in June, the town is inundated with visitors wishing to attend. Considering the town only has around 2,000 residents, that's a huge amount of people to descend on the town.
The history of Richard Booth's Bookshop
Although Richard Booth used to own almost half of all the bookshops at Hay-on-Wye. In the end, he decided to own just one; the self-titled Richard Booth's Bookshop.
It stands on Lion Street within the town and it's easy to spot as soon as you approach it from its delightful scarlet and cream facade.
The bookshop sits inside an old chapel which seems rather appropriate as many worship Richard Booth and his love of books!
Eventually, in 2005, Richard Booth decided to sell his beloved bookshop. This was with the intention of moving to Germany to set up and promote new book towns overseas.
Although this didn't take place, he did end up selling Richard Booth's Books for £2 million and it was placed in new ownership in 2007.
It's since switched over again to loving hands but the name and its traditional style have not wavered.
It's a lasting tribute to the 'King of Hay' and book lover who passed away in August 2019 at 80 years of age.
A literary legacy and an empire of Book Towns
Although Richard Booth is no longer with us today what he has left behind is truly a literary legacy to last the ages.
His love of books and his ingenious tactics to transform Hay-on-Wye into a vibrant, rural, and independent economy will never be forgotten.
Not only did he win an MBE for his achievements in tourism in 2004, but there are also now over 50 book towns that have followed suit around the world. In which he was the lifetime president of the International Organisation of Book Towns.
He played a major role in the Welsh Booksellers Association as well as being part of the annual literary award in association with the Hay Writers' Circle.
The Hay Festival still takes place every year which sees over 500,000 like-minded bibliophiles gather in the town. As well as Bookstagram events for the more modern generation of readers.
So, although his tragic loss was felt throughout Hay-on-Wye and the world, his achievements will live on.
Why you must visit Richard Booth's Bookshop in Hay-on-Wye today!
It can be quite hard to choose exactly what bookshops you'd like to visit while you visit Hay-on-Wye. I mean, there are over 30 of them within the town and they all have their own unique qualities and specialities.
However, I would say that no visit to this Welsh border town would be complete without stepping inside the famous Richard Booth's Bookshop.
It's where the tale of this gorgeous Book Town began. But, beyond a first chapter, the bookshop itself is absolutely stunning. Inside and out!
Imagine creaking mahogany floorboards, countless shelves filled with hardback and paper books, and comfy seats to relax a while whilst browsing them.
It really is a bibliophile's paradise and I was in my element exploring here. Plus, it's not just a bookshop, there is a bookshop café inside and even a cinema too!
What to expect inside this bibliophile's paradise!
I wasn't really sure what to expect being perfectly honest as I approached the notorious bookshop. I guess, my first reaction was its surprising size. It seemed a great deal smaller than what I had been seeing (strike that, stalking) on my social media.
However, the bookshop's size is incredibly deceiving. Once you step inside, it's actually humungous!
You'll find three sweeping floors filled to the brim with bookshelves. At first, it does seem a little overwhelming to explore. Especially if you had a particular edition or genre in mind.
But, there is a method to the over-crammed madness and it's all well organised. There are signs on every aisle, on the ceilings, and even on the steps leading upstairs.
I have to admit, you could spend days exploring their bookshelves and I was taken in by their spectacular collection of hardback classics. It's a bit of a weakness of mine. Show me anything from Brontë, Poe or Austen and I'm officially hooked.
However, I'm also a bit of a mystery nut and I loved their collection of fictional crime novels that were tucked away on the bottom floor. There were reams of Doyle and Christie page-turners just waiting to join my collection.
Many bookshops in Hay-on-Wye have their own specialities like the nearby Murder and Mayhem that concentrate solely on crime and mystery novels. Richard Booth's Books, in contrast, sells a bit of everything!
You'll find books on photography, all chapters of world history, folios, children's books, gardening, poetry, and crafts. There really is something for everyone here including some delightful souvenirs too.
So, make sure you schedule a good hour or so to visit. If you do love your books, you will be in your element and will fall down the rabbit hole here. You have been warned.
Note: they do have an extensive list of what editions they stock on their webpage catalogue that can be found here. But, not everything inside is included. It's far better to enquire with the shop before you visit if you were after something in particular.
The Richard Booth's Bookshop Café
The reason why I recommend saving a good amount of time to visit this store in your Hay-on-Wye itinerary is that they also have a cosy bookshop cafe too!
Richard Booth's Bookshop Café is a delightful addition to this reader's paradise and you'll probably smell the coffee brewing as you're wandering around.
You'll find it tucked away towards the back of the bookshop and it's a little retreat to enjoy brunch, lunch or just a little pick me up!
It's the number one, top-rated café in town, so you can't really go wrong with choosing this place.
They serve up a limited but quality, traditional menu with local favourites. such as Welsh Rarebit. Even homemade Welsh cakes and sugary treats like Bara Brith, a fruit loaf cake plump with tea-infused fruit.
Although many say it's a little on the pricey side, I think it's well-justified being located in such a wonderful setting!
It can be hard to get a table though, especially on weekends and booking is not an option. So, get there early to guarantee your seat.
Richard Booth's Bookshop Cinema
If it wasn't already amazing, there is one more addition to the bookshop that I must mention here and that's Richard Booth's Bookshop Cinema!
It's a fabulous independent cinema that not only showcases the latest blockbusters but also some classic movies as well.
It's not uncommon to see black and white silent features, musicals, live theatrical productions, or documentaries on Hay's big screen. Plus, some fantastic productions that have been filmed around the world.
Although it's not on the site of the bookshop itself, it's located only a few metres away on neighbouring Brook Street.
They usually keep subscribers updated with the latest features on their mailing list, so make sure to sign up here. Also, booking in advance is highly recommended.
How to find Richard Booth's Bookshop in Hay-on-Wye & opening times
The easiest way to visit Hay-on-Wye would be to drive. But, there are bus connections that can take you to the town from the nearby larger towns of Hereford and Brecon.
There is a huge car park that's located on Oxford Road. This is the preferred option as you may find the car parks in the town fill up quickly.
As this border town is not overly large, Richard Booth's Bookshop is quite easy to locate from the main high street.
If you're heading in from the Oxford Road car park. You'll enter the town through the colourful Backfield Square, passing the famous Haystacks Vinyl, and end up on the main High Street.
It's then only a short walk past Hay Castle and the historic Market Hall that will take you through Lion Street.
You'll find Richard Booth's Bookshop nearby the famous Hay Town Clock. You really can't miss it as the bookshop facade is just so gorgeous.
The bookshop is open Monday to Saturday from 9.30am – 5.30pm. Then, 10.30am – 5pm on Sundays.
Looking for more things to do in & around Hay-on-Wye?
Although Hay-on-Wye is known as the World's First Book Town, there are far more things to do here than just browse bookshops.
But, it is one of the top things to do. Bibliophiles will be in their element as you can traipse what seems like a labyrinth of quaint streets. You're almost guaranteed to spot a second-hand book shop on nearly everyone!
From Addyman's Annexe, Murder and Mayhem, the Poetry Bookshop, and more. There is a bookshop for everyone with different genres and specialities.
By far one of my favourites was the open-air honesty bookshop on the ruins of Hay Castle. Click here to read all about it!
Click here to read a list of the best bookshops in Hay-on-Wye!
Aside from hunting down books, you can go antique shopping too. There are a few beautiful treasure troves dotted around. Not to mention the many other restaurants, cafés, and traditional pubs like The Blue Boar.
As Hay-on-Wye is situated inside Brecon Beacons National Park, you're on the gateway to the countryside with oodles of hiking trails. But, you could start with a short riverside walk down to The Warren at Hay. This is a riverside beach and it's located in a wonderful rural setting.
Or, if history is more your thing you could make a journey up to Hay Bluff. Just nearby is the famous ancient English Welsh border; Offa's Dyke! This is where King Offa wanted to separate his kingdom of Mercia from Wales in the 8th century.
I was also really wowed by the ruins of Llanthony Priory. It's a monument that has over 900 years of history and is tucked away in the Vales of Ewyas. You'll find the backdrop of the Black Mountains truly spectacular.
Nearby is St Martin's Church of Cwmyoy that has the title of the Crookedest Church in Britain as its tower leans out more than Pisa! Read more about that here.
Where to stay in Hay-on-Wye
The Swan at Hay – The Swan at Hay is one of the top rated hotels in the town that is situated in a delightful Georgian building. It's had a recent refurbishment so it's the perfect mix of traditional architecture but with modern conveniences. You'll get great views of the countryside from their boutique rooms plus you have the added benefit of a top rated restaurant onsite. Click here to book your stay.
The Old Black Lion – This traditional coaching inn has been providing weary travellers with a rest stop since the 17th century and is almost an institution in Hay-on-Wye. It stands on one of the original entry gates of the walled town from the 13th century. A colourful chapter in its history even saw Oliver Cromwell stay here while the Roundheads besieged Hay Castle! Nowadays, it's a comfy traditional inn where you can sleepover. Or, you can enjoy a meal in its cosy restaurant downstairs. Click here to book.
Read more of my Brecon Beacons travel guides
How to visit Henrhyd Falls – Batman filming location!
A complete guide for Crickhowell Bridge
Save this post on Richard Booth's Bookshop Hay-on-Wye for later!