If you're looking to book a trip to visit the Vilnius Christmas Markets this year, then you're in for a real treat.
It's not the obvious spot that people think of when booking a festive break which is what I think makes it all the more special.
From their unique show stopper of a Christmas tree, to the quaint markets selling gifts, mouth watering food and boutiques in igloos; there is something in Vilnius for everyone at this time of the year.
So, if you're still on the fence about booking that flight, here are 10 reasons why you need to visit Vilnius in December and the Vilnius Christmas Markets in 2021!
Top tips for visiting the Vilnius Christmas Markets
There are two Christmas Markets in Vilnius. One is set up in Vilnius Cathedral Square and it's free to enter. The other is outside the Vilnius Town Hall and is also free of charge.
The Vilnius Christmas Markets are temporary and run from the end of November until the beginning of January each year.
Stalls open from around 10 am until around 8/9 pm and it's later on weekends. Food and drink stalls are open the latest.
Most of the vendors were able to take card payments (Visa and Mastercard), but I would have cash on you just in case. They use the Euro in Lithuania
Struggling with WiFi? Make sure you pick up a Keepgo WiFi hotspot for your travels to keep you connected on the go.
I would recommend staying in a hotel near the Old Town to access the markets. The Amberton Hotel in Cathedral Square is in walking distance and you even get a view of the tree from your room!
Don't forget travel insurance before your trip, I always choose World Nomads. You never know if when accidents will happen.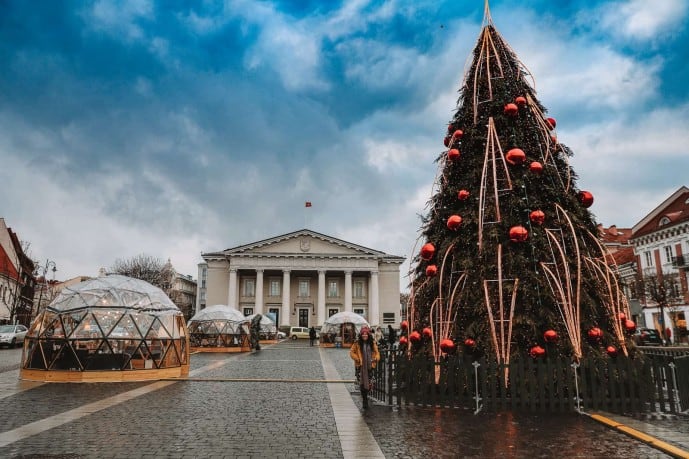 1. Vilnius is super festive in December
Now, Vilnius in December does sound like a pretty cold and bleak time of year to visit, I get it.
But December really is where the magic happens!
The streets will be lit up against the night skies, Christmas trees will be decorated, snow will be falling, festive songs will be playing and there will be plenty of Christmas cheer in the air too.
It's also really cheap, easy to walk around the whole city and there are lots of to-do in Winter despite the cold weather. Plus, there's always hot wine to keep you warm!
Having been in India and Egypt the last few festive seasons, It was such a change travelling to Europe where they celebrate Christmas in a big way.
I could instantly see why people love to do it so much. It really gets you into the Christmas spirit!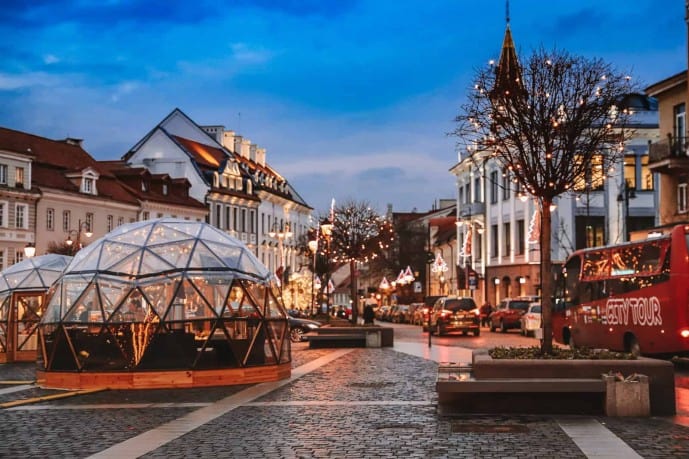 2. The Cathedral Square has a unique Vilnius Christmas Tree!
For the last few years, Vilnius has set up an incredible Christmas tree in Cathedral Square. It always gets the press and media talking about it as it's so unique and changes each year.
Last year the tree was green and this year the tree is a gorgeous shade of blue and white lights. In previous years they've had doors on the tree and it's been purple too.
From afar you can see all the light strings almost umbrella the Vilnius Christmas markets, but when you get closer you can see all the shapes and patterns that make up the tree. These always change throughout the evening!
When you enter the Vilnius Christmas Market circle, you'll find light installations dotted around the tree too. So, it's worth going in to take a closer look! Of course, it's also the perfect picture moment.
Cameras at the ready!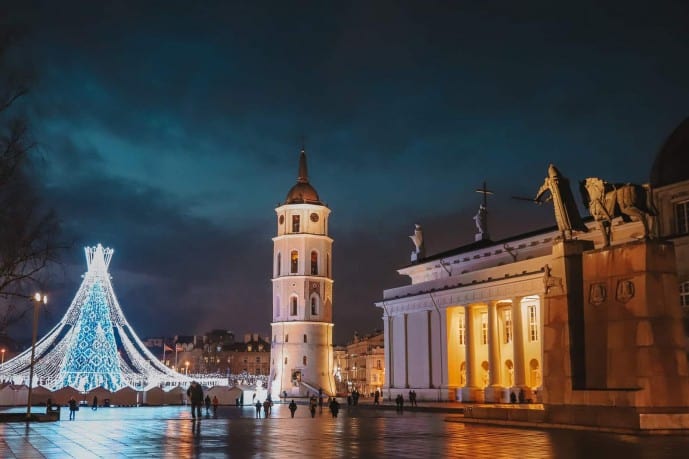 3. The Vilnius Christmas Markets have beautiful gifts you can buy
The reason why I love Christmas markets is that you can find such unique gifts for loved ones back home. The Vilnius Christmas Markets had stalls that sell handmade products or organic produce from Lithuanian companies.
There were candles made in all different shapes and colours. Bird boxes and wooden handicrafts, handprinted pottery, and warm woollen items that were perfect for the winter season too.
You could also buy cheese, conserves, chocolates, coffee, nuts and treats to give as foodie gifts which are always a favourite!
I spent a long time browsing the markets to choose some items to take home with me. There was just so much choice.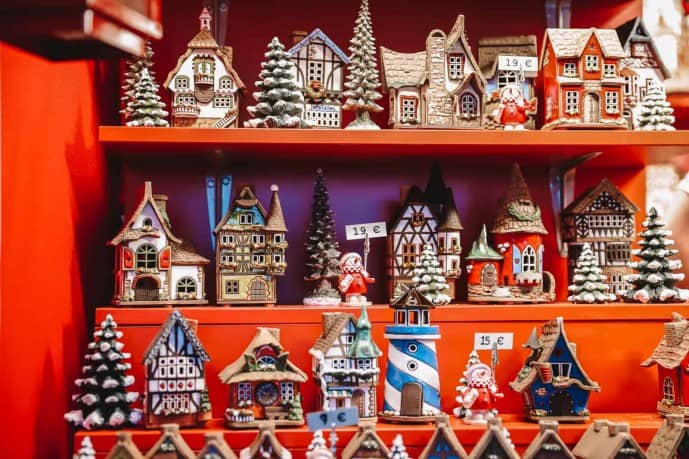 4. …And of course, Gluhwein to keep you warm in the cold
Hot Wine is a popular favourite at Christmas and, don't worry, Vilnius has endless vats of it! I think my blood type could be considered Gluhwein after a week in this city.
You can find Gluhwein at the Christmas Markets in all different types. Traditional red mulled wine, white mulled wine, and even a Gluhwein cocktail with a little Aperol mixed in with it! I tried the cocktail and would highly recommend it.
Mulled wine is typically sold at around 3-5 Euros a glass and is piping hot! So, it's the perfect drink to warm you up.
For a traditional Lithuanian drink to try at Christmas, sample some Kisielius which is a jelly type drink made of cranberries.
5. You can treat yourself and indulge in some festive treats!
This has to be my favourite part of any Christmas market, the delectably diverse range of sweet treats that are on offer.
From Nutella crepes, open fire-roasted chestnuts, chocolate fountains with covered strawberries, candy canes, gingerbread cookies, and more. I have a sweet tooth so it's my weakness!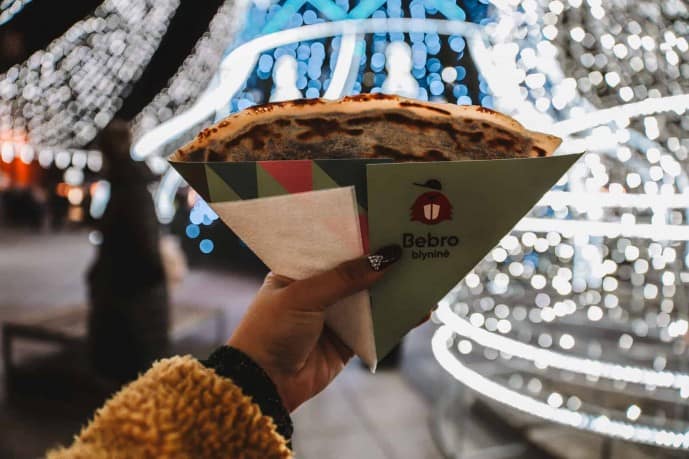 All the stalls were incredibly popular in Vilnius but the main one that had a huge queue each evening was the Dutch pancake stall.
You got 9 fluffy mini Dutch pancakes that were filled with toppings. I had Nutella with condensed milk, whipped cream, and blueberries and it was seriously indulgent.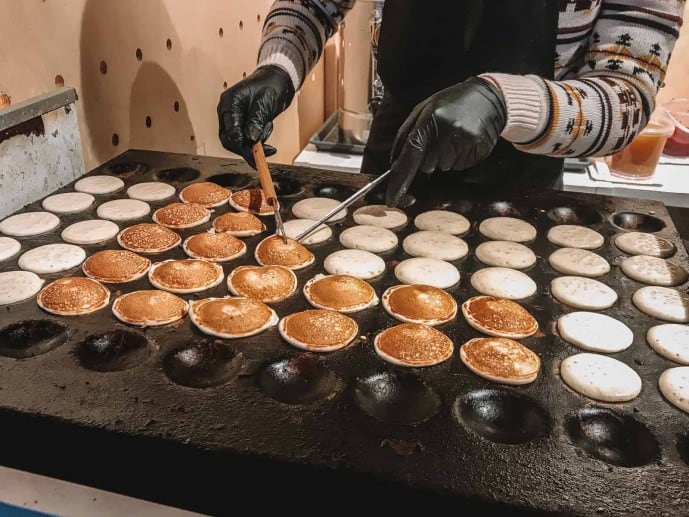 The prices of treats in the markets are average at around 4/5 Euros' a dessert. So, come with space in your stomach to treat yo'self!
"Hey, it's Christmas" was pretty much my excuse the whole week haha.
If you're looking for a more Lithuanian festive desert to try, I would recommend their Christmas Tree Cake called Šakotis that resembles the branches of a tree.
6. All aboard the Vilnius Christmas train!
As soon as I saw the festive toy train pull up outside Cathedral Square, I knew I had to jump on. It was just so adorable.
Kalėdos Sostinėje is a tradition in the city that runs from the end of November to the first week of January each year. For just 2 Euros, you can pop on the train and take a quick twenty-minute tour of the Old Town.
It's quite hilarious how many people stop to take a video or photo of the train as you're passing through, you feel like you're some sort of celeb (okay, I know it's really the train haha)!
While you're on the toy train, it plays some Christmas songs and it's all lit up so it's super festive. If you go at night time you can see the Christmas lights and decorations lit up against the night sky.
It's a winner with kids and big kids alike!
7. There is more than one Christmas Market
You'll be pleased to know that there isn't just one Christmas market in the city. There are plenty of stalls and areas to visit around the Old Town too!
One of my favourites was the Igloos outside of Vilnius Town Hall. At first, I thought it was a restaurant, kind of like the Coppa Club in London. But, later I realised they were all individual stalls.
There were coffee stands, bars, gift shops, book stalls, and plenty more things to visit. Each igloo was super warm too so if you wanted to defrost, you could sit down for a while and admire the Christmas lights through the window.
I treated myself to a Gluhwein inside one of the igloos to warm up and there were faux fur blankets and a Christmas soundtrack playing. It made it super cosy.
This part of the Old Town also had its very own Christmas tree too! I loved people watching and seeing the kids smile at the decorations and the adults take a million selfies!
8. …And there's an Ice Rink if you'd prefer to skate
Ice skating simply isn't my thing. But, I just don't think a city is the same without it at Christmas Time. If you head down Gediminas Avenue, you can find the Vilnius Ice Skating Rink on Lukiškės Square.
It actually runs way beyond Christmas from the beginning of December to the beginning of March, so there's plenty of time to take part.
Entry is only 3 Euros a session which includes skate rentals and only 2 Euros' if you have your own skates. A total bargain!
Outside the rink, there is also a small café if you want to warm up or if you'd rather wait for your kids outside.
The Vilnius Christmas Ice Skating Rink runs Monday – Friday from 12 pm – 9 pm and Weekends from 10 am – 10 pm. It does get busy so prepare to queue at peak times.
9. All the attractions and restaurants will be spreading Christmas cheer
Aside from the Vilnius Christmas Markets, there are other places that are festive too.
Last year, there was a competition where all the restaurants and cafés in Vilnius were competing to who had the best Christmas Decorations.
I did see some amazing displays at the Palace of the Grand Dukes and, the sugar cane store front at Sugarmour and also some of the hotels too.
But, the one that really impressed me in Vilnius in December was the decorations outside the Augustus Ir Bora Love Story Café.
Not only did they decorate the whole front of the store in pink with glittering fairy lights, but there were also PINK UNICORNS and beautiful baubles too!
Aside from the Christmas decorations, the Love Story café is highly Instagrammable and serves up an amazing menu. So make sure you pop inside.
Read more – The Instagrammable Love Story Cafe of Vilnius. Or, you can click here to see the Love Story Café menu, it's open from 9 am-11 pm each day.
10. Your day trips out of Vilnius in December will be festive too
Did you know that the main cities and attractions in Vilnius also have a little competition between each other to have the best Christmas tree?
So, even when you travel out of Vilnius in December, you'll find that everywhere is getting into the festive spirit as well.
My favourite tree in Lithuania had to be Kaunas. They concentrated their efforts on using all sustainable and recyclable materials to make their wacky Christmas decorations and it was insane!
Inside the tree, they had a stall where you could write down what you wish for at Christmas and it was adorable. Even Santa came out to greet everyone. They also had a Christmas market there serving up food and sweet treats.
Trakai Castle also had a beautiful tree set up by the Lake Galvé observation deck and Santa had a little hut where he was greeting Children throughout the day. Even the Castle was decorated in beautiful decorations.
So, you won't be too far away from the winter holiday celebrations in Lithuania.
Read more about my day trips from Vilnius in December:
How to visit the Hill of Crosses
How to get to Trakai from Vilnius
Where to stay in Vilnius in December
I stayed with Tinggly in their blogger house for the week who are an amazing gift card experience company. They believe in giving stories not stuff and you can check out their range of gift boxes here.
Unfortunately, their blogger house is not available for rent. But, here are some of the hotels I have handpicked for you in all budget ranges.
I particularly loved the location of Amberton hotel, simply because they have a great view of Cathedral Square. So, you could watch the amazing Christmas tree from the comfort of your bedroom!
Looking for more inspiration for Lithuania in December?
So, that's all there is to know about the Vilnius Christmas Markets. But, I spent a week in Vilnius in December and took many day trips to locations like Kaunas, Trakai and The Hill of Crosses too.
Have a look at some of my detailed guides below;
40+ Places to visit in Vilnius
A photography guide to Vilnius
The best viewpoints in Vilnius
The ultimate guide for Three Crosses Hill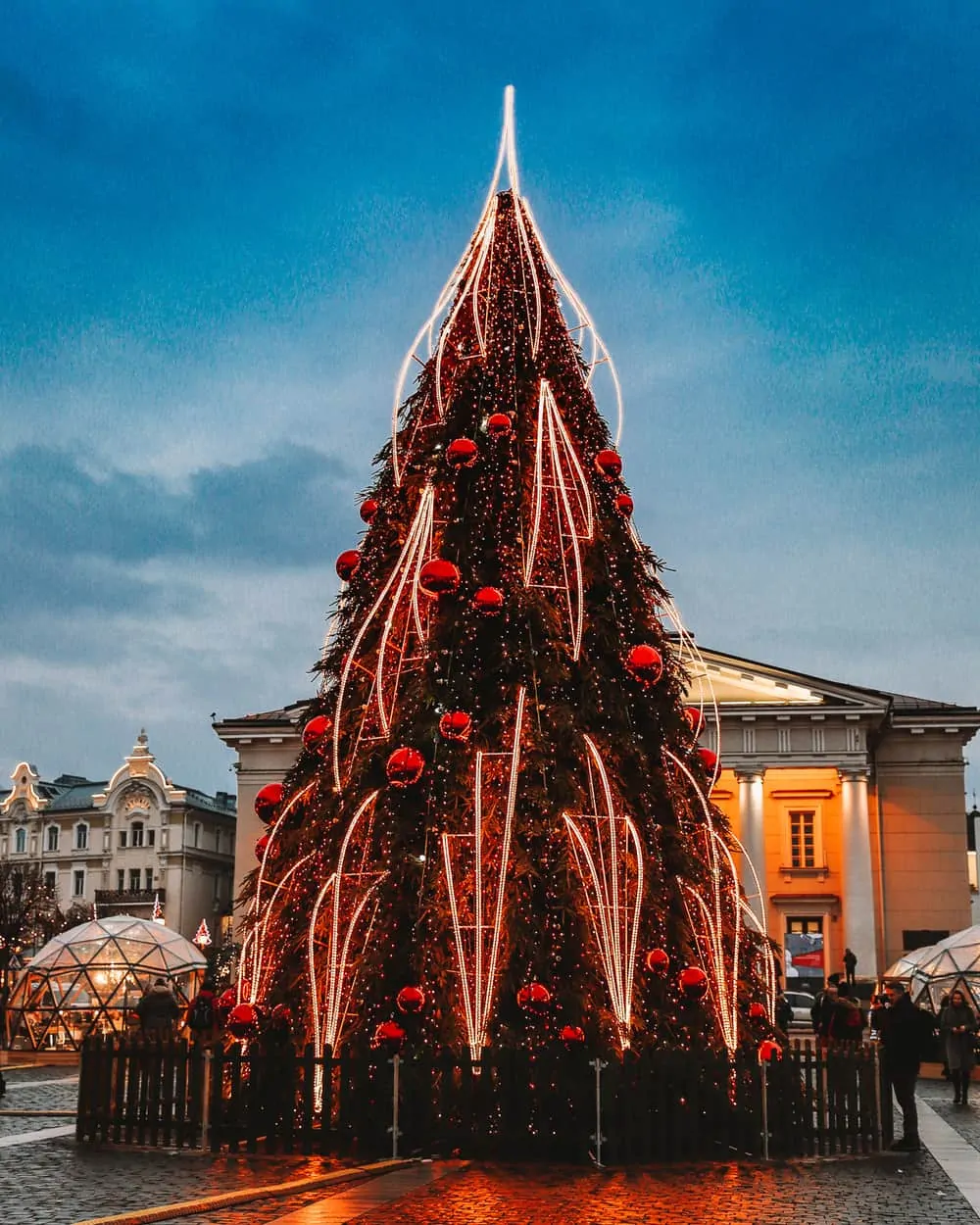 Save this Vilnius Christmas Market post for later!