Did you know that there is a wealth of incredible Vilnius viewpoints in the city?
They are without a doubt some of the highlights of any visit to the capital of Lithuania!
All of the different viewpoints provide a unique panorama perspective and so it's a good idea to leave enough time to see a few of them while you're here.
I visited many vantage points while on my visit from churches, castles, restaurants, and hillsides. So, I've put the very best ones on a helpful list that you can steal!
If you're looking for amazing Vilnius viewpoints, here is my list of where to find the most photo-worthy panoramas.
FREE Vilnius Viewpoints
If you're on a budget, or you want to visit some viewpoints at optimal lighting times for photography, there are some great viewpoints that are completely FREE.
They also don't require a ticket to view them but some have restricted opening hours.
1. The Hill of Three Crosses
The most amazing Vilnius viewpoint in the city is the incredible Hill of Three Crosses in Vilnius.
There is a legend surrounding this hill (known as Bleak Hill) that 14 Franciscan monks were invited to Vilnius and started preaching about God.
At that time Lithuania was Pagan and the people didn't really appreciate the monks bad-mouthing their Lithuanian Gods.
So, the people revolted and kill them all. 7 were executed and thrown from Bleak hill and the other 7 were crucified thrown into the Vilnia River. Today, they are known as the Franciscan martyrs of Vilnius.
This monument is a memorial to them that was torn down twice during the Soviet occupation. Today, it's a popular viewpoint where you can see the whole of the Old Town.
Out of all the views in Vilnius, this one was my favourite. This is because you can see the whole of the city from there and the best attractions, like the Gediminas Tower.
It's easy to walk up, open 24 hours a day, and is completely FREE to visit.
Click here to read my complete Hill of Three Crosses guide
2. Gediminas Castle / Tower
Did you know that you don't actually need to pay to visit the Gediminas Tower? Well, not the hill surrounding it anyways.
Gediminas Hill is another popular viewpoint in Vilnius as not only is Gediminas Castle an icon of the city, it's also closer to Cathedral Square.
The tower is named after The Grand Duke Gediminas, who was the founding father of Vilnius and built the foundations for this tower in the 14th century.
When I visited, there was quite a lot of construction going on which blocked the views, so I paid the 5 euros to go inside the museum and get a better look up the top.
I found the price worth the money. But, you can get great views from the hill when construction isn't consuming the place.
For accessibility, there is also a funicular you can ride up and down the hill, but this does cost 1 Euro each way and has restricted timings.
FYI there are NO toilets up here or inside the museum, so go before you visit!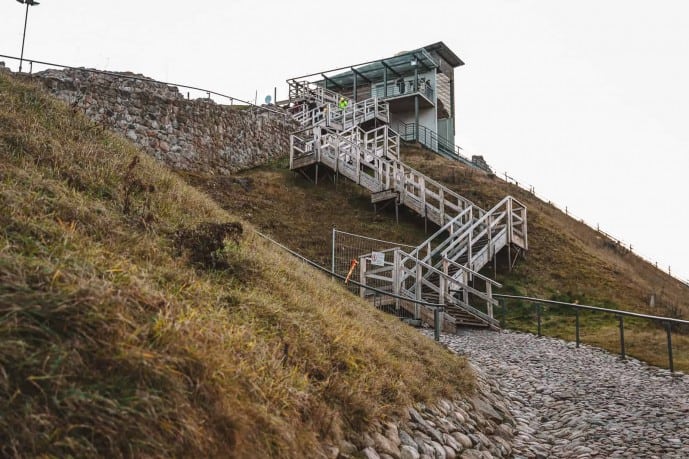 3. The City Bastion Viewpoint
This isn't one of my favourite Vilnius viewpoints I have to admit, it may be because you can see the cars on the road. Or, it just didn't have the 'WOW' factor for me.
But, as they say, beauty is in the eye of the beholder so you may find some inspiration from there.
The City Bastion used to be a stronghold as part of the city defense walls during the Duchy of Lithuania but later on, it became a barracks for the garrisons of German troops during World War II.
Today, the hill by the City Bastion is a popular park and viewpoint in the city and from here you get a great view of the churches, Užupis, Gediminas Tower, and beyond.
This viewpoint is FREE but if you wanted to visit the terrace in the City Bastion museum this is chargeable.
The City Bastion Viewpoint can be visited 24 hours a day, but if you want to go inside the museum or onto the terrace, this is only open from Tuesday – Sunday from 10am – 6pm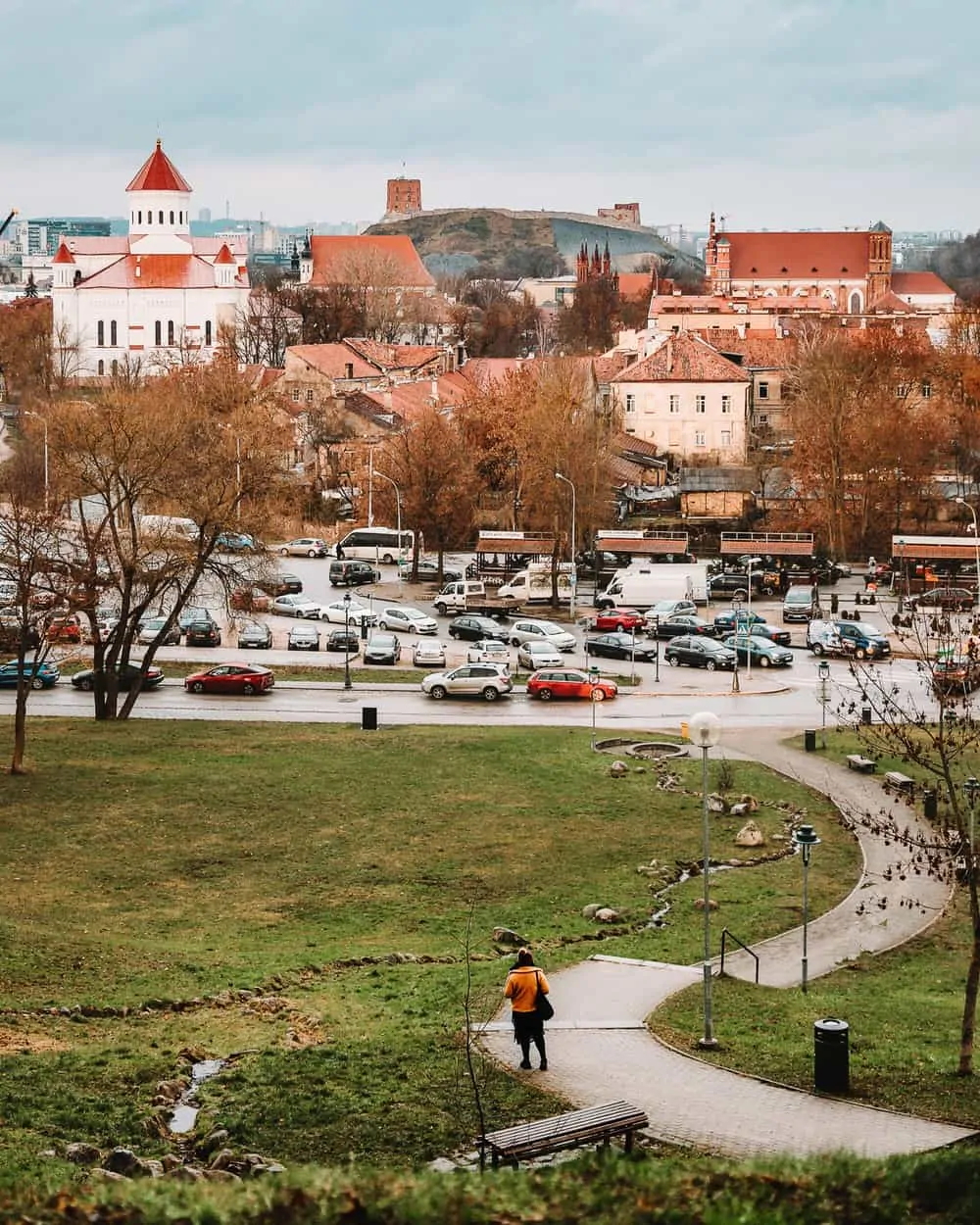 Vilnius Viewpoints from Churches & Museums
There are a staggering amount of churches in this city, over 700 churches in Vilnius in fact, so you'll see them on pretty much every street corner.
Some of these amazing buildings have bell towers which you can climb up to grab some views of the city!
Also, there are some other museums that provide observation decks as part of your experience, which makes the entrance price just a little bit sweeter.
Read more – The Most Instagrammable Places in Vilnius
4. The Church of St John's Bell Tower outside Vilnius University
This tower in the Church of St John's supposedly has the BEST view of the Old Town. But, I was really disappointed with my visit as it was closed in the winter months.
I actually spent an embarrassing amount of time trying to find the entrance until I realised, LOL.
This bell tower has unobstructed open views from its windows at the top which is why people prefer it over the Cathedral Square Bell Tower. It's also in the centre of the old streets. So, you get a birds-eye view of the gorgeous rooftops, cobbled streets and church spires.
You will have to climb up 193 wooden stairs to reach the peak and it's around 45 metres high. So, if you're relatively fit and not scared of heights it's perfect.
If you're interested this church was built in 1387, so it has a lot of history to tell and is worth popping in to have a look too.
Tickets cost 3 Euros and it's only open in the Summer.
5. The Palace of the Grand Dukes Observation Deck
I LOVED the Palace of the Grand Dukes. It was an extensive museum which is an excellent reconstruction of the old Palace in Cathedral Square. They are still, even today, excavating historical artifacts from the site.
The museum has four parts and you can pay for each part separately or pay for a complete museum ticket to cover all areas. I would recommend seeing it all as it takes you on the full journey.
As part of your museum ticket on the top floor of the palace, there is an observation tower where you can take in some amazing views of the city.
But, this is covered by windows and there is no outside viewing area. So, there may be some glare and window reflections in your photos.
You'll need at least a couple of hours to explore as it is a HUGE museum, I even had to take breaks haha. Tickets cost 5 Euros for all areas. See their website for more details.
6. The Cathedral Square Bell Tower
Just outside of Vilnius Cathedral is the famous Bell Tower that sits in Cathedral Square. It's one of the oldest and tallest towers in the city that was originally built in the 14th century.
Today, this is a reconstruction of the Bell Tower that stood in the square and is a whopping 52 metres high.
Not only will you be greeted with beautiful panoramas of the square, Cathedral, Gediminas Tower, Pilies Street, and Gediminas Avenue, you'll also be able to check out the museum.
This has also had an exposition of the church bells to see, historical pictures of the reconstruction, and the Old Town Clock inside.
Don't miss it, it's one of the best Vilnius viewpoints!
Tickets cost 4.50 Euros and it is open from 10am – 6pm in Winter, 10am – 7pm in Summer. See here for more details.
Restaurants and Bars with amazing views in Vilnius
If you'd rather take in some magical views with dinner or a few cocktails, there are some amazing spots in Vilnius that are perfect for that.
Now, these don't come cheap and some may have a minimum spend requirement, but remember you are paying for the jaw-dropping views! So, it's an experience you won't forget.
7. Vilnius TV Tower
The Vilnius TV Tower is the tallest building in Lithuania and an attraction in the new part of the city. It is HUGE at over 1,000 feet high, so you're bound to feel like you're up in the clouds.
As well as simply visiting for the views alone, you can also enjoy a delectable dinner up in the air too.
Traditional Lithuanian dishes start on their menu at 7 – 8 Euros, so I would definitely make a booking if you're keen. Here's their menu.
If you want to know what you can expect, they have a nifty 3D tour here. Or, I'll leave it as a surprise! Reservations in advance are highly recommended.
Tickets to visit the 19th floor of the TV tower and Freedom museum cost 8 Euros for adults and concessions are cheaper.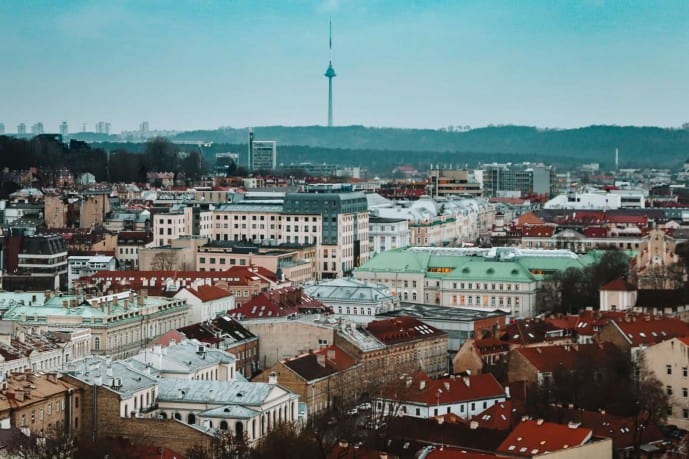 8. Radisson Blu Sky Bar
Just over the Neris River from the Old Town is the Raddison Blu Hotel. If you climb up to the 22nd floor, you'll find their sky bar and restaurant.
It is a little overpriced but, again, you're paying for the views and to sit by the window you may have a minimum spend.
But, they have a delightful range of snacks, light bites, meals, and cocktails to choose from so you can celebrate your time in Vilnius in style.
If you wanted to stay in this hotel and enjoy these views from the comfort of your hotel room, click here to book.
Read more of my articles on Vilnius & Lithuania
I was able to cover a lot of ground in Lithuania while I was here and visited many places in Vilnius, Kaunas, Trakai, and even the Hill of Crosses.
From my adventures, I wrote these helpful guides to give you all the information that you need to prepare for your travels in Lithuania;
40+ places to visit in Vilnius
My photography guide to Vilnius
The Instagrammable Love Story Cafe of Vilnius
Top attractions in the Republic of Užupis
Hill of Crosses: How to reach there from Vilnius
Why you need to visit Vilnius in December
Save this Vilnius Viewpoints guide for later!