If you're looking for all the ways to get from Vilnius to Trakai, you'll be glad to find out it's easy peasy and cheap.
Trakai is only located around 27 kilometres out of Vilnius, so you can be there in less than 30 minutes!
This is just one of the reasons why a day trip to the romantic Trakai Castle is so popular.
It's easy enough to go self-guided. But, if you'd rather take a guided tour, I'll also explore those options below too.
Here are the 5 ways to get from Vilnius to Trakai Castle.
Where is Trakai in Lithuania?
Trakai used to be the capital of Lithuania centuries ago when the country was part of the Grand Duchy of Lithuania.
It was discovered by Duke Gediminas (you'll recognise the name from the Gediminas Tower) on a hunting trip in the 14th century. He fell in love with the area and decided to move his court there.
Hence why this quaint little town in the middle of the countryside has a giant gothic castle sitting in the middle of Lake Galvé!
Today, it's located around 27 kilometres to the west of Vilnius and sits in the southeastern part of the country.
Why visit Trakai on a day trip?
Trakai actually means "Forest Glade" and you can tell why as soon as you get there. It's an emerald paradise with sparkling lakes sprinkled in. It's also home to the country's smallest national park!
However, most tourists visit Trakai for the jewel in its crown; the only island castle in Eastern Europe.
A romantic, gothic castle that was originally started by the Grand Duke Kestutis and finished by his son the Grand Duke Vytautas in the 15th century.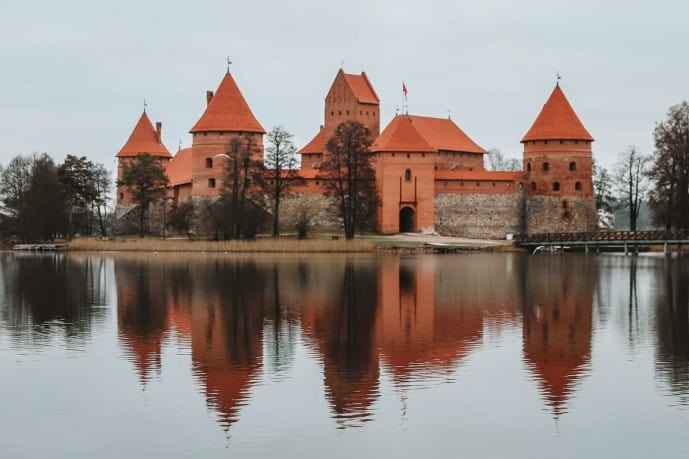 But, due to it being destroyed by Muscovy troops in the 17th century, what we see today is a construction from the 20th century. It's now one of the most popular attractions in Lithuania.
As well as the castle, you can take some amazing walks around the lakeside, learn about the Karaite community who settled here in the 15th century, snoop around mansions, eat yummy Kibinai pastries and also visit the new Hill of Angels too.
There are so many attractions in Trakai, that you could take up a whole day exploring. But, if you're stuck for time, half a day is enough.
Click here to read my complete guide to Trakai with the top attractions in the area.
How to get from Vilnius to Trakai Castle
So, now we know that Trakai is awesome and well worth a visit. How do we get there?!
Well, there are a couple of transport options that run from Vilnius to Trakai that are cheap, easy and convenient.
I found the public transport in Lithuania amazingly efficient. The booking sites are in English, you can pay online and you get your e-tickets instantly. So, you shouldn't have any trouble booking or finding how to get to your destination.
But, if you need an extra helping hand with timings and directions, I'd recommend the transport options on Google Maps or download the Trafi App – it's hugely popular in Lithuania and will give you directions for your journey.
Option 1: Take a bus from Vilnius to Trakai
When I was researching the best way to get from Vilnius to Trakai, the bus won it for me. This was for a few reasons;
They run more frequently than trains, so you have a more flexible schedule
Bus tickets are cheaper and get you there quicker than the train
The Trakai bus station is located half a kilometre closer to the castle than the train station (every little helps right?)
So, this is the way I would recommend that you get to Trakai on your visit.
How to book buses in Lithuania
Booking Lithuanian buses couldn't be simpler.
I'd avoid the sponsored links like 'Omio' at the top of Google (hello, rip off!) and head straight to the official Lithuanian bus website here.
It's in English, so simply put your start destination and end destination in the boxes and it will give you all the options of buses heading from Vilnius to Trakai that day.
Some of the buses you can't book online, but it will give you the timings for when they run.
In the dead of winter, there weren't many tourists heading to Trakai. So, I simply turned up at the bus station and bought a ticket on the bus.
But, if you're visiting in peak season and would like to guarantee your seat, I'd book an online ticket. You can also book a ticket in advance from the bus station counter service too.
How much is a bus from Vilnius to Trakai?
It all depends on the bus company, but the most you'll pay for a ticket from Vilnius to Trakai is 2 Euros.
In fact, on my way out of Vilnius, my bus ticket cost me 1 Euro 30 cents! This was on a minibus. On the way back, it was more of a coach and cost 2 Euros.
So, in total, my bus there and back cost me just over 3 Euros, which is a total bargain. But, the max I think you'll pay is 4 Euros for a return ticket.
Tip: If you're paying for tickets on the bus, you will need cash as not all buses take contactless or card payments. There is an ATM at the bus station!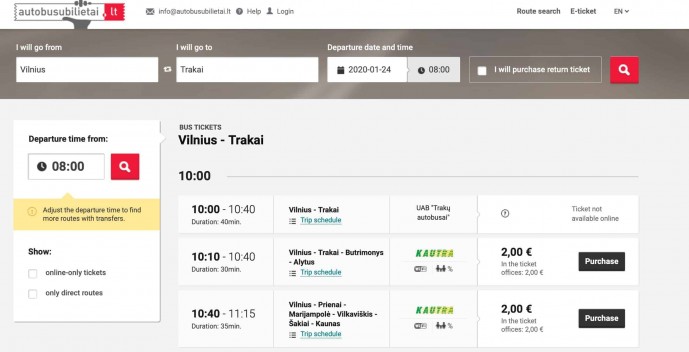 Where does the bus go from in Vilnius?
The buses heading to Trakai all go from the main Vilnius Bus Station. But, it can be a little bit of a minefield trying to find the right bus when you're there.
I decided to head straight to the counter and ask the ladies there for help locate the stop as there are around 30 lanes for buses.
There weren't really any signs of which buses were heading to Trakai on the lane itself, but the buses have either an LED or paper sign in their window of where they're headed.
Where does the bus drop you off in Trakai?
The Trakai bus station is an obvious station when you get there. Don't worry, it's not a random bus stop on the side of the road!
It will most likely be your first stop on the bus, so when you pull into a station lookout for a Trakai sign and head on out.
I will warn you now, Trakai bus station is located around 2.5 kilometres from the castle. But, the walk is flat and picturesque. So, it shouldn't take more than 30 minutes to reach.
In winter, they do have a little Christmas train that runs from the bus station and back for just 2 Euros. So, you can save your legs and arrive at the castle in style!
Heading back from Trakai to Vilnius
Just like the buses that run out of Vilnius to Trakai, there are plenty of buses that run back to Vilnius throughout the day.
The kind lady at the Trakai visitor centre actually gave me a printed-out schedule of the buses heading back there. So, if you'd rather you can pick up a copy just in case your phone runs out of battery!
The last bus leaves Trakai bus station at 9.30 pm. So, make sure you don't miss it! Here's a photo I took of the station schedule.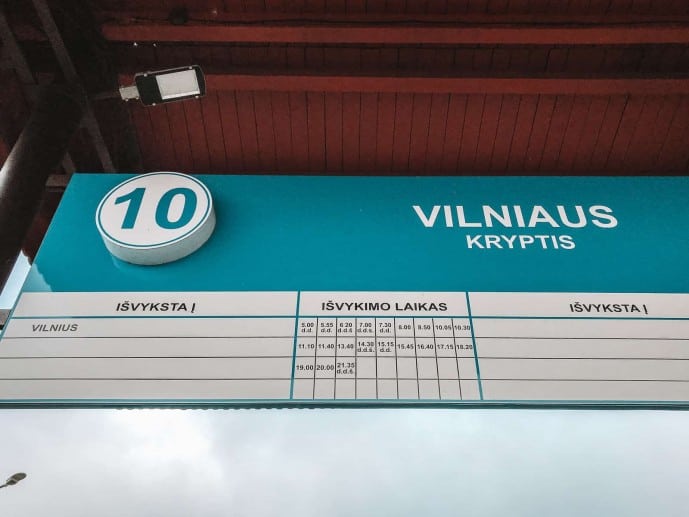 Option 2: Take a train that runs from Vilnius to Trakai
Another option to head from Vilnius to Trakai is to take the trains.
Again, I loved the Lithuanian train transport. They were easy to book, clean, reliable and comfortable too!
The only reason why I didn't pick the train was due to the timings throughout the day. They're less frequent.
How to book trains in Lithuania
Booking a train in Lithuania couldn't be simpler! The website is in English, you can book online and get your ticket within seconds.
Click here to book via the official Lithuanian train website
As soon as you click on the site it will ask you where you're heading today. Enter Vilnius to Trakai and it will come up with all the options for that day.
Select the time you would like and then book whether you want first or second class. You type in your name, email and passport number too.
When it prompts you, you can pay online with your bank card. There wasn't any booking fee with a debit card.
Then you'll get your e-ticket sent to you as a PDF with a QR code. The conductor can then scan this on your phone!
How much is a train from Vilnius to Trakai?
Most of the time, trains in Lithuania have two classes; second and first class. But, on the Trakai service, it's only second class.
The trains to Trakai are around 1.80 Euros each way depending on what time you choose to go. It's more expensive at peak times.
It may be worth booking a return to get a slight discount too on the return journey.
Where does the train go from in Vilnius?
The Vilnius Bus station and Vilnius central train station are almost next to each other.
Interestingly enough, trains in Vilnius run on a track system rather than a platform. You'll often see two numbers next to your train on the announcement boards.
For example, on my train to Kaunas, it was going from platform 3, but what I was actually looking for was track 6.
So, make sure you stand on the right track or you'll miss your train! If in doubt, ask the train station information counter to help direct you to the right track.
Where does the train drop you off in Trakai?
Trakai train station is 500 metres further away from the bus station, making it around 3 kilometres away from the castle itself.
Again, the walk is easy and flat and if the weather is nice, it won't feel like any effort at all.
But, if it's freezing in the dead of winter, I'd opt for the little toy train! There will also be taxis outside of the station.
Heading back from Trakai to Vilnius by train
There are plenty of options for trains heading back to Vilnius from Trakai.
But, the last one heads back to Vilnius at around 8 pm. So, make sure you don't miss that train or you may find yourself stranded!
If you do happen to miss your train, head to the bus station as there is one heading back at 9.30 pm.
Option 3: Go on a Vilnius to Trakai road trip!
If you're going on a road trip through Lithuania or have your own car, driving from Vilnius to Trakai is really easy.
As it's so close to the city centre, you just need to follow the signs which are quite straightforward when you know which road to head on.
To head out of the city, you need to locate the A4/A16 road heading to Trakai. Continue straight on this road until you see the signs to turn off at Trakai.
Trakai is a relatively small town and, as most people are heading to the castle, there will be brown tourist signs everywhere directing you to the right spot.
There is a main road that heads all the way through the town and past the lake observation deck where the castle is. You can't miss it!
Click here to check out Rental Cars for your road trip in Lithuania
Parking in Trakai
There is plenty of parking located in Trakai town that is organised by zones. There is a Blue, Red, Yellow and Green zone which all have different parking charges per hour.
The Blue Zone on Karaimu street (nearest the castle) starts at 1 Euro an hour and the Green Zone further out is as little as 40 cents per hour.
Click here to see all parking options and zones in Trakai
Option 4: take a guided tour of Trakai Castle
If you're stuck on time, or you'd rather take a guided tour of Trakai castle there are a few options of organised tours from Vilnius you can book.
These range from a transfer to the castle and back, to an audio-guided tour.
Option 5: Take an air balloon ride over Trakai Castle!
If you're looking to arrive in Trakai in style, why not book a hot air balloon ride over Trakai?
You'll be taken from Vilnius to Trakai castle, given a glass of champagne and soar over the castle taking in breathtaking bird-eye views.
I visited Vilnius with Tinggly who is a gift card experience company. They include a hot air balloon ride in one of their gift card packages here for only £99!
Click here to book your air balloon ride over Trakai Castle
Where to stay in Trakai
If you'd rather stopover in Trakai, there are plenty of hotels to choose from.
There are even hotels that look directly over Lake Galvé and over to the castle. Here are some of the top picks;
Looking for more inspiration for Lithuania?
I stayed in Vilnius for a week with Tinggly and I was able to cover a lot of ground while I was here.
Not only did I explore the capital, but also neighbouring cities like Kaunas and even the Hill of Crosses!
So, if you're looking for some inspiration for your travels, make sure you check out my detailed guides below;
The ULTIMATE Vilnius travel guide
A photography guide to Vilnius
The Instagrammable Love Story Cafe of Vilnius
The best viewpoints in Vilnius
The ultimate guide for Three Crosses Hill
The top attractions in Užupis, the free republic
The only Devil Museum in the world
Hill of Crosses: How to reach there from Vilnius
Why you need to visit Vilnius in December
Like it? Pin it!