Ever since I was a kid I have loved the novels of Agatha Christie and Miss Marple and Poirot TV series.
So, when I heard there was a Marple-style tearooms hidden away in The Cotswolds, serving a scrumptious afternoon tea – I didn't hesitate to drive over there and see what it was all about!
The Tollgate Tea Shop, or more recently renamed 'The Tollgate', is the perfect pitstop on your way to the city of Bath.
Situated inside an old turnpike in Dyrham this cosy little tea room, which only has 15 tables, serves up an amazing menu of breakfast, lunches, brunches, and most importantly high tea and homemade scones.
I don't know about you but there is something so lovely about retreating for a spot of tea in the afternoon. It's definitely my happy place. That along with lashings of jam and clotted cream to tuck into.
Here's my full review but don't blame me if it gets your mouth watering!
Update 2023: The Tollgate is now officially closed :(
The history of The Tollgate tea shop
Always being a little bit of a history buff, I'm always curious about buildings like this. It's so quaint and tucked away it did leave me wondering about its past.
According to their website, The Tollgate tea shop was originally built in the early 19th Century in 1818.
Originally, it acted as a turnpike (toll house) called 'Woefield Corner' for the Lambridge to Cirencester trust road. Eventually, the trust was disbanded in 1865, and the turnpike with it.
The building was then owned by the Dyhram Park Estate (now a National Trust Property).
It was first used to house farmer labourers until around 1930 when a couple called Morgan rented it to create their first café business called 'Ham and Egges'. At that time, the water was drawn from a well and there was no electricity!
Over the years the various owners of the property have made vast improvements including adding a kitchen, bedrooms, living area, and a conservatory.
It was only in 1999 that the first mains electricity was installed before it was a generator. It's funny what you take for granted these days.
I absolutely love the fact that this little place has had such colourful roots. It's like it speaks to you through the walls.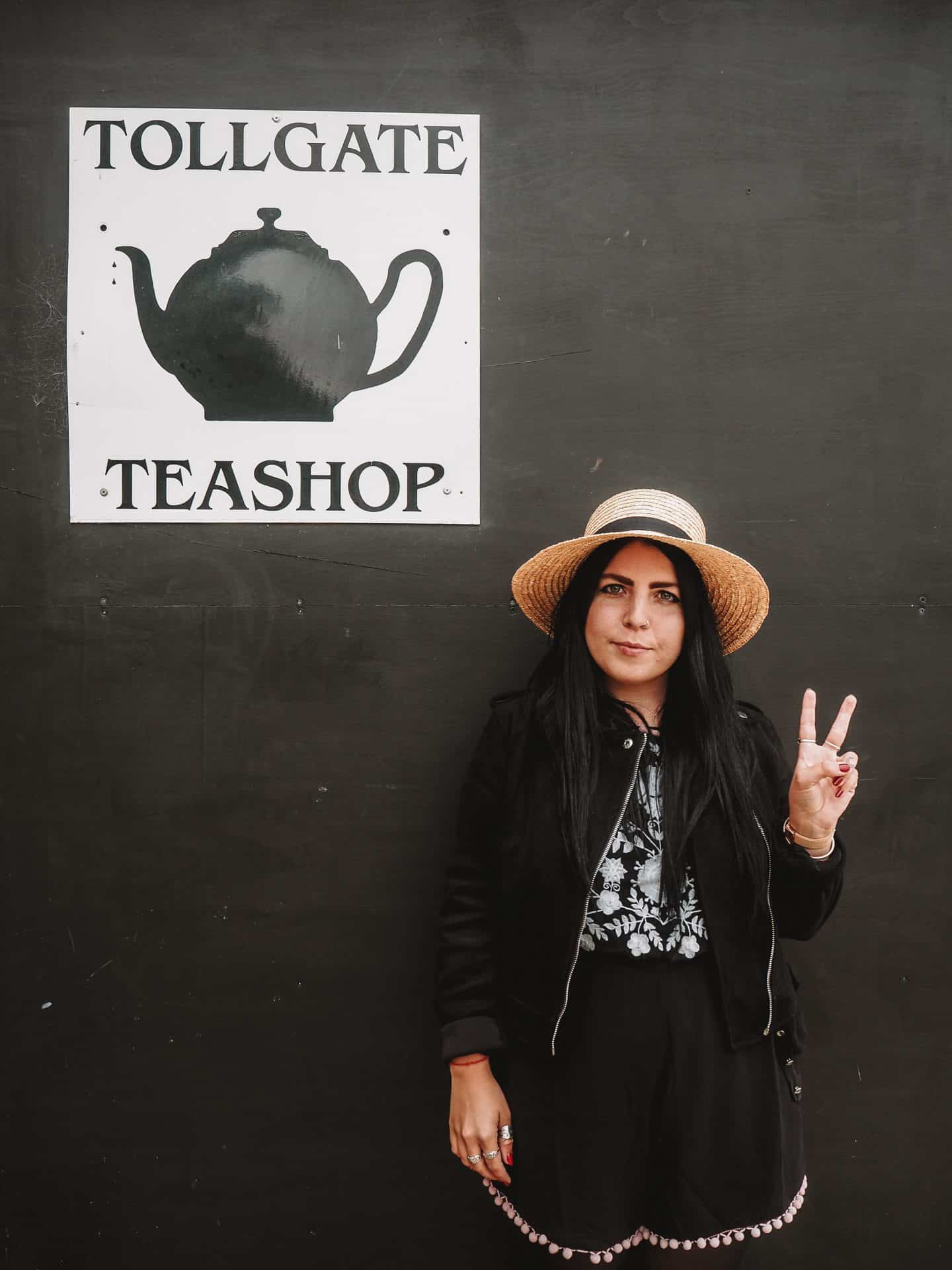 Directions for the Tollgate tea shop
I have to admit, this quaint Tollgate tea shop can be easy to miss as it's tucked away on the side of the A46.
To get here you can alight at Junction 18 on the M4 and follow signs to Bath.
Once you see Dyhram Park it's not too far away from there. You'll see the sign Tollgate with a big kettle on the side.
Parking is free but there is limited space. In recent years they've now built an overflow at the back so there's more room!
Tollgate tea shop Afternoon Tea for two
As soon as I walked in, I fell in love with it!
The Tollgate tea shop had the most adorable vintage decor and really felt like it kept to its farmhouse roots.
We reserved our spot knowing it could be busy being on a Saturday afternoon and I would highly recommend doing so. As it only has 13 tables, you don't want to get there only to be turned away.
We were so glad we did as we were placed in their beautiful conservatory which let lots of light in and had gorgeous panoramic views of the countryside.
A Tollgate Afternoon Tea for two was just what the doctor ordered. Firstly, you could pick any sandwich that you wanted off of their menu.
This was great for me as sometimes if it's preselected for you, there's always a sandwich I don't like (here's looking at you egg mayo!).
Although it said they were finger sandwiches, they were huge on fluffy white bread. I went for a classic ham and mustard and my mum went for the bacon, lettuce, and tomato!
After you are finished with the savoury course, which is filling in itself, next up is the scone! This was my favourite part. You can just tell when something is homemade and fresh and these were still warm from the oven.
I always go for a fruit scone and these were full of sultana scrumptiousness! Of course, you must traditionally put lashings of clotted cream and jam on top. But, unfortunately for me, cream and I don't get on. So, I just have jam (I know, I'm a monster!).
Then, finally, if you can stomach the last part, is your choice of any cake from their extensive menu. I was debating a slice of Lemon Drizzle cake but when I saw there was a Coffee and Walnut in the mix, it left me with no other choice! Coffee and Walnut is hands down the best slice of cake you can choose.
They really don't hold back at the Tollgate and the slice I received was a unit. Again, this was homemade and delicious. The icing, the moist texture, the walnuts – everything! I was so annoyed I couldn't finish it all. But, it was just far too much for me.
How much is an afternoon tea at the Tollgate tea shop?
I was amazed at the value for money here. For sandwiches, a scone, loose leaf tea and a huge slice of cake it's only £12 per head or £22 for two people!
It's an incredible price as usually the sandwiches are £6 alone on their menu. You definitely won't leave hungry that's for sure!
If you didn't want the sweet afternoon tea, you can go for their savoury option which is £1 more (£13pp or £24 for two). That set comes with a choice of sandwich, cheese scones with chilli jam, and cream cheese paired with a slice of cake for afters.
Everything is home made in the shop
What I loved about this place was that everything was lovingly homemade.
From the bread used for the sandwiches, the warm scones, and the cakes, they were all made from scratch at the shop. It just makes everything taste that much better!
I will have to come back for their bottomless Prosseco afternoon tea! It sounds like an absolute bargain, the only trouble is getting here as one of you has to drive, hic!
Don't leave without checking out the views!
If you head out the back of the Tollgate tea shop, you will be greeted with the most incredible panoramic views of the Bath hills, Bristol, and beyond!
Although we were here on quite a dreary day in August, the vista was still beautiful. Like a colourful patchwork blanket of hills and fields in the distance.
Of course, I was quite literally holding onto my hat. As it was so windy there, it was blowing away!
Don't miss out on the Tollgate tea shop
This Miss Marple-style retreat in the countryside was such an adorable place to spend an afternoon along with an exquisite high tea.
I couldn't believe this little gem was so close to Bath. It is quite easy to miss as you're driving along the country roads but if you're passing by and see the sign, don't hesitate to check it out!
You, your tummy, and your wallet won't regret a single thing.
Read more articles about South West England!
The ultimate Castle Combe guide
Like it? Pin it!