If there is one place that always enters my mind when I think of Devon, it's Dartmouth.
With its incredible colourful houses that almost sink into the River Dart, cobbled coves, and hidden castles.
It's a quaint area that has so much history and unique places to explore.
If you're into your history or are looking for a beautiful place to stay in Dartmouth then you definitely need to book the ancient Bayard's Cove Inn.
Inside you'll find a cosy lounge, award-winning restaurant, and comfy boutique rooms making it the perfect place to base yourself while in Devon.
Here's my complete Bayard's Cove Inn review with all the amazing reasons to visit!
Heads up: my stay at the Bayard's Cove Inn was sponsored on my press trip with Visit South Devon. Although I was a guest, all opinions and photos are my own
Why visit and stay in Dartmouth?
Dartmouth is a picturesque town that sits on the banks of the River Dart in South Devon.
As well as being a gorgeous fishing area and tourist hotspot, Dartmouth's huge history has left an amazing legacy behind.
It was first mentioned in the Domesday Books in 1086 and Dartmouth Castle was built on the River Dart Estuary in the 14th century.
Dartmouth has links with the Pilgrim Fathers who established the Plymouth colony in the New World in Massachusetts.
Also, the town has several royal connections. Charles II held his court in the Butterwalk during a storm and Prince Phillip was a cadet at the Britannia Royal Naval College.
Queen Elizabeth II would visit him regularly there. One of my favourite spots here is the Tudor-era Bayard's Cove Fort.
A Grade II listed building which you can explore and was a stopping place for the Mayflower 400 years ago in 1620.
You can also drive to one of the UK's award-winning beaches from here, Blackpool Sands Beach.
There are so many reasons to visit Dartmouth, you'll struggle to find time to see and do it all.
All the reasons to check into Bayard's Cove Inn
1. The Bayard's Cove Inn history spans over 500 years
I love staying in places with history when I travel and the Bayard's Cove Inn has a huge story to tell. In fact, it's the second oldest building in Dartmouth!
Originally this cosy Bed & Breakfast used to be known as Agincourt House. Which takes its name from the famous Battle of Agincourt in 1415.
It was built in the 14th century and was home to a wealthy trader in the area. He built an outer courtyard into the property and it was his home for many years and for generations of his family too.
Eventually, the Agincourt House was repurposed into a shop. The owner told me that the shop featured in the 1970s TV series – The Onedin Line.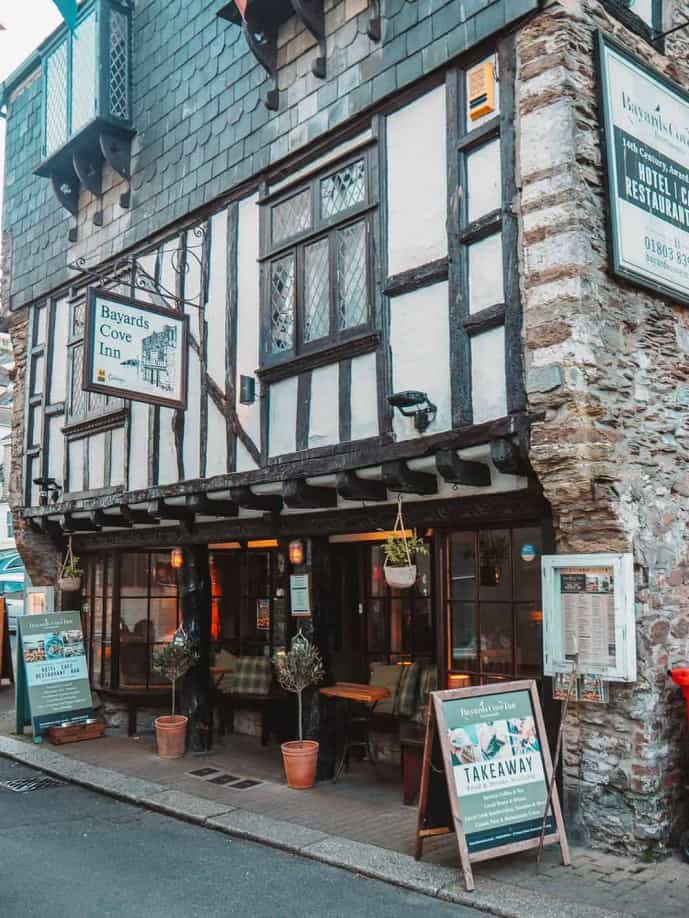 Finally, it was converted into a restaurant, and then significant improvements were made to create a Bed and Breakfast on top.
What makes this property truly unique is that it's one of the only properties in the South West of England that has the 'gallery and block' arrangement.
This means that the accommodation was joined to the kitchen at the rear by a gallery and a large courtyard is sandwiched between the two.
2. Bayard's Cove Inn is located right by the River Dart
What I loved about this property is it's located in one of the best areas of Dartmouth which oozes history.
As soon as you step out of the hotel, you can turn right down the cobbled wharf full of historic houses. This street leads you to Bayards Cove Fort which sits right on the River Dart.
This fort was originally built in the Tudor era in the 16th century to protect the town from foreign invaders.
Back then, the Dartmouth wharf could hold up to 600 vessels and many traders visited here to sell wool!
Unfortunately, it fell into decline until the 19th century when it was restored for tourists who were visiting the area.
It is now owned by English Heritage and is a Grade I listed building. So, you have it pretty much on your doorstep and you can enjoy exploring the area at any time of the day!
3. The 7 boutique en-suite rooms at Bayard's Cove Inn are all unique
Another amazing feature about Bayard's Cove Inn is the fact that there are so few rooms, making it really private.
Each boutique room is different with a nautical theme. We stayed in the Raleigh suite which had gorgeous antique windows overlooking the cobbled wharf, cove, and the River Dart too!
We had a huge and comfy double bed which you could sink into under exposed beams, a small desk, TV and some tea and coffee facilities too. I'm a caffeine monster, so this was much needed.
We had a spotlessly clean en-suite bathroom with fluffy towels and a shower.
What I loved was the fact they didn't have single-use plastics, but they had handmade soaps from local businesses to use.
We had lots of storage with a wardrobe and I loved listening to the sound of the harbour in the mornings.
Click here to look at the different rooms available and book your stay
4. You can wake up to a delectable breakfast
As the inn is a Bed & Breakfast, you can wake up to the smell of food cooking in the kitchen and treat yourself to their breakfast buffet in the morning.
As well as having your choice of a hot breakfast from their menu, they also have a fabulous range of continental offerings too.
There are cereals, toast, fruit, pastries, yoghurt, fruit juices, and even a smorgasbord platter. Plus a much-needed caffeine fix with their espresso coffee or pot of tea!
My Mum and I both when for their full farmhouse breakfast which made us burst at the seams. But, as it was raining outside, it was welcome comfort food and set us up for a full day of exploring the elements.
5. …and eat in their award winning Bayard's Cove Inn restaurant
The great thing about staying at Bayard's Cove Inn is the fact they have an award-winning restaurant downstairs.
So, you don't have to drive or travel far to visit one of the best-rated restaurants in town and the atmosphere here is just as vibrant as their food menu.
You can take your pick of delectable meals for lunch or supper. We had an evening meal here and were absolutely in love with the food.
First off we went for a Crème brûlée style chicken pâté with toasted bread which was unique but really worked!
Then I went for the landed fish of the day, sea bream, for my main with salad verde and new potatoes. While my mum had the Roast Chicken Supreme with dauphinoise.
We were really impressed with their wine list too and I went for a Sauvignon Blanc white wine with was full of gooseberry flavours.
We were so full by the end of the meal but were so impressed with the presentation and quality of the food.
Even if you don't plan to stay here, the restaurant is amazing and worth reserving a table!
6. The service is second to none
From before we arrived and in every second of our stay, all the staff here were incredibly thoughtful and kind.
From our friendly hosts, the waiters behind the bar, the restaurant, and the cleaning staff. They were all lovely and would stop for a chat.
We felt so welcomed here and they really couldn't do enough for us. The whole team was like one big family and worked so well together.
They are a massive part of creating the friendly vibe and atmosphere in Bayards Cove Inn and it wouldn't be the same without them.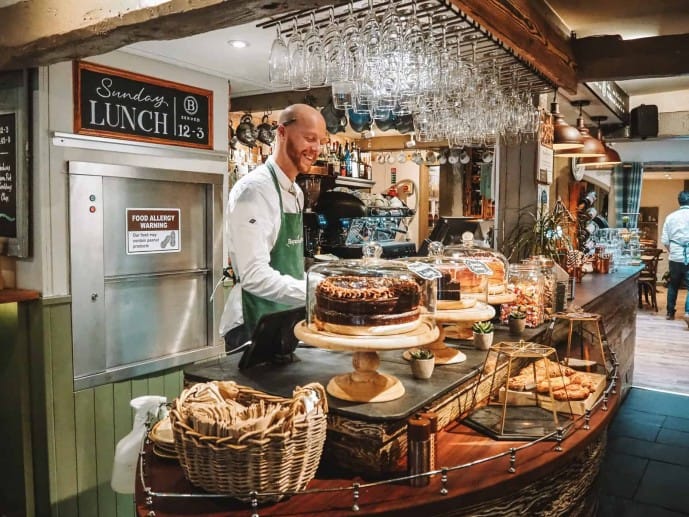 7. It's the perfect base to explore more of Devon
As well as being an amazing retreat to call home for a couple of days, the Bayard's Cove Inn is the perfect base to explore the local area.
Sandy beaches, historic homes, steam railways, and smuggler's ports, there is so much to do in and around Dartmouth you may struggle to choose.
So, here is a shortlist with some of my top recommendations.
Visit Dartmouth Castle
Dartmouth Castle was built all the way back in the 14th century over 600 years ago!
Originally it acted as a fortress along the Dart Estuary and was built by John Hawley, who was Mayor of Dartmouth. Over time the gun tower was added with some of the first ship sinking canons in Britain!
It was then used in the Civil War and was kept in use all the way up to World War II. As it sits right on the banks of the river, it's such a great place to explore and take in the views from the battery.
Also, a peek inside the Parish Church of St Petrox cannot be missed. You can drive or catch a ferry there and there's a small tea shop if you get peckish.
See here for more information on Dartmouth Castle opening times!
Take a walk along the harbour in Dartmouth
Some of the best views in Dartmouth can be found by walking along the front of the river.
You can look out over at the adorable houses in Kingswear, or spy on some of the amazing boats and superyachts in the harbour too.
I loved the old buildings, shops, and cafés along the front like the Platform 1 Champagne Bar which reuses parts from the old train station.
One of my favourite things to do at Dartmouth is to buy some fish and chips, sit on a bench and watch the world go by!
Take the Dartmouth steam train from Kingswear
Taking the Dartmouth Steam Railway from Kingswear for the day is like going back in time to a bygone era.
From March – October you can join them on a round-robin travelling from Dartmouth, to Paignton and Totnes too!
It's a great way to travel and take in some of the best views of Devon on the railways.
Another popular thing to do is take the steam train to Greenway Halt. Which I'll explain below.
Visit Greenway House near Galmpton
A popular stop from Dartmouth is to head over to Greenway, a summer home owned by Agatha Christie!
She bought the property in 1938 for £6,000 and she visited nearly every year with her family. She called it "the loveliest place in the world" and I could see why as soon as I arrived!
On your visit, you can explore this magnificent house, explore the manicured gardens and visit the famous boathouse.
This was used as inspiration in her novel 'Dead Man's Folly' as the murder spot of Marlene Tucker.
You can take the steam train, the ferry, drive or walk over and it's an amazing day out even if you're not a fan of the crime writer herself.
Click here to read my complete guide of things to do at Greenway House!
Spend a day in Brixham
Brixham, with its gorgeous collection of colourful houses on the sea, is a historic fishing town.
Although it is effortless picturesque today, it used to be a haven for pirates and smugglers! You can even climb aboard a replica of the Golden Hinde.
Get lost in the fish markets here, visit the old lighthouse, take a boat ride out or just admire the views.
Brixham is full of amazing things to do!
How to get to the Bayard's Cove Inn in Devon?
Dartmouth sits right on the huge body of water that is the River Dart and it snakes through the countryside.
So, it really depends on which side of the river you are heading in from which will determine how you get here.
It is easily accessible by car from the West side of the river, but from the Eastside, you may need to get the Kingswear car ferry to save time.
From the M5 motorway, navigate on the A38 and then follow the signs for Dartmouth;
By Car – the address is 27 Lower Street, Dartmouth, Devon, TQ6 9AN. So, you can easily plug this into your SatNav or Google Maps to make your way over here in Dartmouth. Then take the Totnes turning on the A384 and follow signs to Dartmouth.
Taking the sea ferry at Kingswear – If you're heading over from Kingswear, it maybe best to travel over to Dartmouth by the car ferry. I was actually quite scared of doing this, but was completely fine! Even when the sea was quite temperamental due to the weather. A single ticket is £6 and the ferries run throughout the morning until late at night. Bayard's Cove Inn is located right by the car ferry exit.
By Train & Bus or Taxi – the nearest train station to Dartmouth is Totnes. From here, you can take a bus service to Dartmouth or book a taxi. Also, if you plan to ahead here by bus there are services from Exeter and Plymouth.
Bayard's Cove Inn parking
There is one private parking space that is available to book at the hotel. This costs £15 and the staff will be more than happy to help you. It will be parked in a secure garage.
There are also many parking spaces near the wharf that don't have restrictions or charges.
These are located on a steep hill, so it can be tricky navigating your car out of them especially if you have a big car. My trusty pink Ford KA was fine though.
There are also some time-restricted parking spots along the street heading into the main area of Dartmouth too. These are usually free before 8 am and after 6 pm.
If you're parked here any time 8 am – 6 pm you may get a ticket, so keep track of the time!
Read more of my Devon travel guides
The House That Moved in Exeter
Harry Potter locations in Exeter
Is this Exeter's Diagon Alley?
Walking down the Narrowest Street in Britain!
How to visit Wistman's Wood on Dartmoor
How to visit Lydford Gorge & White Lady Waterfall in Dartmoor
How to visit Brentor Church in Dartmoor
Woolacombe Bay Holiday Parks Review
Magical Valley of the Rocks Devon guide
Like it? Pin it!