I'll start off by saying that I LOVED my hot air balloon ride in Luxor.
But, I'm not going to pull the wool over your eyes and tell you that the safety with riding one has been great in the past. I mean, you only have to put it in Google and the search pages are plagued with tragic stories.
I didn't even tell my mum I was flying in one there until I landed (as I knew she'd worry) and sent her the photos to prove it afterward!
But, hundreds of people take to the skies each morning at sunrise in Luxor to experience an air balloon flight and it's something I would encourage you to try.
Egypt is one of the cheapest countries in the world to fly in one and so it won't break the bank in any budget.
As this was my first time flying in an air balloon, I have to admit I was a little nervous. But floating high over the Valley of the Kings was nothing but spectacular.
As the sun rose up, the colours of the Theban hills changed with it. You could see all sorts of ancient monuments and the majestic Nile river in the distance.
Also, it was incredible to see the patchwork blanket of local farmland, stacked houses, and friendly people waving at you below! This quickly made its way to the top of my personal favourite things to do here!
Here are some no-nonsense tips about riding a hot air balloon in Luxor.
This was not a sponsored post. I paid with my own pennies. All pictures and opinions are my own.
So, what's the deal? What to expect on a Hot Air Balloon in Luxor
As my alarm went off at 4 am, I did not expect to be as spritely as I was. I'm very used to getting up for sunrise on my travels but this was an ungodly hour!
Luckily, the mix of nerves and excitement was running through me so I was able to function knowing that there was a magical morning ahead.
Here's what to expect on a Hot Air Balloon Ride in Luxor;
Before you fly
You'll be greeted by a team member at the reception of your hotel and picked up in a mini bus to head over to the East Bank. Or, in my case, I was so close to it, my guide just escorted me to a boat at the dock.
Once you're sat on the boat, other tourist groups will show up. Then you'll have a (extremely welcomed!) cup of coffee or tea with some snacks provided. Or, that was the case with Magic Horizon.
Then, once you've docked up on the West Bank, you'll make your way over to another mini bus that will escort you to the take off point. This takes around 15 minutes or so.
Once you've reached the take off point, you will see all these beautiful balloons lit up waiting to take flight. Your party will wait with your guide until you get the all clear to board.
There's no steps to get into the basket, so prepare to climb over or be man handled by three men and lifted into it like I was haha! There's around 8 sections to a basket and they'll probably have two or three people in each to balance the weight. Magic Horizon's say on their website they will fly with four to twenty people. In peak season, when I went, the basket was full. It's quite cosy.
There will be around twenty guys trying to keep the basket on the ground while you're being loaded in. Once the captain is happy it's able to take off, you'll slowly start to ascend.
During the air balloon flight
You will end up flying up around 1,000 – 2,000 ft in the air and the flight will last around one hour. The fire that allows the balloon to fly, is SO hot. I was on one of the ends of the basket and my hair felt like it was going to catch on fire.
Then when you come to land, you'll be waiting a while. The captain will need to find the perfect safe spot. It's so not straight forward (I'll go into it later)
After the flight
Then you'll land, get out of the basket and have a cheesy group photo. With Magic Horizons we got a cute certificate for completing our flight which was really sweet. Then, you'll get in the mini bus and continue your tour of temple hopping or go back to your hotel.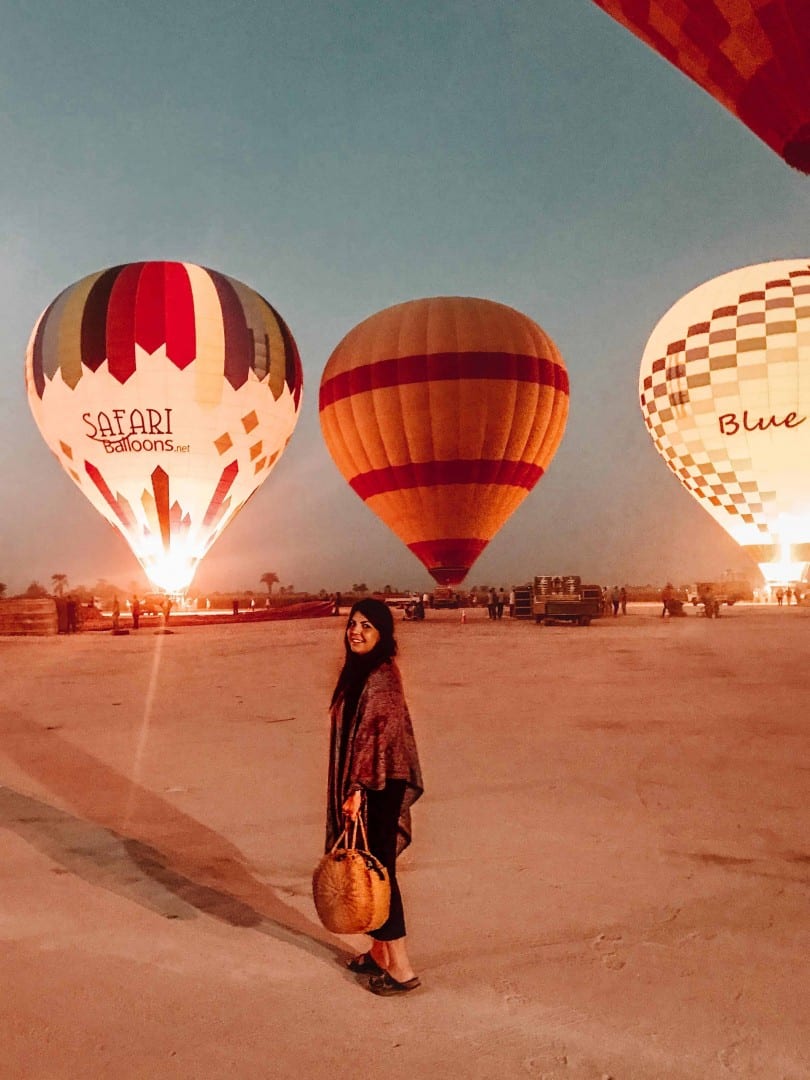 No B.S. tips for riding a hot air balloon in Luxo
1. Luxor's hot air balloon rides are ridiculously cheap
Most of the time when I travel, I can hear my bank account physically cry when they tell me how much a hot air balloon ride is.
For example, in Myanmar and Jordan, you're looking at a couple of hundred dollars at the very least. But, in Egypt, riding a hot air balloon in Luxor can fit even the tightest of budgets (if you save some aside).
My air balloon flight with Magic Horizon Balloons was only $50USD. Which is a total steal. That included all transfers, coffee/tea, a snack, and a generous one-hour magical flight over the Valley of the Kings and Theban Necropolis.
I mean, when else can you say you've flown in an air balloon that cheap?! I was so happy I could finally tick one off my bucket list without burning a hole in my wallet.
2. Do some research and make sure you go with a safe company
As I've touched on before; hot air balloon riding, wherever you are in the world, always comes with a certain amount of risk involved. I mean, you're floating thousands of feet in the air under a big balloon, right?!
In Egypt, safety with this wasn't always great and you'll see many tragic news stories of accidents in the past. However, it is improving and important to remember that hundreds of people fly in them every day without anything going wrong.
But, it is extremely important to do research before selecting a company. If a ride is included in your tour always question who the company is before you book and check reviews.
Magic Horizon Balloons has paired with Alaska balloons in Luxor, making it the biggest, safest and largest fleet. They are affiliated with the Civil Aviation Authority, the British Balloon & Airship Club, and the British Association of Balloon Operators. Along with having many years of experience.
I personally took my flight with these guys and everything was perfect. It was great to know I was in safe hands. You can book online before you arrive in Luxor via their website. In peak season's it's always a good idea to book as far in advance as you can, they do fill up and you don't want to be disappointed.
3. Lot's of flights run daily, make sure it's a sunrise flight
Around 18 flights will take off each morning with Magic Horizon Balloons alone if it's peak season. But, the best time to fly is at sunrise so you can see the world waking up in Luxor!
Many of the first flights will take off in the dark, meaning you don't get to see as much of Luxor from above until the sun rises. So, you want to make sure you're on the 3rd or 4th flight of the morning for when the sun is actually rising on the horizon.
This way the sky lights up in dreamy colours and, in winter, you witness a burning sunrise where the sky turns red!
So, if booking individually, mention on your online booking form that you'd like to go up on a sunrise flight.
Knowing I was last minute, I booked the night before directly with the shop itself in Luxor. The owner said it was unheard of for tourists to go and meet him face to face. But, what can I say? I'm a go-getter.
It was a miracle that I got that spot, but I was so grateful. It's a memory I'll always cherish.
4. Don't ride a hot air balloon if the weather is bad
The majority of accidents, unfortunately, happen due to companies and air balloon captains ignoring bad weather warnings.
It has to be clear to fly an air balloon, or it cannot take off or land safely. Plus, if it rains or is windy, the flames for the air balloon which are needed for it to fly will be affected.
Ergo, don't even think about riding in one of these babies if the weather looks awful or if there's a sand storm! Your company will advise on the day if the air balloon flight will go ahead or not. But, always follow your instincts as well.
I was warned before my flight it may not take place due to bad weather, but luckily there wasn't a cloud in the sky.
5. You're not technically supposed to take photos
When I told my air balloon guide I was a travel blogger and I would like to take photos. He warned me that technically you're not allowed. For what reason? He couldn't say. But, I think it has something to do with the army and security etc.
But, like with anything in Egypt, if rules can be bent, they will be.
When you land at the take-off point, your guide will tell you that you can't take photos on the ground before you take off. Shortly followed by the fact they can't stop you from taking them up in the air!
So, just hide your camera/phone when you're on the ground, then go wild when you take off. I mean, I didn't see a single tourist without their phone or camera on any balloon.
Pics or it didn't happen. So, I say go for it!
6. You'll see the most magical view of Valley of the Kings
Beyond all the nerves and lack of sleep I had about this flight, the views from the top are worth their weight in gold. It quickly made me realise why so many people do it!
As we rose up around 1000ft, the sun poked its head over the horizon. I couldn't believe what lay before my eyes. I could see the Theban Necropolis, the mortuary temple of Hatshepsut, Madinat Habu, the Valley of the Kings, and the mist over the Nile River in the distance.
I could feast on the view of the local farmland, the farmers cultivating the date crop, see children running up to the rooftops of their houses to wave at the balloons passing by. It was such a spectacular show!
It doesn't matter what side you're on for the view as the balloon floats and you can see a 360-degree panorama of Luxor.
7. Landing isn't as straight forward as you'd think!
In my ignorant mind, I just presumed that the balloon landing would be straightforward. You know, we would just land and fall straight on the ground and all get out. But, logistically, that's impossible.
We started our descent about an hour after we took off and it took at least twenty minutes to hit the ground. There isn't a specific landing point, our air balloon seemed to land in someone's field near the road!
Basically, as the balloon is about to land, it floats above the farmland. It will go down a little, then back up again, then down, then back up etc. until the captain feels it's safe to land!
While this is happening, you'll see the crew running through the fields to find the balloon and catch it. It was quite hilarious on our flight as they were picking updates from the floor and throwing them in our balloon to try haha!
Once the captain finds a safe spot, the balloon lands on the ground. Then, it's a rush to get everyone out. The balloon needs to deflate once the fire goes out and the crew needs to roll it up. So, get out as fast as you can.
You also need to brace yourself in position while it's landing by putting your knees up against the basket and taking hold with both hands.
8. Remember, hundreds of people ride them every day
I get it, it's easy to talk yourself out of riding an air balloon here due to safety concerns and rightly so.
But, like planes, we only ever hear about the bad stuff on the news and not the good!
I'm so glad that I convinced myself to go and ride a hot air balloon over Luxor.
Not only could I tick off a ticket on my (never-ending) bucket list but the views I got were truly spectacular. It was worth every penny and something I'll never forget.
Bonus tips
What to wear on an air balloon ride in Luxor? It can be chilly before the sun rises so make sure you have a scarf or cardigan to wear on the boat to the West Bank. But, the fire is quite hot while you're flying and it's warm after the sun rises so you won't be cold for long! I wore a jumpsuit and brought a pashmina to cover my arms.
What about tipping? You will be expected to tip the ground crew for their services of making sure your take-off and landing goes safely. These guys do hard work each day in keeping you safe. Tip what you feel but dig deep!
What time is Sunrise in Egypt? Sunrise times vary in different parts of Egypt and throughout the year. In summer, flights can go as early as 4.30am!
What's the best season to go? The most popular season is from September – April, it will be busier and you'll pay more at this time of year.
How do I know I've got the right ticket? Always make sure you book direclty with the company itself and beware of people that resell tickets to you.
I get travel sick. Will I be okay? If you're scared of getting motion sickness, it rarely happens on air balloons. As it goes with the wind, you shouldn't have any side effects. If you're scared of heights however, this wouldn't be the ride for you. It rises to 2,000ft. Also, I'm claustrophobic and I was fine as I was in open air. But, the basket is cosy with little room to move.
Getting to Luxor in Egypt
Most tourists pop over to Luxor after they've had a snoop around the Great Pyramids of Giza in Cairo.
Or, land here as part of their cruise up the Nile from Aswan. It's quite easy to get from one to the other with the affordable public transport options available in Egypt;
Luxor by flight
EgyptAir was my go-to airline for booking internal flights in Egypt. With their generous luggage allowance of 23kg, you can buy more souvenirs without tipping the scales.
My one-hour direct flight cost around £75 from Cairo to Luxor one way, but if you book ahead you can get better prices.
I always book my flights with Skyscanner to get the best deals.
Luxor by train
A popular option is the overnight tourist 'luxury train'. But, from what I've heard, it's anything but. However, it does save time and pennies for your hot air balloon ride!
You can book this via the official train website and booking in advance is recommended. But, as the site is like pulling teeth to use, check The Man In Seat 61 for more details. He's your dude for all things train travel.
Luxor by bus
Overnight buses are the cheapest option of all. There are many bus companies in Egypt but GoBus is the one that's clean, safe and some even have a TV and snacks.
Don't worry, it's all packaged food lol! They have an online booking app and it's foolproof to use, even for me. Read my full review of GoBus!
Luxor by cruise
If you're heading from Cairo to Aswan and heading up to Luxor by Nile Cruise. You may have a hot air balloon ride included or be offered to book as an 'add-on' in Luxor.
I would go for it! But, be aware that your cruise company probably gets a commission. You can book air balloon rides online and I would encourage that if you're on a budget.
Read my complete MS Mayfair Nile Cruise Review here!
Where to stay in Luxor
There are plenty of high-end hotels along the Corniche which overlook the Nile in Luxor, but only one is an original from the heyday of tourism.
The Old Winter Palace has stood proud on the East Bank since the turn of the 2oth century and has seen many celebrities walk through its doors.
The famous Egyptologist Howard Carter, who discovered the tomb of King Tutankhamun used to be a resident. Even his patron, Lord Carnavorn, announced the discovery of King Tut from the very steps of this palace in 1922!
Now a Sofitel, it's a 5* resort with a ginormous breakfast buffet, an oasis of a swimming pool, and plenty of bars and restaurants to keep you occupied 'til the early hours.
If you're a history lover, don't consider booking anywhere else! For dates and rates available see here.
If you need more convincing I have a whole review of the Winter Palace you can read here
Don't miss riding a hot air balloon in Luxor!
Riding in a hot air balloon in Luxor has completely transformed my opinion! Floating in the air over the city was one of the coolest things I did in Egypt and I wouldn't hesitate to do it again. You must try it, even if it's just once.
If you're heading elsewhere in Luxor, I have some articles I think you'll love;
The best tombs in Valley of the Kings for photos and tips they don't tell you
8 magical things to do in Luxor at night
My ultimate 3 days in Luxor self guided itinerary
Read more of my Egypt articles
My perfect 2 week Egypt Itinerary
The perfect Egypt packing list
The most Instagrammable places in Egypt
The ultimate 4-day Nile Cruise
The perfect guide for Abu Simbel
My survival guide for the pyramids
Why you NEED to visit Alexandria
Like it? Pin it!