Top Station Munnar is one of the most popular attractions in Kerala, but is the drive really worth it?
As part of my three-day trip to Munnar with India Someday, I decided to head up to the top view here to see what it was all about.
Top Station used to be a trading post for the British. But, today it's a tourist spot in the Kannan Devan Hills that provides breathtaking views over Munnar and you can also see Tamil Nadu on the state border…or, so they say!
In this complete guide to Top Station, I'll be taking you through everything you need to know.
Including the best time to visit, sightseeing on the way, things to consider and if it is really worth spending your time getting there!
Heads up: My trip to Kerala was sponsored by India Someday. Click here to read a full review of their services or see my itinerary here. Although I was a guest all photos and opinions are my own.
The History of Top Station in Munnar
Munnar is a hill station in India, but any evidence of there being a railway station in Munnar went decades ago along with the British!
Top Station, as the name suggests, used to be the highest railway station in the area and it was built in 1902. It was the terminus station of the Kundala Valley Railway, one of the first monorail systems that were established in India.
It acted as a transshipment station that was responsible for transporting the tea produced from Kannan Devan Hill Tea Plantation to the trading post.
The tea was then traded on the border with then Madras (current day Tamil Nadu). Then, it was transported by train further into Tamil Nadu and shipped to England and other locations by boat.
When the great flood of 99 happened in 1924, Top Station was completely destroyed and was never rebuilt.
What's left today is a little bit of cement of where it used to stand. But, you can find some artifacts of the old Top Station in the Munnar Tea Museum.
What is the best time to visit Top Station Munnar?
The best time to visit Top Station in Munnar is from April – May in the summer months. This is due to the fact that you won't have much cloud cover.
In the Monsoon season, there will be little chance of seeing any views due to the rain clouds that shroud it most of the day. Even in October, just after the monsoon, I had trouble seeing any views at all.
In Winter (November – March), you may get better views but it's still a slim chance. As you're so high, it's difficult to avoid them.
To try and get the best views my advice would be to leave for sunrise, that way you'll get amazing views before the clouds roll in for the day! They do sunrise treks from echo point, or you can drive up the hills for sunrise too.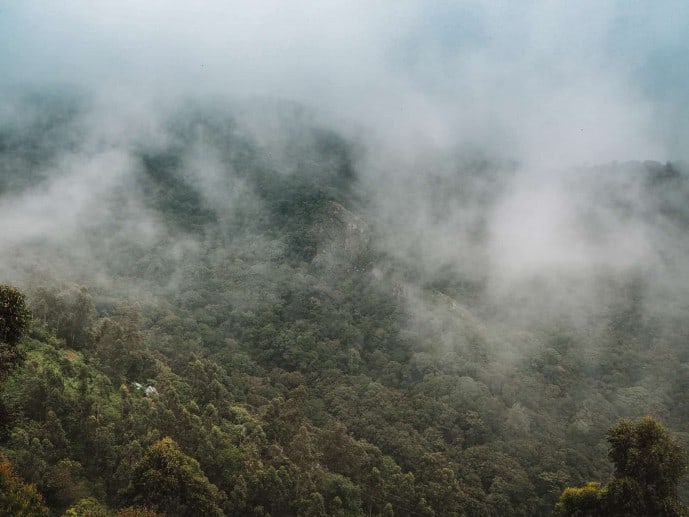 How to get to Top Station Munnar
The distance between Munnar and Top Station is 35 kilometres. You will be winding up hills and you may be stuck in a lot of traffic.
The journey will take a minimum time of one hour (if you're early) and a maximum of around 2 hours with a little traffic. My guide told me that in peak seasons you can be waiting all day to get up there due to heavy congestion.
Munnar to Top Station by self driving
The easiest and move convenient way is to self-drive to Top Station or hire a car to get there if you don't plan on driving.
Luckily, India Someday provided me with a car for the week but if you're planning on hiring cars on a needs be basis. You can easily book a private hire car for a day of sightseeing which will cost around 2500-3000 (£30) rupees per day.
Or, you can book a day tour which includes the main sights of Munnar to see Top Station. But, this may not guarantee the views;
Munnar to Top Station by bus
A lot of people say that there are no public buses that head up to Top Station, but that isn't true.
There are some public buses that head from Munnar to Top Station. These will drive straight up to the top passed Mattupetty and then to the bottom. There will be no chance to stop along the way though.
The only problem is that the buses run on a strict timetable, there are 4 a day, and the last bus heading down the hill back to Munnar is about 2pm. So, you'll need to leave early and plan your journey in advance.
I would enquire to your guesthouse about the timings or ask at Munnar bus stand for the best times.
Munnar Top Station ticket prices
The Top Station in Munnar is FREE to visit, however, there is an 'end point' to the free views.
Then, if you want to board the viewing platform or walk further down to the viewpoint you need to pay the guards 20 rupees.
It wasn't about the money. But, as the views were barely there on my visit, I didn't see the point in wasting more time to walk down to the lower viewpoint.
But, if you have clear views, I think it's definitely worth it as you'll get unguarded views without any barriers!
As the Top Station parking does get crowded, you may have to pay for parking. But, this will be around 30 rupees a vehicle.
Sightseeing on the way up to Top Station
If you're self-driving, my biggest advice is to head to Top Station first and then consider these steps below on your way back.
The reason why is that if you don't leave early enough, the views will be covered in clouds and you won't get to see anything! Plus, you may avoid some of the heavier traffic on the way up.
Here are the top-rated attractions on the Top Station route;
Read more: the top tourist places to visit in Munnar
Echo Point
This part of the drive was by far the most scenic. Echo Point is a reservoir dam that gets its name from the phenomenon that happens here.
If you call out over the lake, it echoes back!
It reminded me of a book I used to read when I was a kid called the Little Beaver and the Echo. If you're interested, the story is about a little beaver that is alone in the wild looking for a friend.
Then one day, he starts to cry as he's so lonely and hears another beaver cry back. So, he finds a friend in his echo! It's really touching and it brought back some memories haha.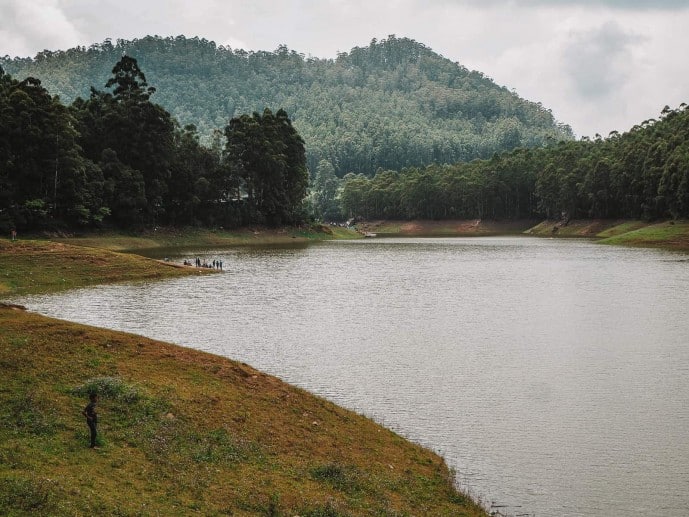 A lot of families go boat riding here and bring picnics, so it does get packed out!
We did find a quiet part of the lake to relax by for a few minutes until a food truck pulled up to serve out a massive lunch for a huge family gathering.
It was definitely worth stopping but, again, traffic can be a bit of a nightmare.
I recommend avoiding the main entrance to the lake and finding a quiet stop to pull in before you get there.
Mattupetty Dam
Mattupetty Dam was the first concrete storage gravity Dam to be installed in Kerala. It was installed to prevent floods, conserve water and generate power in the 1940s.
Nowadays, it's a popular tourist spot for those visiting Munnar. Here, you can walk over the Dam to get spectacular views of the reservoir.
There are also a lot of tourist activities here like boating, zorbing, speed boating, and paddle boarding. Many families bring picnics and you can also find a lot of stalls selling food, hats, and gifts to bring home too.
Did you know that Mattupetty is also known as Cattle Village, this is because an Indo-Swiss farm is nearby and you can visit to see lots of varieties of cows.
You have to drive over the Dam to be able to park here and it can get congested as it's a one-way road!
Spot wild elephants!
Please, do NOT visit the elephant riding camps in Munnar. These aren't ethical and the practices of elephants trained for tourism are cruel and barbaric.
You really don't need to visit one as you can spot wild elephants all around Munnar on your visit!
In fact, I was lucky enough to see 5 elephants in the wild here. One as a family in the fields on the way up to Top Station and another was right on the side of the road on our way back from Top Station!
We also spotted the wild Nilgiri Langur and Nilgiri Buffalo on our way around too (which are quite rare to see). So, keep your eyes peeled.
Admire the Tea fields
As soon as we left the cloudy views in Top Station, we headed back down the hill, and instantly we had better views with sunshine!
Seeing some of the Tea Fields in Munnar are some of the best experiences you can have around here, so make sure you schedule some stops for photos.
There are over 24,000 hectares of tea estate lands in Munnar. So, you'll pretty much find them at every turn.
Is Top Station Munnar worth the drive? 9 things to consider
Having been to Top Station and experienced it for myself, I feel that there are a few things that you need to consider before you make the journey up to the top. Then you can decide for yourself if you think it's worth it.
I will say now though that I was here just after Monsoon in October, so my rather negative experiences were affected by the weather.
You may have a better chance of seeing views in the spring/summer months! But, the crowds and traffic will remain the same whatever the season.
1. There isn't a top station anymore, you're going for the views of Tamil Nadu
Although the place is called Top Station, that name has stuck since the times when the Kundala Valley Railway was here.
There is no evidence really of a station here anymore aside from a large bit of concrete when you arrive.
You're actually visiting Top Station for the viewpoint at the top. This looks over Munnar as well as Tamil Nadu as it sits on the elevated state border in the Kannan Devan Hills.
If you were interested in the history of Munnar and the railway stations here, I'd recommend visiting the KDHP Tea Plantation and Museum.
2. The traffic to top station is horrific
I think whatever the season in Munnar, it's incredibly crowded.
In Winter it's amazing weather and in Summer people are looking for cooler temperatures. Not to mention that thousands of foreign and domestic tourists visit here each year. Munnar is no secret after all.
Top Station is also one of the most popular attractions in Munnar due to the promise of amazing views and so you'll find most cars of tourists buses head here.
The journey is 35 kilometres over winding hills. So, you'll have two-way traffic, but not enough room for both cars to pass by.
It's incredibly congested, with people stopping on the roads all the time to take in the views or stop by the attractions. So, you'll probably take around 2 hours to reach there by car.
My guide told me in peak season or on festival days, the traffic is so bad it could take you all day to reach the top.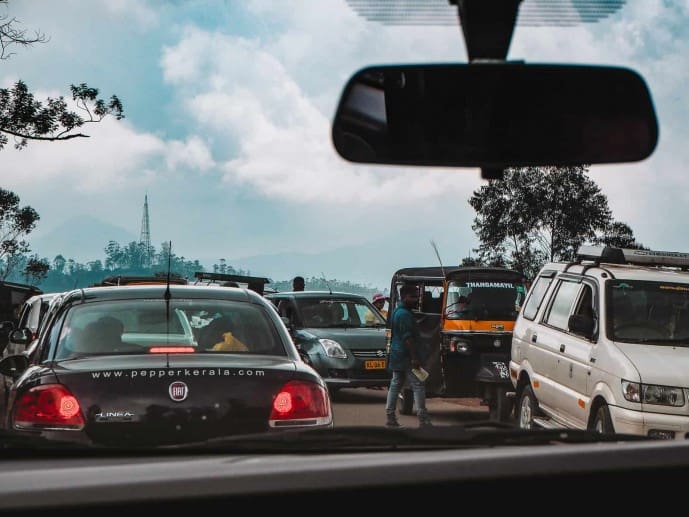 3. It's massively overcrowded when you get there
Once you arrive at Top Station there will be masses of crowds coming to see the views. As one of the main attractions in Munnar, is it any wonder?
There will be families, tour groups, school groups, and selfie sticks everywhere. So, I'd try and plan your visit as soon as you can to try and avoid the majority of the crowds.
I guess it doesn't affect the views as most of them are over a barrier. But, it doesn't make it the most pleasant experience.
4. If you don't leave early enough the view with be shrouded in clouds
Top Station is 1700 metres above sea level, so you're almost in the clouds surrounded by the rolling Kannan Devan Hills.
Like any mountainous region, once the clouds are in, they're here to stay! So, I would make sure that you leave as early as possible to see the views.
Sunrise is the best time to visit to guarantee a clear view, so that's why most people opt for the Echo Point to Top Station trek and camp out there.
We left the hotel around 9 am and got to Top Station around 11 am without stopping. By that point, the views were completely covered in clouds.
It was a little disappointing as all you could see was white mist and a plethora of street food and gift stalls.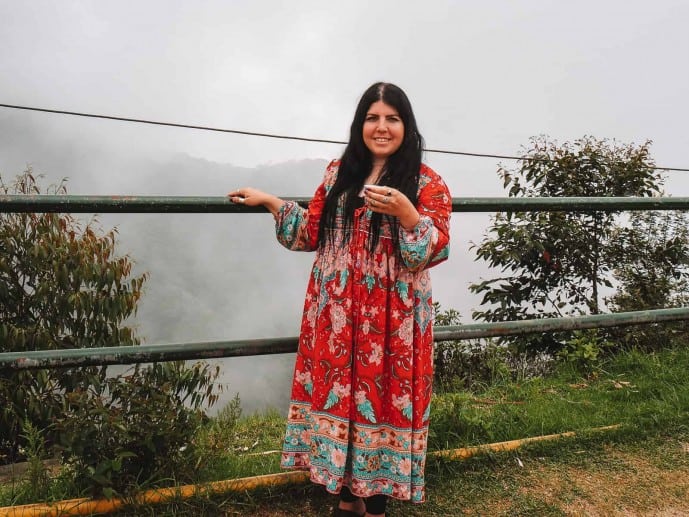 5. That being said, it's worth waiting for the views to clear
As a photographer, I've learned patience over the years and to never give up on a view of sunrise easily. Sometimes waiting a few minutes for the clouds to clear can pay off for amazing views.
So my guide and I opted to grab a chai from one of the food stalls and wait it out. It kind of worked, well at least, a lot of the clouds cleared!
We then took some photos and made our way over to the viewing platform to take some more of the views.
When we first got here you couldn't see anything in front of you so I guess seeing some of the views was better than nothing and worth waiting for.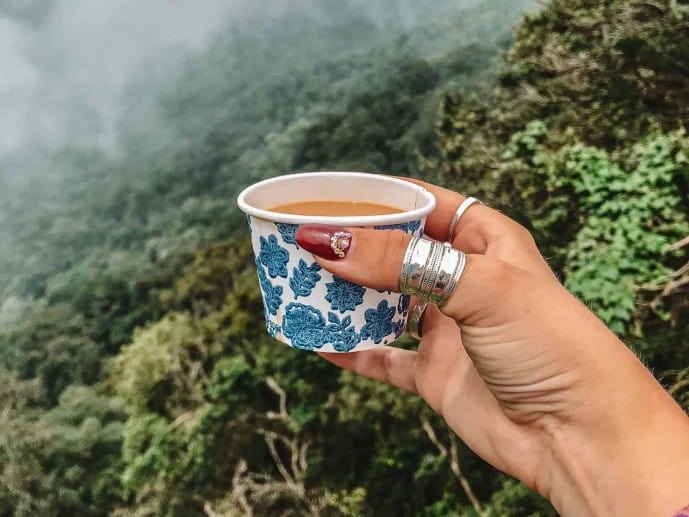 6. The whole way to the viewpoint is covered in food stalls
As I briefly mentioned, to get to the views at Top Station, you have to make your way through what seems like miles of food stalls on either side of the path.
You'll find corn roasting, chai wallas, people selling vegetables, stalls serving up Maggi (I love Maggi haha), and omelettes too.
I'm not gonna lie, it was a little off-putting as people were heckling you to buy or eat something the whole way down the strip to the view.
As there is only one way out and in, you had the pleasure of it both ways too! I know people need to make a living, but it is a little off-putting.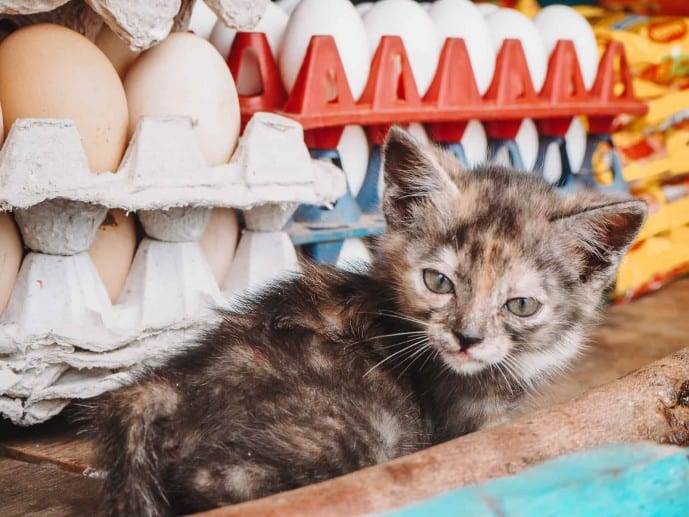 7. There is an 'end point' and beyond that point you need to pay
The is only so much of the view you can see for free at Top Station, then you reach a point where the guards will charge you for the view.
As part of this, you can pay 20 rupees to go up to the viewing platform and make your way down the hill to see more of the views over Tamil Nadu.
We paid to go up to the viewing platform to catch some of the views, but I didn't see the point of making our way down to the lower viewpoint as we were running out of time.
If you have clear views, I'd say heading down here was worth it. But, if it's cloudy, don't bother.
8. There aren't any clean toilets at Top Station
My guide and I asked around for clean toilets at Top Station. There were a few restaurants up there, but my guide said the toilets weren't clean to use.
There weren't any paid facilities either, so I don't know what people do to go to the toilet. My guide told me to hold it until we got further down to Mattupetty, here there are some paid facilities that are clean.
So, I would hold it in until you get further down the strip.
9. It's better to do the sunrise trek to Top Station and camp there!
A lot of tourists opt for a trek to Top Station in the hills of Kurangani.
This usually includes meals, a trekking guide, and overnight camping at Top Station. You can then wake up at sunrise and take in the views.
I think this would be a much better option than driving as you'll get to experience the sunrise views and may actually get to see something.
Check out Route 49 Adventures for their guided treks and tours!
The verdict: is a drive to Top Station in Munnar worth it?
In my humble opinion? Not really. I think if my whole trip to Munnar was spent just travelling up to Top Station I would have been disappointed.
I guess if you're planning on spending a lot of time in Munnar and have a day spare, it's worth checking it out.
But, if you only have one or two days, you may spend it stuck in traffic and not see any great views! So, I would personally try and see some of the other amazing attractions in Munnar.
There are far prettier places, that take half the time to reach and you are guaranteed to see it too.
Places to go in Munnar that are better than Top Station
Lockhart Tea Plantation & Factory
The highlight of my trip to Munnar was my private visit to the Lockhart Tea Plantation with Route 49 adventures. After I had just been in hours of traffic from Top Station, I was more than ready to escape the crowds.
We took a 4WD Jeep and went off-road into Lockhart tea estate. It was pretty bumpy but also really fun and had a great laugh. Ladies, come prepared with a good bra ;).
As we had a permit to enter the tea estate, we got to enter the tea fields for photos (which you can't do normally) and we didn't see any other tourists around which was amazing!
We also went on a short trek, took a long tour in the jeep and saw the tea plantation workers, and then headed over to the Lockhart Tea Factory Museum.
Then, we ended the day with a yummy tea tasting at Tea Tales Munnar. It was amazing.
Click here to read all about the tour and the best tea gardens in Munnar
Eravikulam National Park
Kerala if full of amazing National Parks with rare wildlife and flora and fauna that is local to the area.
Eravikulam is the oldest national park in Kerala that used to be a Game Reserve. Now, it's owned by the government and helps to protect the wildlife there.
Unfortunately due to extensive hunting practices the Nilgiri Tahr Deer, who is native to the area, is on the endangered list.
Eravikulam has the largest population of them in the world (around 800) and you can see them here!
Click here to read my full Eravikulam guide with essential tips before you visit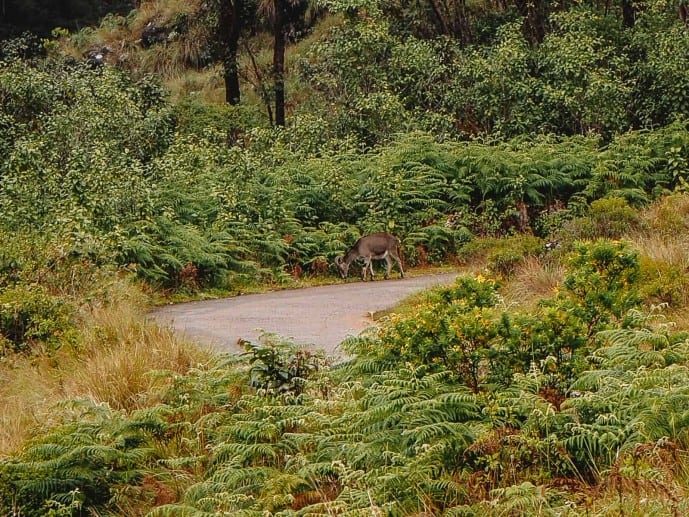 Lakkam Falls
If you want to see some gorgeous waterfalls in Munnar, you won't see many on the Top Station route.
The prettiest waterfall can be found in the Eravikulam area and it's called Lakkam Falls. It only costs 20 rupees to enter and it's effortlessly picturesque.
An added bonus is the fact that you can swim in the cool waters at the bottom and even get a natural fish spa!
If you're a tourist visiting here, I wouldn't pack your bikini to go swimming. I'd go in fully clothed to respect the culture.
Click here for more important Lakkam Falls tips for your visit
How to get to Munnar
I travelled from Fort Kochi and it was one of the most scenic drives I had in the whole of Kerala. It's great winding up the hill towards the top, but the journey does take around 4 hours without any stops.
It's far better and an easier journey to make a half-day of it and plan some attractions and a break for lunch along the way.
There are waterfalls, amazing viewpoints and you can spot some wildlife too. Plus, I have a great recommendation for a traditional food stop.
Read my complete Munnar road trip guide for the best stops and more information
Where to stay in Munnar
The best way to experience Munnar hill station is by staying in the countryside. Munnar city does have cheap rates for accommodation, but the city itself isn't very attractive.
It's congested, buildings are pretty much on top of each other with traffic at all hours too. So, best to avoid it or you may not have a great time.
I stayed at Mistletoe Munnar which is a family-run homestay a few kilometres outside of the main city.
I had a spacious double bedroom and bathroom with running hot water. But, the highlight was the incredible views from my balcony!
I loved spending time on the veranda, sipping coffee, or eating breakfast with the views. It was divine.
Read my full Mistletoe Munnar review here or Click here for dates and rates available
Looking for more inspiration for Kerala?
I spend a week in Kerala with India Someday in the historic Fort Kochi, Munnar hill station and the backwaters of Alleppey.
So, if you're looking for more information for your trip planning, make sure you read some of my guides below;
My one week itinerary for Kerala you should steal
The top attractions in Fort Kochi
Chinese fishing nets: how to avoid getting scammed!
Kathakali: how to watch a show in Kerala
Save this Top Station Munnar guide for later!