Out of all the waterfalls I visited in Munnar on my trip with India Someday, Lakkam Waterfalls was the most beautiful! A roaring cascade that is hidden in the Malayali jungle, a picturesque respite from the heat.
Lakkam Waterfalls streams from the famous Eravikulam National Park, so if you're planning a visit there I would highly recommend you add these falls to your visit.
The reason why I loved this waterfall so much is that it's not only gorgeous to look at but you could actually swim in them too!
If you're looking for a place to escape the heat and relax for a while or go on a daring nature trek, Lakkam Waterfalls is the place for you.
Here's a complete guide on everything that you need to know.
What are Lakkam Waterfalls?
Lakkam waterfalls, otherwise known as Lakkom waterfalls, is a stunning 50-foot cascade that is located in the Idukki district of Kerala.
The water flows from the Eravikulam stream and eventually leads to the Pambar River, which is around 13 kilometres away. Eravikulam Plateau is 7,300 feet above sea level.
It's the perfect spot for those who love to photograph and explore the natural beauty and I would recommend spending at least an hour here to enjoy it!
When is the best season to visit Lakkam Waterfalls?
Like most waterfalls, a large amount of the water here comes from rainfall. So, if you want to see Lakkam Waterfalls in all its glory, I would try and plan your visit during or just after the monsoon.
April – June: The summer months see a lot of the rivers and waterfalls dry up in Munnar. So, although these are great months for spotting wildlife, you won't see any waterfalls.
July – October: Monsoon time, this would be the best season to visit the waterfalls as it will flowing really heavy. But, Eravikulam National Park will be closed if the rainfall is too high. Also, you may not be able to swim or trek if the current is too strong.
October – March: In early winter, just after the monsoon, is the best time to see the waterfall to go swimming/trekking. This is when I went and, despite Munnar being cooler, it's still HOT. So, I was thankful to head here and cool down a little in the shade and icy water.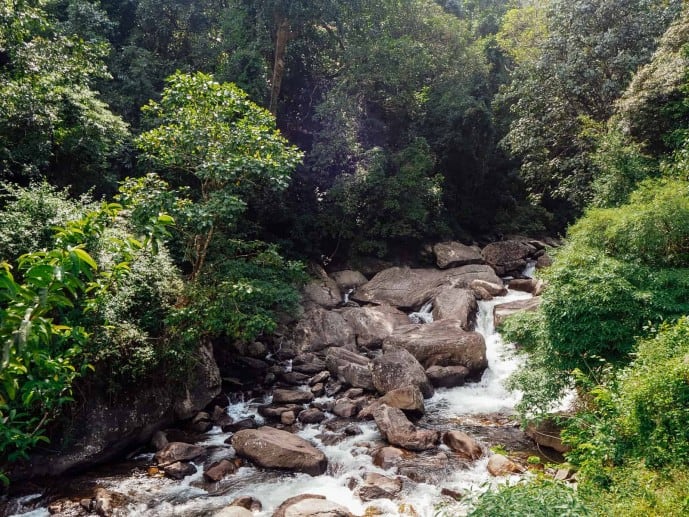 How to get to Lakkam Waterfalls in Munnar
Lakkam Waterfalls is around 30-40 minutes away from Munnar city and is on the way to Eravikulam National Park.
It's also on the way to Udumalaipettai, so you can catch a bus heading to Udumalaipettai from Munnar Bus stand and ask to be dropped off at the falls. If there aren't any buses, try looking for shared Jeep options near the bus stand which may be heading to Eravikulam National Park.
You can also hire an auto-rickshaw to the Eravikulam National Park and ask to be dropped at the waterfalls on the way. But, it may be worth booking a round trip as I didn't see a pool of rickshaw drivers outside.
As Munnar is so large, most tourists in Munnar hire a private car for the day while they are here. I luckily had transport organised for me by my homestay. This can be a great option as it saves a lot of time when you're travelling around.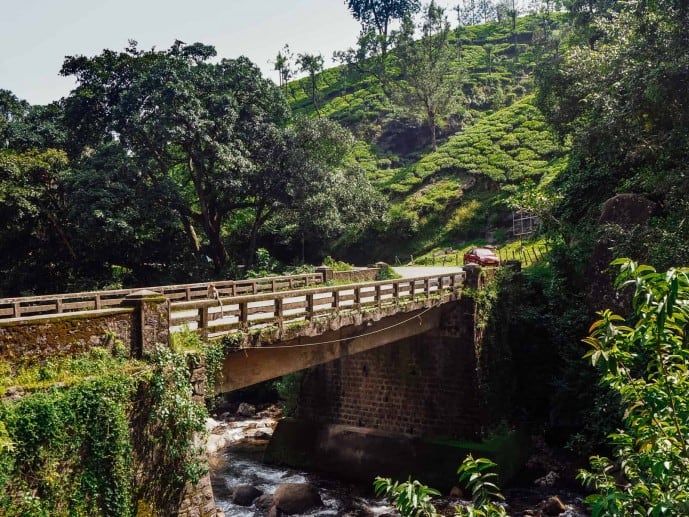 Lakkam Waterfalls entry fee and opening times
Lakkam Waterfalls are open daily from 8 am – 5 pm and I would recommend that you spend around 30 minutes to an hour here to make the most of it!
Entry fees per person are 20 rupees (21p) for local tourists and foreigners. So, it's an absolute bargain that won't break the bank.
Lakkam Waterfalls trekking fee
I didn't personally do this, but a great way to experience Lakkam Falls is to go trekking here.
The National Park run guided treks alongside the waterfalls daily and the whole trek takes around an hour.
Prices are only 100 rupees per person, so it's pretty cheap as far as guided walks go! Plus, it would make for some fantastic photo opportunities.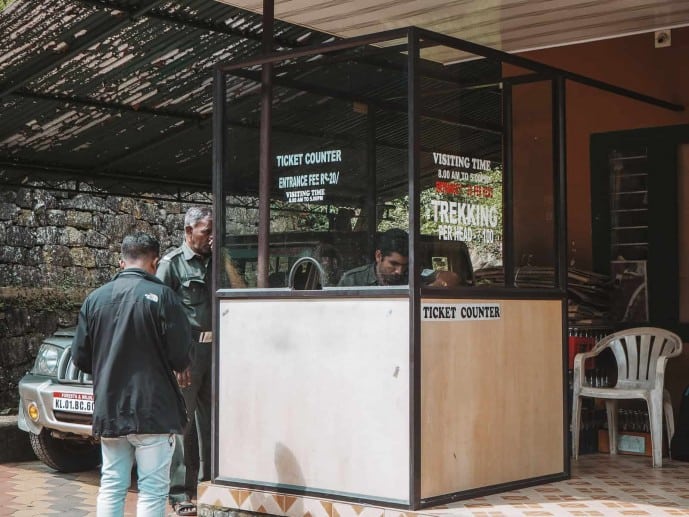 What to expect at Lakkam Waterfalls
Once you arrive at the falls, you'll walk past the Café and Eco Shop to the ticket booth. You'll need to purchase your tickets in cash while you're here to get inside.
Once you've got your tickets, you'll head up 100 metres to the falls up some stairs. There aren't many of them but they're pretty steep and can be slippy if it's been raining, so take your time!
Thankfully, when you get to the top of the stairs, you can already see Lakkam falls right in front of you. The steps are fairly flat until you get to the end when there are some large rocks to walk over.
The whole walk to the falls from the ticket book took around five minutes.
It's relatively accessible. But, if you're bringing pushchairs or you're in a wheelchair, there isn't a way to get up to the falls.
Once you're here, you can admire the waterfalls here from afar for photos or you can get inside and go swimming in the clear crystal waters underneath the cascade!
Swimming in Lakkam Waterfalls
One of my favourite parts of visiting here was being able to jump into the cool water. As Munnar had just seen the back of the Monsoon season in October, it was incredibly hot and humid in the hills.
Of course, as I was in India, I didn't opt for a bikini to swim here and I would never recommend wearing one in a public space (unless you're in a resort or on the beaches of Goa!).
My biggest advice is to follow what the local women do and that's to go inside the water in your clothes. So, if you're not comfortable walking around with wet leggings, I'd bring a spare. But, as I didn't go fully in the water, it was so hot my legging dried off in the sun in less than ten minutes.
I also would recommend wearing some waterproof sandals/shoes if you have them as the bed is super rocky.
I probably don't have to say this but just be careful of getting too close to the falls, most of the dangerous zones were cordoned off with string. But, that doesn't stop some people and I wouldn't risk it.
Get a natural fish spa!
One of the amazing things about dipping your toes in here was all the fishes that came to nibble at your feet.
As soon as I stood still in the water, I had around twenty fish that were cleaning my feet! My very own fish pedicure haha! I had my GoPro camera on me so was able to catch it.
So, if you are in the water don't freak out if you feel nibbling on your toes. It doesn't hurt and it's a natural part of their ecosystem.
Toilets & changing rooms at Lakkam Waterfalls
If you did want to change your clothes to go swimming here, there are separate changing rooms for men and women at Lakkam Falls.
There is also a toilet here if you're desperate but, trust me, if you can hold it I would. It's not recommended.
My top tips for visiting Lakkam Waterfalls
Monkeys – there are SO many monkeys in and around Lakkam. From the entrance, to the walkways and when you're exploring the area. So, if you are bringing food with you, I'd be careful around them. We ended up feeding them some natural Guava we found on the trees and they went mad for it.
Wear good shoes – If you're just planning on taking a few photos, then you can wear any type of footwear really. But, if you're planning on swimming or trekking, I'd bring appropriate footwear. The rocks underneath the falls are really sharp and the area may be muddy when you're trekking. Also, watch out for leeches!
Bring a coat/umbrella in monsoon – during the monsoon time, it can be miserable if you're getting soaked. So, I'd prepare for the weather if it's the rainy season.
Don't wear a bikini – From spending three years on and off in India, I would not recommend wearing a bikini in public swimming areas. It will bring unnecessary attention and could also offend others. Kerala is quite conservative. I would go inside the water in your clothes or something that covers you up.
It's a plastic free zone – What I loved about most of the attractions or national parks in Kerala is that they are a plastic free zone. That means that you cannot bring any plastic bags into the area. Plastic waterbottles are fine if you take them away with you.
Pack a picnic, but don't litter! – A lot of people choose to bring a picnic to Lakkam Falls which can be lovely. There are tables and chairs to sit on or you can perch on the banks of the waterfall. But, please, take your rubbish with you! There is nothing worse than litter to ruin the experience fro others and it destroys the environment. There are bins or you can take it away and dispose of it in a bin outside.
Where to eat near Lakkam Waterfalls
If you didn't bring a picnic but are feeling a little peckish, there is a small café outside of Lakkam Falls at the entrance. This place serves up chai, coffee and snacks at a really affordable price.
It's good to note that there are no facilities once you're inside, so if you were hungry, I'd eat beforehand.
If you're looking for a restaurant to eat lunch in then there are a few places relatively near to the falls. You could try Tea Tales Café, Rapsy Restaurant or Hotel Sri Nivas which are all around 2-3 kilometre's away from there.
Things to do around Lakkam Waterfalls
If you're looking for things to do around Lakkam Waterfalls there are plenty of places to enjoy the beauty that Munnar has to offer.
To save time I would recommend staying within the area as driving along the winding roads take up a lot of time in traffic that could be spent sightseeing.
For example, Top Station will take you minimum 2-3 hours to drive up with the hills from here with the traffic and you may not get to see much!
If you're looking for more pretty Munnar falls, make sure you read my list of the best ones in the area or you can read more on the best tourist places in Munnar
Eravikulam National Park
Eravikulam National Park is one of the most famous parks in Kerala and is home to the endangered Nilgiri Tahr.
Unfortunately, in the British colonial times, the lands were once used as a game reserve. So, it attracted people from all over the world to Munnar to hunt wild animals down for sport.
It was managed by the Kannan Devan Hill Produce Company until 1971 when the lands were then handed to the Kerala Government.
In 1972 the Nilgiri Tahr was placed on the endangered list as nearly extinct due to extensive hunting practices. So, the park was then transformed into a conservation area to protect them.
There are approximately 700-800 Nilgiri Tahr in Eravikulam National Park making it one of the largest populations in the world! So, if you are in the area, it's a must-visit to try and spot one.
You will need to get a shared bus to the top of the park and then take a 'safari' on foot for around a kilometre. The views from the height of the park are stunning on a clear day!
Admittedly, this doesn't give you much of an area to spot one but it is possible. I waited around at the 'last point' and eventually got to see three of them running across the road into the park. So patience is key.
Tickets are 125 rupees for Indians and 420 rupees for foreign nationals. It's open from 7.30am – 4pm and I would recommend visiting as early as possible to avoid long queues for buses and for the best views without clouds.
Click here to read my complete Eravikulam guide with essential tips before you visit!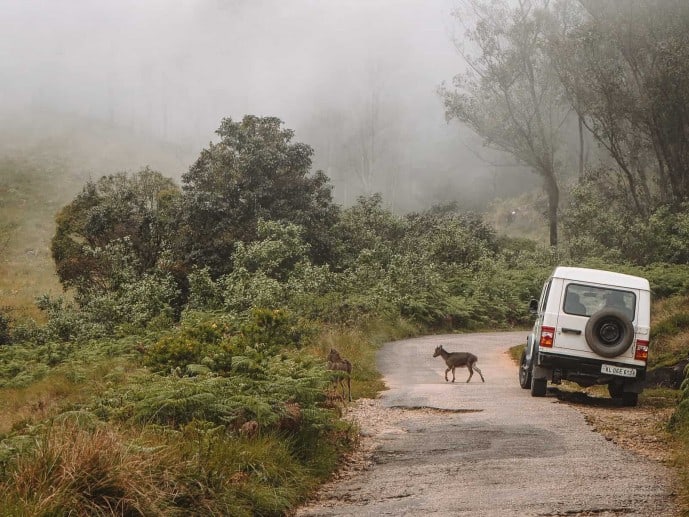 Kennan Devan Hills / KDHP Tea Museum
One of the oldest and largest tea production company in Munnar is the Kennan Devan Hills Plantation Company (KDHP). Previously owned by Tata Tea Ltd, it is estimated that KDHP owns 24000 Hectares of land which is covered by tea!
They also have 12,000 employees and produce approximately 22 million kilograms of tea each year.
Their KDHP Tea Museum is also extremely popular with visitors to Munnar and they run factory tours where you can see how tea is produced from plantation to cup. Click here to see more details about visiting.
Unfortunately, you can't go inside the tea plantations here. So, if this was something you were after I would highly recommend taking a private tour of an estate like the one I took in Lockhart Tea Plantation with Route 49 Adventures.
Read more: Top tips for visiting the tea fields in Munnar
Where to stay in Munnar
Although the accommodation in Munnar city centre can be really cheap, I would not recommend staying there. It is incredibly crowded, with traffic on the roads at all times of day and the city itself isn't pretty at all.
By far the best way to enjoy a few relaxing days in Munnar is to stay in the countryside surrounded by the rolling hills.
I stayed at Mistletoe Munnar while I was here which had the most majestic views straight outside of my balcony! One of my favourite things to do was wake up with a coffee, admiring the views.
As a family-run homestay, it really felt like a second home and they also served up the most incredible homemade food in their restaurant.
It really made my trip and you can read my full review or look at how to book your stay here.
Looking for more places to go in Kerala?
If you're planning a vacation in Kerala and are looking for some inspiration or more information about where to go.
You can look at some of my detailed articles here;
A one week itinerary for Kerala
The places you cannot miss when in Fort Kochi
Kathakali a complete guide and how to watch in Kerala
Chinese Fishing nets: tips to not get scammed
Top tips for visiting the tea fields in Munnar
A complete guide for the Alleppey backwaters
Save this Lakkam Falls guide for later!