One of the highlights of visiting Kerala is the waterfalls in Munnar.
You really can't visit God's Own Country and not see, trek, or even swim in some of them. So, I would definitely recommend you plan a visit into your itinerary.
But, Munnar is a huge area and some of the falls here are located far away from the main hub of the hill station.
So, in this guide, I'm only including the waterfalls that are in easy reach. Which not only makes them accessible to you but saves time on your precious vacation days.
Here are all the prettiest waterfalls in Munnar!
Heads up: My trip to Kerala was sponsored by India Someday. Although I was a guest, all photos and opinions are my own unless stated.
How to reach Munnar
Some of the waterfalls on this list you can visit on the way up to Munnar from Fort Kochi. This is what makes the road trip one of the most scenic in Kerala.
Although Munnar is a hill station, there is no railway station these days. So, you must make your way up the hill by taxi or bus.
If you're on a shoestring budget you can opt to take the public buses here, but you won't have a chance to stop at the waterfalls on the way. You'll probably take around 3 buses, but it will cost you less than 100 rupees total!
If you want to go by shared taxi or private car, you'll be paying a lot more (minimum 3000 rupees / £35) to a driver. But, it's a comfortable way to get there and you can stop wherever you like.
For my complete road trip guide which goes through transport, sightseeing and lunch stops, click here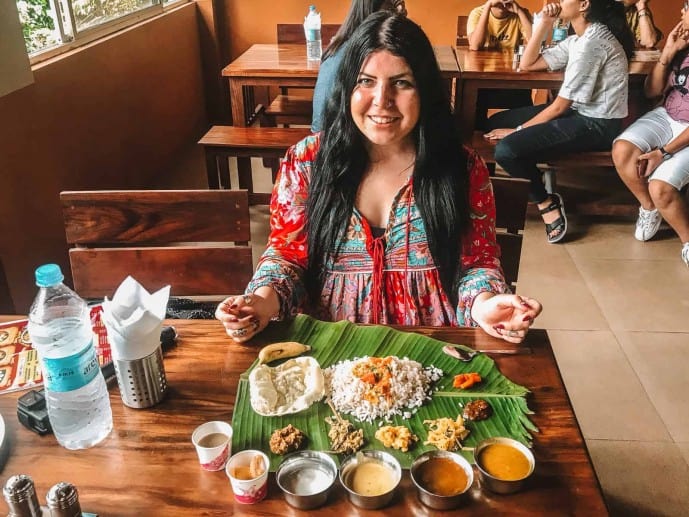 The best Waterfalls in Munnar to visit
1. Cheeyappara Waterfalls
Cheeyappara is a favourite amongst tourists that make their way up to Munnar from Kochi. It's most likely the first waterfall you will come across on the Cochin – Munnar Highway and you can see the row of cars before you get there.
Located in the Idukki district, It's a 300 metre cascade over a rocky cliff and there is a small viewing platform at the bottom where you can watch the falls.
It's really popular with tour groups so, you'll most likely be joining a crowd of people taking selfies and photoshoots. But, if you're patient you can get a photo by yourself.
As well as the waterfalls, there are gift shops and food stalls located here so you can buy some snacks or a chai if you need a pick me up for the drive.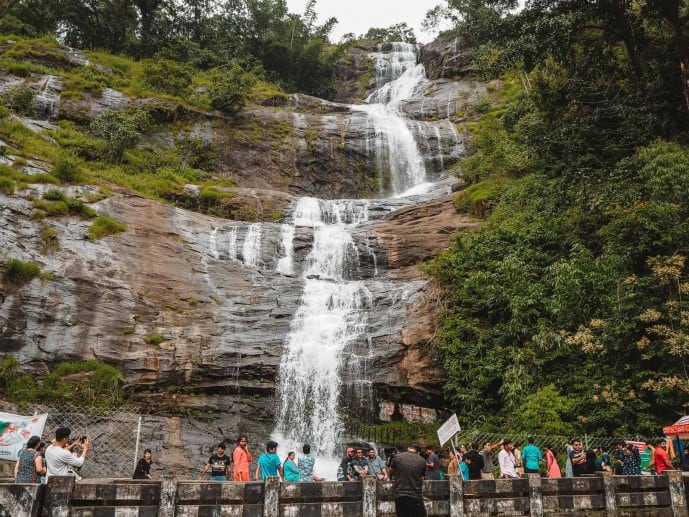 2. Valara Falls
Valara Falls is another huge waterfall in Kerala that's located on the Cochin to Munnar highway. The fall source is from the Western Ghats in Munnar and originates from the Deviyar River.
The water cascades at 1000 metres over a mountain and it has picture-perfect views due to the green jungle all around it.
This isn't a waterfall where you can climb down to it or even trek there. It's a short stop on the roadside to take a look and it is well worth it.
My driver said when we got there the falls were 'weak', it didn't look weak to me! But, apparently, in monsoon time you'll have double the water power!
As you're stopping on the road, just be careful of all the speedy cars on the highway as there isn't a proper viewing platform. Just a road blockade.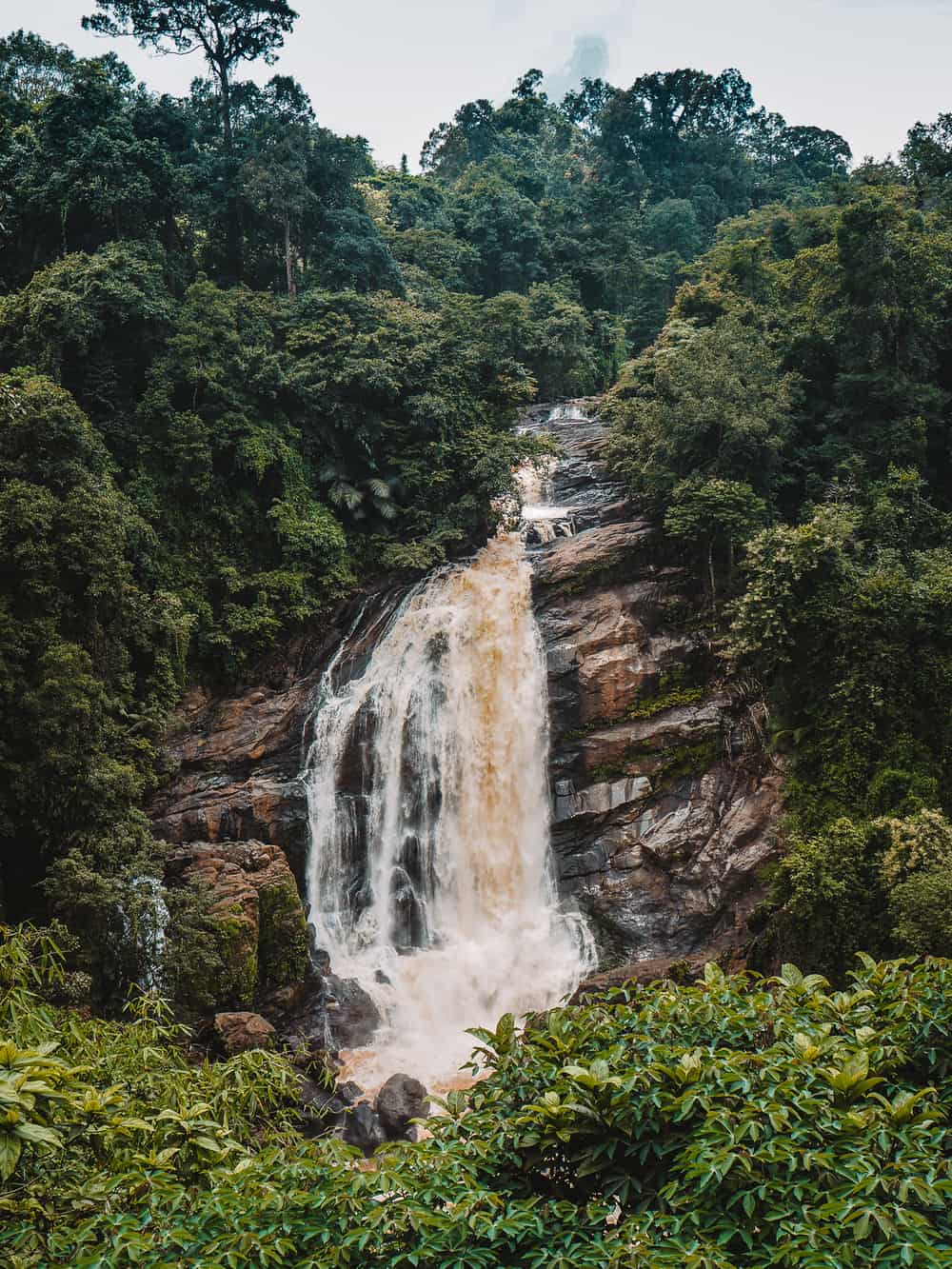 3. Kallar Water Falls
Another stop on the road up to Munnar is Kallar Waterfalls. The falls actually flow under a bridge here, so you can stand on it and take some amazing photos from here.
Most of the falls were blocked off, so you couldn't trek or swim in them as it's too dangerous with the flow. But, it does look really pretty in photographs.
It's hard to pinpoint the exact location of the falls but if you're heading on the Cochin-Munnar highway, there is a bridge on your way there. Ask your driver to stop for a quick snap!
4. Thoovanam waterfalls
If you're looking for majestic waterfalls to take photos of, I would recommend heading over to Thoovanam Waterfalls.
You do have to trek a little to access these falls, but the payoff is well worth it.
These look like something out of a fairytale. Although you can't swim in them, you can admire them from afar. So, you won't have a load of people blocking your shots!
These cascades fall from around 1400 feet and fall into a fairy pool at the bottom.
If you're thinking of seeing some wildlife in the area, then you'll be happy to know that these falls are part of the Chinnar Wildlife Sanctuary. So, add this on to your visit.
5. Lakkam Falls
The best waterfalls for swimming in my opinion is Lakkam Falls which is located on the wider Eravikulam Plateau.
Just a few kilometres from Kerala's oldest National Park is a beautiful waterfall where you can go trekking or cool down in its icy lagoon.
An added bonus is the fact you can get a natural fish spa! Don't panic the fishes won't hurt you, it's a natural part of their ecosystem.
These were my favourite Waterfalls in Munnar and I loved paddling in here. But, ladies, don't bring a bikini! Make sure you cover up to respect the culture.
Read my complete guide for Lakkam Falls here
Top places to visit in Munnar
So, that's all the gorgeous waterfalls in Munnar I'd recommend visiting, but there are plenty of attractions here.
Wildlife parks, tea gardens, beautiful panoramas, and cultural performances await you.
My personal recommendations would be to visit the tea gardens and go for a tasting, visit Eravikulam National Park or go off-roading in a 4WD Jeep!
Read more: the best places to visit in Munnar with top tips!
Click here to see my related posts on the top sights in Munnar;
The best Tea Estates in Munnar
Eravikulam National Park – why it's a must-visit!
Top Station: is it worth a visit?
Where to stay in Munnar
If you're looking to really experience the magic of Munnar, then you need to stay outside of the city and in the countryside. That way you can relish in all the peace and quiet!
India Someday planned my trip to Kerala (click here for a review of their services) and booked me into Mistletoe Munnar for the evening.
My double room was clean and spacious with a huge bathroom and hot water on demand. But, the highlight was the epic views from my private balcony!
I loved having breakfast here in the morning and taking in the views from the comfort of my own terrace.
I would highly recommend them. Click here to see Mistletoe's dates and rates.
Where are you heading next in Kerala?
I spent a week in Kerala and travelled from Fort Kochi, to the hills of Munnar and also the backwaters of Alleppey.
So, make sure you read some of my informative articles to help plan your Kerala adventures;
Chinese Fishing Nets – tips to not get scammed!
What to expect during a Kathakali dance performance
Save the best Munnar Waterfalls for later!