I absolutely loved the homestays and hotels that were handpicked for me by India Someday on my week traveling around Kerala in South India.
But, one that will always stick with me is Mistletoe Munnar, a beautiful family-run homestay in the rolling hills.
This quaint property with just eight rooms is the perfect accommodation choice for your Munnar adventures as it has spectacular views, it provides peace and quiet as it's remote and it's close enough to the main attractions too.
Here's my complete review of Mistletoe Munnar and why it's the best homestay!
Heads up: my stay at Mistletoe Munnar was sponsored by India Someday. Click here to read a review of their service or my full itinerary here. Although I was a guest, I was not paid to write this review and all photos and opinions are my own.
Where is Mistletoe Munnar?
Mistletoe Munnar is located on National Highway 85 (NH85) on the Aluva – Munnar Road in Iruttukanam.
Although the hotels in Munnar city are cheap, they're not the best places to stay as it's noisy and congested.
As Mistletoe is outside of the city, it is the perfect spot to fully benefit from the peace and quiet!
This homestay also has the most spectacular views of the rolling hills. You can see the lush green jungle, the peaks of the rolling hills, and some of the local wildlife too.
If you have your own transport, it's easy to visit the main Munnar attractions from here. Or, the homestay can plan your tours and treks that will come with a pickup service.
How to get to Munnar and Mistletoe Homestay?
Munnar is a hill station that is located around 1,500 metres above sea level. Although the name would suggest that there is a Munnar railway station, that was abandoned a long time ago – funny thing, it's now a tea warehouse!
So, the only way that you can reach Munnar is by taking a bus or driving a car up the winding hills to the very top.
Local buses are possible to reach Munnar but it will take 3/4 of them to drive up the hill and the journey will take 5/6 hours.
My recommendation would be to hire a shared/private taxi from the likes of Kochi to Munnar. That way it will take you around 3/4 hours and you can stop for sightseeing too!
Click here to read my Munnar road trip guide, with transport options, sightseeing, and lunch stops!
Reasons to stay at Mistletoe Munnar;
I LOVED my stay at Mistletoe while I was here. It really made my trip as it was a cosy, family-run place that had a friendly feel to it.
From the comfy beds to the breathtaking views, the amazing homemade food, and the tours they could organise. I would go back in a heartbeat.
There are countless reasons to stay at Mistletoe Munnar, number one being its magnificent location in the hills.
But, if you need more convincing, here are the top reasons why you should choose it for your vacation.
1. The rooms in Mistletoe Munnar are clean and spacious
As there are only eight bespoke rooms at the homestay, they haven't been economised. So, there is plenty of room for your luggage and activities!
I loved the fact that my room had a huge soft double bed, side tables, some seats to relax a desk, and a huge washroom too.
The shower room was massive with a rainfall shower and had enough space so the floor didn't get completely soaked like some washrooms in India.
The toilet was also cordoned off so there was no slipping over in the middle of the night to use the loo! So handy.
I loved the organic Ayurvedic products that they placed in the bathroom along with white fluffy towels and toiletries too.
2. The best part is the views from your balcony!
But, I think the thing I loved about my room most of all was the jaw-dropping views I had from my balcony.
When I first checked in I couldn't believe my eyes. There were truly unobstructed views of the rolling hills with their huge peaks. You could only hear bird sounds, watch wildlife and enjoy peace and quiet. If you know India well is a blessing in itself.
Although usually, you have breakfast down in the restaurant, one day I asked to enjoy my coffee on the balcony!
It was one of my favourite memories from here and I couldn't believe I could enjoy these spectacular views from the comfort of my private terrace.
Just be careful in the evening not to leave the window open or you may find that some bugs will come in for a midnight snack where you're on the menu!
3. The restaurant at Mistletoe Homestay serves up incredible local food
I absolutely love south Indian food and often choose those dishes even when they are served in the North. So, I was excited to try them here in God's own Country.
Mistletoe has a fantastic restaurant and cafe on the bottom floor of their homestay that serves up a delightful menu of homemade meals.
As I couldn't decide what to choose, I always asked for a surprise each evening. I can tell you, it didn't disappoint!
I would have hoppers, homemade curries, local rice, Malayali appam, pappad, and a whole range of foods.
Unfortunately, I was sick around this time with a huge cold and fever. So, the homestay owner lovingly prepared something to help with my illness by adding spices including black pepper. Also, I had a lovely lemon, ginger, honey tea – my go-to hot drink if I have a cold in India.
They also serve up Western dishes, desserts and have a wine list if you wanted to treat yourself.
Oh, did I mention that the restaurant has the same breathtaking views from there too? It's really is a stunning backdrop for breakfast, lunch, or dinner!
4. It has an art gallery
I love the unique characteristics of this homestay and the fact that Mistletoe has an art gallery is such an awesome idea.
You'll find a tonne of artwork from local artists around their hotel, in their restaurant, and even in your room too!
This can be anything from canvas art, sculptures, wall hangings, and crafts.
A lot of the work is available to browse and purchase so if you fancy something just ask the owner for the prices and you can take it home.
5. It's in a great location to explore Munnar
Another benefit of staying here is that although it is remote and in the countryside, it's also on the doorstep of Munnar and you can reach some of the main attractions in no time.
If you're self-driving, there are parking spaces here for cars and you can drive off whenever you like to take in the views.
However, if you're like me and you're not planning to drive. Ask the homestay to organise some activities or tours with you in the local area.
The homestay only contacts good-quality tour guides for treks or sightseeing with expert guides.
I had a qualified naturalist as my guide here which really helped with understanding the history, spotting and identifying the local wildlife, and learning about the fruits, flora, and fauna too!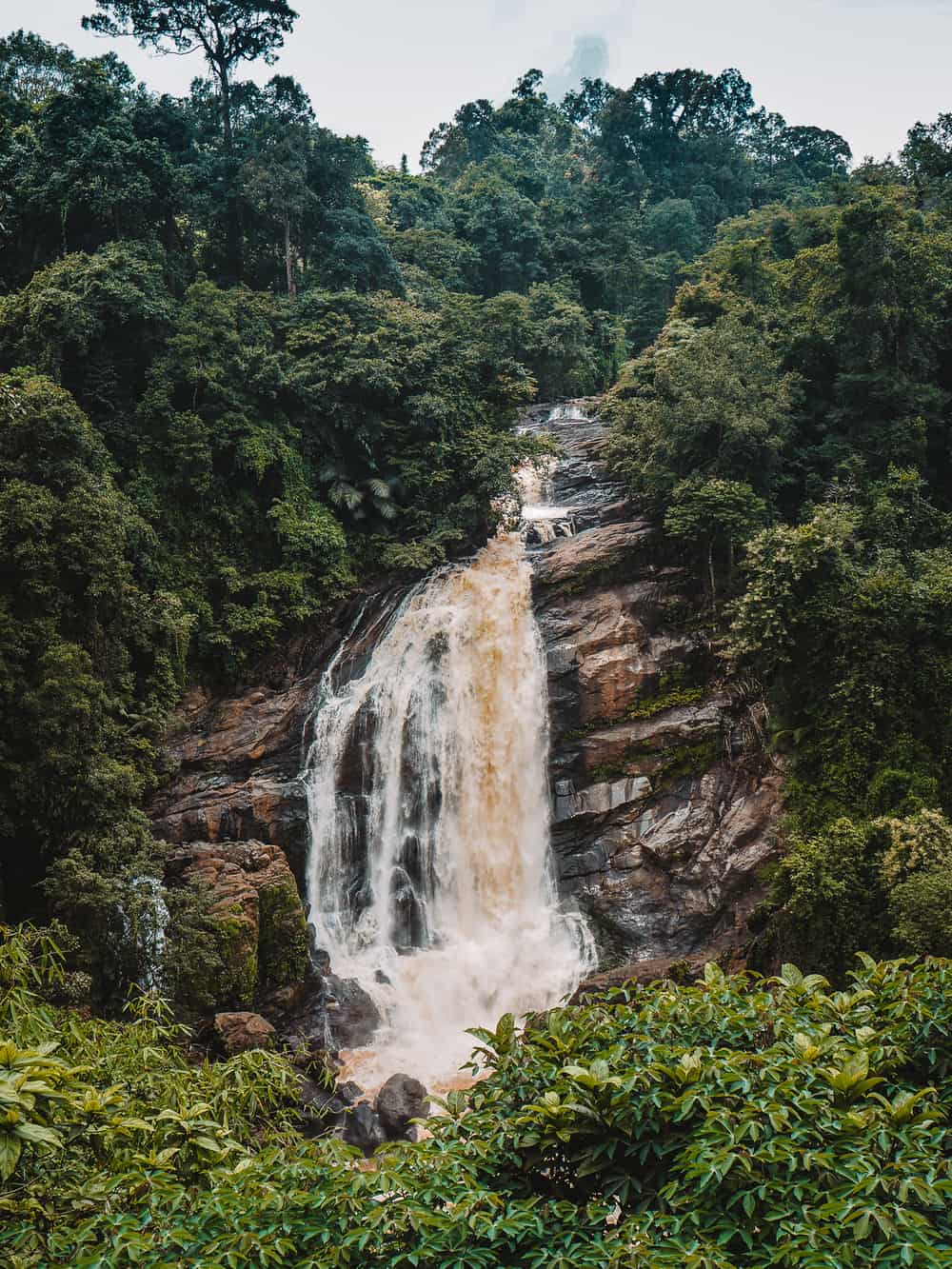 Places to visit in Munnar
There are countless places to visit in Munnar as it's a huge area.
You'll pass spectacular viewpoints, wind up mountains to find hill stations, swim in waterfalls, frolic in tea gardens, and go on safaris in nature parks to find some of India's most endangered animals.
But, if you have limited time, it can be hard to choose what to pick to form an itinerary. So, I've pulled together a list of the 20 best tourist places to visit in Munnar you can read here.
Lockhart Tea Plantation
One of the highlights of my time in Munnar was a private tour of Lockhart Tea Plantation with Route 49 Adventures.
As most of Munnar is filled with tourists on the main roads, it's a good idea to off-road in a 4WD Jeep!
Route 49 Adventures have a permit to enter Lockhart Plantation, so we were able to roam free inside the tea estate, take photos and go trekking. I didn't see one tourist on my trip here!
It was so much better than the main tea gardens which don't allow you to enter inside or are crammed with tourists.
To finish the experience, we went for a guided tour of the Lockhart tea factory to see the complete cycle of how they produce tea and a tea tasting at Tea Tales Munnar!
Read more: the best tea gardens in Munnar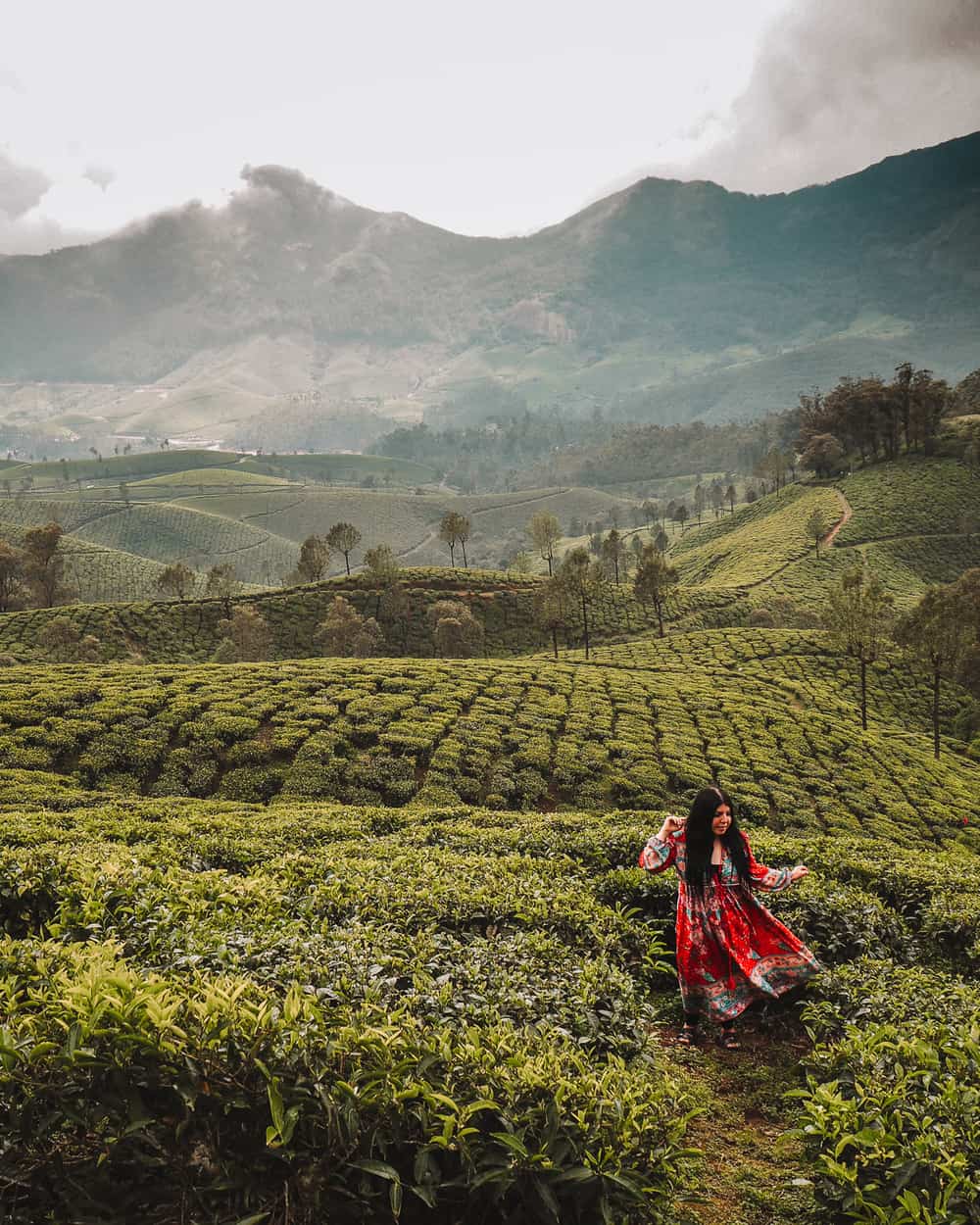 Visit one of the many beautiful waterfalls
There are countless waterfalls in Munnar, but not all are created equal.
Some waterfalls you can only look at for photos, some you can go trekking, and some you can even swim in at the bottom!
My favourite waterfall was Lakkam Falls near Eravikulam National Park, where you could go swimming and cool down in the heat. As an added bonus you get a natural fish spa as it's part of their ecosystem.
If you're thinking of swimming, make sure you read my complete Lakkam Waterfall guide.
Or, click here to read some of the best Munnar Waterfalls to visit
Eravikulam National Park
Kerala has many nature parks which are home to some of the most endangered wildlife in the country.
Eravikulam is the oldest national park in Kerala and is proud to have a population of 800 Nilgiri Tahr Deer. The largest population of endangered species in the world.
As well as spotting wildlife, the national park is on a plateau that has views of the highest peaks outside of the Himalayas.
It's definitely worth a visit but make sure you read these essential Eravikulam Park tips before you decide to go.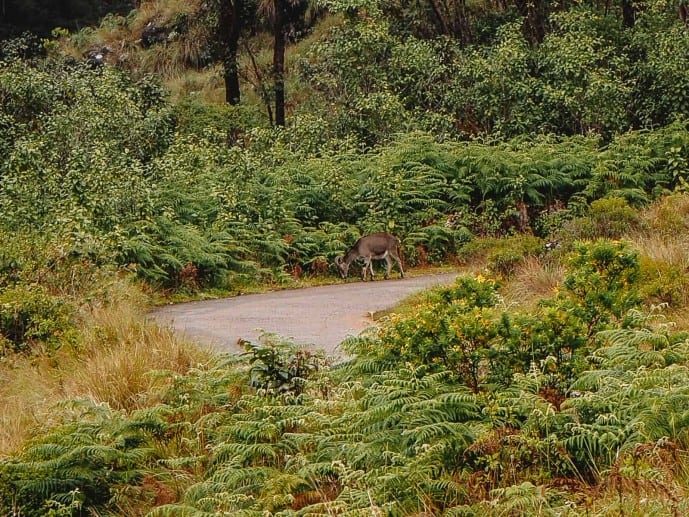 Top Station
This is the most popular attraction in Munnar and, although I didn't like it, I can't deny that this is where everyone wants to go.
Top Station, as the name suggests, used to be a railway station that transported tea over to Tamil Nadu during the British era.
Today, it's a favourite attraction amongst tourists as, from here, you can get birds-eye views of Munnar and Tamil Nadu up in the clouds!
On my visit, it took us two hours to get there due to heavy traffic (which is normal) and we didn't see any views because of the weather.
But on a clear day, it is worth visiting as the views are meant to be out of this world.
Is a drive to Top Station worth it? Read my guide here for more tips
Looking for more Kerala travel inspiration?
I spent a week in Kerala with India Someday and we travelled from the historic Fort Kochi, to the hills of Munnar and the backwaters of Alleppey too.
Read my full one-week itinerary for Kerala here
Read more of my Kerala adventures below;
The top attractions in Fort Kochi
Chinese fishing nets: Tips so you don't get scammed
Kathakali: the ultimate guide and how to watch a show!
The top things to do in Alleppey
A travel guide to the backwaters of Kerala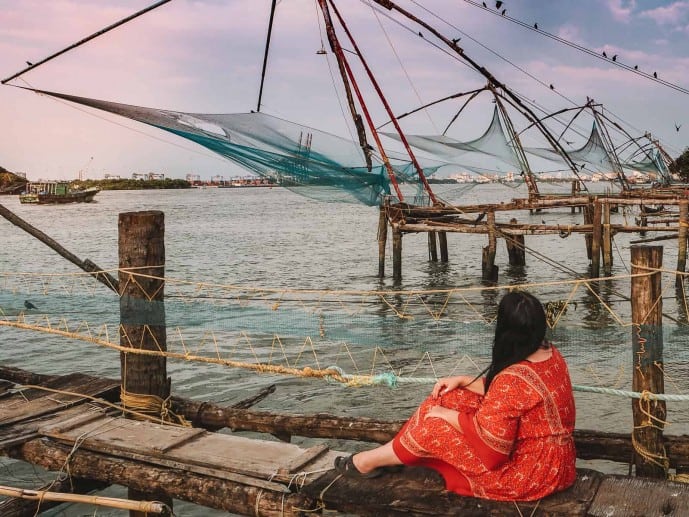 Save this Mistletoe Munnar Homestay review for later!