Although most tourists opt to stay in a houseboat to experience the backwaters, did you know that there are some amazing hotels that are tucked away here too?!
Emerald Isle Heritage Villa is a 150-year-old farmhouse that is located near the Kuttanad Backwaters in Alleppey.
So, it's a great location if you wanted some relaxation and a base to explore the backwaters by boat without feeling cabin fevered for a few days!
I loved my stay at the Emerald Isle Heritage villa. Whether I was enjoying the delectable food, cruising around on a Shikara boat, enjoying an Ayurvedic massage, or meeting the locals, I had a blast.
Here's my complete Emerald Isle Kerala review and what you can expect when you check in here.
Heads up: my trip to Kerala and my stay at Emerald Isle were sponsored by India Someday. But, I was not asked to write this review. Click here to read more about their services or see my full itinerary here. As always, all opinions and photos are my own.
Where is Emerald Isle in Alleppey?
Emerald Isle Heritage Villa is located deep inside the Alleppey backwaters.
You won't be able to access the hotel by car, so you will need to park it up on the mainland and sail over here by boat (ask the owner for more details on parking)!
It was definitely an exciting introduction to my adventures in Alleppey. I was picked up and sailed over in a small country canoe with my luggage balancing inside! One risky move and I could have been in the water haha!
But, it did make me excited for what was to come and I loved the fact I could already see the canals with swaying palm trees.
How to book Emerald Isle, Kerala
Emerald Isle Heritage Villas cannot be found on booking.com, so it is worth booking directly with the hotel owner.
They have an official website here where you can enquire about dates and what rates are available.
It's good to note that rates change with the seasons in India and October – March will be peak seasons in the good weather.
April – June is Summer so it will be roasting hot and July – September will be monsoon, although it can be intermittently wet, it's lush and green. Some say monsoon is the best season of all in Kerala!
6 reasons to check into Emerald Isle Heritage Villa, Alleppey
1. It's a farmhouse that's over 150 years old!
I absolutely adore heritage properties and I was thrilled to find out that I would be staying in a historic farmhouse.
The owner's great-great-grandfather first bought the land to build the farmhouse over 150 years ago and the family still has the original deed that was carved into a palm tree!
You'll notice the fine woodwork of the building which is mostly made of Teak.
Years ago, the family used to store the harvest in each of the rooms. So, you never know if you'll be staying in the coconut room, the grain storehouse or their Ara, where they used to keep rice from the harvest.
Although there have been a few modifications over the years with modern necessities like air conditioning and TVs, most of the property still has that rustic charm of when it was first built.
You can explore 9 acres of land here, across paddy fields and fish ponds too!
2. The rooms are large with unique features
I loved the fact that there were only a few rooms here, which makes the property so quaint and relaxing.
Fewer guests mean less noise and you can relish in privacy!
Years ago, the farmhouse used to use the rooms to store food from the harvest. But, now they have been converted into beautiful homes for the evening!
My room was where they used to store grain on the farm and it had quite a few compartments to it! There were stairs to get up to my elevated bed which was great with the air con!
Then it had a large lounge area with a desk and TV. Plus, they had fresh water and tea and coffee you could make.
A highlight of the rooms here is that they have an outdoor shower facility! So, you can bathe while taking in the fresh air too. Although it was boiling, I still like to have hot showers and the water was lovely and warm.
3. The local food is homemade and delicious!
Trying the local food in Kerala has to be up there on your culinary bucket list in India! The South Indian delights like Dosa, Idli and Vada are always popular on any menu.
At Emerald Isle, they have a fabulous kitchen where the chef makes homemade dishes with organic local ingredients!
I loved waking up in the morning to a western and traditional breakfast with Idli and Sambar. Or, lunch which was like a Thali with a range of local curries and chutneys.
Dinner was always a delectable affair and I had to try some of the local fish from Alleppey. As it is caught fresh every day, you know it's going to taste amazing.
But, make sure you come with an empty stomach, the dishes are extremely generous and you may not be able to fit it all in!
4. They have an Ayurvedic spa on site
Many say that Kerala is the home of Ayurveda in India. If you're not familiar with it, it's a type of natural healing that was discovered 3,000 years ago. So, you must try some treatments while you're here.
They are a fraction of the price of treatments in the West and most of the masseuses back home learned all about the practice in India anyway!
Emerald Isle Heritage Villa has its very own range of spa treatments that you can book. From full-body massages to facials or your feet and hands. It was very reasonably priced too.
My masseuse, as well as working at Emerald Isle was a local chiropractor at the local hospital. So, she asked me for any bugbears in my muscles that she could work on. As I'm a blogger, I often get issues in my shoulders and so she got to work.
I was amazed at how loose my shoulders felt after and wish I had more time to work on it over a couple of sessions.
5. They have huge grounds to relax in…with hammocks!
The whole vibe of Emerald Isle is for those who want to escape the modern world, step back a little and relax.
As it's inside the backwaters, there aren't any other hotels nearby or tourists for that matter. So, it really is an escape!
If you get bored of chilling out in your room, go for a tour of their 9 acres of grounds which includes a spice farm, paddy fields, and fish ponds.
My favourite discovery here was the fact that they had hammocks that you could chill in. It was perfect for reading a book or just watching the world go by.
6. Its the perfect base to explore Alleppey!
I found the main Alappuzha beach area extremely crowded. But, there weren't many tourists around this part of the backwaters which made it lovely and quiet.
However, I'm definitely not one to hang about a resort and am prone to get itchy feet. I was really happy to know I could book a range of activities from the Emerald Isle to explore the area.
Although there are lots of sporty activities like kayaking, I wanted my time in Alleppey to be a bit more relaxing. Y'know, spa and cruising.
So, this is what I would recommend if you're feeling the same;
Take a tour of the backwaters by rickshaw
I was really eager to experience the backwaters by land as well as on the water. There's something about this part of the world that is so interesting.
The backwaters are a natural phenomenon and cover 300 square kilometres. People naturally adapt to living on them over the centuries and it's amazing to see houses in the middle of the backwaters where they can only access it by boat!
During my rickshaw tour, I met local villagers fixing boats, talked to men who were fishing, saw buffalos bathing, and women collecting water for washing.
We also went temple hopping to churches, mosques, and historic Hindu temples too. This is St Joseph's Church which is near the sunset point of Vattakkayal. It was so quaint with no one around!
Take a Shikara ride in the backwaters
No trip to Alleppey can be complete without a tour of the backwaters. Whether you hire a boat privately or take the local public ferries you have to experience life on these waterways.
As I already had my accommodation sorted at Emerald Isle, I didn't need to rent a big houseboat. So, I was recommended to ride along in a Shikara Boat. That way, we weren't restricted to the busy main routes and we could veer off into the hidden canals.
We sailed past villages, under photogenic bridges, toddy shacks, and had swaying palm trees surrounding us the whole way!
Some of my fondest memories of Alleppey were on this boat ride, so don't miss it.
Click here to read my travel guide all about the Backwaters of Kerala and how to explore them
Try Toddy!
Toddy is another item you have to add to your Kerala bucket list. Toddy is a palm wine made from the sap of palm trees!
A Toddy tapper, will climb to the top of the palm tree and make a small hole in the 'flower' of the tree. Then, he'll attach a small pot to collect the sap.
The sap naturally ferments with the yeast in the air. In 2-3 hours, hey presto, you'll have a sweet wine that's 4-6% alcohol!
It's amazing to watch the locals toddy tap for yourself and even better to try Toddy is one of the toddy shops on the backwaters.
These aren't fancy bars by any means but they will be packed full of locals playing cards or chatting about their day at work.
The day I arrived it was a festival day and many weren't open. Luckily one was and I had a nice glass of Toddy!
Just be careful as they do often mix it with local water so small quantities are best.
Click here to read my complete guide on how to have Toddy safely!
Want to see more things to do in Alleppey?
Of course, what I've done here is only the tip of the iceberg when it comes to all the amazing things to do in Alleppey!
On the mainland, you have the famous Alappuzha Beach and if you're feeling brave you can climb up to the lighthouse nearby to get some of the best birds-eye views of the area.
But, on the endless backwaters, there is also plenty to do. You can go and explore more temples, join the fisherman to try and bring in the catch, go trekking or cycling too.
Make sure you read my complete list of things to do in Alleppey here!
Where in Kerala are you going next?
I spent a week in Kerala with India Someday and explored the historic Fort Kochi, the hill station of Munnar, and the backwaters of Alleppey.
I loved the diversity on this trip, so make sure you read my full Kerala Itinerary if you're planning on spending some time in God's Own Country.
From the experiences on my adventures, I wrote up some detailed guides to help you plan your perfect trip in Kerala!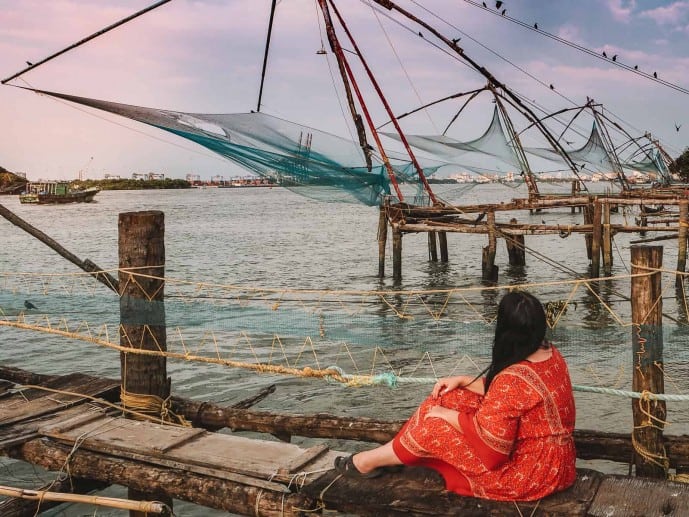 Fort Kochi
For such a small village Fort Kochi is a powerhouse of history and culture.
You'll find Portuguese buildings, indo-catholic churches, Paradesi Synagogues, street art, Chinese fishing nets, and the ancient dance of Kathakali too;
Chinese fishing nets: how to prevent being scammed
Kathakali: a complete guide
Munnar
Probably the most famous stop in Kerala is Munnar. An emerald green paradise located 1,500 metres in the hills.
It's home to some of the highest peaks outside of the Himalayas in India, with miles of tea gardens, wildlife, waterfalls, and spectacular viewpoints;
A Munnar road trip guide with sightseeing stops
Pretty waterfalls you must visit
Top tips for Kerala's oldest National Park
Top station: is it worth the drive?
Save this Emerald Isle Heritage Village Review for later!