Pink Mamma Paris is one of the prettiest and most Instagrammable restaurants in the city and everyone wants to eat there.
You're probably here because you've seen it on social media and want to know how you can visit to take photos and if it's really worth the price.
I'm always a little dubious about Instagram restaurants and cafés. As much as they look pretty in photos sometimes the food can be style over substance and the service is lacking.
But, I'm pleased to report that after having a delicious lunch at the stunning Pink Mamma restaurant, it is definitely worth the hype.
Here is a complete Pink Mamma Paris review including how to make reservations and what to expect!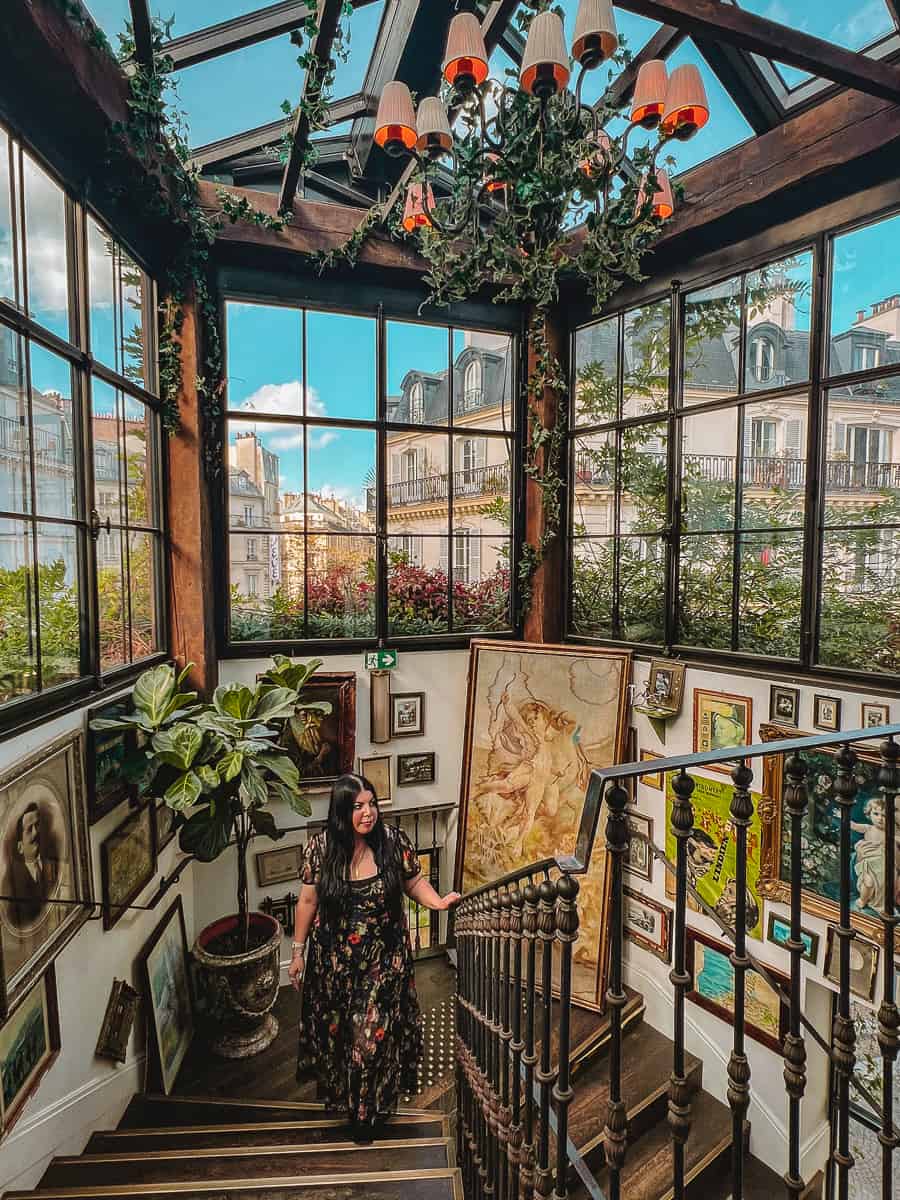 What is Pink Mamma Paris?
Pink Mamma is a gorgeous Italian restaurant that can be found in the Pigalle Quarter of Paris between the 9th and 18th arrondissements.
It's a big and friendly trattoria that is set over four floors. Pink Mamma belongs to the Big Mamma Group of popular eateries that are located all around the city.
It joins other delectable Italian restaurants including Ober Mamma, East Mamma, BigLove, Mamma Primi, Pizzeria Popolare, and Libertino.
However, Pink Mamma is the one you've probably heard of since it's really popular and can be seen a lot on Instagram and social media.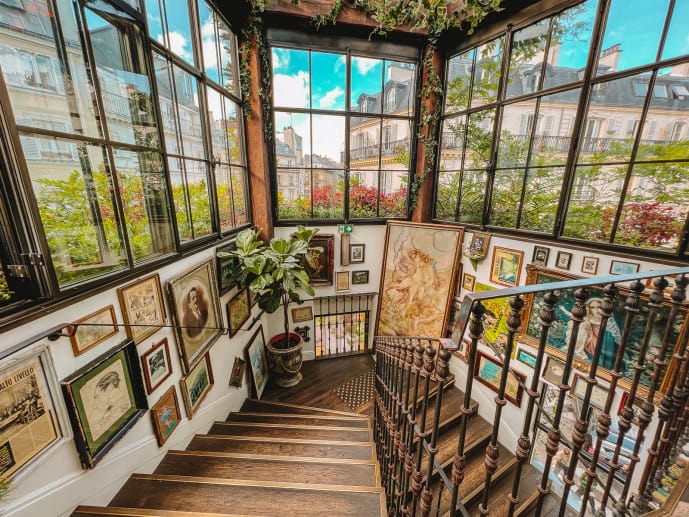 I've always seen this pop up on my feed from some of my favourite Parisian influencers so I just knew I had to visit.
It has four floors to dine on but the top floor terrace has a skylight, a hotchpotch of gallery portraits, lamps, and lots of foliage that make it look like something from a fairytale!
If you're visiting Paris, you must plan to eat at Pink Mamma while you're here. Not only is the restaurant pretty, but the food and service are spectacular too.
How to get a Pink Mamma Paris reservation
If you wanted to eat at this Instagram superstar, I would always recommend reserving a table to eat at Pink Mamma.
You can reserve a table to eat at Pink Mamma Paris online and you can reserve a seat 30 days in advance and not before!
It says on the website that "reservations open at 9 am, 30 days in advance for 2 to 7 people, and 37 days in advance for 8 people and above".
So, remember to set a reminder on your phone to remember to book before your trip!
Depending on the day or time slot you book for the restaurant, you may be required to pay to reserve a seat per person as a minimum spend.
The first tables of the day open up at 12 pm and, if you can, I'd recommend booking for this time as it's less hectic for photos.
When making your reservation, make sure to mention in the comment box that you'd like to sit on the top-floor terrace. This isn't a guarantee that you will get to sit up there but it's good to put in a request.
Although there are four floors, the top is the prettiest floor of the restaurant and has the famous Instagrammable staircase.
If numbers are high, you may also be asked to reconfirm your reservation by text on the morning of your booking as I did. Just text back "confirme" to ensure they don't remove you!
If you don't manage to get a reservation, you can still try to get a walk-in table for opening time. But, the chances of sitting upstairs will be reduced. Be prepared to queue for a while.
Important: if you have a reservation for opening time, I would highly recommend getting to the restaurant around 15-20 minutes beforehand to guarantee a seat on the top-floor terrace! It fills up really quickly and you don't want to be disappointed!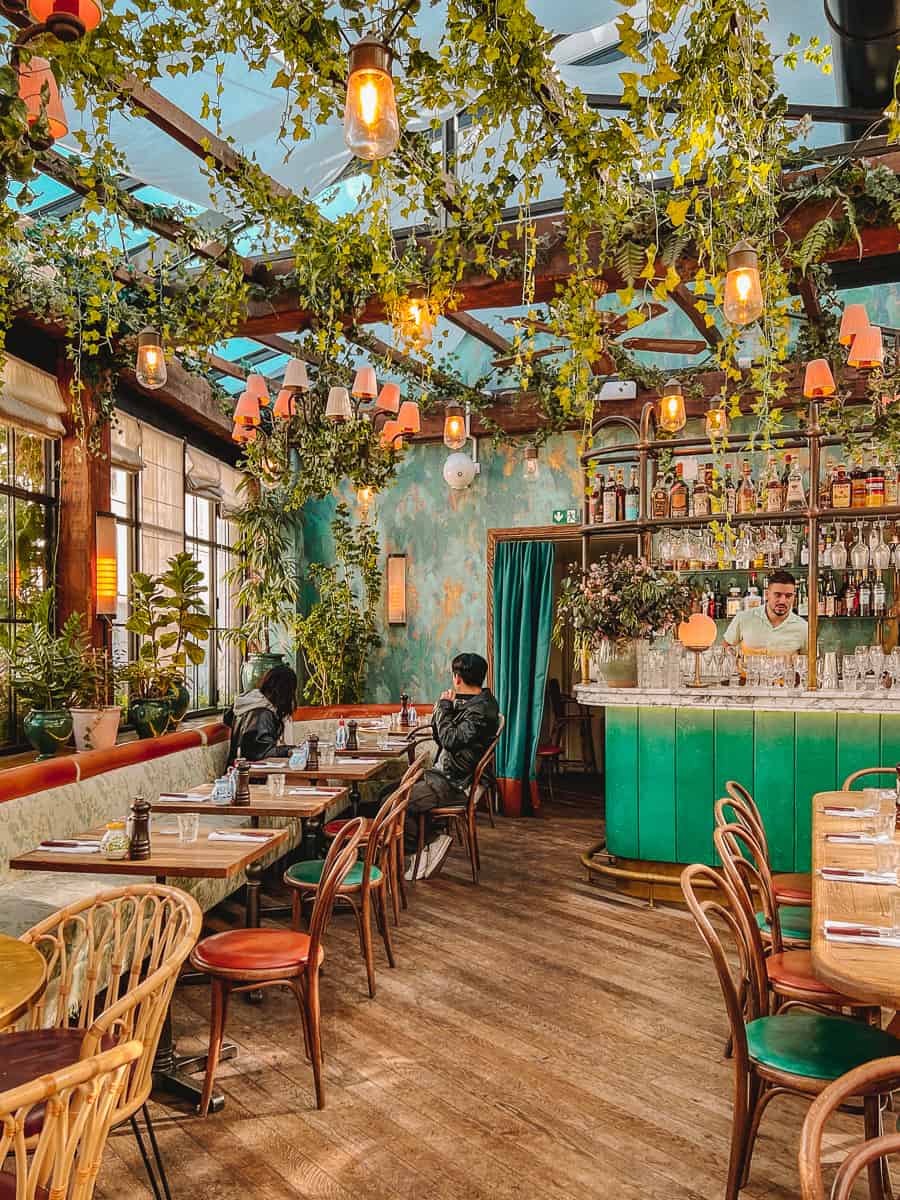 Pink Mamma opening hours
The good news is that Pink Mamma Paris is open every day of the week but opening times differ on weekdays and weekends.
On weekdays, Pink Mamma is open from 12 pm – 2.15 pm for lunch and then reopens at 6.45 pm – 10.45 pm for dinner.
On weekends, Pink Mamma is open from 12 pm – 3.15 pm for lunch and then reopens at 6.45 pm – 11 pm for dinners.
How to get to Pink Mamma Paris
Pink Mamma is located on Rue de Douai in the Pigalle Quarter of Paris in between the 9th and 18th arrondissements.
This is really close to the Moulin Rouge, Sacre Coeur, and Montmartre so you can easily plan a visit to Pink Mamma at the same time as these major tourist attractions.
If you're travelling around Paris, a mix of walking and the metro are the best ways to get around the city.
The closest metro stations to Pink Mamma are Blanche, Pigalle, and Place de Clichy. All are around a 5-10 minute walk to Pink Mamma Paris.
The exact Pink Mamma address is 20bis Rue de Douai, Paris. Click here for a Google Pin!
When you arrive at Pink Mamma Paris
You really can't miss the Pink Mamma building in Pigalle as it is a bright pink-tiled building with green foliage on the top!
If you're visiting during the busy season of summer, you'll usually see queues out of the door and around the corner waiting to get a seat.
On the day when you get here there will usually be two queues;
One for those with reservations (yes, you still have to queue even if you have a reservation)
and one for those who don't have reservations
I would always recommend reserving lunchtime if you want photos and videos. Make sure to request the top-floor terrace from your host/hostess when they check you in on the day.
I got here around 20 minutes before opening time around 11.40 am. You'll usually hear the staff giving a pep talk, singing, and gearing up for the day to welcome patrons inside!
The four floors of Pink Mamma Paris
So, Pink Mamma is just as beautiful on the inside as it is out. I particularly loved the 'this is not a strip club' doormat as you walk in, haha.
As you make your way up the stairs to the top-floor terrace, you'll pass the four floors of Pink Mamma where you can dine.
Most floors have low tables and a tabletop bar inside where you can eat your food and order drinks.
Every single floor has beautiful decor and gave me a bit of an Art Deco vibe. There's even a pink bar!
The entire staircase leading up to the top is filled with pictures, portraits, and bric-a-brac! So, make sure to have your camera ready.
They also say that if you're brave enough you can walk down to the basement and push open their doors for a surprise.
The prettiest floor however has to be their rooftop terrace where you can dine under a skylight with flowers and foliage.
As you walk up to the top floor, don't forget to look back as you'll see the Instagrammable staircase that is famous on social media!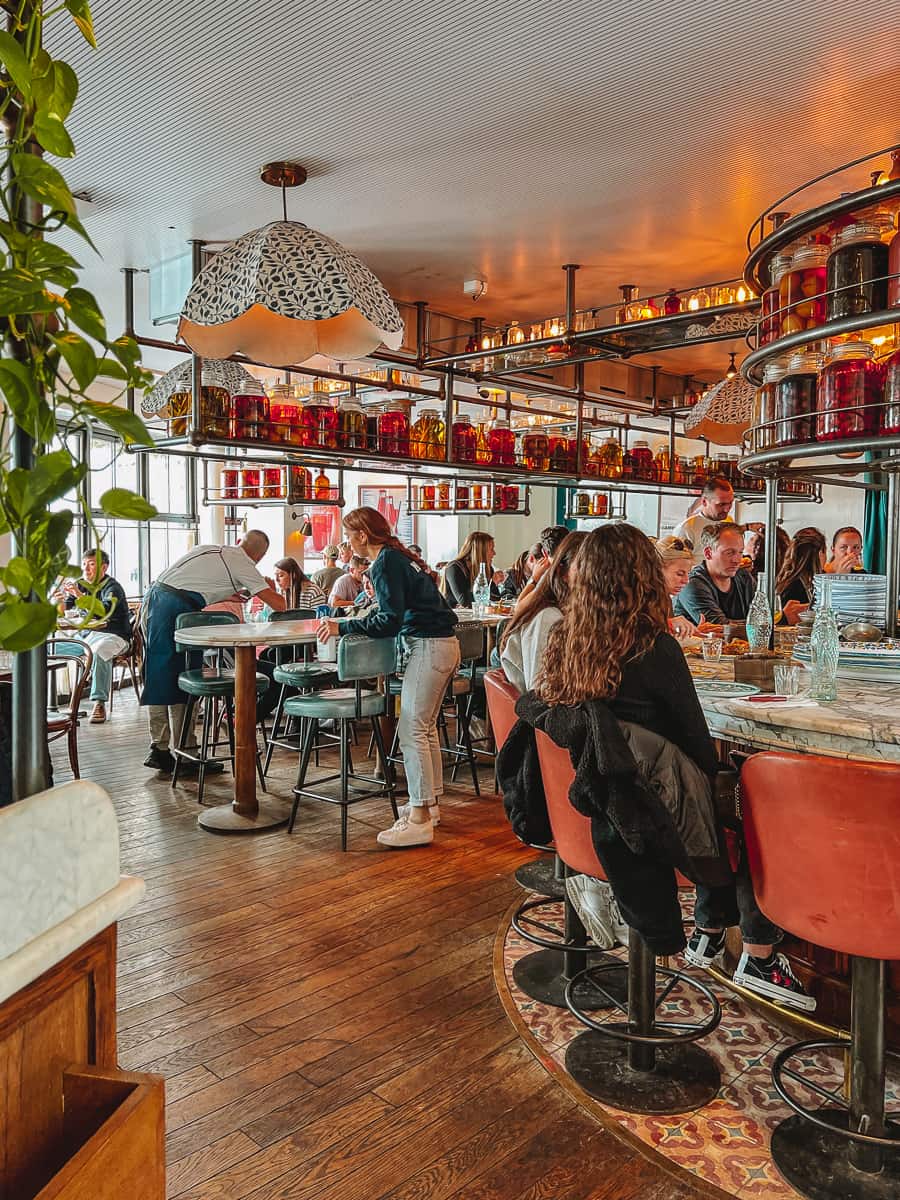 Pink Mamma top terrace
Pink Mamma's top floor is a delightful terrace that has a skylight which makes it light, airy, and colourful.
It's painted in this gorgeous teal-green colour and has lots of lamps, flowers, and ivy foliage making it look like something from an enchanted fairy tale.
If you're lucky enough to score a table on this floor, you're also in reach of the Instagrammable staircase that everyone wants to capture while they are here.
The skylight floor is by far the loveliest part of the restaurant and honestly doesn't feel like you're dining in Paris at all, especially with the smells and sights of all the incredible Italian food on the menu.
Pink Mamma Paris menu
Pink Mamma serves up an amazing range of homemade Italian dishes that you can order at your table.
As their motto is 'quality or nothing', you'll find the menu changes each month to make sure that each meal has the freshest ingredients of the season.
They are famous for their Firenze-style meat but, usually, their most popular dishes are pasta and pizzas.
They have delectable starters like Antipasti, Burrata cheese dishes, Parma Ham salads, and olive sides.
For mains, you have a choice of corn-fed meat dishes, fresh homemade pasta, and pizzas.
Shock horror, like most Influencers, I ordered the highly Instagrammable mushroom and truffle pasta or La fameuse pâte à la truffe that came in a cute copper dish!
It always looked incredible in photos and videos and I'm pleased to say it tasted even better than I imagined and was really filling.
If you still have room to spare, they also have a dessert menu of sorbet, ice cream, and cakes too. Plus, Espresso coffees.
To join your Italian lunch, you can order soft drinks or select a cocktail from their extensive menu. Personally, I had an Aperol Spritz! It just isn't an Italian affair without one.
But, they also have some fun cocktails like Basic B*tch, The Big Fish, and Simply the Breast which comes in a boobies mug!
Like most restaurants nowadays, you'll be given a physical menu and a QR code to scan to order your food online. Or, you can order from the waiter.
You then pay via their website for your food online, it's so easy and means that you don't have to spend time waiting for the bill!
Is Pink Mamma Paris worth it?
As I said before, I'm always a little skeptical of pretty Instagrammable restaurants when it comes to dining when I travel.
Sometimes a restaurant can look really pretty on social media or serve up 'Instagram worthy' looking food but the service is bad and the taste is lacking as its fashion over function.
However, I think the long queues and sold-out reservations really speak for themselves here. Pink Mamma is definitely worth the hype!
The setting is naturally gorgeous to dine in but their delectable menu of food and fun cocktails are also très délicieux.
It's homemade, wholesome Italian food served by a lovely group of hosts that feel like family. They were all really friendly and didn't hesitate to strike up a conversation.
I would highly recommend eating at Pink Mamma when in Paris, it's a foodie haven you cannot miss!
Pink Mamma photography tips
As lots of people book Pink Mamma restaurant to take photos and videos for their Instagram feed and TikToks I thought I'd give some photography tips.
I've already discussed making sure you try to get a lunch reservation for opening at 12 pm and requesting the top terrace.
Also, you should be queueing up around 20 minutes before the restaurant opens for the best chance of being seated on the top floor.
When you visit at 12 pm, this will be when the famous staircase is quietest so you can grab your photos after you've been seated.
It can get very busy throughout the day and by dinner time this is when it's the busiest. So, more patience will be required.
If you're on the top floor, you can see when the staircase is free and then just pop over anytime during your meal to grab photos with no one on the staircase.
There will be waiters showing guests to the top floor throughout the day but just be patient and you can easily get a moment when the staircase is empty.
Most people are very respectful of each other and take it in turns to get their photos/videos. I even had my tripod and the staff didn't mind (obviously, I set this up out of the way of others).
Note: If you didn't happen to get a reservation or a seat on the top floor of Pink Mamma, don't despair. You can still walk up to the top floor staircase anyway and get photos!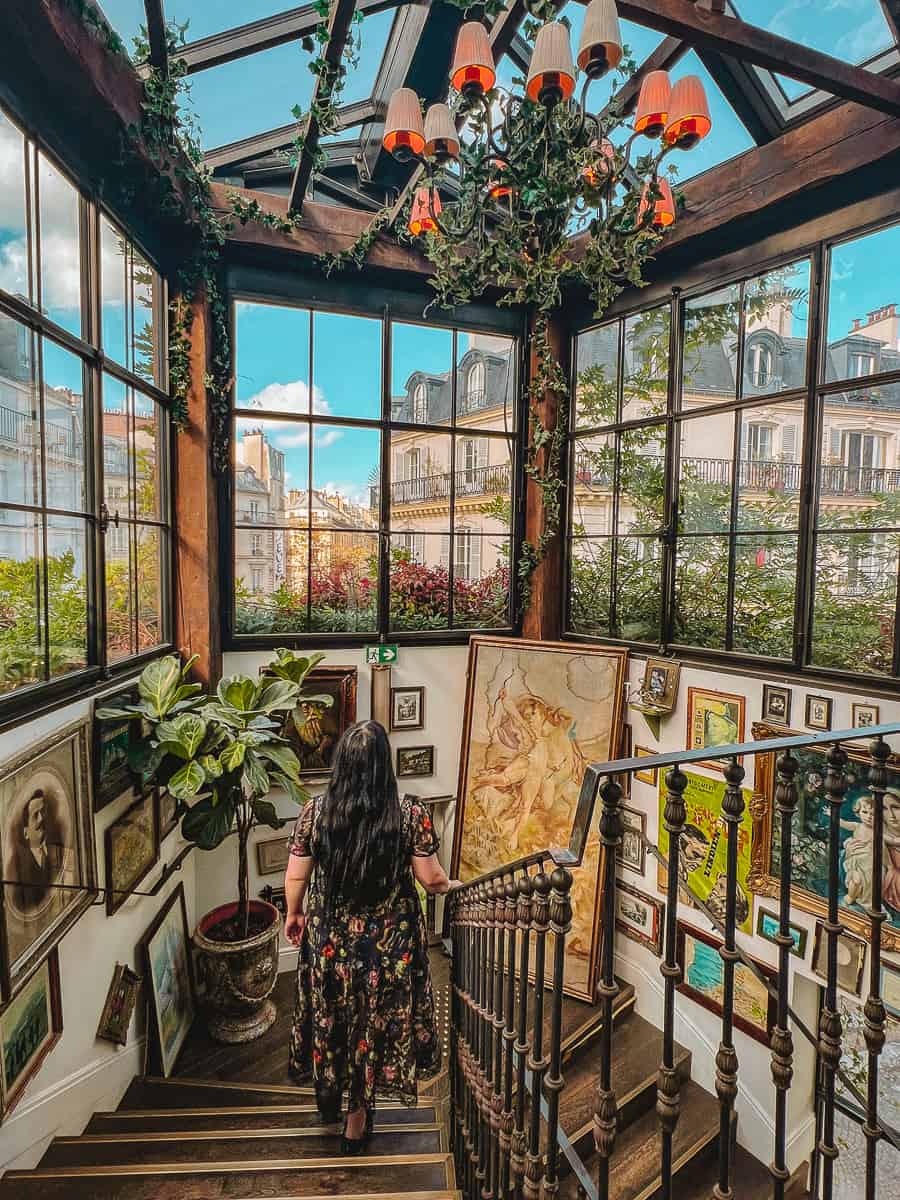 Pink Mamma FAQs
Can you book Pink Mamma Paris? Yes, you can book a table up to 30 days in advance.
Does Pink Mamma take reservations? Yes. Reservations open up 30 days in advance – so remember to set a reminder to book!
Does Pink Mamma take walk-ins? Yes, you can show up as a walk-in if you don't have a reservation. But, it's not a guarantee you will get a table!
Where is Pink Mamma in Paris? In the Pigalle Quarter on Rue de Douai
Is Pink Mamma expensive? It's very reasonable for Paris! The main dishes are nearly all 13 – 20 Euro. I'd budget around 30-40 Euro per person for your meal and drinks.
How to get from Pink Mamma to Eiffel Tower? It's an hour's walk so best to take the 30 bus service from Pigalle to Tour Eiffel. You can take the metro but it requires a change. Or, take an Uber/Bolt taxi.
Looking for places to visit in Paris nearby?
Pink Mamma is a great place to eat after you've spent some time wandering around the gorgeous area of Montmartre in Paris.
Here, you have the Sacre Couer, the Instagrammable La Maison Rose, Le Consulat Café the Sinking Houses, and the Wall of Love.
Or, you could eat here before you watch the famous Moulin Rouge, the birthplace of French Cancan!
You're also only a short walk away from Opera with places like the Palais Garnier, the setting of Phantom of the Opera, and Galeries Lafayette.
Galeries Lafayette is one of Paris' largest shopping centres that has an incredible glass dome inside.
Don't forget to visit their FREE rooftop terrace on the top floor for views over the city and the Eiffel Tower!
Why not save time and book a tour?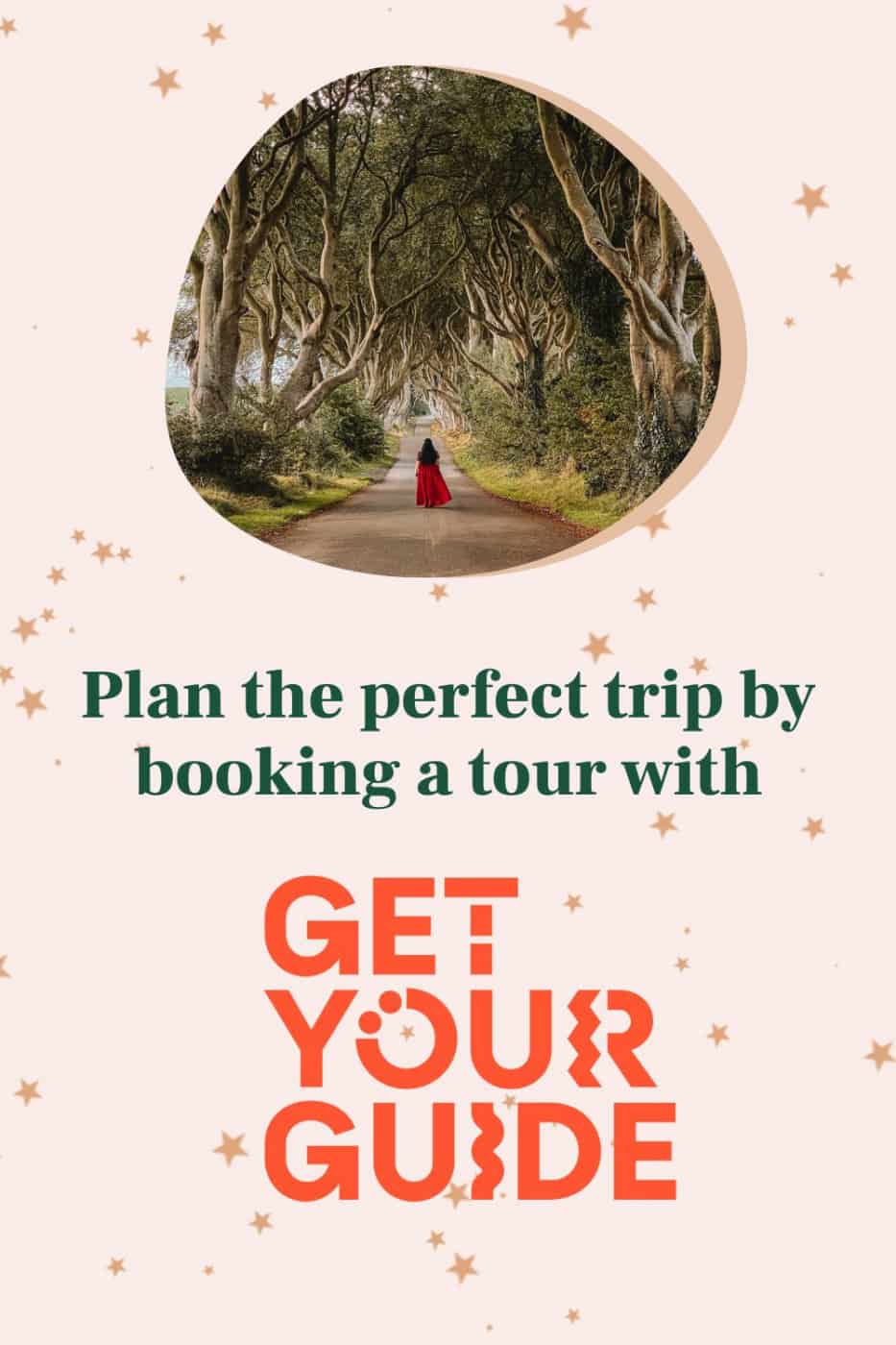 Read more of my Paris articles
50+ Instagrammable places in Disneyland Paris
25+ Things to do in Disney Village Paris
Why you must visit Saint-Chapelle – the Jewel Box church
Visit the Medici Fountain in Jardin de Luxembourg
How to visit Marie Antoinette's Queen's Hamlet in Versailles
How to find Jim Morrison's Grave at Père Lachaise Cemetery
Captain Jack's Review at Disneyland Paris
Honest Bistrot Chez Remy review – Paris Ratatouille restaurant
How to get an empty Versailles Hall of Mirrors photo
How to visit Colonnes de Buren in Palais Royal
How to visit Merlin's Camelot Castle aka Chateau de Pierrefonds
Save this Pink Mamma Paris Review for later!