Okay folks, if you wanted to sprinkle some Disney magic into your Instagram feed for your photos and Reels, then you must bookmark all of these Instagrammable places at Disneyland Paris!
Although you could argue that nearly everywhere in Disneyland Paris Resort is Instagrammable, there are some locations that you simply cannot miss for a photo opportunity.
These photography spots will make your feed look like something from a fairytale and will create some magical memories for you to look back on in the process.
So, without further ado, here are the most Instagrammable places at Disneyland Paris Resort!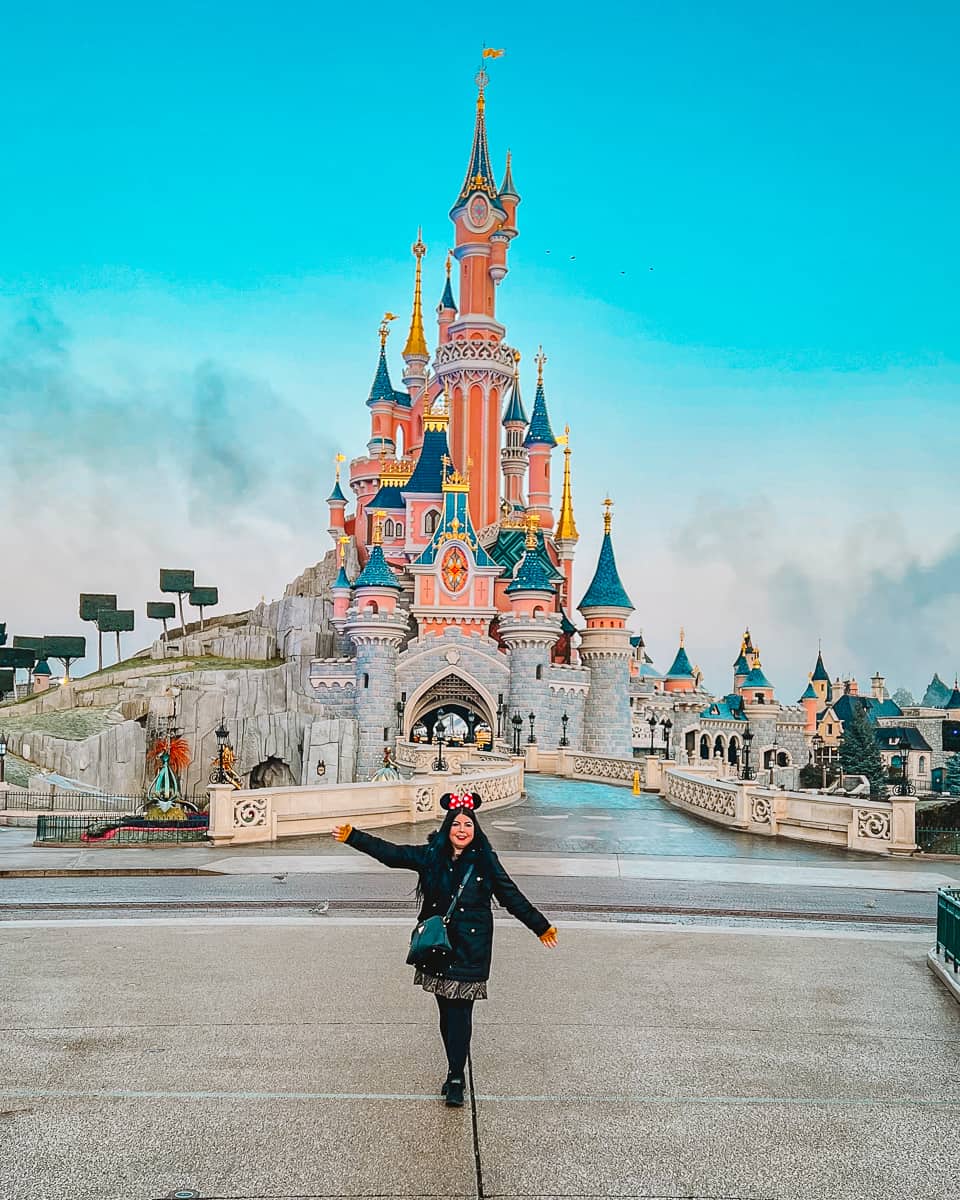 My top tips for photography at Disneyland Paris
Although taking photos at Disneyland Paris is super exciting and a must, here are some top tips for photography before you start;
Use Extra Magic Time – Although ride rope-droppers will hate me for this, I still would argue that using Extra Magic Time before the park 'officially' opens is an easy way to get photos without as many crowds, especially on Main Street USA. As photos are important to me (and my blog), this is what I did and I have no regrets. Extra Magic Time allows you an extra hour in the parks before it opens but it's only valid for Disney Hotel Guests, Magic Plus, and Infinity Annual Pass holders.
You can't dress up – Did you know adults can't dress up in costumes at Disney? Yep, it's true. It's only allowed on their special Halloween events. But, you can do something called 'Disney Bounding' where you can dress up with the influences of a princess or your favourite character. Mickey Ears are obviously a must-wear and a matching Loungefly Bag!
DSLR's are allowed – you're allowed to take your big cameras into Disneyland Paris. I saw many people with really large lenses to capture characters at parades.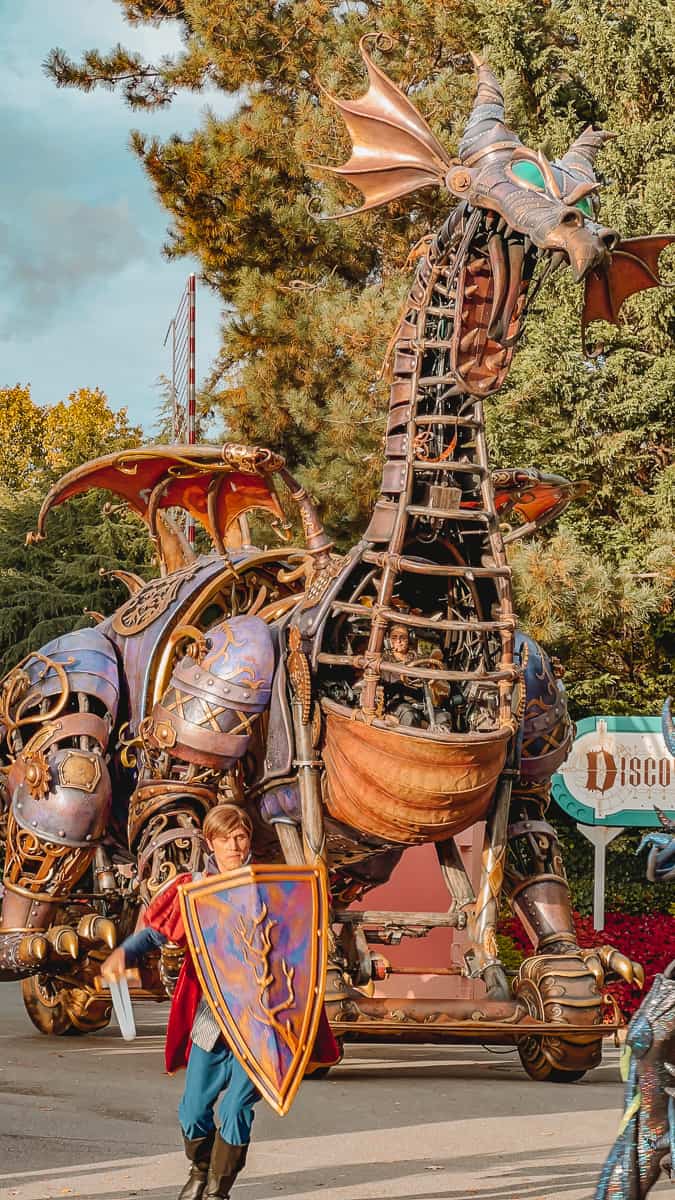 Tripods and selfie sticks are banned – Although I've seen people with selfie sticks and tripods in the parks, these are generally banned. There are announcements throughout the park and staff members will remind you that they are not allowed one if you have one. I went solo and most people were very kind and took most of the below photos for me.
Come armed with patience – This is the magic key! If you don't have Extra Magic Time or you just want photos without many people in them you will need to be very patient, especially in summer!
Drones are not allowed – pretty obvious but you're not allowed to fly drones over the Disneyland Paris resort. The park may use drones in their shows but park guests cannot :)
Instagrammable places at Disneyland Paris
I'm going to (try) to put these in order of when you'll see them in the parks starting with Disneyland Park or Parc Disneyland first, the Disney Studios Park then the Disney Village and Hotel Resort areas.
This will make it a little easier to plan your photo session and where you'd like to take photos.
I would always recommend downloading the Disneyland Paris Mobile App which has an interactive map on there. This will allow you to plan out your route before you arrive.
1. Fantasia Gardens, Disneyland Hotel
When you first get through the park security lines, the first thing you'll see is the magical Fantasia Gardens in front of the gorgeous candyfloss pink Disneyland Hotel.
It's a beautiful building that has turrets and towers worthy of a fairytale and you'll see giant a clock tower at the very top with Mickey on the clock face.
The Disneyland hotel is currently closed until 2024 and they plan to turn it into a Disney Princess hotel, but you can still get some beautiful photos in the Fantasia Gardens in front of it.
You'll see pink bandstands, the famous fountain, and even a topiary of Mickey's face made out of colourful flowers!
My favourite spot for photos here would be the upper balcony directly in front of the fountain in the centre.
Magic tip: Get here early for empty photos! Lots of people will be queuing here from around 8.30 am.
2. Main Street USA
Once you're through the ticket gates at Extra Magic Time, you may be lucky to see Mickey and Minnie waving at you from the Disney Railroad Station.
Then, you'll be at the very start of Main Street USA! Honestly, the whole of this street is magical and Instagrammable for your feed.
It's filled with spectacular 19th-century buildings and there is so much to see and do around here. Make sure to take your time.
Before that though, head in front of the bandstand at the start of Main Street to capture of photo of you with Sleeping Beauty's Castle in the background.
Depending on the season, they have beautiful wreaths that hang over your head at Halloween and Christmas.
Hopefully, if you're here for Extra Magic Time, you'll get it pretty empty without many people. But, if not, I'd recommend coming back at night time.
Magic Tip: If Main Street USA is too busy in the morning, try coming back at night after the fireworks! The shops usually stay open for at least an hour after the park closes so you can get some empty photos
3. The Pink Porch
You know a spot is popular for photos when it has its very own Instagram account! It's one of the more niche Instagrammable places at Disneyland Paris.
The Pink Porch is a cute place that is tucked away on Main Street USA directly opposite the Coca-Cola Truck / Van side.
It's a gorgeous pink house with a white stairway and a stained glass window above the door. Perfect for your Disney aesthetic!
4. Main Street Coca-Cola Truck
This was one of my favourite Instagrammable places at Disneyland Paris. You'll find it opposite the Pink Porch area around halfway down Main Street USA.
At Halloween, it was decorated with lots of Fall foliage and it just looked amazing with the vintage Coca-Cola sign.
Again, I would try to capture these places earlier in the morning as it is usually quite busy.
5. Disneyland Park Casting Agency Door
Somewhere people love to get photos at Disneyland Paris is the Disneyland Park Casting Agency door.
Honestly, I think we've all at one point thought how great it would be to be a Disney Cast Member!
You'll find it on your left as you're walking towards the castle on Main Street USA. But, it's easy to miss so keep your eyes peeled.
It has a cute quote on it from Walt Disney "It Takes People to Make the Dream a Reality".
It's a magical spot so make sure to get a photo with it as you're strolling through. The colourful peachy backdrop of the wooden house makes the photo pop!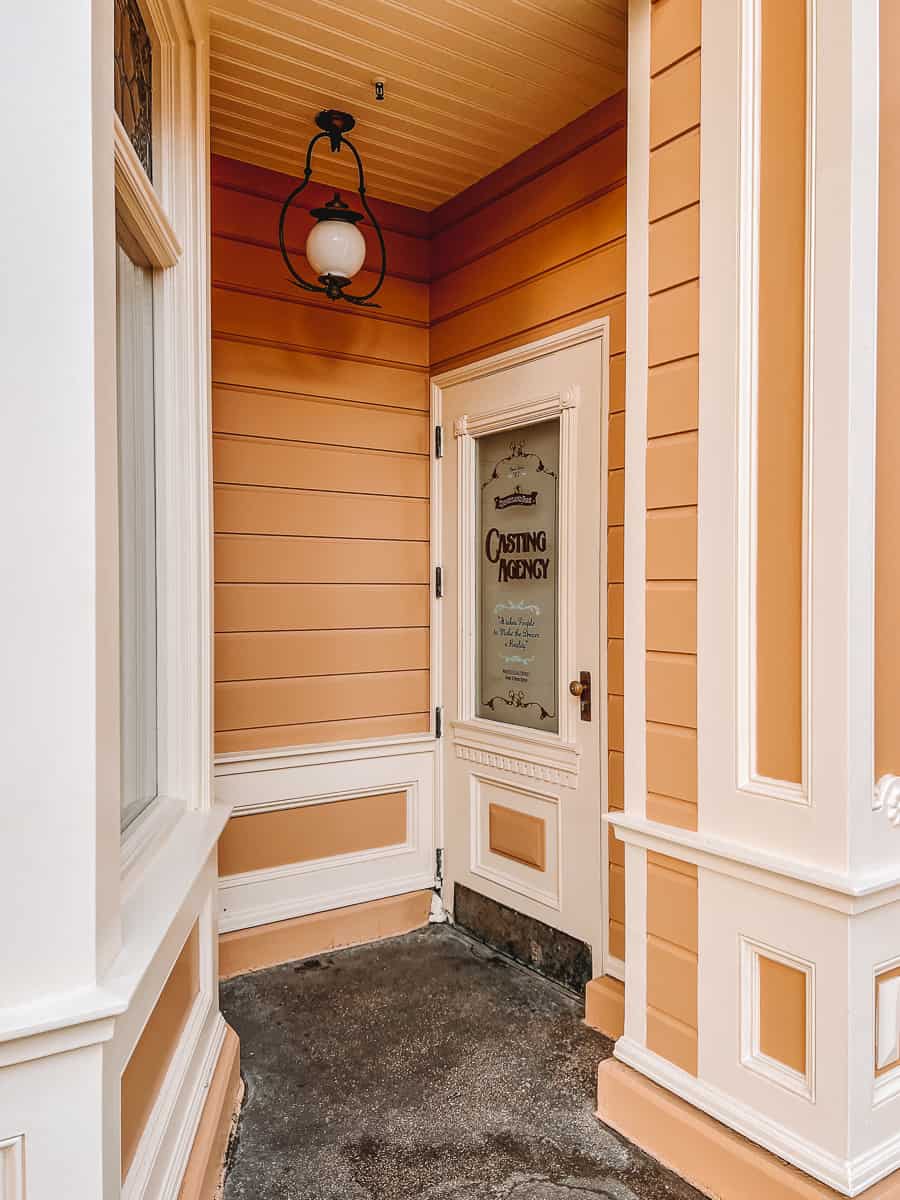 6. Liberty Arcade and Discovery Arcade
A great tip for avoiding the crowds on Main Street USA would be to make use of the Liberty and Discovery Arcades on either side of the street.
These are 19th-century, gas-lit arcades that look like you've stepped back in time! You'll find vintage posters and shop windows with photos and artifacts.
The Liberty Arcade is all centered around New York and the Statue of Liberty and the Discovery Arcade is themed on inventors of the 19th century.
These arcades both have bathrooms and doors to the shops on Main Street and make great places to shelter from the rain.
But, as well as being a great shortcut, these beautiful arcades are extremely pretty too, and make great photography spots!
If you're lucky, you may be able to capture these without the crowds. I found this easiest to do at night time.
Magic Tip: Did you know in the Liberty Arcade, there's a hidden gem where you can see the Statue of Liberty? Walk behind the poster to see a scene from the opening day in 1886 New York!
7. Main Street USA at night time
Although Main Street USA is amazing during the daytime, I feel it really comes alive when the sun goes down.
All of the buildings are lit with golden lights and you'll see the castle lit up at the end of the street – it's breathtaking!
As Main Street can get very busy during the day, I would try your luck with emptier photos at night time.
Magic Tip: After the last illuminations, the shops on Main Street stay open for around an hour or so. Get some shopping done and be one of the last out of Main Street! This way you will have it to yourself!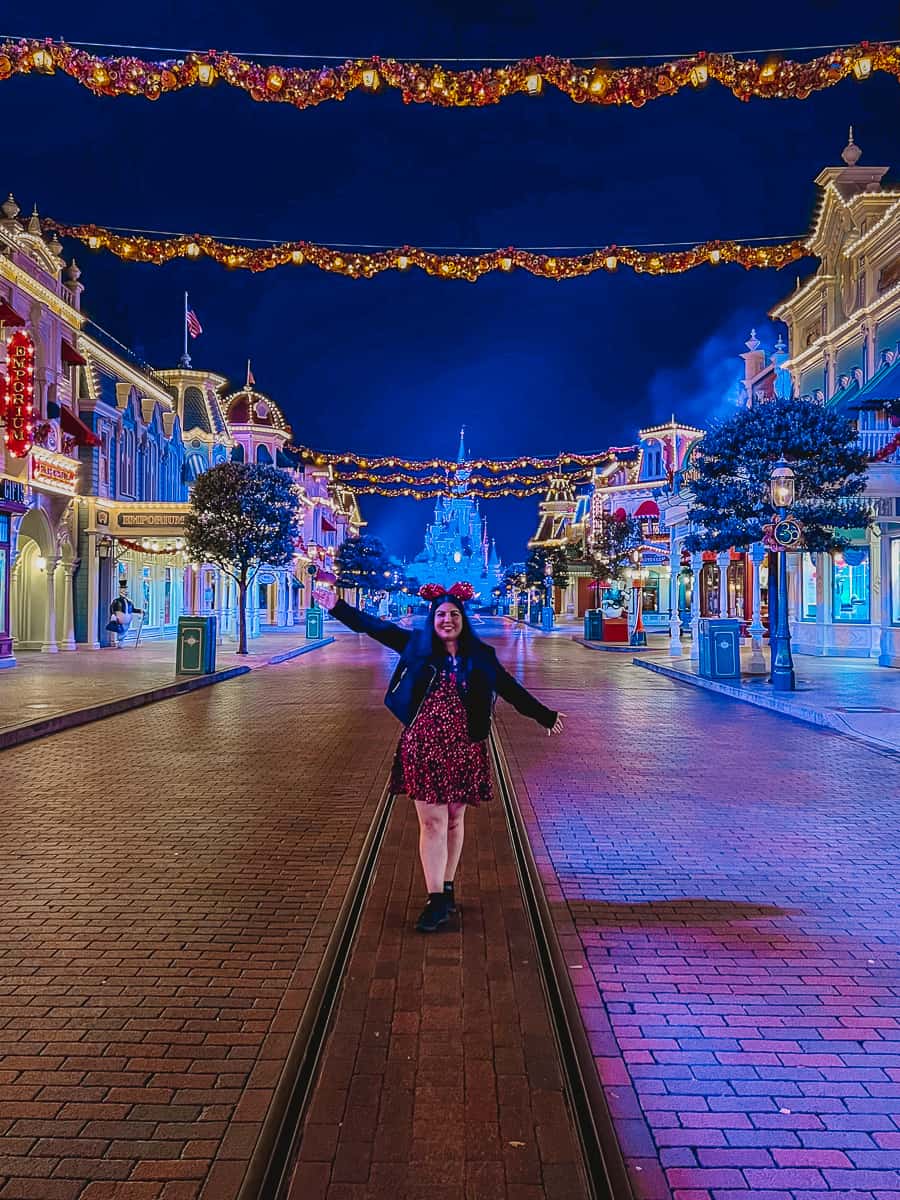 8. In front of Sleeping Beauty's Castle
If you didn't get a photo in front of Sleeping Beauty's Castle (Le Château de la Belle au Bois Dormant) at Disneyland Paris, did you even go?!
Honestly, this is the creme de la creme of Instagrammable Places at Disneyland Paris and one that you have to prioritise for your feed. I mean, it's a pink fairytale castle and it's gorgeous!
There are plenty of places to take photos in front of Sleeping Beauty's Castle but the best way would be to beat the crowds and take a photo (as I did) from the gardens.
But, this was in my Extra Magic Time in winter and a really lucky photo. It's not completely impossible if you're early into the parks.
If not, there are plenty of balconies that you can sit on to take photos and you just have to angle it to avoid the crowds on the bridge!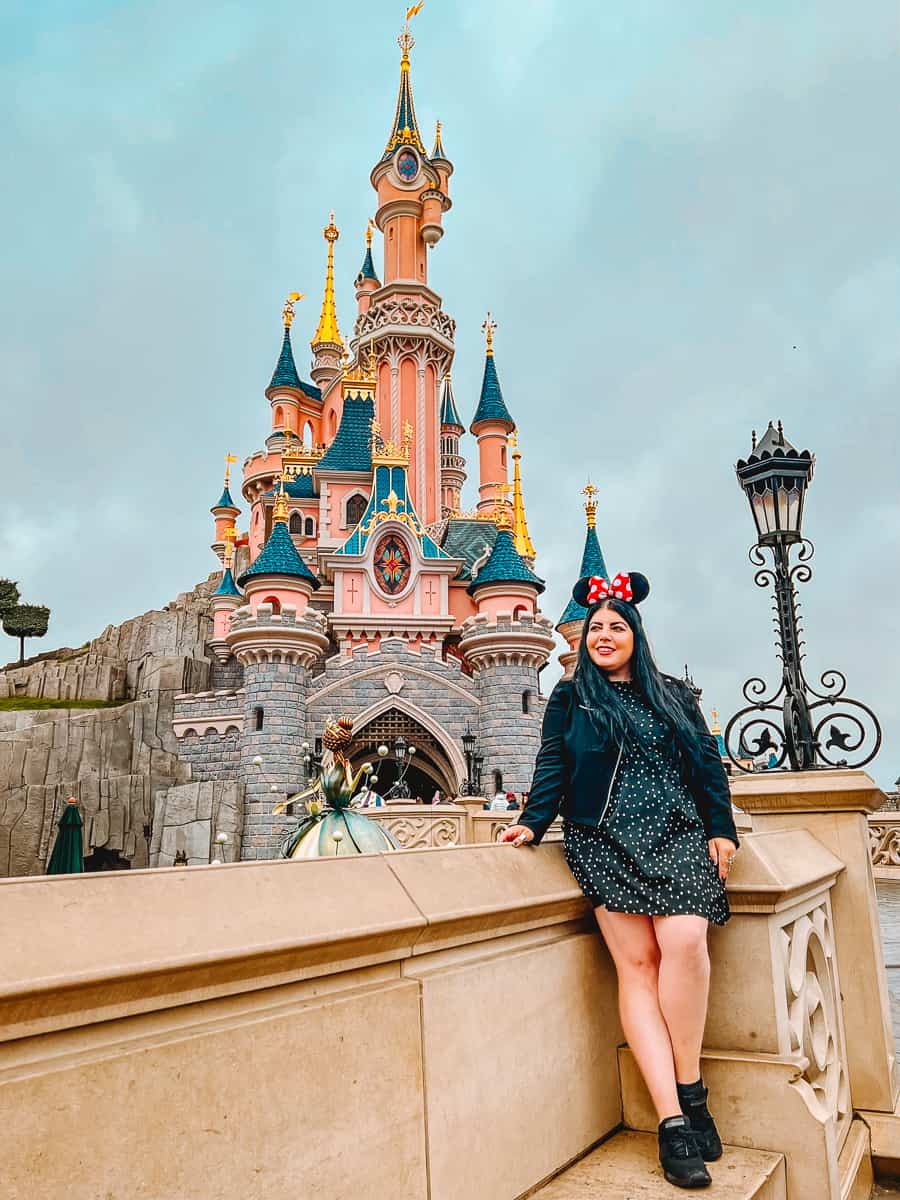 9. The side of Sleeping Beauty's Castle
The best place to take photos of Sleeping Beauty's Castle at Disneyland Paris without crowds would be the small area found on the left-hand side of the castle bridge.
It's just in front of the bridge leading over to La Taniére du Dragon.
This spot rarely has crowds throughout the day and the high walls of the bridge actually take out a lot of the people walking in the background!
This is where I always get photos if I can't be bothered to get up too early or if Main Street USA is too busy.
It's a guaranteed good photo that takes a lot of the stress out of it and you never have to wait too long!
Magic Tip: Avoid this area around parade times as it gets really crowded
10. The Dragon Under the Castle / La Tanière du Dragon
An unlikely photo spot but, actually, I think this would make a great Instagram Reel or TikTok for your feed.
The Disneyland Paris Dragon is a bit of a hidden gem that most people miss but I would recommend you don't.
I'm obsessed with dragons so this is one of my favourite walk-through attractions in the parks!
There are three entrances to access the dragon under the castle. One to the left-hand side of the castle from the front, one just beside the Snow White shop, and another from the Castle Boutique.
My favourite photography spot was from the Castle Boutique entrance as it's located down the stairs. You can see the dragon as well as all the stalactites in the cave.
It's quite dark so you'll need a low light setting or to adjust your ISO. You'll also need to be patient to wait for the dragon to 'wake up' but it's so worth it.
Click here to read my post on how to find the Disneyland Paris Dragon!
11. Inside Sleeping Beauty's Castle
Did you know that, unlike Walt Disney World, you can go inside Sleeping Beauty's Castle without an expensive dining reservation or a private suite price tag?
Yes, and it's magical as you would expect! The walk-through attraction is called La Galerie de la Belle au Bois Dormant and it rarely has a queue.
Inside, you'll find tableau's from the Sleeping Beauty story as well as the most gorgeous stained glass windows – it truly is a work of art.
My favourite part has to be the small statue fountain of Aurora and Prince Phillip dancing just before you leave.
All of this fairytale area makes it one of the most Instagrammable places at Disneyland Paris!
12. Excalibur Sword
Another one of my favourite Instagrammable places at Disneyland Paris has to be the Excalibur Sword towards the back of Sleeping Beauty's Castle in Fantasyland.
It's from one of my all-time favourite childhood Disney movies The Sword in the Stone. Madame Mim is an icon!
As a kid, I was obsessed with Merlin and King Arthur so I just had to have a go at pulling out Excalibur from the stone.
Although most people will be unlucky, it is completely possible for the sword to be pulled up – it's just randomly and rarely selected by Cast Members!
*cough* I mean, it's magic and you're just really strong and the chosen one, obviously! *cough*.
As this is located in the main walkthrough to Fantasyland this place can get huge crowds. It's not easy to have it to yourself so I'd try to capture it in Extra Magic Time!
13. Cinderella's Carriage
Another beautiful Instagram spot at Disneyland Paris park is the Cinderella Carriage in the courtyard of Auberge de Cendrillon or Cinderella's Restaurant in Fantasyland.
You'll find it tucked away beside Excalibur and it's such a cute place to get a photograph. The whole courtyard looks like a fairytale!
I would try to get a photo inside this area before 11 am/12 pm when the restaurant opens (depending on the season) or after the restaurant closes for fewer crowds.
It's not cheap but if you can get a booking at the restaurant then I would recommend it, you get to meet Cinderella and other Disney Princesses inside!
Related post – my honest Auberge de Cendrillon review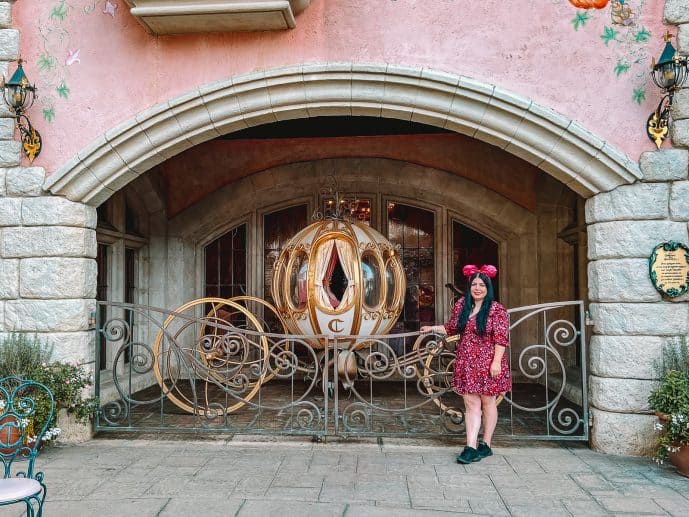 14. Cinderella's Fountain
Another hidden gem in Fantasyland that many don't see is the Cinderella fountain just outside the Carousel de Lancelot and Sir Mickey's Boutique.
This is very similar to the original Cinderella Fountain at Magic Kingdom in Walt Disney World.
Depending on when you arrive, you can get a great photo of the fountain with Sleeping Beauty's Castle in the background.
The fountain is breathtaking with a pink-painted mural of flowers behind it and a brass statue of Cinderella and her animal friends.
You'll also see the Auberge de Cendrillon sign hanging above the castle tower! It's just beautiful.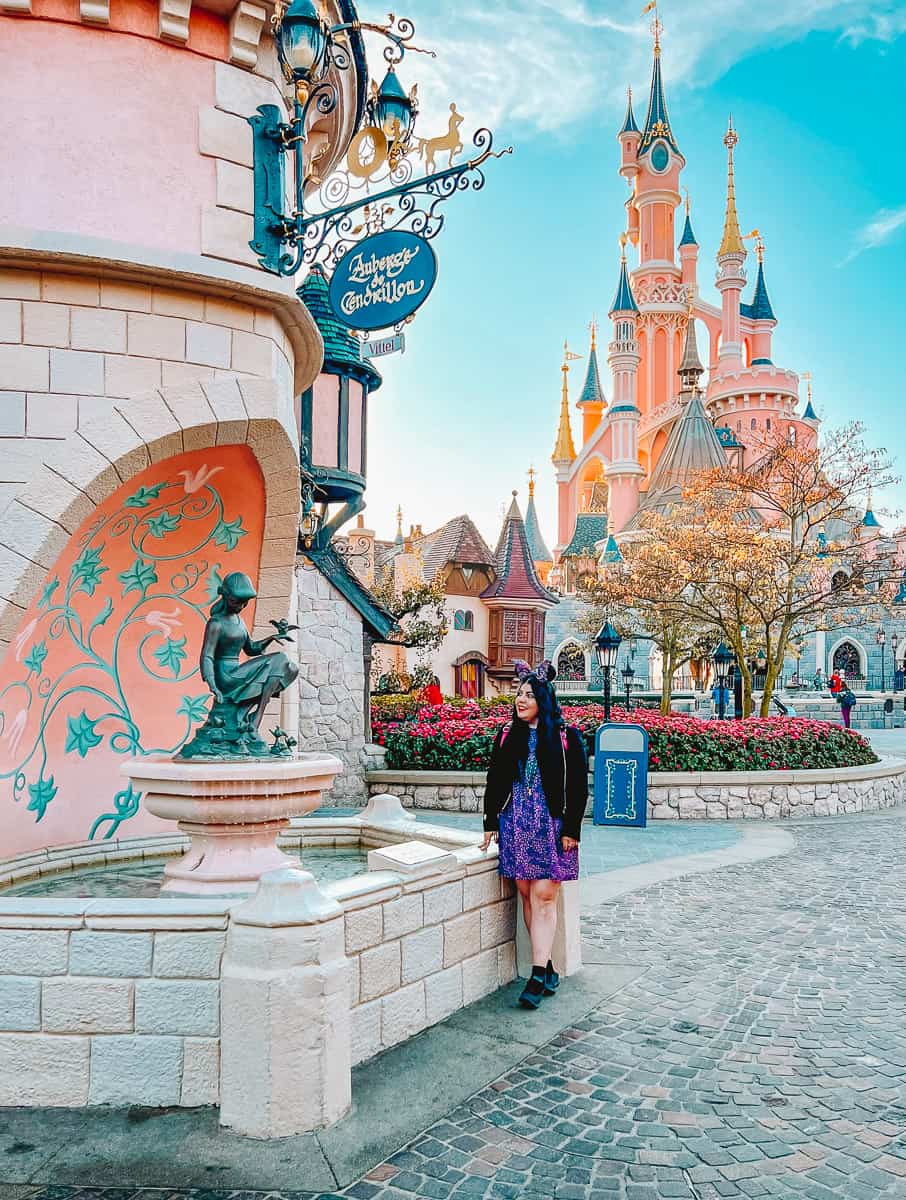 15. Alice's Curious Labyrinth
One of my favourite attractions in Fantasyland for photos has to be Alice's Curious Labyrinth.
It allows you to climb up to the Queen of Hearts tower and take some aerial photos over Fantasyland from up high!
As the name suggests, it is a labyrinth similar to the Alice in Wonderland movie so you can have fun getting lost and trying to find a way out.
You'll find many amazing characters along the way like the White Rabbit, Mad Hatter, Cheshire Cat, and the Queen of Hearts, of course.
A great photo spot is just before you reach the entrance of the tower at the bottom where you'll see the Playing Cards all lined up in a row.
16. Fantasyland Towers / Gate
Sleeping Beauty's Castle at Disneyland Paris is vast and it even has its own pink fortification walls and towers on the border of Fantasyland.
You'll find two towers that are in front of the Fantasyland Gate (located to the right-hand side of the castle from Main Street USA) and these make a fabulous photo opportunity.
These definitely reminded me of Repunzel's Tower in Tangled. You'll find stained glass windows and pink colourful murals painted on the walls.
17. Pizzeria Bella Notte
One of my favourite quick-service restaurants at Disneyland Paris has to be Pizzeria Bella Notte!
It's a Lady and the Tramp-themed restaurant set in Italy and you'll find plenty of Venetian decor inside and characters from the cartoon.
The restaurant serves up the iconic Lady and the Tramp spaghetti, lasagne bolognese, and my favourite; a four-cheese or pepperoni Mickey-shaped pizza!
Although the inside of the restaurant is pretty and filled with Lady and the Tramp murals, I would actually recommend the outside of the restaurant for photos.
It's a beautiful, lop-sided pink building with gorgeous flowers and makes a fabulous capture!
Magic Tip: Get here before it opens at 11 am to get some photos without crowds. This has long queues throughout the day.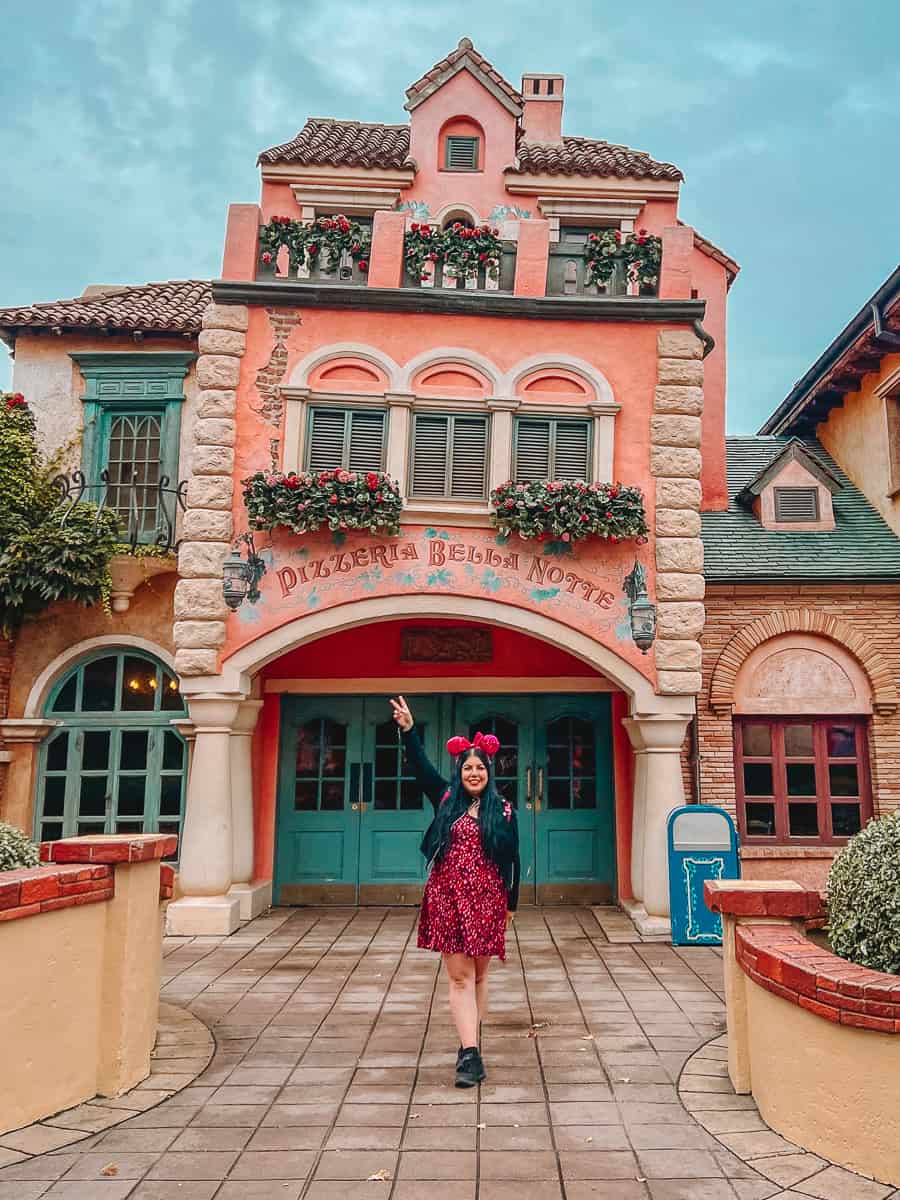 18. Meet Mickey Mouse
You can meet Mickey Mouse in Fantasyland at Disneyland Paris and you wait in an old-fashioned theatre that plays old-school Mickey cartoons. It's great when it's raining or cold.
He usually has really long wait lines (at least an hour) but I would still recommend getting a photo with the pretty sign on the building out of the front.
It says 'Meet Mickey Mouse – Recontre Avec Mickey' and it lights up when the sun goes down which is pretty.
If you did have the patience, I would try to meet Mickey while you're here. Although it is a long queue, you get to spend a good amount of time with him and he's a good hugger.
FYI – Mickey loved my Minnie ears and backpack!
19. Mad Hatters Tea Cups
Is there anything more fun than the Mad Hatters Tea Cups?! They're so colourful and totally Instagrammable.
The ones in Disneyland Paris are painted in bright colours and have vibrant lanterns hanging over your head in the middle.
Of course, I had my sights on a 'specific' pink and purple heart print teacup for my ride to take photos in like a spoiled brat. But, it was totally worth it.
20. Skull Rock / Pirate Beach
When you head over to Adventure Isle from Fantasyland, one of the first things you'll see is Skull Rock on Pirate Beach beside the Pirate Galleon.
Pirates of the Caribbean is my favourite ride (and movie) of all time and so this area playing the soundtrack will always be special to me.
The Skull Rock is honestly amazing and there is a small waterfall that cascades down into the lagoon. I was here in winter recently and the waterfall froze making pretty icicles!
The best place to stand for photos of this is beside Captain Hook's meet and greet area.
Did you know? you can actually step inside Skull Rock and get lost in the labyrinth of tunnels to find Davey Jone's Locker!
21. Captain Jack's Restaurant
Although this does require you to book, Captain Jack's Restaurant is simply a vibe and makes a great spot for photos and videos on Instagram.
It actually went viral recently on TikTok and it's easy to see why – it looks like you've stepped inside Tortuga from Pirates of the Caribbean!
Captain Jack's is a really special restaurant as you actually get to eat inside the Pirates of the Caribbean ride. You can sit by the water and watch the boats go by.
It can be pretty dark inside but most phones have low-light settings. I loved all the Jack Sparrow wanted posters and Jolly Rogers plastered all over the restaurant.
Want to know more? Click here to read my complete Captain Jack's Restaurant review!
22. Meeting Jack Sparrow
Did you know that you can meet Captain Jack Sparrow at Disneyland Paris?
Yep and, although it's not a guarantee, you can usually see him wandering around Adventure Isle in the afternoons. He's a busy captain so he doesn't stick around for long!
Usually, you'll stumble upon him by chance or you'll see him outside Captain Jack's restaurant making people laugh.
I randomly met him on Pirate Beach and got some photos and a 'moving picture' of us as Jack called it haha! It made my day.
23. Genie Walls
Another magical walk-through attraction and hidden gem at Disneyland Paris has to be Le Passage Echanté d'Aladdin or Aladdin's Passage.
It's an adorable stroll where you can see snippets and scenes from the Aladdin cartoon.
But, at the very start and at the end you'll find some great photo spots and two of the Disneyland Paris Disney Walls!
In the beginning, you'll find a photo of the Genie with a box you can sit on that says 'Dites la formule magique!' And at the end, you'll find another that says 'Ciao, adios, later dudes!'
I love Aladdin and I think both of these make great photo spots for your Instagram feed!
24. Phantom Manor
Now, we're moving onto Frontierland to one of my favourite rides in Disneyland Park – Phantom Manor!
Similar to the Haunted Mansion in WDW, Phantom Manor is a haunted house where you can find ghouls, ghosts, and demons within.
You simply must get a photo of Phantom Manor whilst you're here, especially for the spooky season!
Don't forget to visit the hidden gem of Boot Hill Cemetery which can be found on the exit to the ride. It's so fun to see the creative gravestones there.
Magic Tip: This ride opens at 9.30 am, so get here in your Extra Magic Time to capture it without crowds.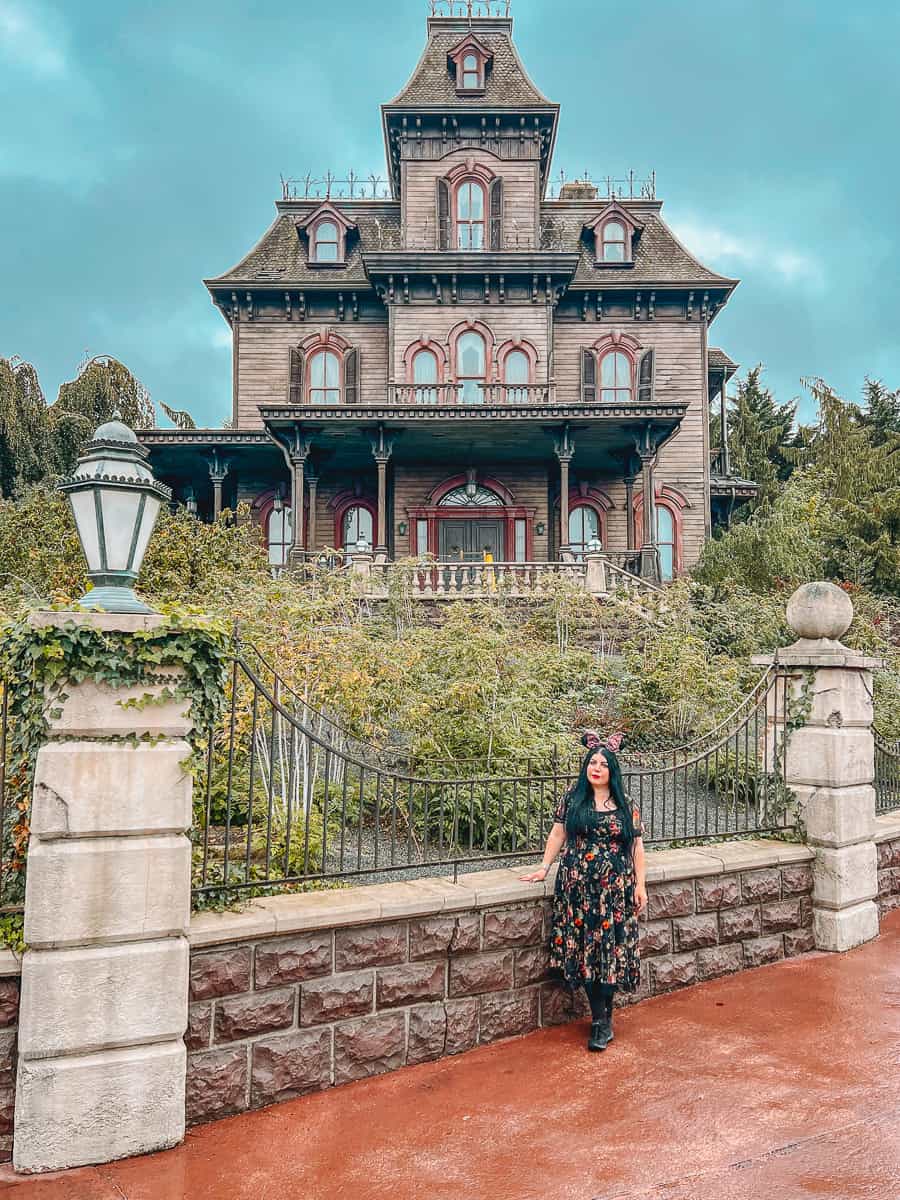 25. Big Thunder Mountain
One of the most popular rides at the park has to be Big Thunder Mountain! A train coaster that spins and turns through a mine shaft.
It makes an amazing photo opportunity for your feed. I recently went for Christmas and it had snow on top which made it so magical.
You can get some great photos of Big Thunder Mountain from Boot Hill Cemetery or from the Thunder Mesa Riverboat Landing.
Magic Tip: Come back at night to ride Thunder Mountain in the dark! If you time it right you may see fireworks while you ride. It makes an awesome photo opportunity at night too.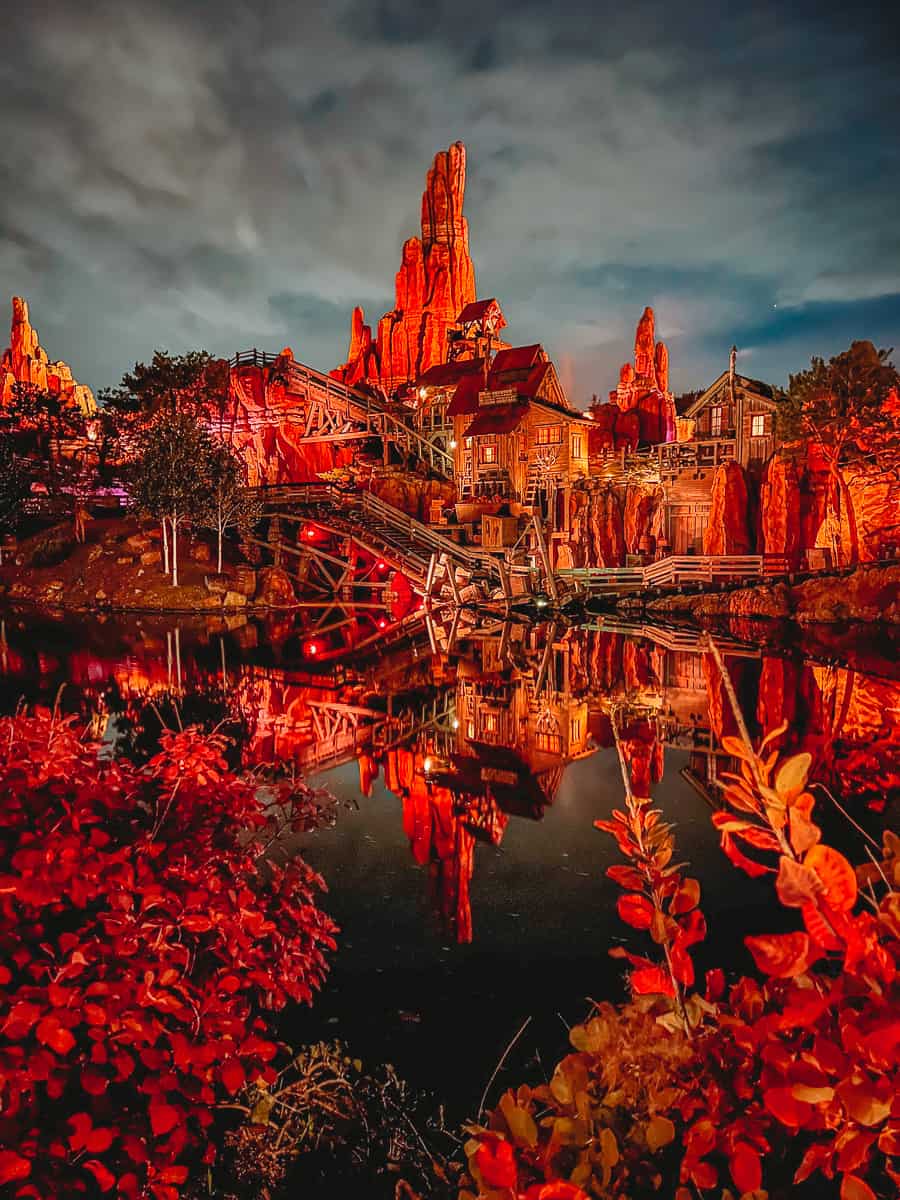 26. Disney Stars on Parade
The best parade at the Disneyland Paris parks has to be Disney Stars on Parade.
It features all your favourite Disney characters either dancing on the ground or perched on creative and colourful floats!
You'll see Mickey, Minnie, Donald, Daisy, Goofy, Pluto, Chip and Dale, and all the Disney Princesses. Plus, characters like Timone, Buzz, Woody, and King Louie.
My favourite part has to be when Prince Phillip is fighting off Maleficent's Minions, you'll see a HUGE dragon behind them that breathes actual fire!
All of these floats in the parade make a great photo or video opportunities for your social media.
Magic Tip: if you watch the first parade, head to watch it opposite Pizzeria Bella Notte as this is where it starts. You'll get to leave earlier and zip into Fantasyland to find shorter queue times as everyone will still be waiting on Main Street for the parade to reach them!
27. Disney Illuminations
The Disney Illuminations are what make this park magnificent. There's nothing better than watching the Disney fireworks show to round off a magical (and tiring) day in the parks.
It always makes me a little emotional watching these shows and they make awesome photo and video opportunities!
Usually, in summer, there are two shows; one at 9 pm and then again at 11 pm. In winter, they usually only have just one show at park closing time.
It can be hard to get a good view of the illuminations unless you wait early. Some people wait over 2-3 hours for the best spots!
The best views, in my opinion, are from behind the podiums in front of the castle (avoids a lot of phones and kids on shoulders) or at the very front of the castle but you have to get here super early for this.
If you're an Infinity Annual Pass member don't forget to book your VIP Fireworks area space. The view is directly in front of the castle and you get to show up around 20-30 minutes before.
Magic Tip: I would wait early once for a great view and then watch from anywhere on the other evenings. Or, use that time for rides with emptier queues – Big Thunder Mountain in the dark is awesome and you may get lucky and see some of the show whilst riding!
28. Character Meet and Greets
One of the biggest mistakes you can make on a visit to Disneyland Paris is NOT meeting one of the characters.
Character Meet and Greets are not just for kids, they are firmly for adults too. Although they can have long queues, it's well worth waiting for.
You can meet Mickey Mouse, Goofy, Minnie, Stitch, Chip and Dale, Winnie the Pooh, Jafaar, Darth Vader, Toy Story characters, Jack Skellington, Captain Hook and so many more.
You'll usually find the Character meet and greet times on the Disneyland Paris App.
But, some of the best character interactions I've had were random ones you meet walking around. I met Peter Pan and Wendy at Skull Rock!
Magic Tip: The Princess Pavillion usually has a 2-3 hour queue time. I would avoid this and wait outside the Fantasyland Gate opposite Pizzeria Bella Notte to see the princesses en route to parades and shows instead. I saw all five princesses in one go whilst waiting for the parade to start!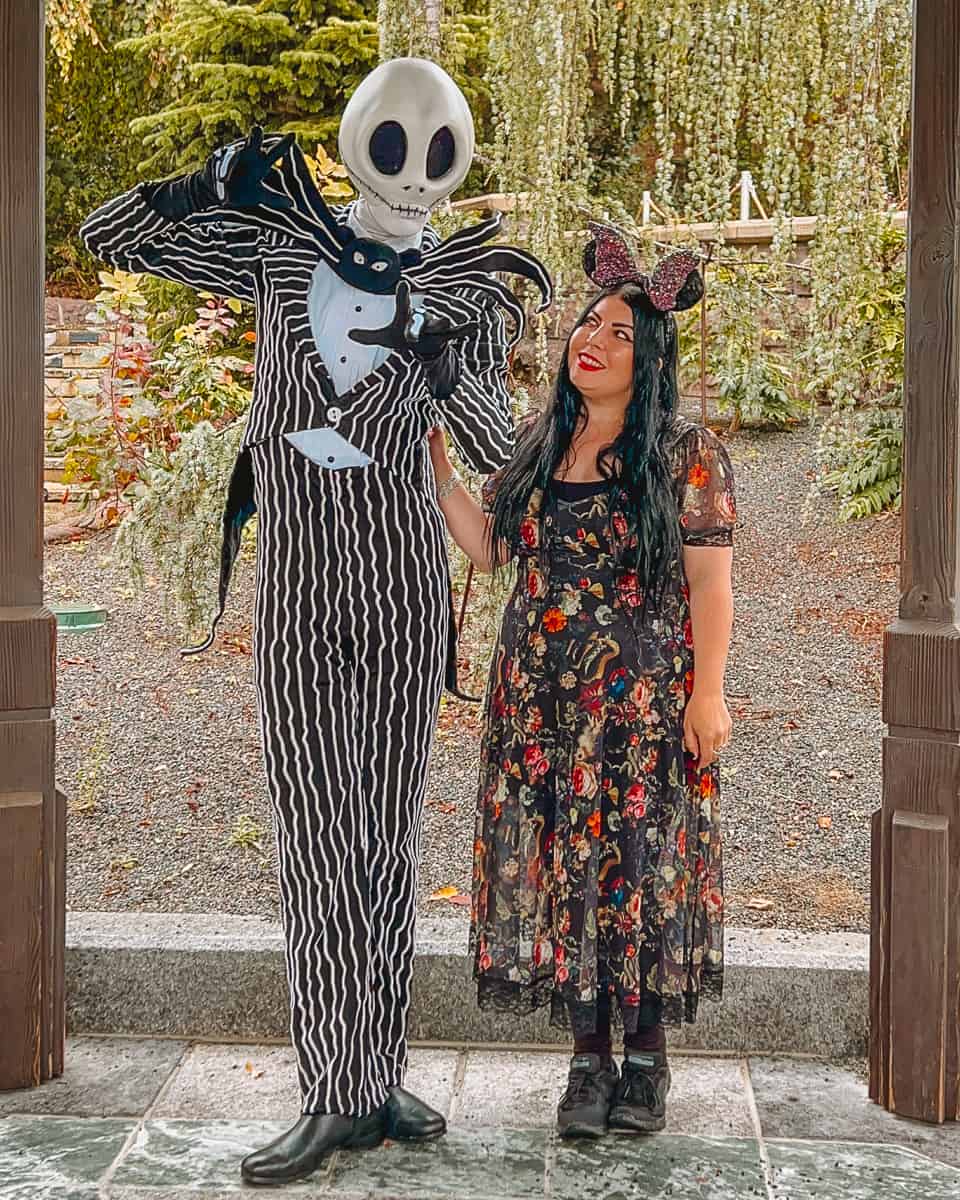 Get Ready for your trip to Disneyland Paris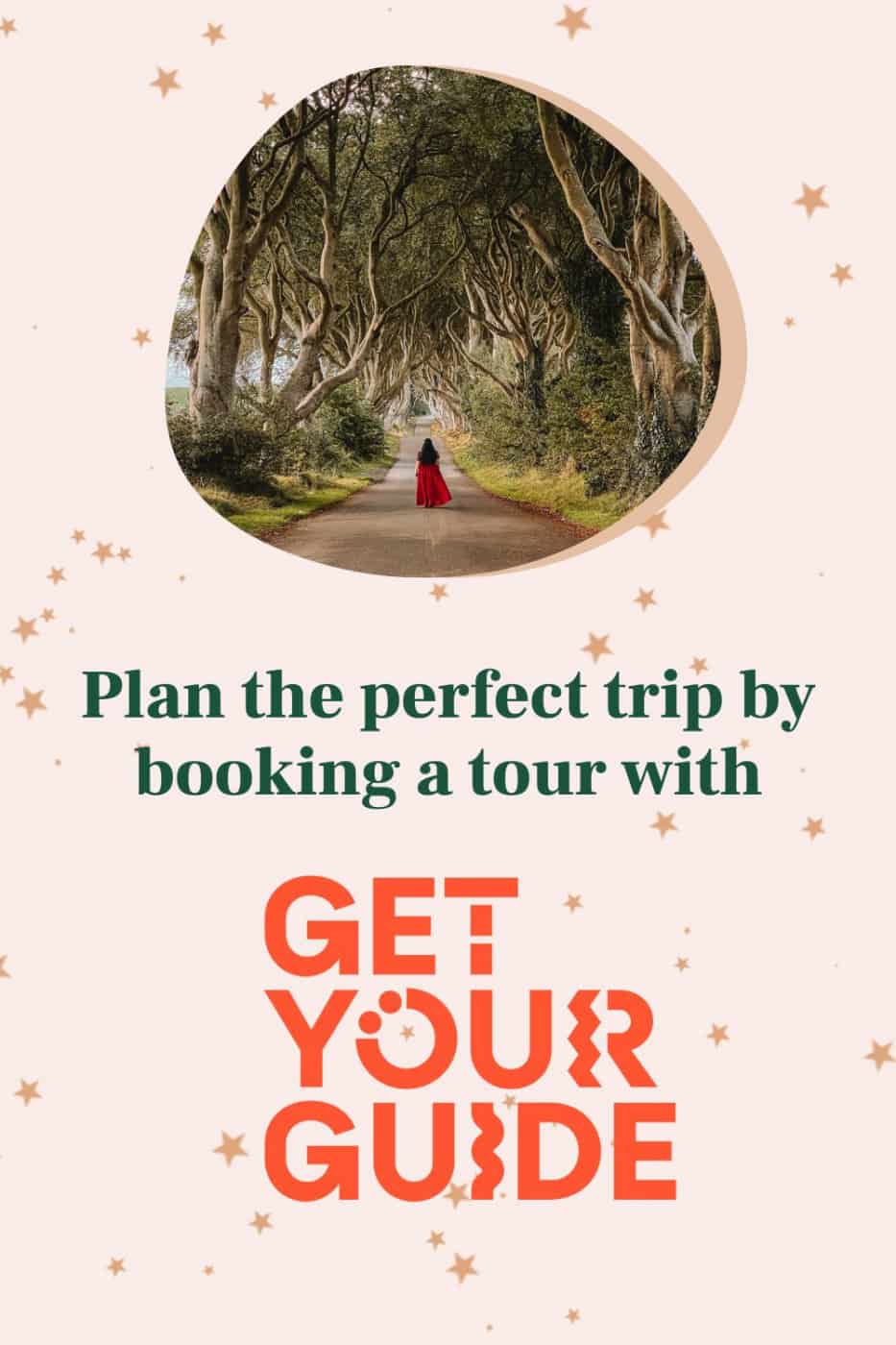 Pre-book tickets to Disneyland Paris!
Instagrammable places at Disneyland Paris Walt Disney Studios Park
Okay, so now we'll move into the most Instagrammable places at the Walt Disney Studios Park at Disneyland Paris.
I have to admit, this isn't my favourite park as it is pretty small and most of the rides here have long wait times. But, there are some great photo opportunities to be found!
Here are the best photo spots at the Disneyland Paris Walt Disney Studios Park to look out for.
29. Walt Disney Studios Gates
Before you enter the Walt Disney Studios Park, you can take an awesome photo with the Walt Disney Studios gates!
They're HUGE gates with spotlights and stars as decoration and you even have Mickey Mouse with his old-fashioned camera at the top. He's hidden within a hidden Mickey!
Although most people will be queuing at the gates in the morning, there are quieter areas to take these photos before you go inside later in the day.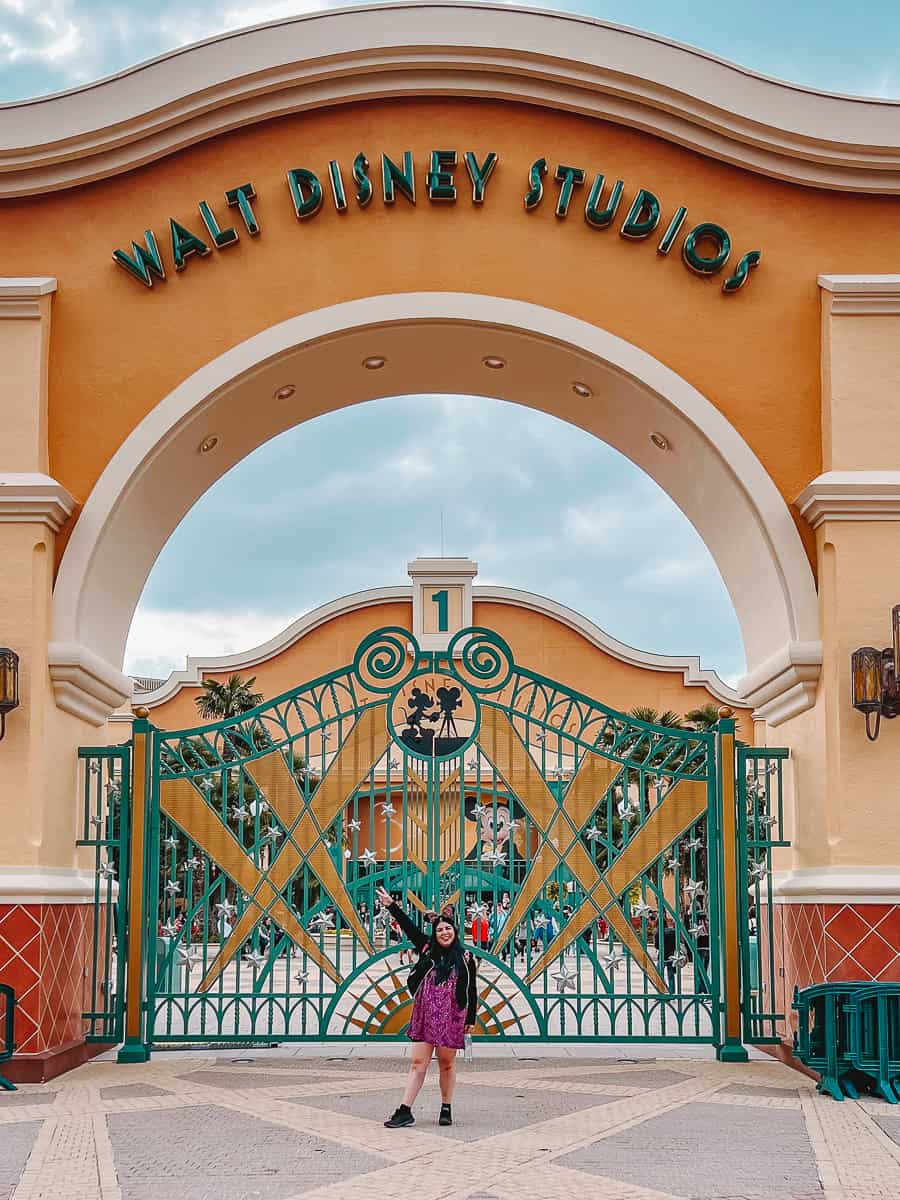 30. The Earful Tower
The Earful Tower is a faux water tower that can be seen high above the Walt Disney Studios Park.
Nearly all of the Hollywood Studio parks by Disney have one of these towers with the signature Mickey Ears on the sides.
It's called the Earful tower as a playful pun for the Eiffel Tower and it makes a fabulous photo for your Instagram feed.
31. Fantasia Fountain
Another one of the most Instagrammable places at Disneyland Paris is the Fantasia Fountain found just before you enter the Walt Disney Studios Park.
It's a gorgeous fountain with a brass statue of Fantastia Mickey with his sorcerer hat and the magical broomsticks out of the front.
Most people pose with the broomstick that is placed just in front of the fountain. But, this can be quite a busy area if you want it without people!
Magic Tip: If you want this without crowds I would take it at night after the park closes. It's almost impossible in the morning as everyone is running to rope drop Crush's coaster!
32. Walt Disney & Mickey Mouse Partner statue
After you have walked through Backlot 1, you'll come across the Walt Disney and Mickey Mouse Partner Statue.
It's placed in front of an illusion of a Hollywood street set and it's a very sweet scene to pose with.
Again, this can draw quite a crowd so I would take this earlier in the morning in your Extra Magic Time to avoid waiting.
33. The Sorcerer's Hat
I really miss the huge Sorcerer's Hat that used to be in the Hollywood Studios Park in Florida so I was so happy to see one at Walt Disney Studios Park in Disneyland Paris.
Mickey's sorcerer hat in Paris has an extra bonus of Peter Pan, Wendy, and Tinkerbell flying around it too.
You can also find statues of your favourite Disney characters as miniature brass statues underneath the hat on top of the hedgerow.
This is also a busy area but it is really easy to get a photo of this in the evening time without the crowds.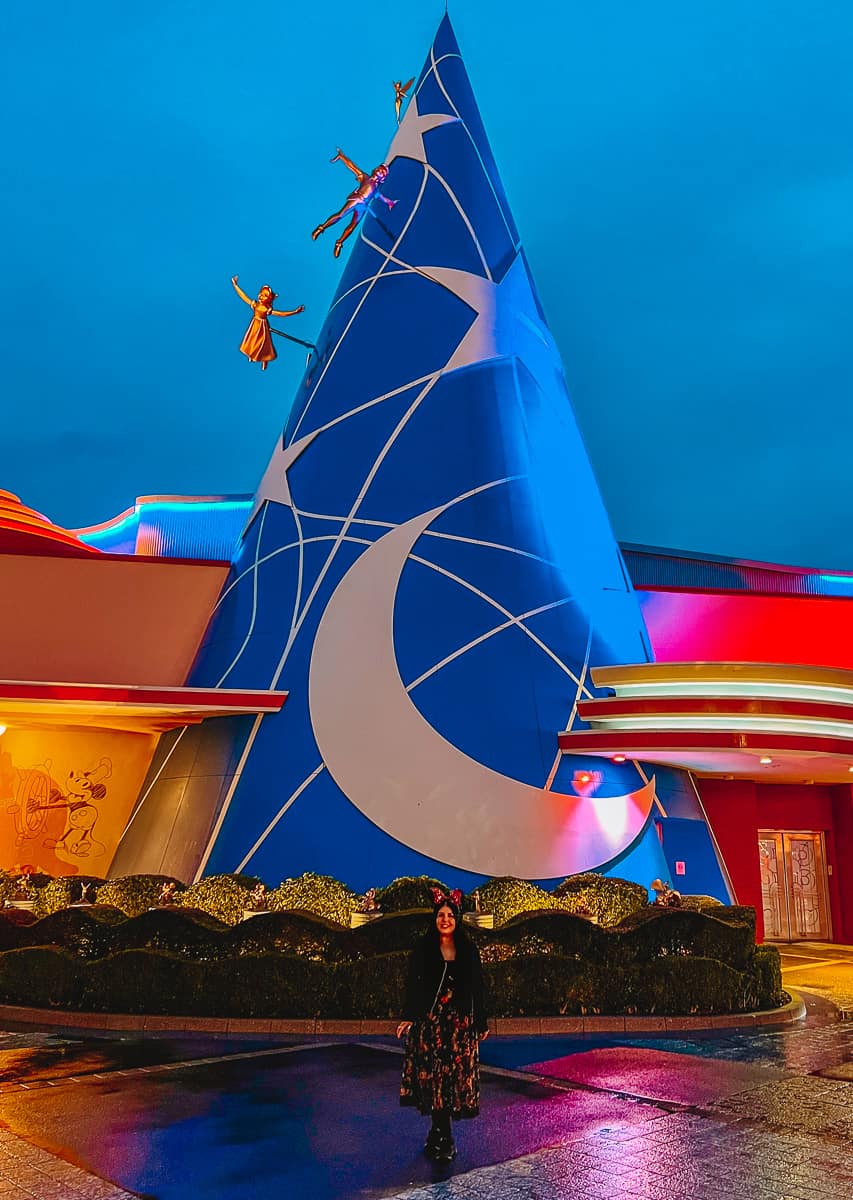 34. Toon Studio Statue
Another place that people love to get photos within this area is the Toon Studio statue opposite the sorcerer's hat.
This is a statue of Fantasia Mickey in his sorcerer's hat waving his magic wand!
I actually preferred getting a photo of this at night time when it was lit up as it looked a little more magical.
If you look closely you'll see Mickey's wand has a star light on the end and it twinkles against the night sky!
35. Boo's Door from Monster's Inc.
Just before the highly popular Crush's Coaster, you'll find an awesome Monster Inc. area to your right.
This used to be a place where you can meet Sully and there used to be a statue of Mike. But, now it's a Screaming Zone so it can get pretty noisy!
Right beside the screaming area, you'll find the cutest spot to take photos. It's Boo's Door from Monster's Inc. that you can pose with.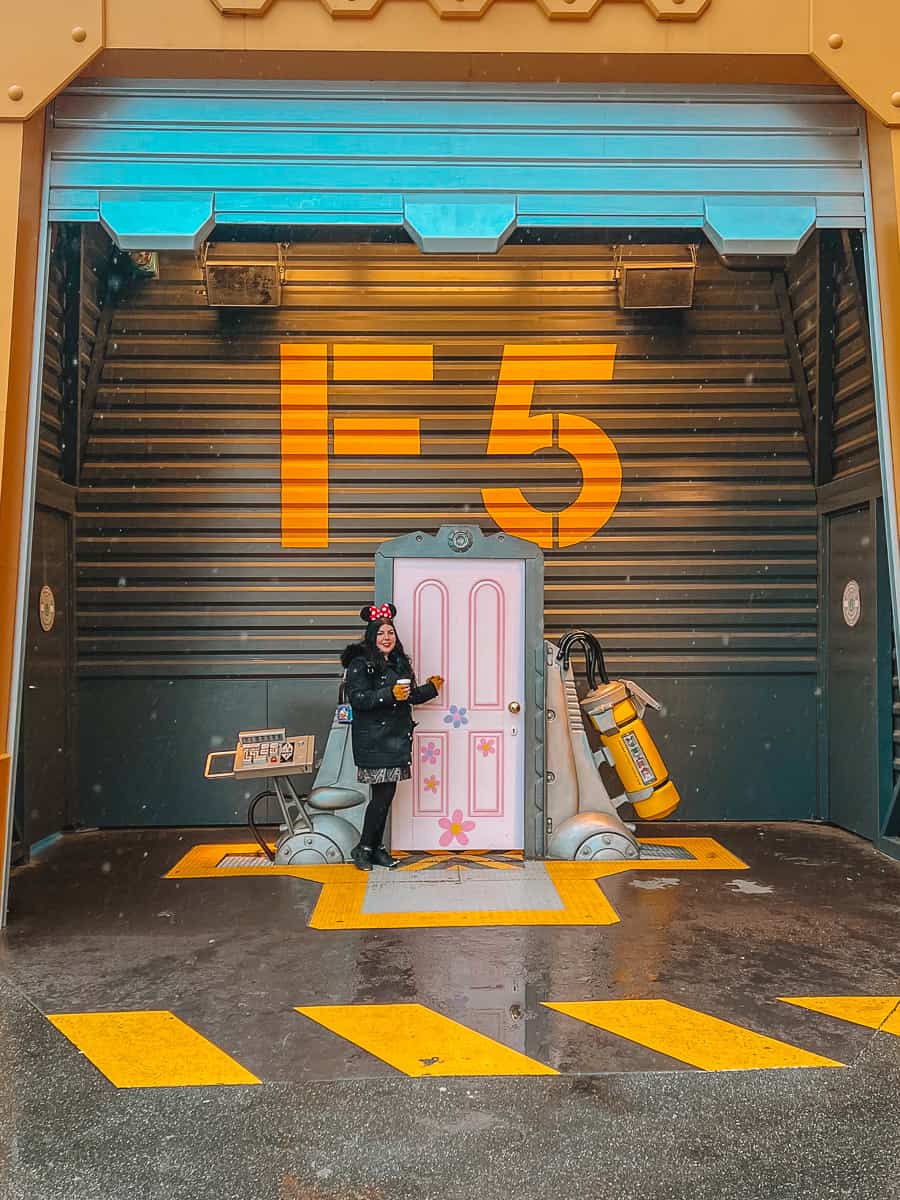 36. Buzz Lightyear
Just before you enter Toy Story Playland, you'll find a huge statue of Buzz Lightyear standing on colourful play blocks.
If you listen out he speaks every so often and you'll hear him talking to Star Command and the crowds!
This makes such a great photo opportunity and it's one of the most Instagrammable places at Disneyland Paris.
37. Toy Story Aliens Claw Wall
When you head towards the Cars ROAD TRIP (previously the Studio Tram Tour: Behind the Magic) you'll find some fun Disney Walls to take photos with.
The first one that I LOVED is the Toy Story Aliens wall where it looks like you're being grabbed by the claw.
You can just imagine them all saying 'the clawwwww' in creepy unison. Such a fun photo opportunity!
38. To Infinity and Beyond Wall
Just opposite the Toy Story Alien wall, you'll find a popular photo spot where you can pretend to be Buzz Lightyear.
It says 'To Infinity and Beyond' and has Buzz's wings to pose with.
You get some magical bonus points if you can capture a photo of you jumping to look like you're flying!
39. Rex
I absolutely love Rex, he's such an adorable character in Toy Story and he never fails to make me laugh.
Well, I'm happy to say you can find him hiding in Toy Story Playland beside the Ratatouille tunnel and you can take a cute photo with him.
Or make a scary pose, or a funny face, it's completely up to you how you want your photo to be!
40. Domino Wall
As you make your way through the Toy Story Playland, you come across the RC Racer and Slinky Ride.
Just beyond that, you'll find one of the most Instagrammable Places at Disneyland Paris and oddly enough that's the Domino Wall.
I'm not sure why this place is so popular but it's very colourful and makes a great backdrop!
41. Pixar Ball
Just opposite the Domino Wall, you'll find the Pixar Ball which makes a fabulous setting to pose with. It's right beside a seating/pushchair area for Slinky Dog.
You can pose on the wall by the iconic ball that features at the beginning of all the Pixar Cartoons. If you need a reminder, this is the ball that gets crushed by the lamp and makes the logo Pixar!
On my recent visit, it was snowing (and absolutely FREEZING) but it looked extra magical in photos.
42. Toy Soldiers Parachute Wall
Just before you enter the Toy Soldiers Parachute Drop you'll find a really cool Toy Soldiers parachute to pose with.
You will definitely need a wide-angle camera to capture all of it but it's such a cool photo opportunity.
Fair warning, this is in the pushchair area so you may find that there are a ton of prams in front of it. But, if you get here early enough you should find it empty.
43. Ratatouille Fountain
The Ratatouille area of Disneyland Paris is by far my favourite part of the Walt Disney Studios park.
It looks like Paris in the Ratatouille movie and here you'll find the Ratatouille ride, Bistrot Chez Remy, a French food market, and the Chez Marianne Ratatouille shop.
There are plenty of amazing places to take photos in this area but my favourite has to be the Ratatouille fountain.
Here you'll find lots of rats in the tiers of the fountain with bursting champagne bottles that make up the waterfall.
This area can get extremely busy and so it's best to arrive early morning or later in the evening for photos.
44. Bistrot Chez Remy
This is one of the most popular restaurants in all of the Disneyland Paris Resort because it's one of the only ones that serves up French food.
You'll feel like you've been shrunk down to the size of a rat with all the oversized furnishings and decor.
You'll be sitting between side plates, jam jars, and cork-stopper seats – it really is incredible and makes a great photo opportunity.
I have to admit, this wasn't my favourite restaurant and you do have to book months in advance to guarantee a seat.
Find out more in my honest Bistrot Chez Remy Review!
45. Tower of Terror Fountain
The Tower of Terror is my favourite ride at Walt Disney Studios Park. I just love the 1920s Art Deco Hollywood vibes.
Although the queue area inside the hotel is pretty short, I would recommend taking a photo outside of the Tower of Terror instead.
You'll find a pretty fountain just outside of the ride queue and it makes such a good photo.
If you love Art Deco, you'll find lots of photo spots in this area and around the small outdoor restaurant by the tower.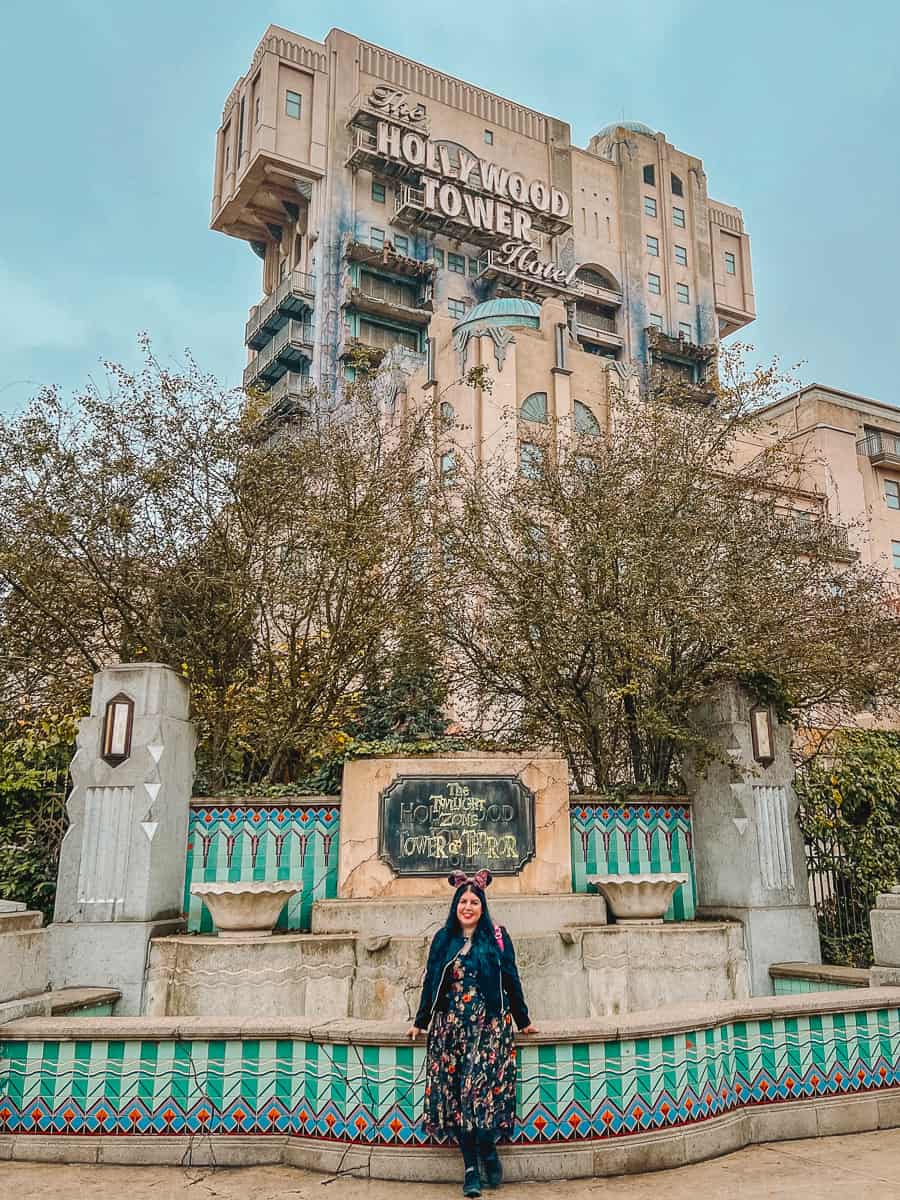 46. Marvel Avenger's Campus
The newest addition to the Walt Disney Studios Park is the Marvel Avengers Campus where you'll find superheroes in abundance.
There are plenty of shows and parades throughout the day where you'll see characters like Spiderman and Warriors of Wakanda.
Also have a look for Thor, Loki, Groot, and more in the Hero Training Centre. You'll also find the Stark Factory and the Avengers Quinjet.
There are plenty of photo opportunities to be had here so let your inner superhero come out to play!
Instagrammable places in Disney Village / Hotels Resort Area
Okay, so the last part of the most Instagrammable places at Disneyland Paris is the spots found around Disney Village and the Disney Hotels area.
Did you know that you can actually visit Disney Village for FREE from Paris? You can even visit Disney Hotels to have a look around, eat in their restaurants and go shopping!
So, if you wanted some Disney magic without paying to go to the parks make sure to grab the RER A from Paris for a FREE Disney day out.
Here are some pretty photo spots to remember your day in the process;
Related post – 25+ Magical & Free things to do in Disney Village Paris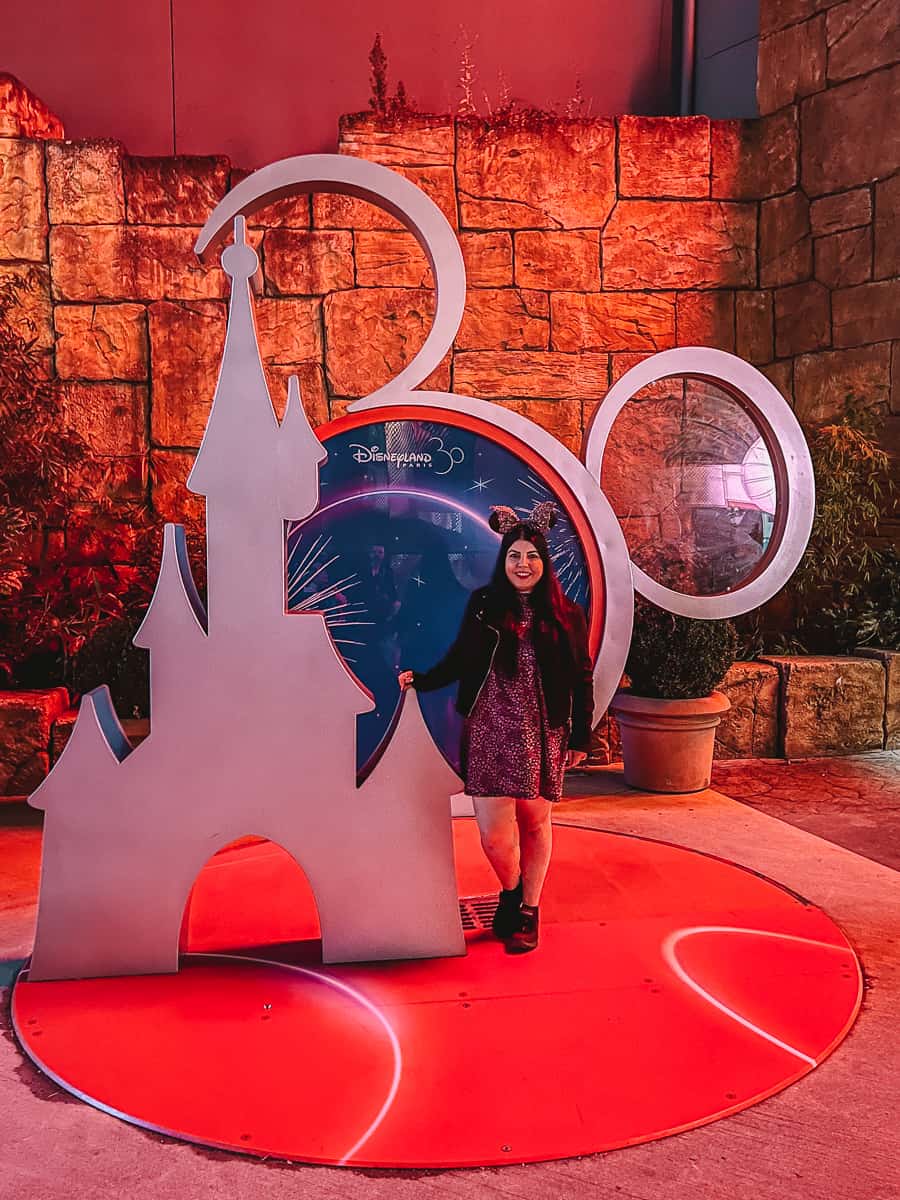 47. Disney's Newport Bay Club
Out of all the Disneyland Paris Resort Hotels, I think that Disney's Newport Bay Club is the prettiest.
It's a 1900s New England coastal mansion set beside Lake Disney and looks like something from a fairytale.
Inside is even prettier and has a nautical theme. You can even meet Mickey and Minnie inside in their sailor outfits.
There are plenty of pretty places to take a photo at Newport Bay Club. Especially outside on the lake and the stairway before the reception area.
I upgraded to their Compass Club Level which had an incredible room, private club lounge, and free afternoon tea.
Click here to read my Newport Bay Hotel review and if the Compass Club is worth it!
48. Disney's Art of Marvel Hotel
Now, if you're all about superheroes then you must make a visit to Disney's Art of Marvel Hotel.
It's their newest 4-star hotel and it's the most expensive but you can visit as a non-guest if you wanted to check it out.
It has over 350 pieces of Marvel artwork inside plus a boutique, a Manhattan Restaurant, and a New York City Bar.
Plus, there are plenty of photo opportunities inside like their cartoon cut-outs, marvel artwork, a huge model of Tony Stark, a Superhero station (only for hotel guests but you may get lucky if it's quiet), and a classic New York cab out front!
49. Disney Village
There are plenty of magical things to do at Disney Village and it has such a lovely vibe to the area.
As I said before, you can visit Disney Village for FREE and there are plenty of shops, restaurants, cafés, and play areas to visit here.
There is even a McDonald's, Starbucks, Five Guys, and a Rain Forest Café if you fancied something to eat or drink.
My favourite restaurant has to be King Ludwig's which is based on Neuschwanstein Castle (which Sleeping Beauty's Castle was inspired). It looks like a German Beer Hall!
There are plenty of amazing photo spots to be found around Disney Village all year.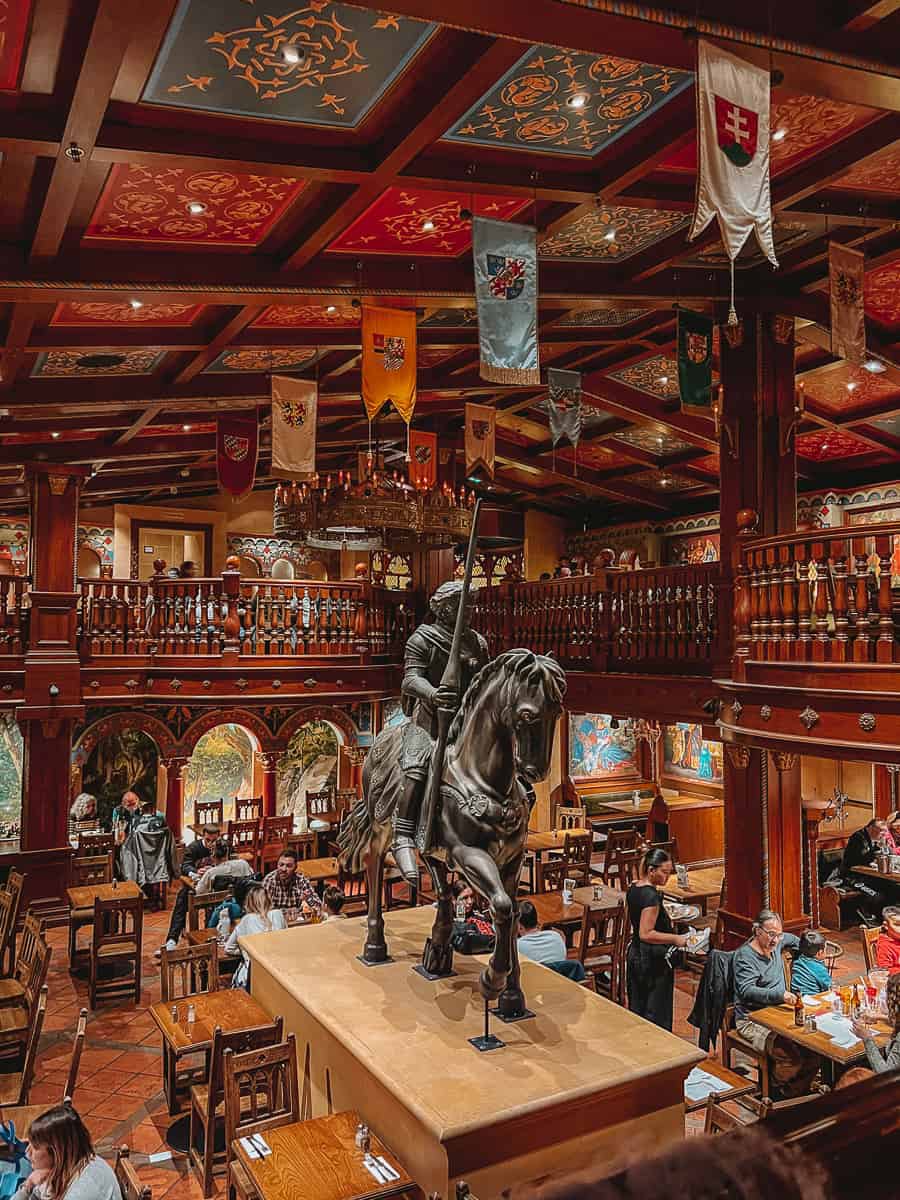 50. PanoraMagique
So last, but certainly not least, is one of my favourite views in the Disney Village which is the PanoraMagique.
It's a hot air balloon that sits on the edges of Lake Disney and you can pay to take a ride up in the sky!
From the top, you'll get amazing views of both Disneyland Parks and the entire resort. It must look so cool up there at nighttime.
You do have to pay for tickets and it's not owned by Disney. Tickets are 18 euros for an adult and 12 euros for a child.
If you didn't want to pay, I thought this scene was a great photo spot, especially at nighttime when it's lit up.
Magic Tip: Tickets are available online but be warned this ride is seasonal and depends on weather conditions. People have paid for tickets online only to turn up and for the balloon to be closed. I would buy tickets on the day of your visit to make sure you can actually get on it.
So, that's all the Instagrammable places at Disneyland Paris
Phew, if you made it this far into the post – well done and I wanted to say thank you for reading!
I really hope you enjoyed all of these magical Instagrammable places at Disneyland Paris and it got you all excited for your trip.
I'm sure you'll have a magical time at Disneyland Paris, even without taking photos, and you'll make memories for a lifetime.
If you did enjoy this post, remember to share it with a friend and I'll see you real soon folks!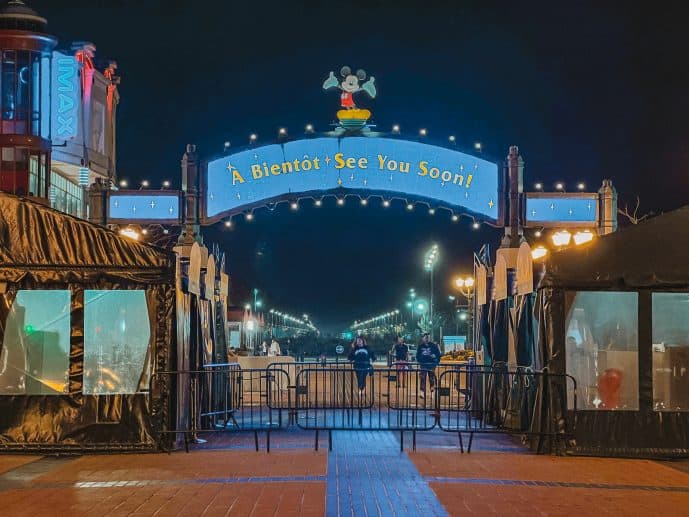 Read more of my Paris guides
Toad Hall Restaurant Review at Disneyland Paris
55+ Disneyland Paris secrets and hidden gems to discover
Walt's An American Restaurant Review
Why you must visit Saint-Chapelle – the Jewel Box church
How to get an empty Versailles Hall of Mirrors photo
Pink Mamma Paris review – is it worth it?
How to visit Colonnes de Buren in Palais Royal
How to visit Merlin's Camelot Castle aka Chateau de Pierrefonds
Save these magical Instagrammable places at Disneyland Paris for later