Howdy folks, did you know that there are many Disneyland Paris secrets and magical hidden gems to discover in the resort?
Beyond the bigger rides and attractions, you can find some lesser-known easter eggs around Disneyland Park, Walt Disney Studio Park, and Disney Village.
These hidden gems make a super fun trail around the parks, especially if it's a busier day as most people don't know they exist.
So, I'll let you in on all the Disneyland Paris secrets and how to find them. Let's go!
Disneyland Paris secrets on Main Street USA
So, there are so many Disneyland Paris hidden gems on Main Street USA.
Many people simply walk through here to get to the rides as quickly as possible but it's well worth exploring this area if you have time.
The more you explore the the more you'll discover the magic tucked away in the shops, buildings, arcades, and alleyways here.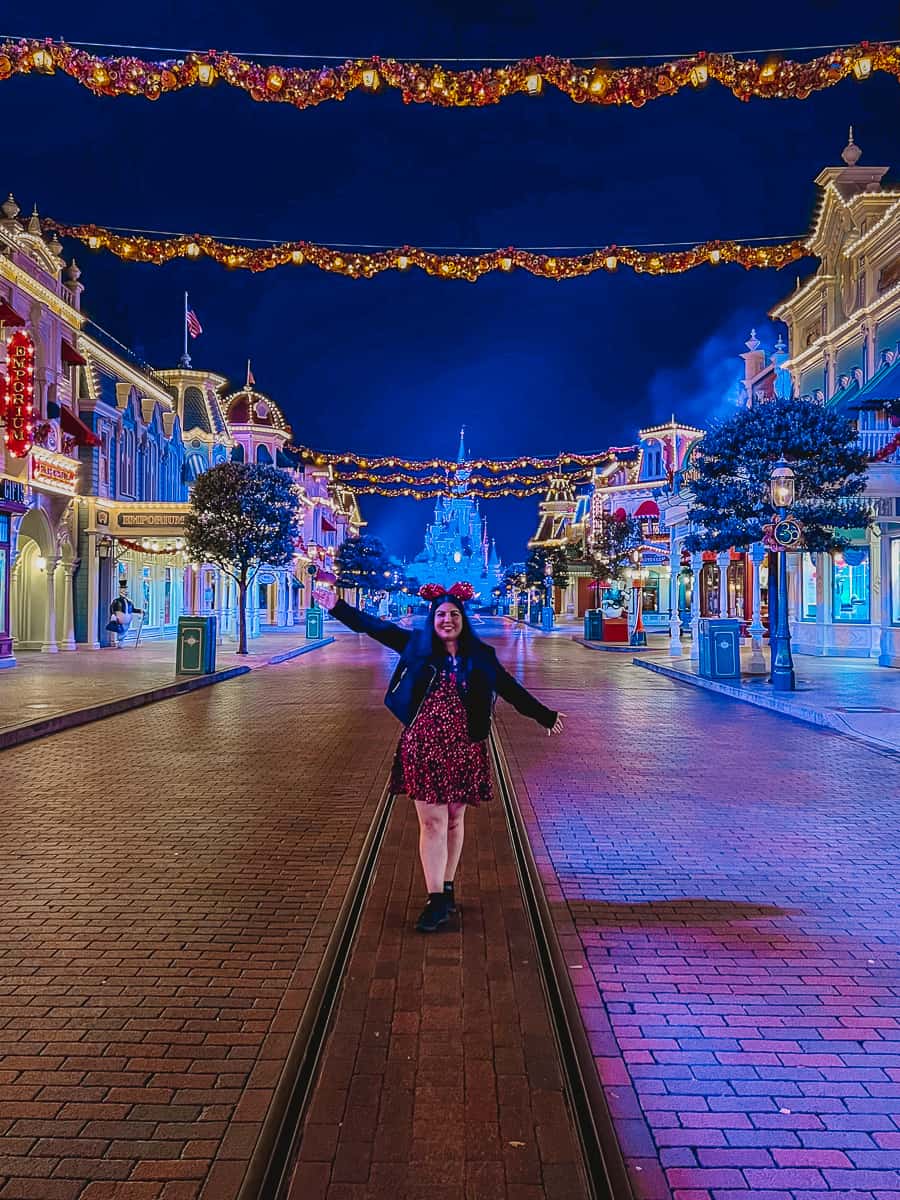 1. City Hall & Arboretum
Disneyland Paris City Hall is a functional building for the parks and a place where you can get information and park maps. Or find lost items and process your tax refund.
But, did you know that there is a lot more to this building than meets the eye? The Imagineer Eddie Sotto was inspired by the Western Union Telegraph Building in New York.
Inside, you can see aerial photos of the park being built, a gift plaque from Tokyo Disneyland, and a vintage map of Euro Disney.
To the left of the City Hall, you can also find an arboretum filled with lush trees and pretty walkways.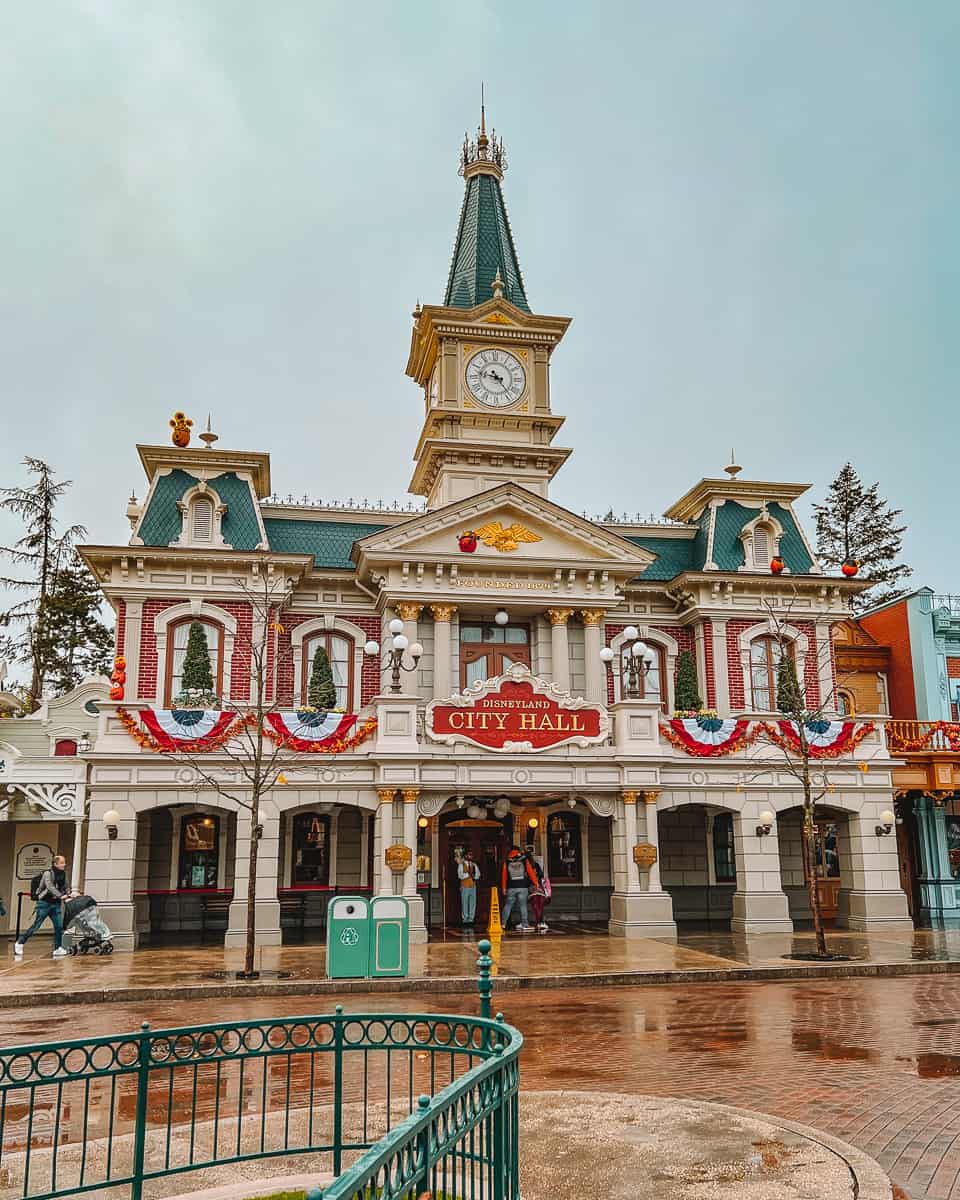 2. See the Statue of Liberty Inauguration Day in Liberty Arcade
Now, this one really is a hidden gem as it took me almost 3 times to find this Disneyland Paris secret in the Liberty Arcade.
Once you're inside the arcade, around halfway through you'll see a vintage poster for the inauguration of the Statue of Liberty on October 28, 1886.
But, if you walk behind the poster, there is a little walkthrough where you can join the inauguration day of the Statue of Liberty.
You'll be standing on one of the steamboats that sailed to see the famous monument along with lots of people who are commenting on the statue!
It was such a cool little attraction and one I loved visiting as it's very quiet.
Magic tip: Both the Liberty Arcade and Discovery Arcade make great walkways to avoid the crowds on Main Street USA. Especially when the fireworks and parades are on.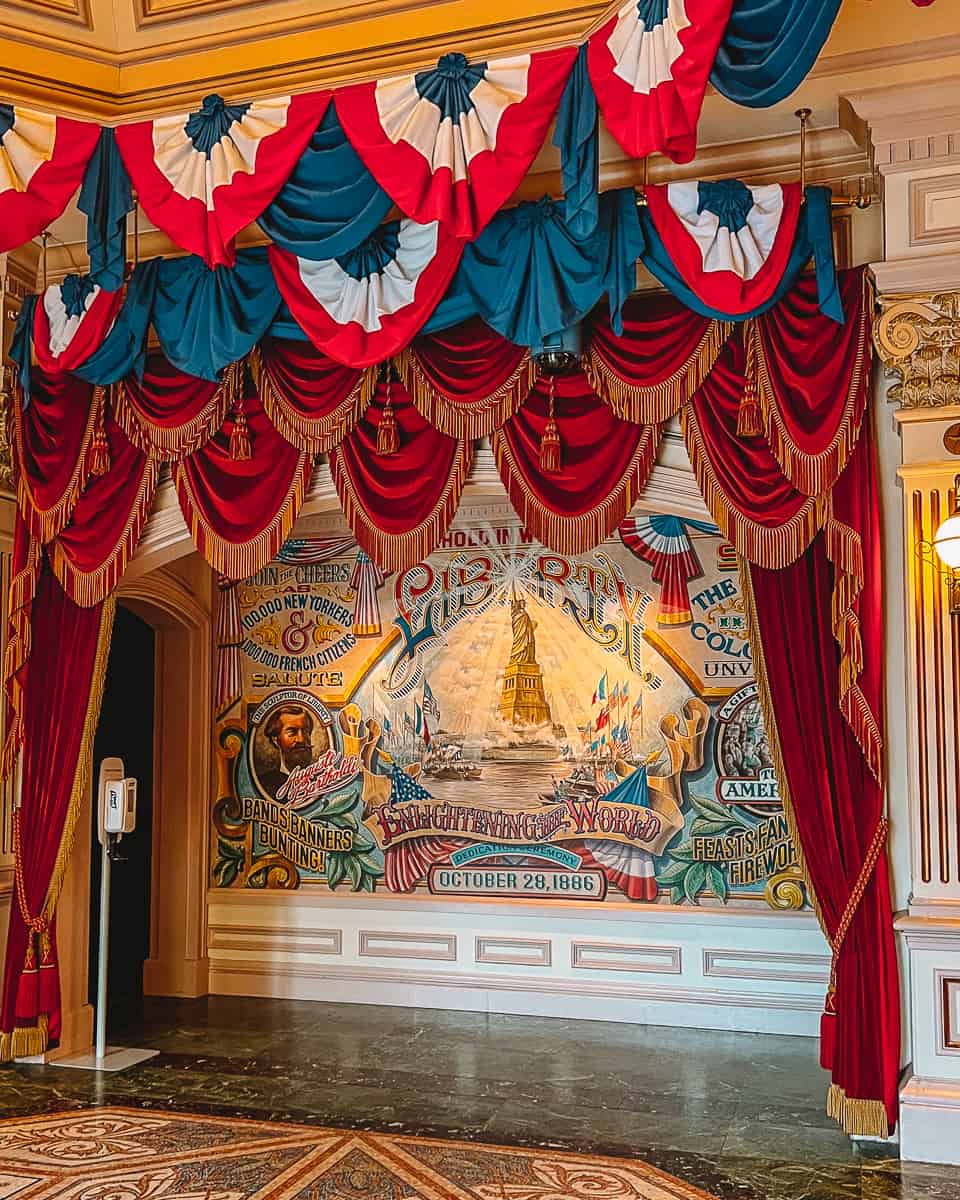 3. Disney Casting Agency Door
This is one of the places that I mentioned in my Instagrammable Places at Disneyland Paris post but it's also a little bit of a hidden gem. You could easily miss it if you weren't looking.
If you pass the corner entrance of the Emporium nearest The City Hall and keep walking down Main Street USA, you'll eventually see a Disney Casting Agency Door on your left.
Honestly, I think we've all at one point thought how great it would be to be a Disney Cast Member!
The door has a cute quote on it from Walt Disney "It Takes People to Make the Dream a Reality". Make sure to grab a photo.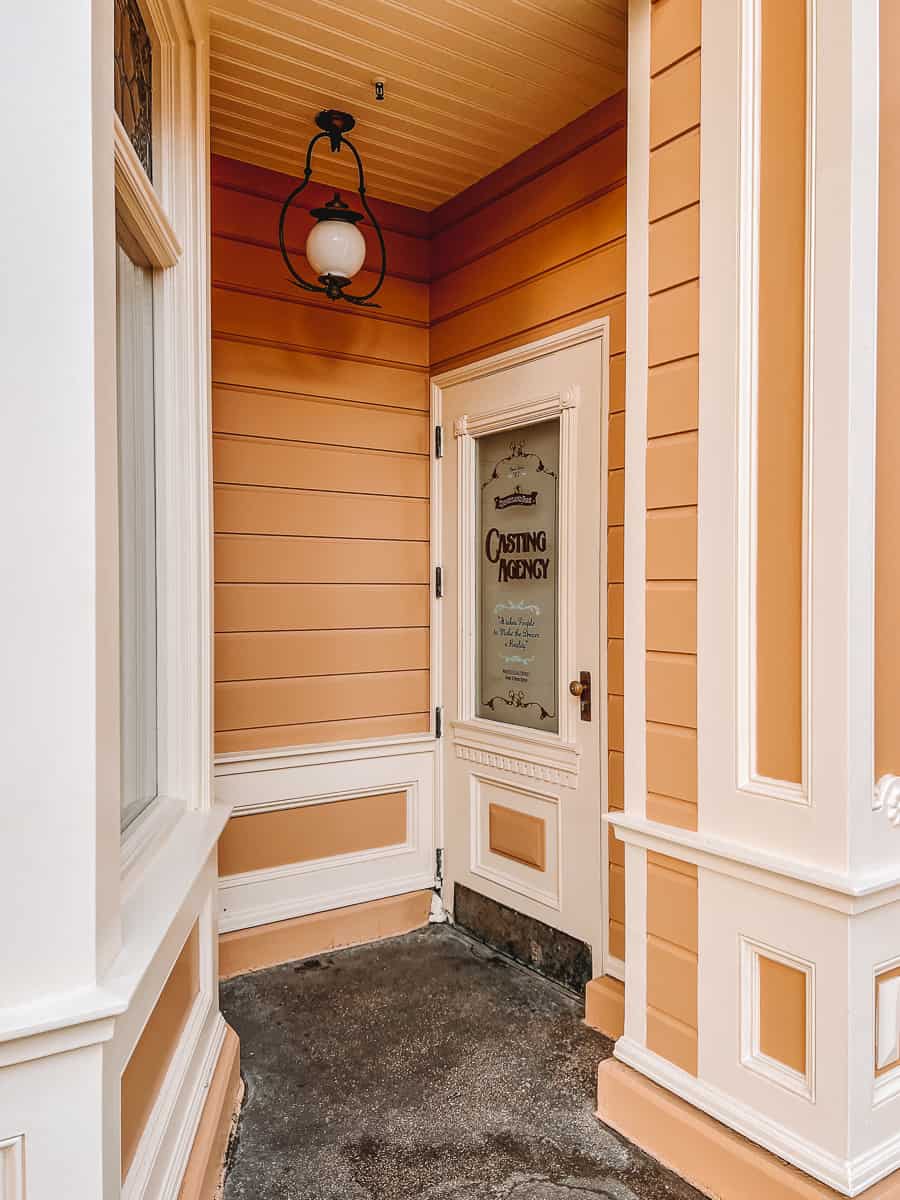 4. Secrets & Sounds on Main Street USA
So, there are lots of interesting vintage buildings to be found around Main Street USA and all of these have their own unique soundscapes.
You'll find a Dental Practice where you can listen in on a rather stressful extraction and lots of tooth drilling.
There's even an advert for Piano lessons and you can listen out for the sound of keys and a music teacher giving instructions.
When you're heading towards the café, make sure to look up at the sign. It's a steaming coffee cup!
5. Old Fashioned Phone in Market House Deli
One of the Disneyland Paris secrets can be found in the Market House Deli towards the back of the store.
You'll see a vintage telephone that has been mounted on the wall with an earpiece and cable.
If you pick it up you can listen in on a conversation between two women at Flora's Boutique!
6. The Pink House
The Pink House became a little bit of an Instagram sensation and even has its very own Instagram account.
It's tucked away in a little corner of Main Street USA behind the Coca-Cola Truck / Van side.
You can climb up the steps and peer into this pretty pink house. The porch makes a great photo opportunity.
7. Dapper Dan's Barbers
Did you know that you can get a haircut in Disneyland Paris? That's right, there is a barbershop called Dapper Dan's on Main Street USA!
Seems like a strange thing to have but it's a touching tribute to Walt Disney's father, Elias Disney, who was a barber by trade.
It's decorated like an old fashioned barber shop and the interiors are so pretty with dark wood and monochrome tiled floors.
Many of these items were authentic and sourced from a retiring barber from Chicago.
You can actually pay to have a close shave or haircut using traditional methods. So, sit back and relax.
There is also a vintage-style phone inside underneath an antique calendar. Why not listen in on another conversation?
8. Harrington's Glass Dome
If you have ever been to Galeries Lafayette then you'll probably be familiar with the enormous stained glass dome in the ceiling of the store.
Well, Disneyland Paris has their very own inside Harrington's Fine China & Porcelain shop.
This is one of the more premium boutiques at the park selling glass figures, Swarovski models, snow globes, Disney porcelain, and even Pandora jewellery.
If you look up to the ceiling inside, you'll find an incredible stained glass dome along with an impressive vintage chandelier.
Beyond it being pretty, it actually has some acoustic features. You can whisper to a friend from one end of the store to the other and they will sound like they are standing next to you.
9. Emporium Glass Dome of Inventors
Disneyland Paris' Emporium is one the largest shops on Main Street USA and has its very own hidden gem.
If you head inside the store and look up, you'll see another stained glass dome on the ceiling. But, this one has a specific theme.
If you look closely at the pattern in the glass, you'll find a nod to many famous inventors such as Henry Ford and Alexander Graham Bell.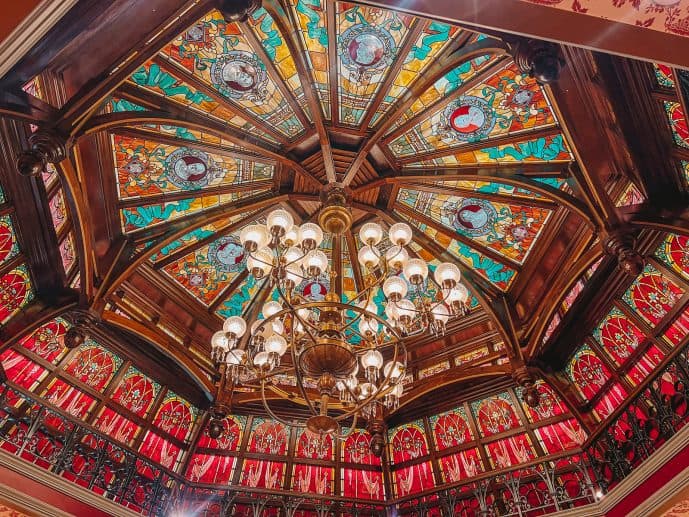 10. Animatronic Tigger in The Storybook Store
The Storybook Store is one of my favourite Disneyland Paris gift shops due to the masses of cute notebooks, pens. But, also because of the vintage decor inside.
If you look up, you'll find classic Disney characters sitting on the ceiling all dressed up in dapper suits.
Look out for Mickey and Donald with his meddlesome nephews Huey, Dewey, and Louie. Also, you'll see Goofy with Chip and Dale.
The best part is their very sweet animatronic Tigger who looks like he's a cashier. He's here to welcome you inside. He also moves his head from side to side every now and then.
Many people miss this shop in Disneyland Paris, make sure you don't. There are lots of little easter eggs inside including Jaq, one of the mice from Cinderella!
11. Vintage window displays
Also, don't forget to look at some of the vintage window displays that can be found around the Emporium.
Many of these have not changed since the park opened in 1992 and they make sweet things to admire.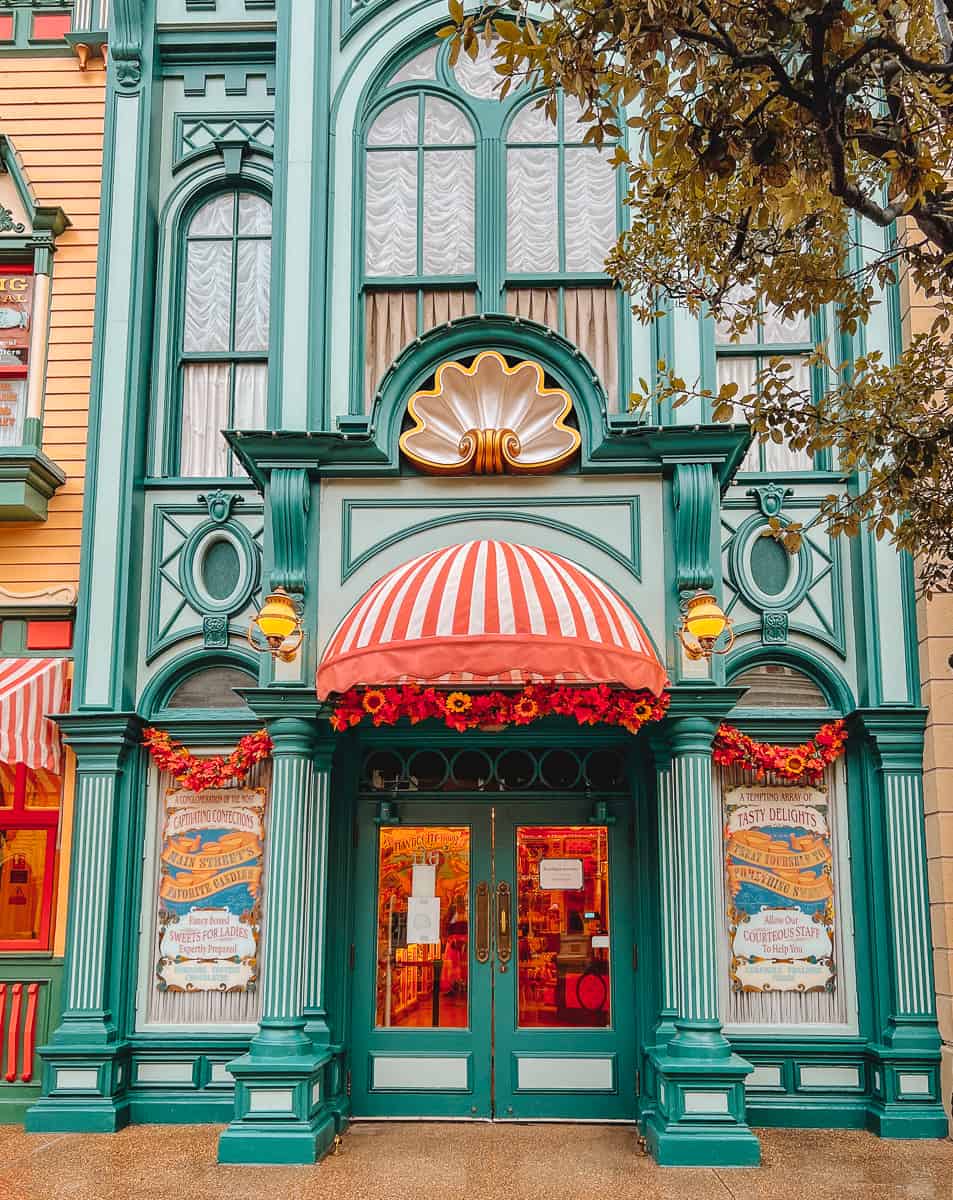 Disneyland Paris hidden gems in Fantasyland
So, there are many Disneyland Paris secrets hidden away in Fantasyland to find.
Fantasyland is one of my favourite areas of the park as it has the gorgeous Sleeping Beauty's Castle and all the pink buildings look like a fairytale village.
Here are all the hidden gems to find in Fantasyland.
12. Square Trees
If you look around Sleeping Beauty's Castle, you'll notice a few trees that are placed to the side of the gardens.
They have all been pruned into a square shape. Why? To replicate the forest scene in the Sleeping Beauty animation!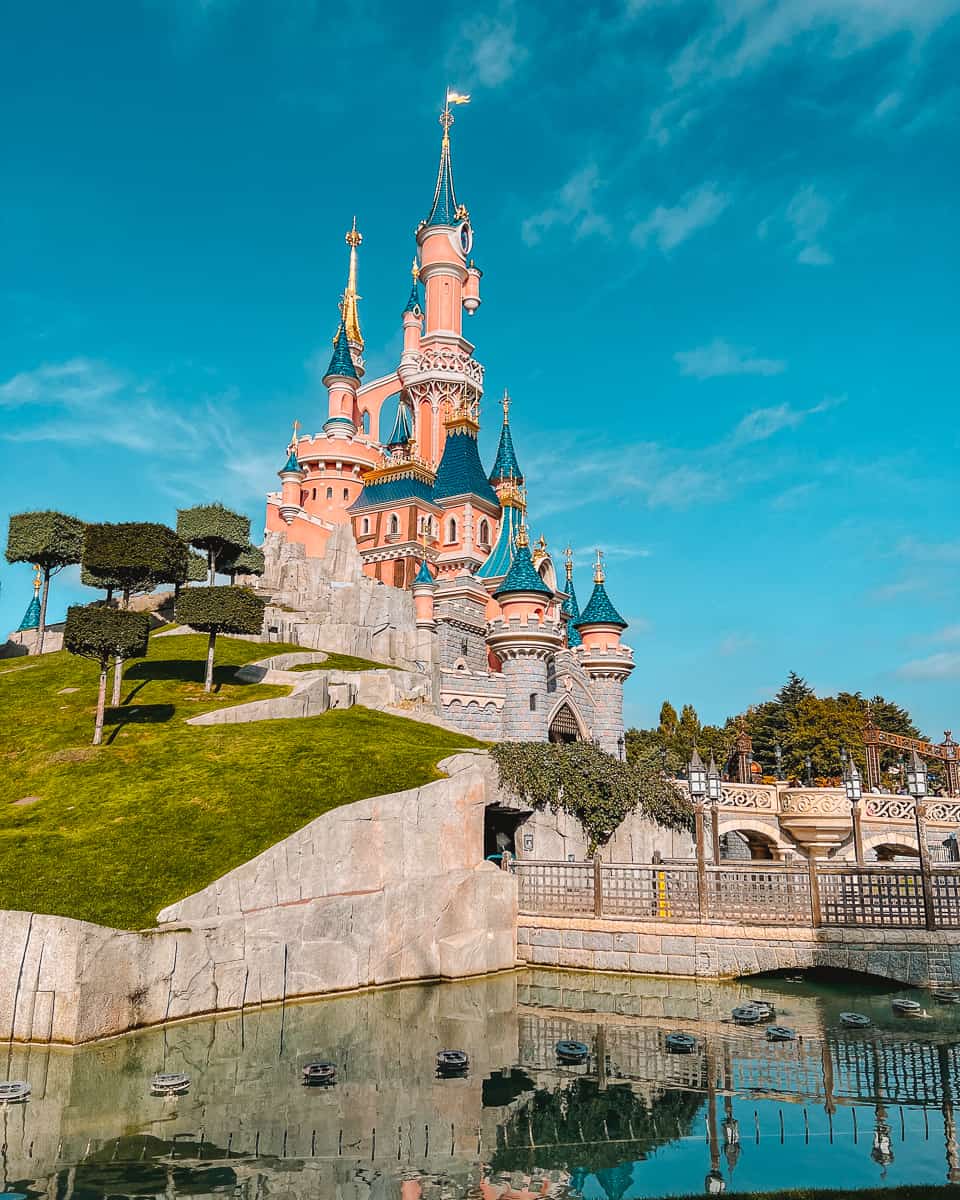 13. Gallery inside Sleeping Beauty's Castle
What I love about the castle in Disneyland Paris is the fact that you can go inside it and you don't need a table reservation or to spend a ridiculous amount of money.
Galerie de la Belle au Bois Dormant is a beautiful walkthrough attraction at Disneyland Paris Park where you can follow the story of Sleeping Beauty.
Many people don't realise it's there and so it rarely has a queue. The stained glass windows are spectacular and are a work of art.
Inside, you'll hear snoozing knights, admire glittering tapestries, see Aurora's cursed spindle and many more hidden gems.
Don't forget to see the adorable statue of Aurora and Prince Philip dancing as they did in "Once Upon a Dream".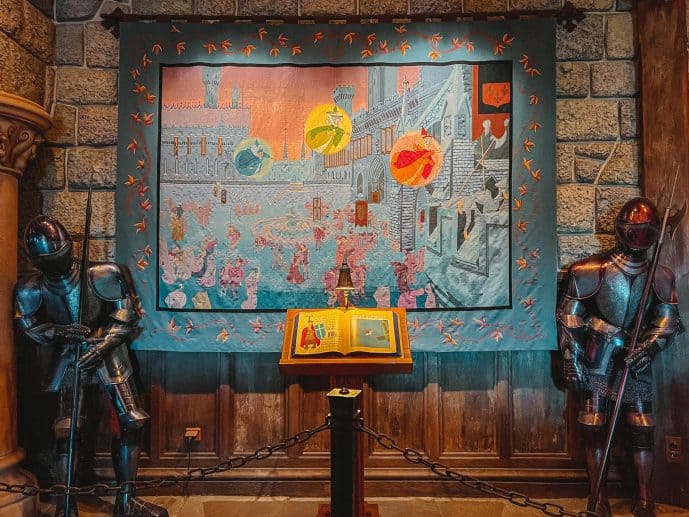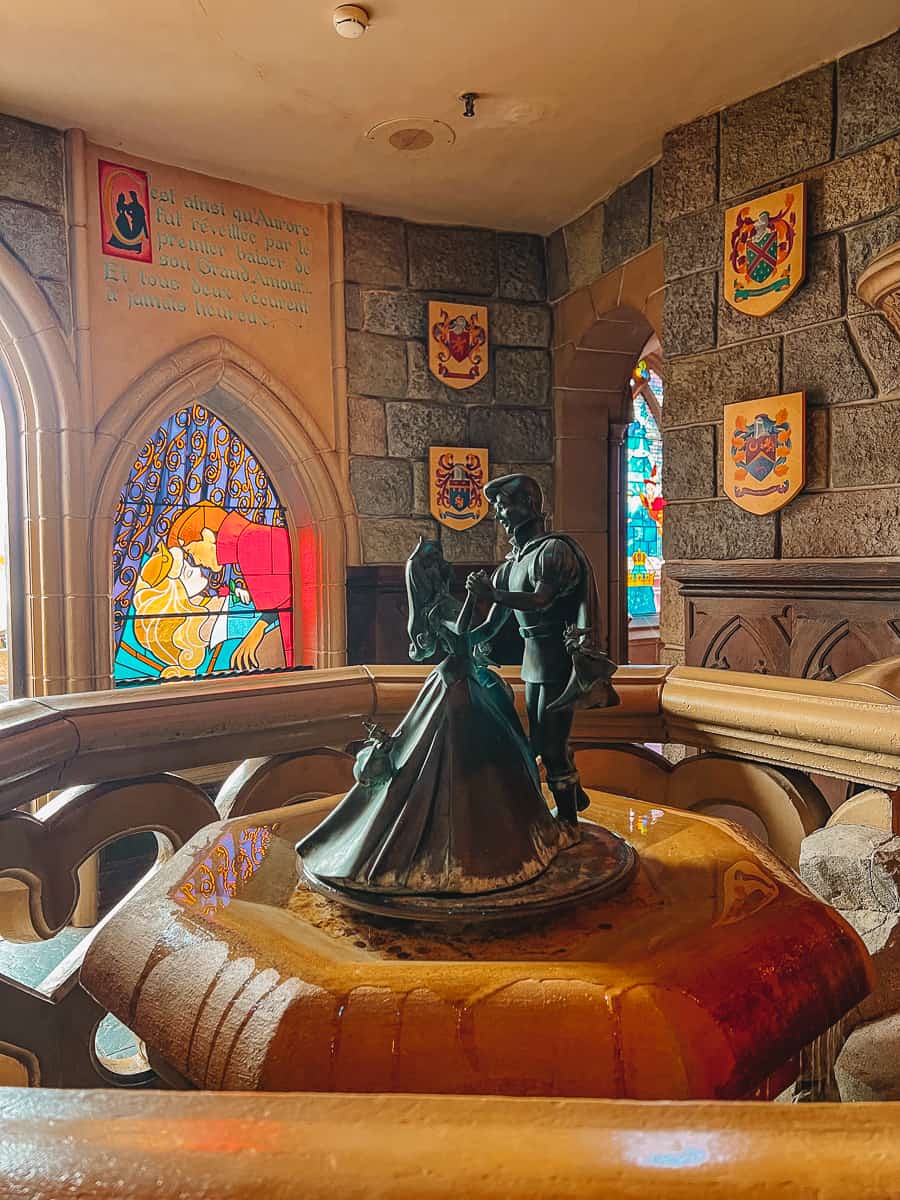 14. Views of Fantasyland from the Castle Rooftop
Another Disneyland Paris secret is the incredible views you get of Fantasyland from the castle towers in Galerie de la Belle au Bois Dormant.
After you've finished admiring the upper floors of the castle, don't forget to step outside on the balcony.
From here, you get aerial views over Fantasyland. You can see Excalibur, Carrousel de Lancelot, and more.
15. Golden Snails on the Castle Towers
Once you're out on Sleeping Beauty's castle balcony, don't forget to look up on this terrace.
You'll see some golden turrets and if you look really closely you'll see lots of golden snails that appear to be climbing!
Naturally, we're in France so you can't help but compare this to the popular dish of escargot.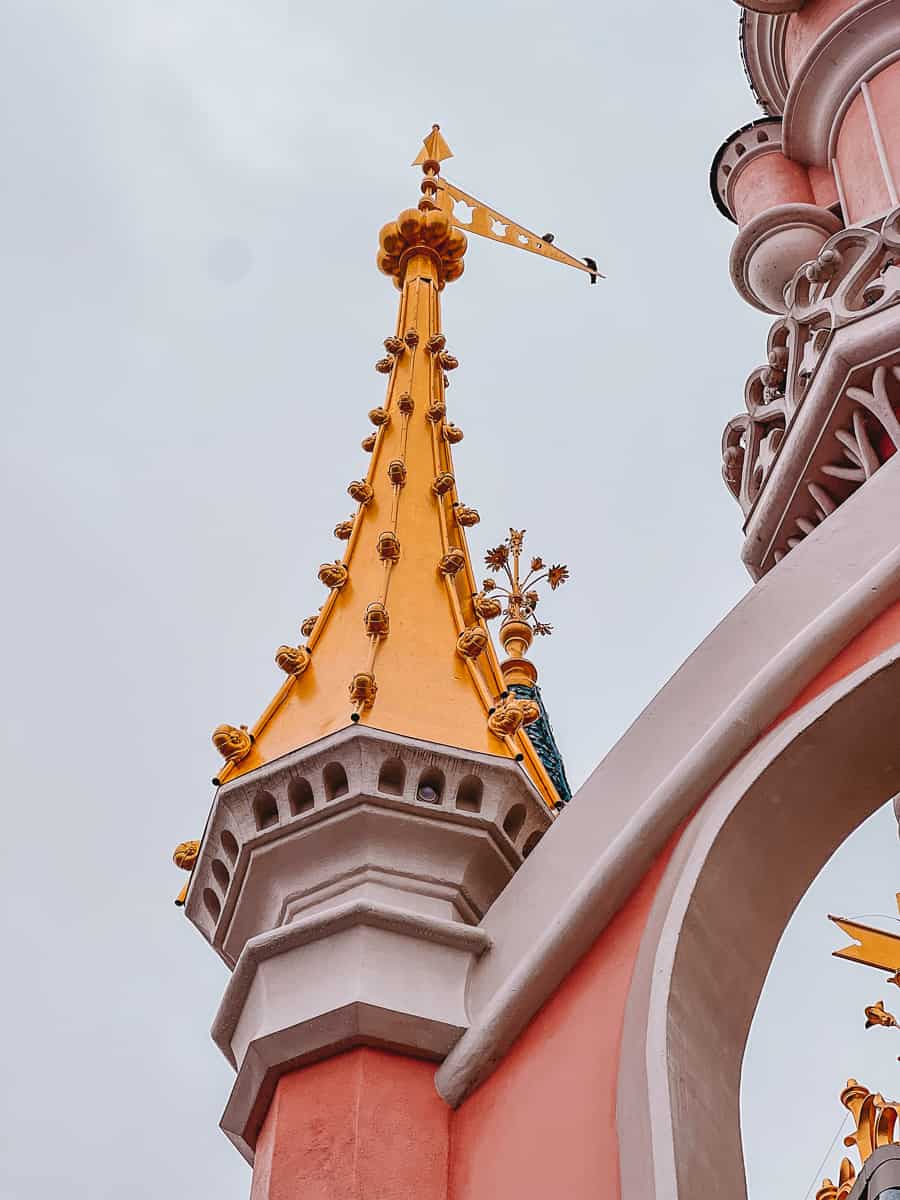 16. Visit the Disneyland Paris Dragon under the castle
I am obsessed with dragons and love seeing Maleficent's dragon spit fire in Stars on Parade.
But, did you know that Disneyland Paris has its very own dragon that sits under Sleeping Beauty's Castle?
It's a walkthrough attraction called La Taniere du Dragon and, as you walk through the cave, you'll come face to face with a fire-breathing dragon in his lair!
Click here to read my complete guide on the Disneyland Paris Dragon
17. See Glassmaking inside the Castle
If you head up the steps from the dragon's cave, you'll arrive in one of my favourite Disneyland Paris shops called Merlin l'Enchanteur or the Sword in the Stone.
It's decorated like Merlin's workshop inside Sir Ector's Castle and sells all sorts of glass items amongst the tinctures and potions.
You'll even find a Swarovski version of the castle for a mere…3,000 euros haha. Any takers?
This shop is where you can get your very own custom glass wand made and you can see these being created in-store!
A cast member will be hard at work moulding the glass into shape with an open flame. It's fascinating to watch.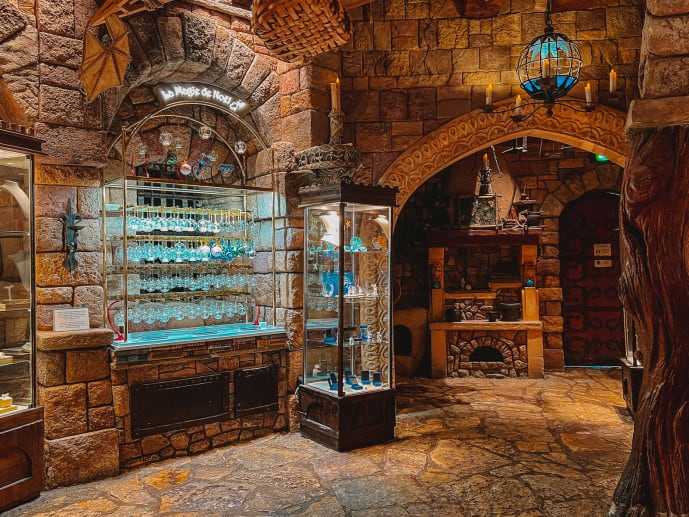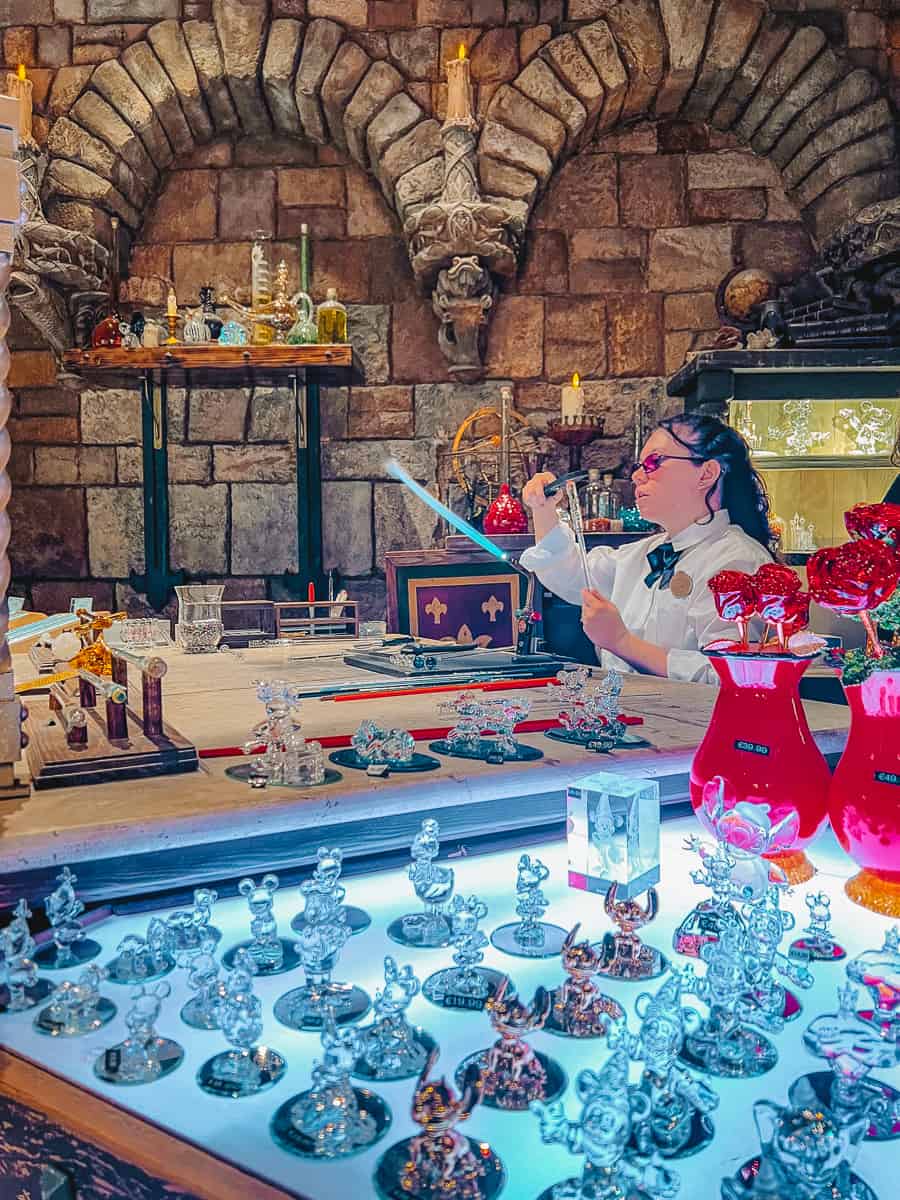 18. Disneyland Paris Christmas shop
It's always Christmas at Disneyland Paris and you can visit La Boutique du Château to buy Christmas decorations all year.
It's a medieval-style shop with painted cloisters and is always beautifully decorated with trees, tinsel, baubles, and sparkle!
Don't forget to look out for the Sleeping Beauty stained glass windows inside here of King Hubert and King Stefan too. They are works of art.
Fun fact: drop your pre-loved toys off here at the cash registers and they will give them new life by magic!
19. Disneyland Paris Hidden Mickeys
Hidden Mickeys is an unofficial game that many people play in Disney parks around the world.
It's essentially finding symbols of Mickey Mouse in the form of a Mickey Head or Mickey profiles throughout the parks.
There are lots of theories about how Hidden Mickeys started in Epcot but now it's a big thing where people hunt them down universally. I guess people just love a Disney park easter egg.
As it's very much open to interpretation, there won't be an official list of Disneyland Paris Hidden Mickeys to follow. They could found be anywhere so keep your eyes peeled.
A popular Disneyland Paris Hidden Mickey can be found in the cogs outside the entrance of It's a Small World in Fantasyland.
20. Spot Characters at the Fantasyland Parade Gates
The Princess Pavilion at Disneyland Paris is the most popular character meet and greet in all the parks.
You could be waiting up to 3 hours to meet a princess and it's never a guarantee which one you'll meet.
But, did you know that there is a place you could wait and see them as they are passing through without waiting?!
If you visit the area opposite Pizzeria Bella Notte near It's a Small World. you'll see where the floats first come out of the gate for the parades. There are a few benches dotted around there to perch on.
Sometimes, while you're waiting for the parade to start, you can see princesses and characters heading out to their meet-ups.
While waiting for the parade, I saw Ariel, Cinderella, the Mice from Cinderella, Snow White, Aurora, Captain Hook, Smee, Captain Jack Sparrow and Tweedledum, and Tweedledee.
This saved me hours of time. Now, don't get me wrong, you may not be able to get a photo with them or get your autograph book signed. But, they will certainly say hi and wave!
21. The Old Mill
The Old Mill can be found near the Le Pays des Contes de Fées ride or The Land of Fairy Tales.
It's actually based on a very old Disney cartoon movie made by Silly Symphonies and produced by Walt Disney Productions in 1937.
Fun fact, this animation was made by Disney to 'test out' the animations for Snow White and the Seven Dwarves.
You'll find that The Old Mill snack bar at Disneyland Paris has been made into a Dutch-style windmill exactly like the one featured in the movie.
But, instead of animals making a home here, you can pick up some drinks and snacks throughout the day.
Click here to watch The Old Mill – it's only around 8 minutes and it won an Academy Award Oscar!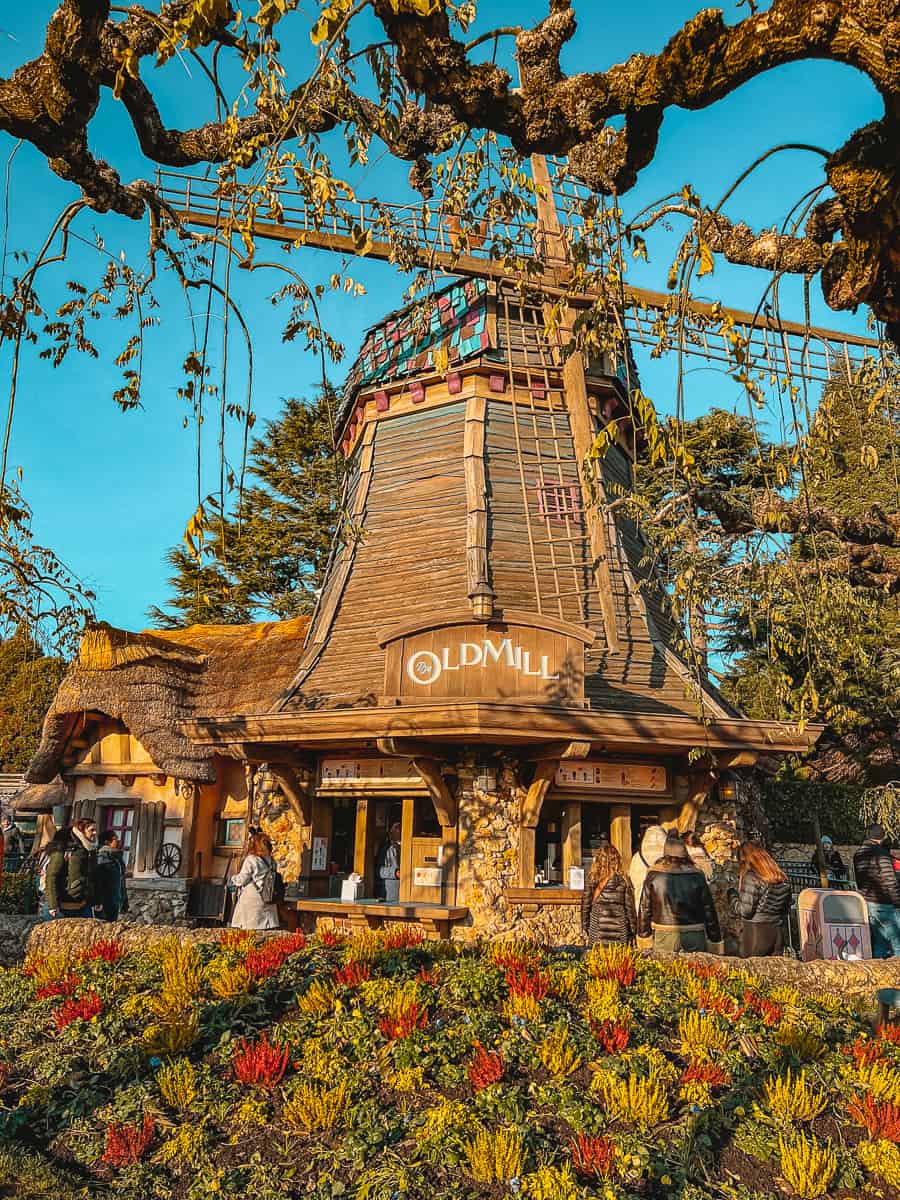 22. See the Evil Queen above the Snow White Ride
Disneyland Paris' Snow White Ride, or Blanche-Neige et les Sept Nains, is one of the most popular in Fantasyland and it's no secret.
But, there is something in the queue line that many people miss before they step inside to ride.
Just before you walk into the queue, make sure to look up at the glass window on one of the central towers. You'll find the Evil Queen appear in the window.
Also, there is a cauldron with potions in the queue line itself to make the cursed apple.
23. Snow White Shop walkthrough
If you haven't yet, I would definitely recommend stepping inside the Snow White Shop in Fantasyland or La Chaumière des Sept Nains.
Beyond it selling all sorts of cute costumes and stuffed toys for kids, it's actually a mini-walk-through attraction.
You can stroll by thatched cottages, cross a river via the bridge and see some of Snow White's adorable animal friends.
There are also witches, knights, a forest, stone towers, and stained glass windows. It's adorable.
Listen out for the tune of "Whistle while you work" by the Seven Dwarves while you walk through.
24. Changing Faces of Mr. Toad's
The Toad Hall restaurant is a very popular British-style restaurant and is not a Disneyland Paris secret by any means.
However, while you're munching on your Fish & Chips, don't forget to look around for the changing faces of Mr. Toad.
You'll find some very quirky portraits of Mr. Toad from The Wind in the Willows inside.
But, you'll also find a moving portrait of him as the Mona Lisa, Van Gough one of the Musketeers!
The Wind in the Willows was one of my favourite stories as a kid and Mr. Toad turning crazy for motorcars is a core memory of mine.
Related post – Toad Hall Restaurant Review at Disneyland Paris
25. Views from Alice's Curious Labyrinth
Alice's Curious Labyrinth is a ride you should not skip in Disneyland Paris. It's a walk-through attraction where you'll feel like Alice who has fallen down the Rabbit Hole.
You can find the Cheshire Cat, the Queen of Hearts, the Mad Hatter, the White Rabbit, Tweedle Dee, and Tweedle Dum on the route. Plus, a wealth of characters as you try to find a way out of this magical maze.
One of the hidden gems here has to be the views you can get at the top of the Queen of Hearts castle tower.
From here, you get incredible views over Fantasyland towards Dumbo the Flying Elephant, Mad Hatters Tea Cups and Sleeping Beauty's Castle.
26. Le Carrousel de Lancelot antique chariots
Carousel de Lancelot is a beautiful carousel in Fantasyland but did you know that some of the chariots are antiques that are over 100 years old?!
Many of the horses were made by American carver Joe Leonard and his team and were sent over to Florida to be finished.
Some were also replicas of the horses found on Cinderella's Golden Carousel at Walt Disney World.
But, there are also some antique chariots that were originally built by the Philadelphia Toboggan Company in 1917 and were later bought for Disneyland California.
But, eventually, the chariots were used in Le Carrousel de Lancelot in Paris! They are decorated in 23-karat gold leaf, copper leaf, and aluminium leaf.
27. Cinderella Fountain
Another Disneyland Paris hidden gem in Fantasyland that many don't see is the Cinderella Fountain.
You can find it underneath the Auberge de Cendrillon sign just outside the Carousel de Lancelot and Sir Mickey's Boutique.
This is very similar to the original Cinderella Fountain at Magic Kingdom in Walt Disney World.
The fountain is breathtaking with a pink-painted mural of flowers behind it and a brass statue of Cinderella and her animal friends.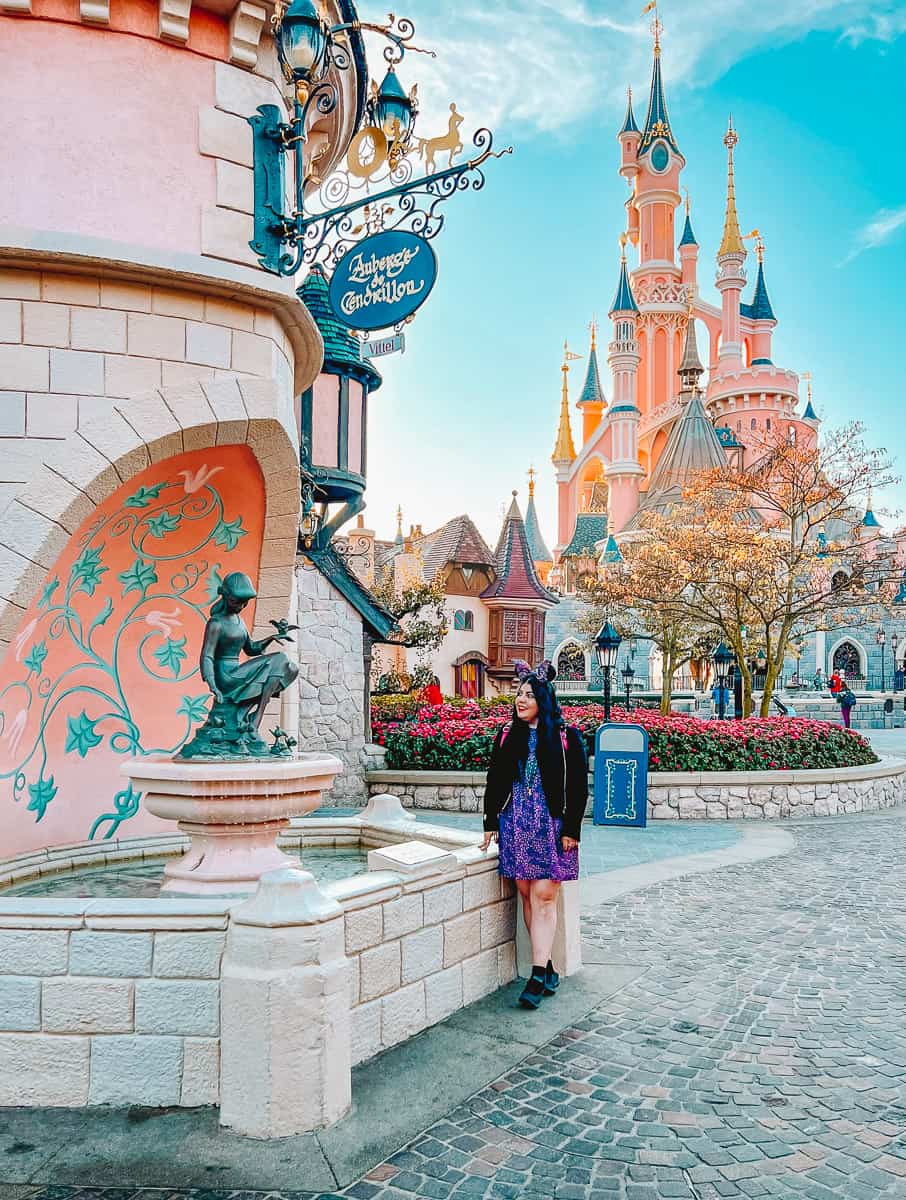 28. Cinderella's Carriage
Another Disneyland Paris secret is the Cinderella Carriage which can be found in the courtyard area of Auberge de Cendrillon or Cinderella's Restaurant in Fantasyland.
If you were dining here, you'll most definitely see it on your way through. But, you can also visit the carriage even if you weren't planning to dine.
It's a must-visit for any fans of Cinderella and it makes a great photo opportunity. In fact, this entire courtyard looks like a fairytale with all the quirky medieval buildings and turrets.
Auberge de Cendrillon is a French restaurant and character dining experience here in Disneyland Paris and it is very popular. They also have a character breakfast too.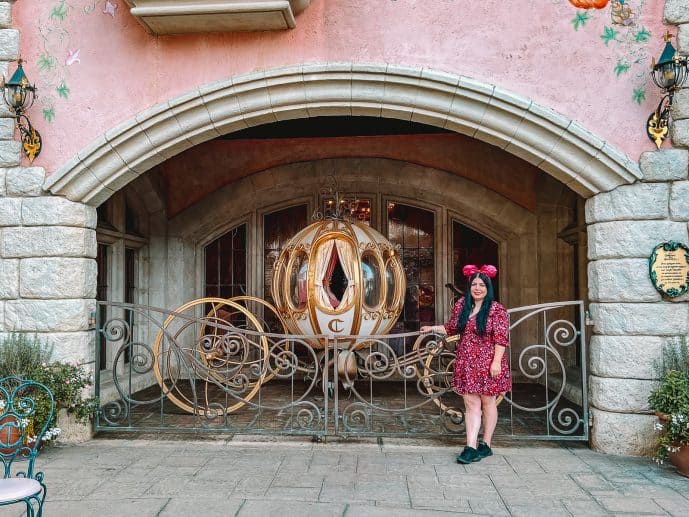 29. Make the castle pink, no make the castle blue!
When the sun goes down at Disneyland Paris, it's so lovely to see Sleeping Beauty's Castle lit up at night time.
But, you'll start to notice that the castle can't make up its mind whether it wants to stay pink or blue. It's constantly changing colour!
This is a nod to Sleeping Beauty's dress in the movie where Fauna and Merryweather from the Three Fairies keep arguing about whether the dress should be pink or blue.
They keep changing the colour through their magic until it all becomes a bit of a pinkish-blue mess!
Disneyland Paris secrets in Adventure Isle
Adventure Isle is such a cool area of Disneyland Paris with themes of Pirates of the Caribbean, Swiss Family Robinson, the Lion King, Indiana Jones, and Aladdin.
So, there are lots of Disneyland Paris secrets to discover as you make your way around all of these worlds.
From treehouses, caves, hidden characters, walkthroughs, and spectacular views!
30. Mr. Fredricksen & Russell from UP
If you're a fan of the heart-wrenching Pixar movie UP, then you'll be happy to know you can find them in Disneyland Paris within Adventure Isle.
If you head over towards Colonel Hathi's Pizza Outpost, you'll see them sitting next to the creek with a boat.
Carl Fredericksen looks to be reading a book (maybe an instruction manual?) whilst Russel is eagerly following the instructions.
I'm not sure why these characters are placed here in Adventureland over the more obvious location of the Pixar area of Walt Disney Studios Park.
But, I'm not complaining as this is such a cool Disney Paris easter egg to discover.
31. Enchanted Passage of Aladdin
Le Passage Enchanté d'Aladdin or the Enchanted Passage of Aladdin is a walkthrough attraction in Adventure Isle that many people miss.
It's a beautiful gallery that has many aminated scenes from the movie including the Genie in the lamp, Jafar turning into a cobra snake, and Aladdin and Jasmine on their magic carpet ride over Agrabah.
It's a great attraction to do on a busy park day as it rarely has a queue.
The animated version of Aladdin will always have a space in my heart and this attraction is just gorgeous.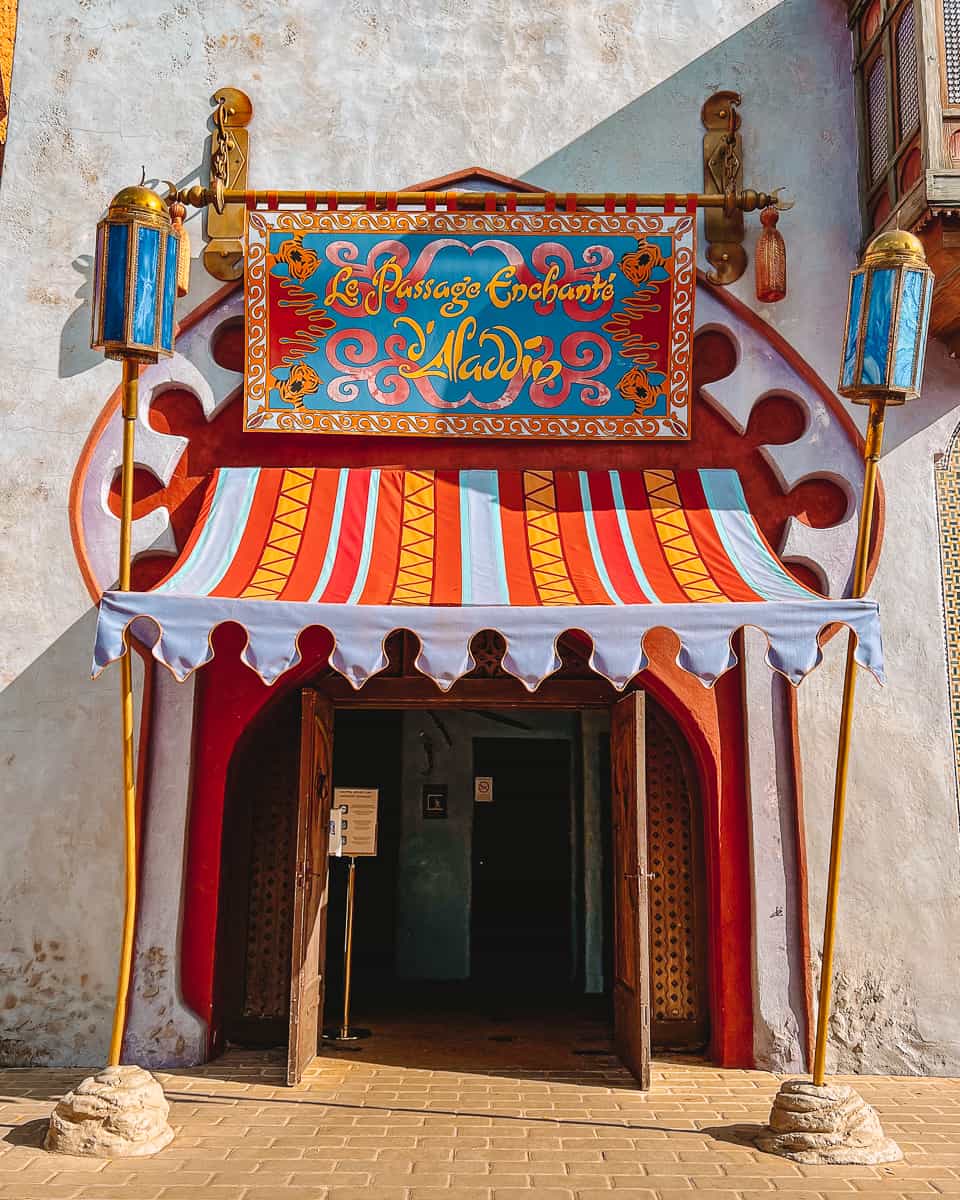 32. Giant Egg in Aladdin's area
You'll find that the entire Aladdin section of Paris Disneyland Park is stunning with bazaars, colourful lanterns, and even more easter eggs to hunt down. Or, literal eggs in this case.
That's right, if you look really closely, you can find a giant egg resting on the city walls of Agrabah.
If you're standing in the central area and look out towards Adventureland, you'll catch sight of the giant egg in a nest.
This is a nod to Roc who is a giant mythological bird in Arabic folk tales like One Thousand and One Nights. It's also mentioned in ancient Sanskrit texts like the Ramayana and Mahabharata.
Fun Fact: Roc is also now a monster and bird of prey in Dungeon and Dragons!
33. Arabian Nights & Genie Walls
Disney Walls are a big thing in Walt Disney World and Disney Parks around the globe.
Disneyland Paris has some in store for you to find too like the Domino Wall in Walt Disney Studio Park or the It's a Small World wall in Fantasyland.
But, my favourite Disney Walls in Paris are found in Adventure Isle. You'll find images of Genie at the start and end of Le Passage Enchanté d'Aladdin.
Also, if you walk to the washrooms beside the Aladdin Restaurant, Agrabah Café, there's a painting of The Ebony Horse from Arabian Nights.
You'll find Kamar and Princess Shams al-Nahar escaping the guards and flying into the sky on their magical steed.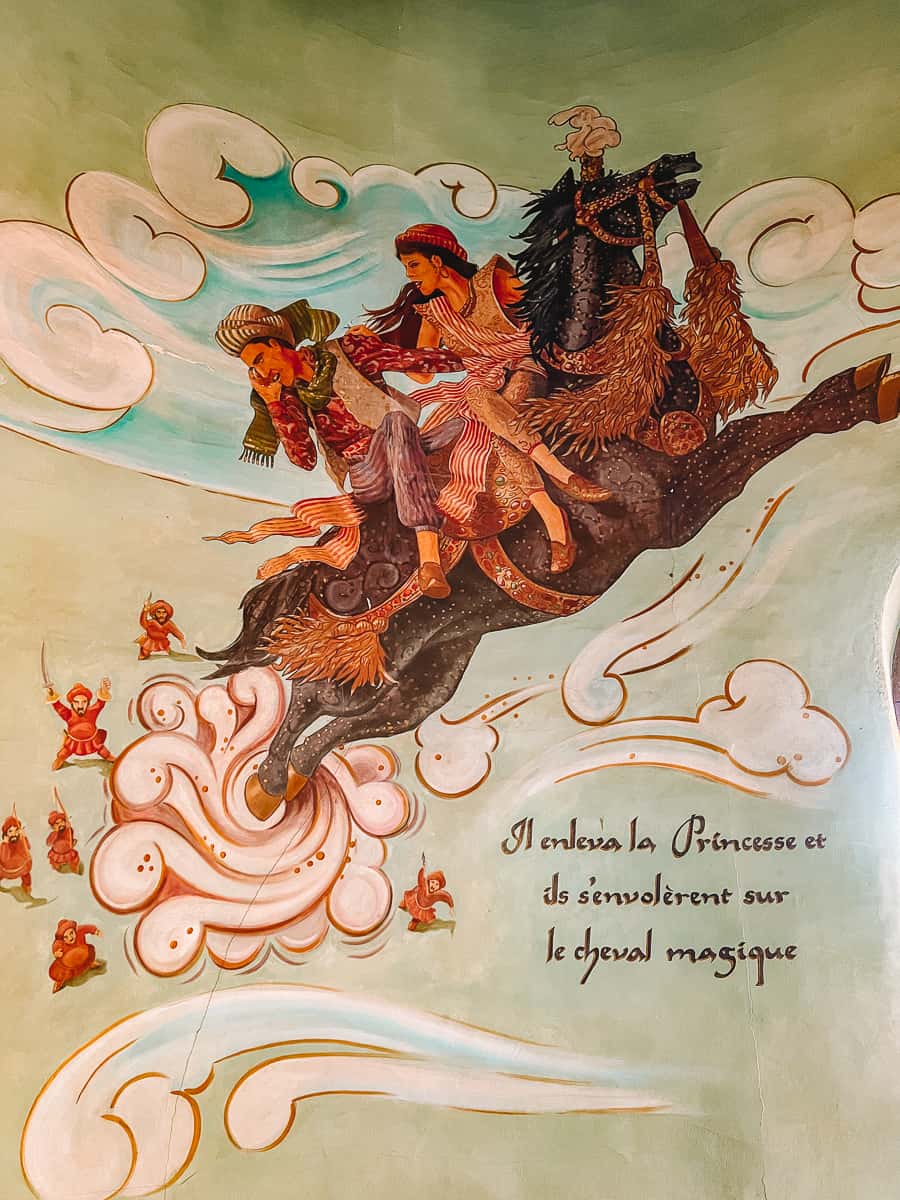 34. Find Davey Jones's Locker
Pirates of the Caribbean is one of my favourite movies and my top Disney ride. So, I'm happy to say the pirate section of Disneyland Paris is incredible.
You'll find a pirate galleon, Skull Rock, pirate's beach, Captain Jack's restaurant, and shops straight out of Tortuga and Port Royal.
But, one of the best parts of this area is the labyrinth of pirate caves which is a walk-through attraction, and cavern trail found behind Skull Rock.
Inside, you can make your way over to Davey Jones's Locker.
Related post – Captain Jack's restaurant review
35. Adventure Isle walks
La Cabane des Robinson (made up of 300,000 leaves) has many walks that you can take up to the treehouse and over canopy bridges with great views of the parks.
But, I loved finding the lesser-known trails in Adventure Isle. It was like a labyrinth of caves and viewpoints.
On your journey, you can find places like Ambush Alley, Keelhaul Caverns, Spyglass Hill, Dead Man's Maze, Le Pont Suspendu, Ben Gunn's Cave, and Cannonball Cove.
All of these are references to famous adventure stories like Treasure Island, Peter Pan, and The Swiss Family Robinson.
36. Meet Captain Jack Sparrow
Although not the best-kept Disneyland Paris secret, it does come as a surprise to many that you can meet Captain Jack Sparrow here!
It's never a guarantee and you won't find him on the Disneyland Paris app. He also doesn't have a specific place to meet him.
But, you can usually see him wandering around Adventure Isle in the afternoons. He's a busy captain so he doesn't stick around for long!
Usually, you'll stumble upon him by chance or you'll see him outside Captain Jack's restaurant making people laugh.
I randomly met him on Pirate Beach and got some photos and a 'moving picture' of us as Jack called it haha! It made my day.
37. Jail Cell in the Pirates of the Caribbean Queue Line
This is one of my favourite Disneyland Paris secrets as I'm obsessed with the Pirates of the Caribbean franchise.
When you queue for the ride, you walk through the dungeons of a fort in Port Royal and there are many jail cells, shackles, and chains dotted around.
But, did you know that you can also walk into one of the prison cells in the queue line?! The iron bars open and you can step inside the cell like a pirate criminal.
It makes an amazing photo opportunity although it is really dark so make sure to use a low-light setting.
38. Look into rides on the Disney Railroad
Disney Railroad is such a relaxing and scenic ride in Disneyland Paris and again is a great thing to do if it's a busy park day.
It has four stations spread across the park and many of the steam trains are authentic. They are all named after American Legends like W. F. Cody aka Buffalo Bill, C. K Holiday, G. Washington and the Eureka.
Make sure to do the Grand Circle Tour and stay onboard for the entire ride as you'll see plenty of hidden gems here.
The best secret of the Disneyland Paris Railroad is that you can look inside many of the rides while you're on it.
Look closely and you see Jack Sparrow with his treasure at the very end of Pirates of the Caribbean and Buzz Lightyear prepping riders to defeat Emperor Zurg!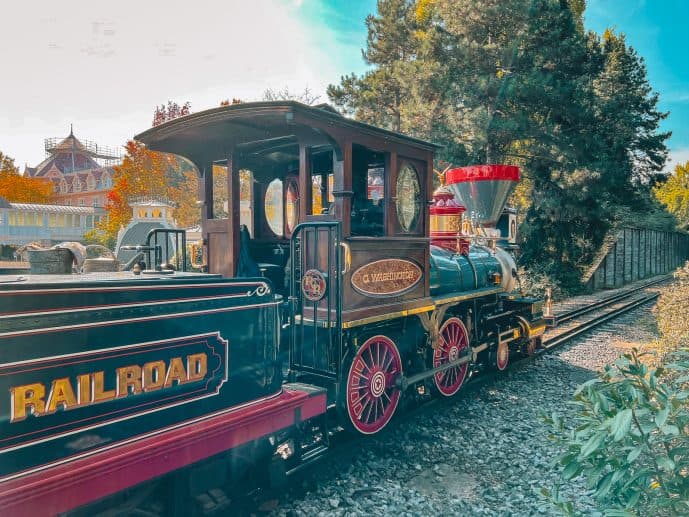 39. Bazaar in Adventureland covered walkway
There are lots of hidden walkways and shortcuts that make life easier in Disneyland Paris like the Liberty and Discovery Arcades on either side of Main Street USA.
But, you can also find one by Adventureland Bazaar that can take you straight to Peter Pan's Flight!
It's a covered walkway that will allow you to stay covered whilst walking from Adventureland to Fantasyland.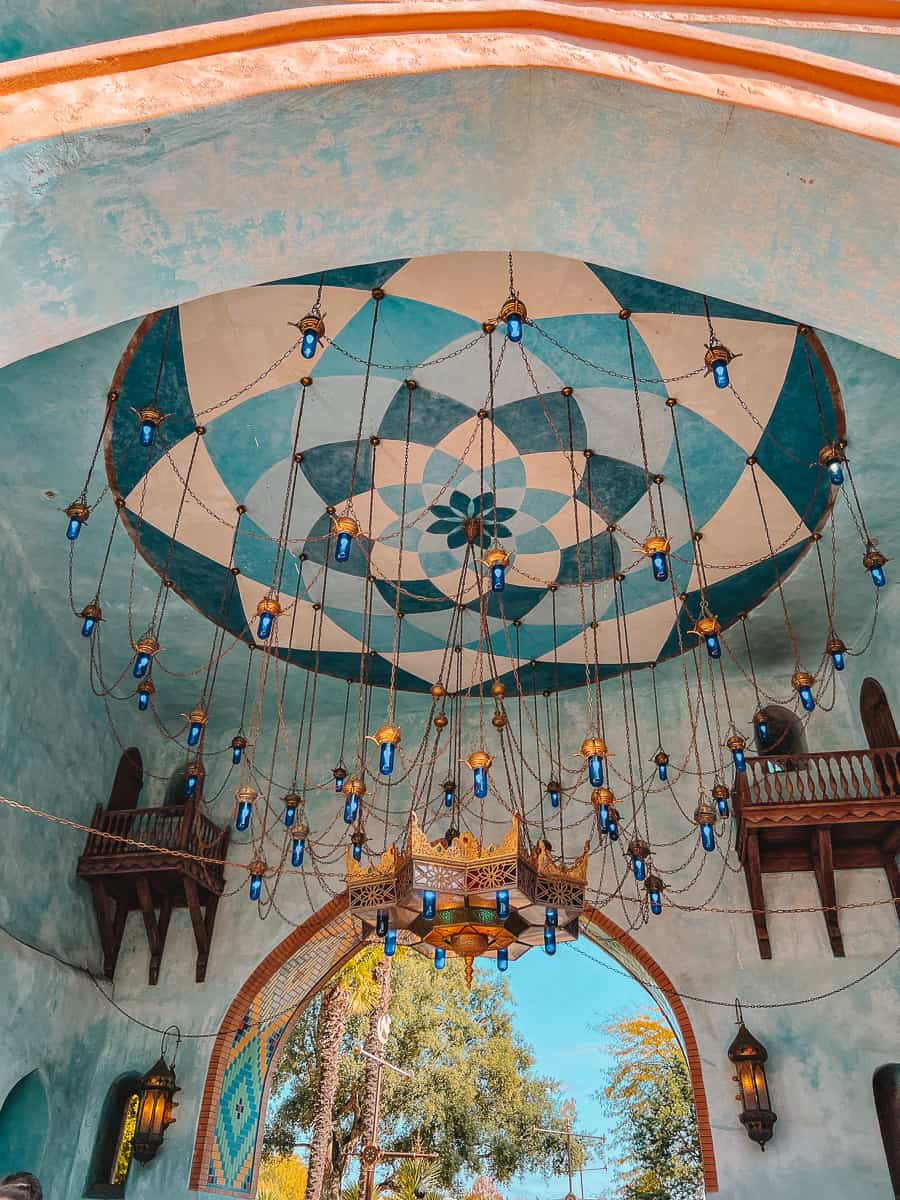 Secret Disneyland Paris hidden gems in Discoveryland
Discoveryland is a futuristic area of the park that is home to the Buzz Lightyear ride, Orbitron, and Star Wars Hyperspace Mountain.
But, there are lots of space-themed hidden gems to find in this area. Like a room full of stars and unlikely Pixar characters.
40. See WALL -E and EVE
WALL-E is such a cute movie by Pixar but you don't see a lot of this franchise in the Disney Parks.
Well, you can find both WALL-E and EVE right outside Café Hyperion in the gardens around there. They were installed as part of the Magical Moments Festival.
It's such a cute statue full of love for each other and they are even holding hands…or parts!
EVE's eyes often come out and she blushes. I mean can you blame here? Just look at how WALL-E looks at her. It's so cute.
Fun fact: these were meant to be sent to Tokyo Disneyland but ended up in Disneyland Paris instead.
41. The Mysteries of Nautilus
Les Mystères du Nautilus is another delightful walkthrough attraction similar to the Enchanted Passage of Aladdin in Discoveryland.
Inside, you can descend 20,000 Leagues Under the Sea and navigate your crew to Jules Verne's Nautilus submarine to discover its secrets.
Watch out at the end for a surprise, there is danger lurking underneath the surface of these suspiciously calm waters.
Unfortunately, every time I have visited Disneyland Paris this attraction has been closed so fingers crossed it reopens soon.
42. Watch vintage cartoons at Videopolis Theatre
Many people visit Café Hyperion for some burgers and fries but did you know you can watch vintage cartoons in Videopolis?
It's an entire theatre that has a seating area and you can watch all sorts of old-school animations featuring Mickey and his pals.
This is a great place to entertain kids or to keep warm when it's very cold with a hot chocolate. They often have stage shows here during the year as well as the Christmas season.
43. Arcade Alpha
Another feature of Videopolis that many people miss is Arcade Alpha. It's not a gaming arcade but a phone charging area.
What's amazing about this room is that it's filled with a sky of twinkling stars in every corner!
It's also a nice place to take a breather and a quiet moment from the crowds as hardly anyone uses this entrance.
You can sit down on the floor or use the white cubes and take a well-deserved rest.
44. Star Wars easter eggs & build your own Lightsaber
Discoveryland has so many Star Wars easter eggs, especially in the queuing areas for Star Wars Hyperspace Mountain and Star Tours. Look out for Admiral Ackbar.
One of the cooler things you can do in Star Traders is to build your own Lightsaber! Like a true Jedi apprentice, you can choose all the different parts and make it a double or single blade.
Or, you can make a souvenir Droid in their Droid Factory. You can pick all the parts from the head, body, and legs – even a hat!
45. Meet Darth Vader in Starport
Did you know that you can meet Star Wars Characters at Disneyland Paris?
Last year, I was lucky enough to meet Darth Vader as part of the Christmas celebrations and it was so fun!
I'm not going to lie, meeting the Dark Lord of the Sith was pretty terrifying. He backed me into a corner to interrogate me about being a spy.
He can be very commanding but it was so worth the long wait and it makes a great photo opportunity.
Disneyland Paris secrets in Frontierland
Lastly, here are all the Disneyland Paris hidden gems you can find in Frontierland home to Big Thunder Mountain.
There are lots of things to see here like the Old West, Haunted Mansion, and even Nightmare Before Christmas characters in the right season.
Here are all the Disneyland Paris secrets you can discover in Frontierland.
46. Learn the Big Thunder Mountain & Phantom Manor story
One thing that really threw me was the fact that there is a huge story that connects both Big Thunder Mountain and Phantom Manor.
It follows Henry Ravenswood, a western settler who struck gold at Big Thunder Mountain. He founded the Big Thunder Mining Company and then built the city of Thunder Mesa.
He built a manor on Boot Leg Hill and he married his wife Martha and had a daughter called Melanie Ravenswood.
Big Thunder Mountain is thought to be home to the Native American spirit of Thunderbird and protects the land from all those who try to disturb it.
Henry refused to listen to these stories and still dug deeper and deeper into the mountain to find the gold.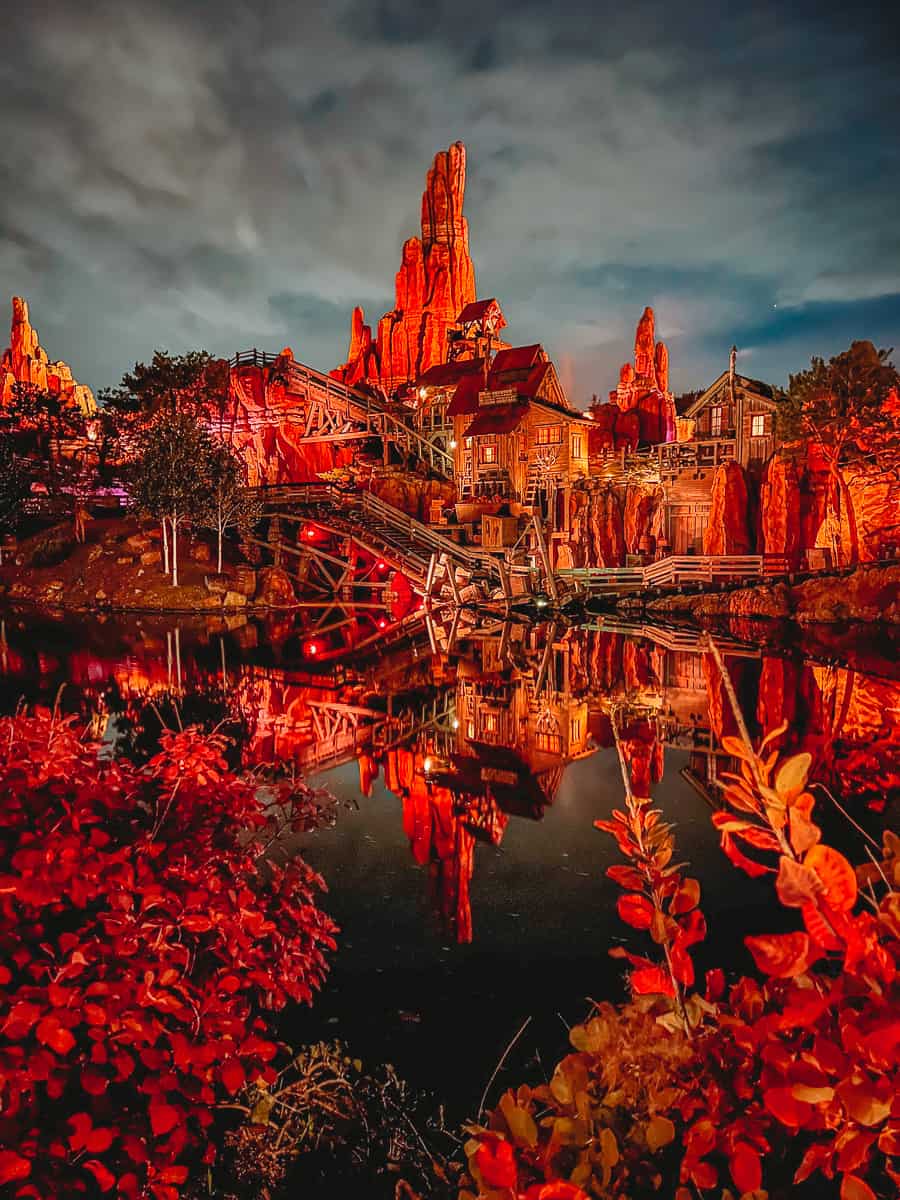 Melanie Ravenswood was a great beauty of Thunder Mesa and eventually wanted to marry a suitor that Henry didn't like. He did everything he could to stop the engagement.
But, one day, a huge earthquake struck the area killing both Henry Ravenswood and his wife Martha.
Many believe this was a direct attack from the Spirit of Thunderbird protecting the mountain as Henry dug too far and took too much.
With her parents out of the way, Melanie was free to marry her beau. But, on her wedding day, he never showed up leaving Melanie bereft. She lived in the manor heartbroken hoping he would show.
Unfortunately, a mysterious phantom arrived on her wedding day and killed her fiancé. He then continued to torment her. One after one, he invites many of his ghostly friends to haunt the halls.
There's lots more to the story so I would recommend reading it on these Disney Wiki Pages. It will make you see the rides and theming in Frontierland in a completely different light.
For example, the stretching room in Phantom Manor before you go on the ride features portraits of Melanie and her many suitors of Thunder Mesa.
Also, you'll see the phantom throughout the ride, even in the vanity mirror where Melanie is sitting in her wedding dress crying.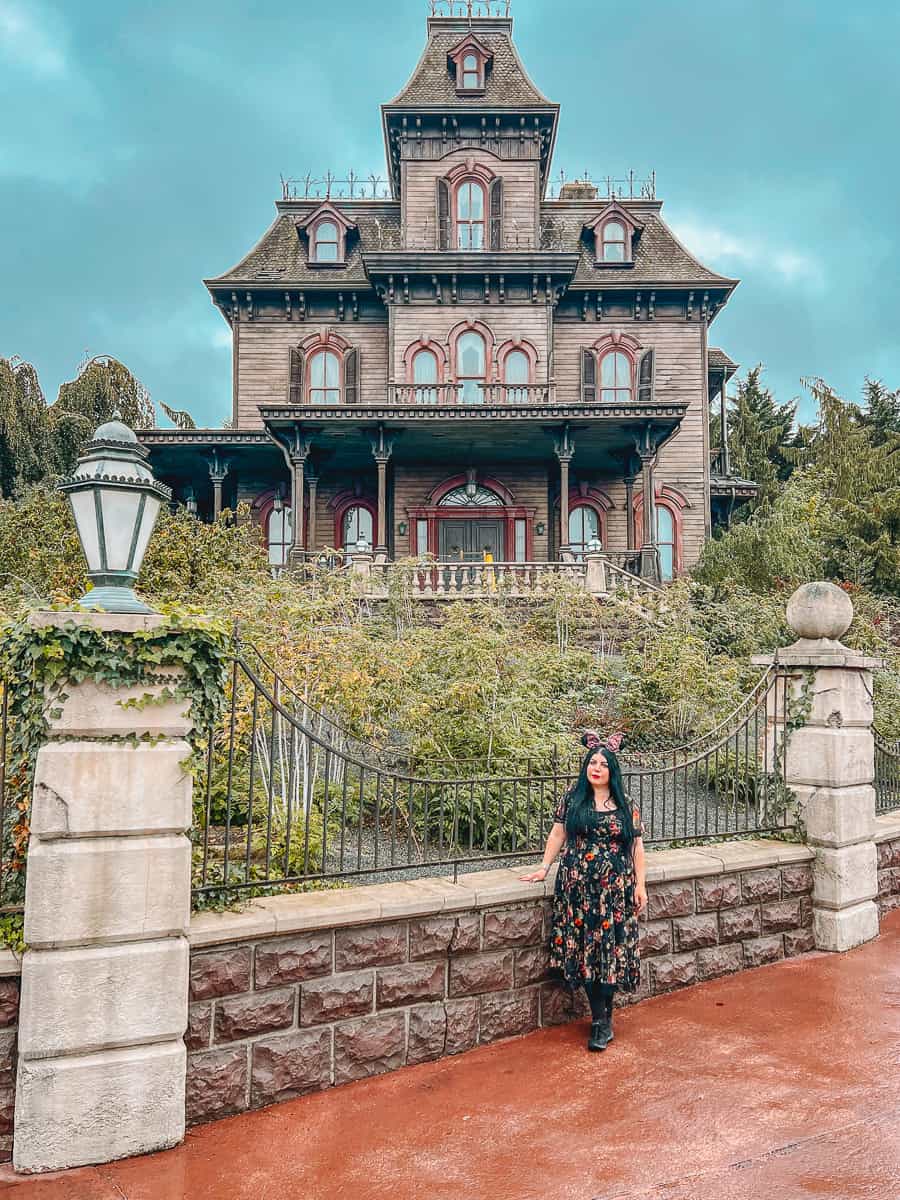 47. Visit Boot Hill Cemetery
After you leave Phantom Manor, make sure to take the scenic exit to the left that takes you on a walk through Boot Hill Cemetery.
It's the final resting place of the Ravenswood family as well as some of the residents of Thunder Mesa.
You'll find the graves of Henry and Martha Ravenswood and some funny and quirky tombstones dotted around the graveyard.
For example, "Here Lies Leadfoot Fred –Danced Too Slow And Now He's Dead". Some are shaped like saloon doors or cowboy boots.
It's extra eerie if you visit at night time when the gravestones are all lit up against the night sky.
48. Legends of the Old West walkthrough
The Legends of the Old West is truly a hidden gem at Disneyland Paris that allows you to walk through the wooden structure of Fort Comstock.
As you make your way around the fort, you'll stop at different rooms with wax models and learn about famous characters and legends of the Wild West.
From the events of the gold rush, Buffalo Bill and Davy Crockett. Also, you get great views over Frontierland from here.
There are lots to discover on the trail and you can find the entrance near the Lucky Nugget Saloon.
Be aware that it sometimes closes during the off-season but I was able to visit at Christmas.
49. Meet Jack Skellington
One of my favourite character experiences at Disneyland Paris was being able to hug Jack Skellington from The Nightmare Before Christmas.
He was so kind and acted like the perfect gentleman. It's definitely worth waiting for if he's there on your visit.
He can be found waiting in the Phantom Manor graveyard during the Halloween and Christmas celebrations. Meeting times can be found on the Disneyland Paris app.
As you can imagine, meeting Jack Skellington is very popular and queues can be over 2 hours long. So, I would recommend heading to his queue before it opens for the day.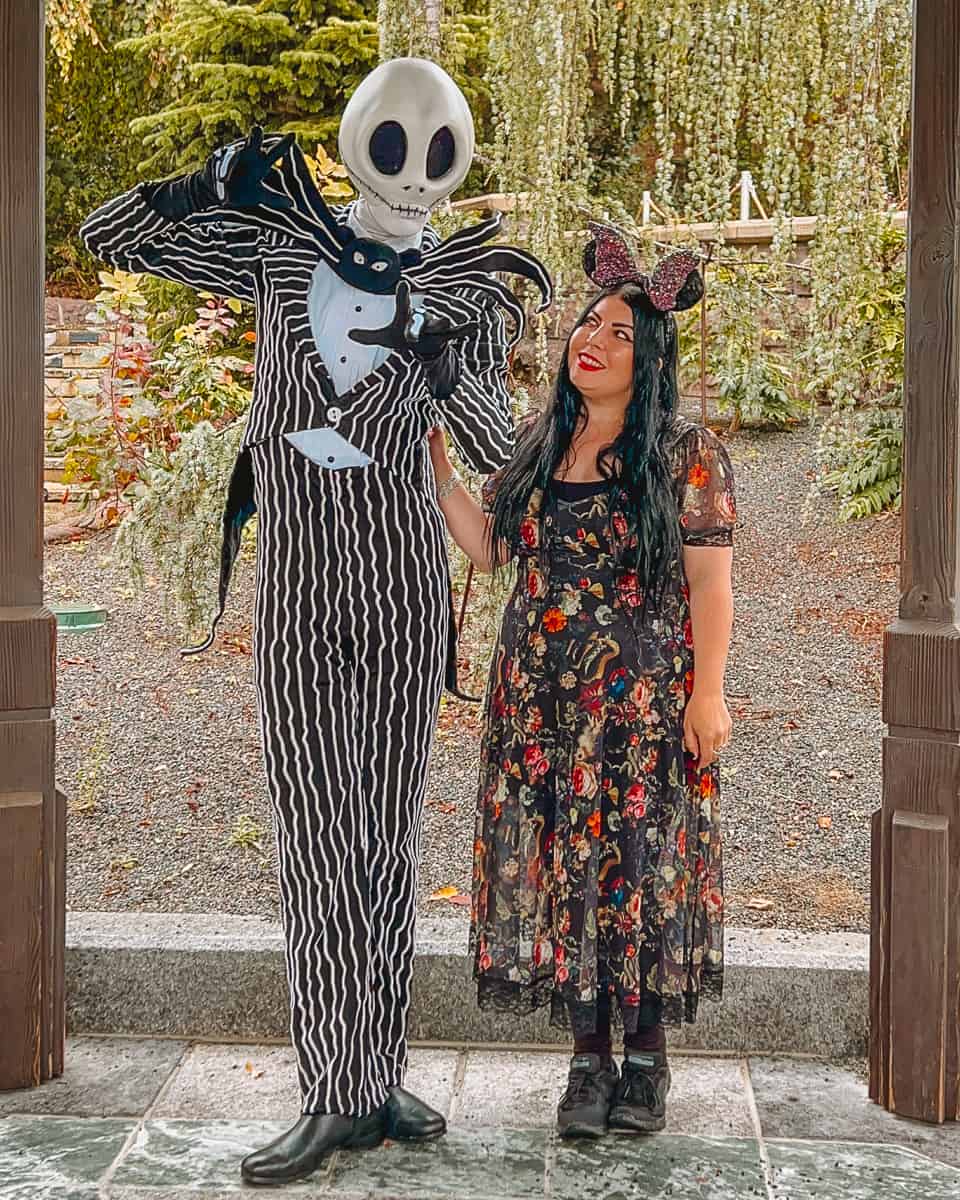 50. Take a ride on Molly Brown & find hidden scenes
I love getting the Thunder Mesa boat ride in Disneyland Paris as it's a vintage steamboat with lots of antique compartments.
But, if you step out onto the decks you'll find lots of hidden gems on the scenic journey circling Big Thunder Mountain.
Look out for a smugglers' cave, a snoozing fisherman, a skeleton of T-Rex, and a huge geyser!
Disneyland Paris Hidden Gems in Walt Disney Studios Park
As well as hidden gems in Disneyland Park there are lots of Walt Disney Studios Park secrets to uncover as well.
This area has lots to see including the World of Pixar, Tory Story, Finding Nemo, and the brand new Marvel Avenger's Campus.
Here are all the Disneyland Paris secrets to find there;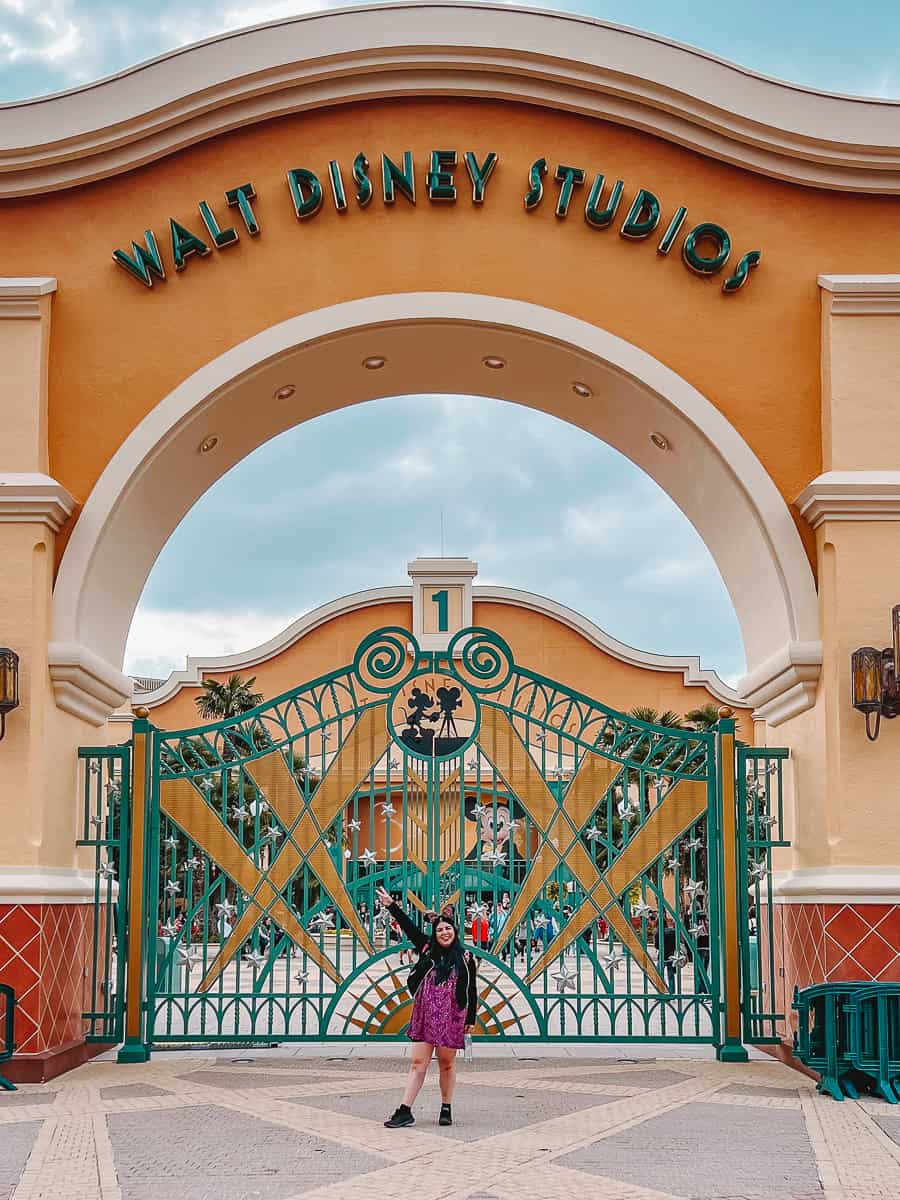 51. Toy Story Walls
As you make your way over towards Cars ROAD TRIP (previously the Studio Tram Tour: Behind the Magic) you can find some amazing Disney Walls with a Toy Story theme.
On the one side, you'll find Buzz Lightyear's wings and it says 'To Infinity and Beyond'. You can pose in the middle to look like you're flying.
The other has a group of the Toy Story Aliens waiting for 'the clawwwww' and you can pose as if the claw is going to select you!
Both of these walls make great photo opportunities and add a bit of Toy Story Magic to your day.
52. Scream Door from Monsters Inc.
Just before the highly popular Crush's Coaster, you'll find an awesome Monster Inc. area to your right.
This used to be a place where you can meet Sully and there used to be a statue of Mike. But, now it's a Screaming Zone so it can get pretty noisy!
But, right beside this area, you can find Boo's Door. It makes a great photo spot.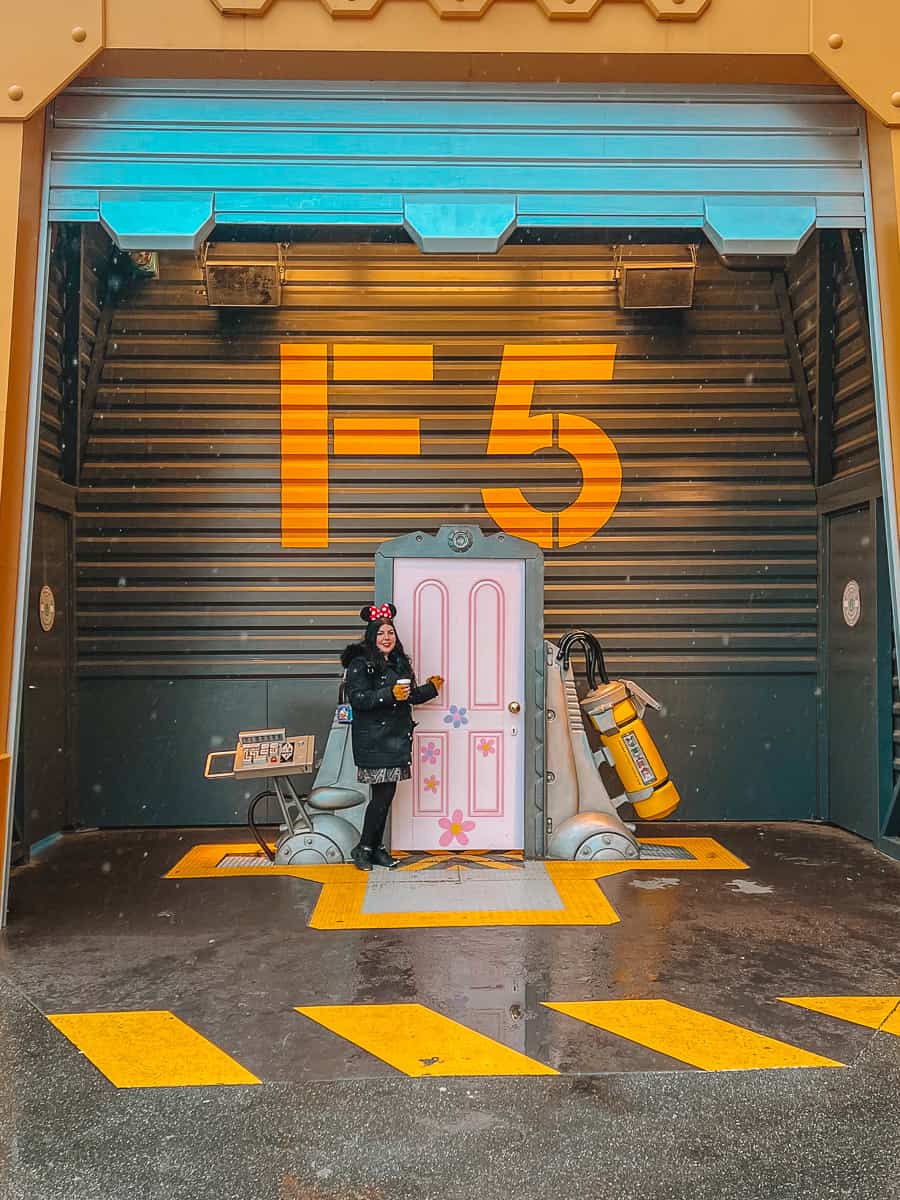 53. Statue Gallery under Sorcerer Mickey's Hat
Walt Disney Studios Park has a huge statue of Sorcerer Mickey's Hat next to the Animation Studios. It's hard to miss as you can see Peter Pan, Wendy, and Tinkerbell flying around the top.
But, if you approach the hat, you'll find a very sweet gallery of miniature bronze statues beneath it.
They are almost hidden by a hedge row and that's why they are one of the best Disneyland Paris secrets.
I really miss the Sorcerer Mickey Hat from Hollywood Studios in Orlando so I always like to see a version of it here in Euro Disney.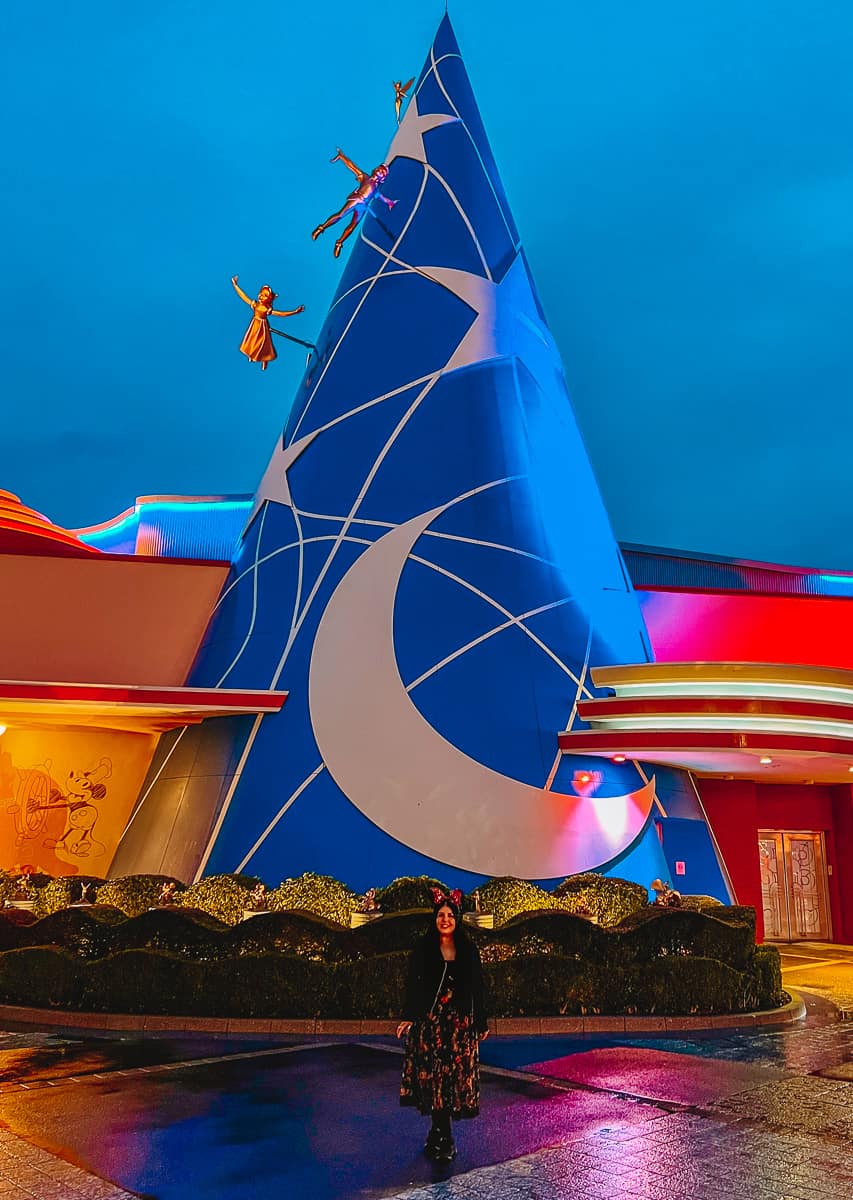 54. Play with the lights in Studio 1
Studio 1 is the main entrance of the Walt Disney Studios Park. You can take a stroll down Hollywood Boulevard during the golden age of film.
There are lots of things to find in the Tinsel Town of Studio 1 like Hep Cat Corner, Les Légendes d'Hollywood, Restaurant en Coulisse, and Gossip Column.
But, did you know that you can play a part in the set? There are buttons to play with the lights in Studio 1 to find inside. Lights, Camera, Action!
Disney Village Secrets
Lastly, there are a few secrets and hidden gems found in Disney Village which is an entertainment complex found outside of the Paris parks.
You don't even need a park ticket to enter and many of the things to do here are completely FREE. It makes a great night out in Paris if you don't mind a journey.
Here are some of the Disneyland Paris secrets you can find here.
Related post – 25+ magical & FREE things to do in Disney Village Paris
55. See Marvel Statues on Lake Disney
Part of Disney Village and the Disney Hotel Resort area is the majestic Lake Disney.
You can take a stroll around this picture-perfect lake and see features like the PanoraMagique air balloon, Newport Bay Club, and Hotel New York – The Art of Marvel.
Look out for Marvel statues and hidden gems as you make your way around. You can find Tony Stark and some familiar characters.
Related post – Newport Bay Club review – is the Compass Club worth it?
56. Sleeping Beauty's Castle model in Disney Gallery
Disney Village has lots of amazing shops and one of my favourites is the Disney Gallery which is filled with artwork, pictures, and models to buy.
If you head to the very back of the store, you'll find Sleeping Beauty's Castle in miniature form.
It's a very detailed model that has been created with all the finer features including the gardens and square trees.
57. Disney LEGO Store statues
Visiting LEGO stores are always fun as you'll find some incredible models that have been made completely out of LEGO bricks.
The Disneyland Paris LEGO store is no different. You'll find statues of Sorcerer Mickey in Fantasia, a mural of Maleficent's Dragon fighting Prince Philip, and R2 D2.
As well as looking at the statues, this store has many LEGO sets that you can buy to take home and build. You can recreate some of your favourite Disney moments.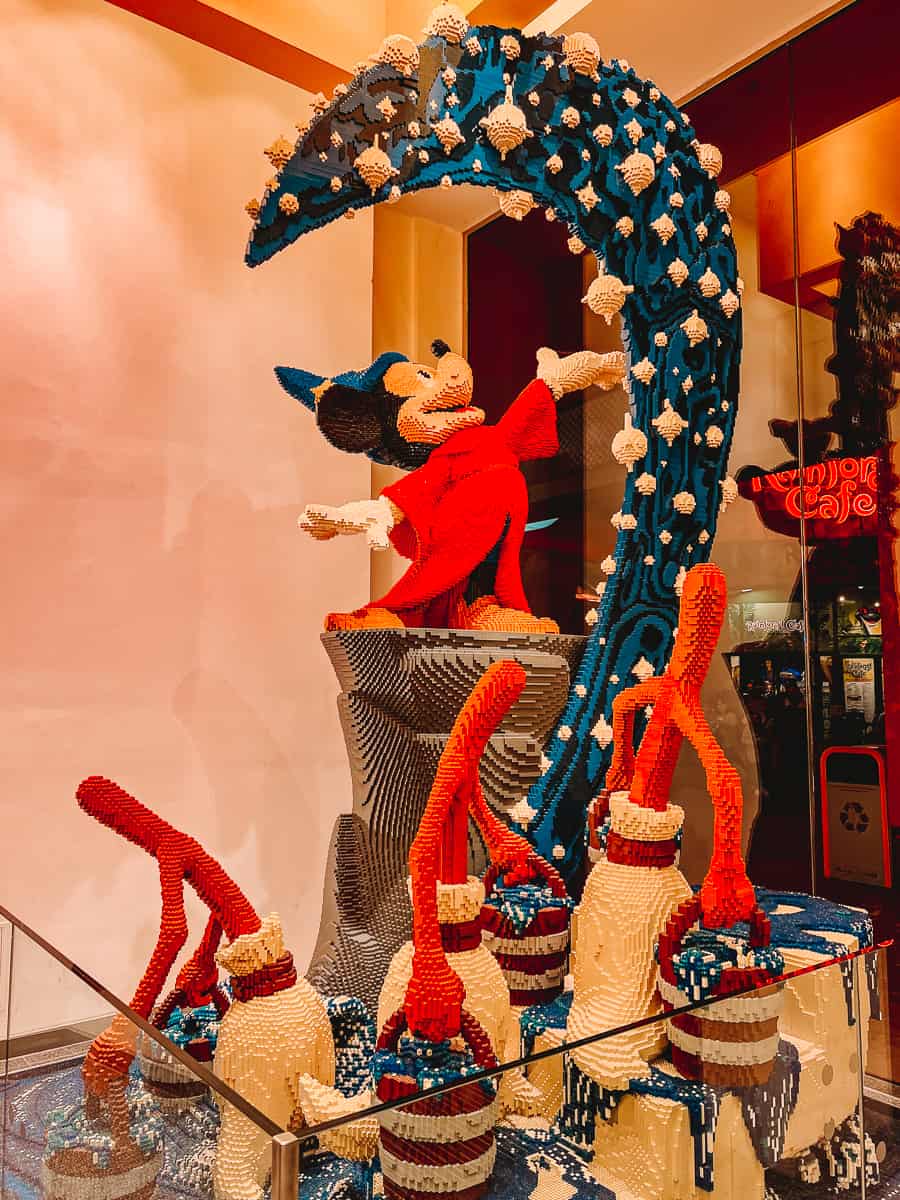 Can you find all these Disneyland Paris secrets & hidden gems?
So, that's all the Disneyland Paris secrets I can think of or have seen in the parks and it's a big list. Can you find them all on your visit?
I'm sure there is even more than this. So, if you know of any other hidden gems at Disneyland Paris please make sure to leave a comment below.
I hope you had fun finding these Disneyland Paris easter eggs. They make such a cool treasure hunt, especially if the rides have long lines.
Make sure to subscribe to my mailing list for even more Euro Disney travel guides to help you on your trips.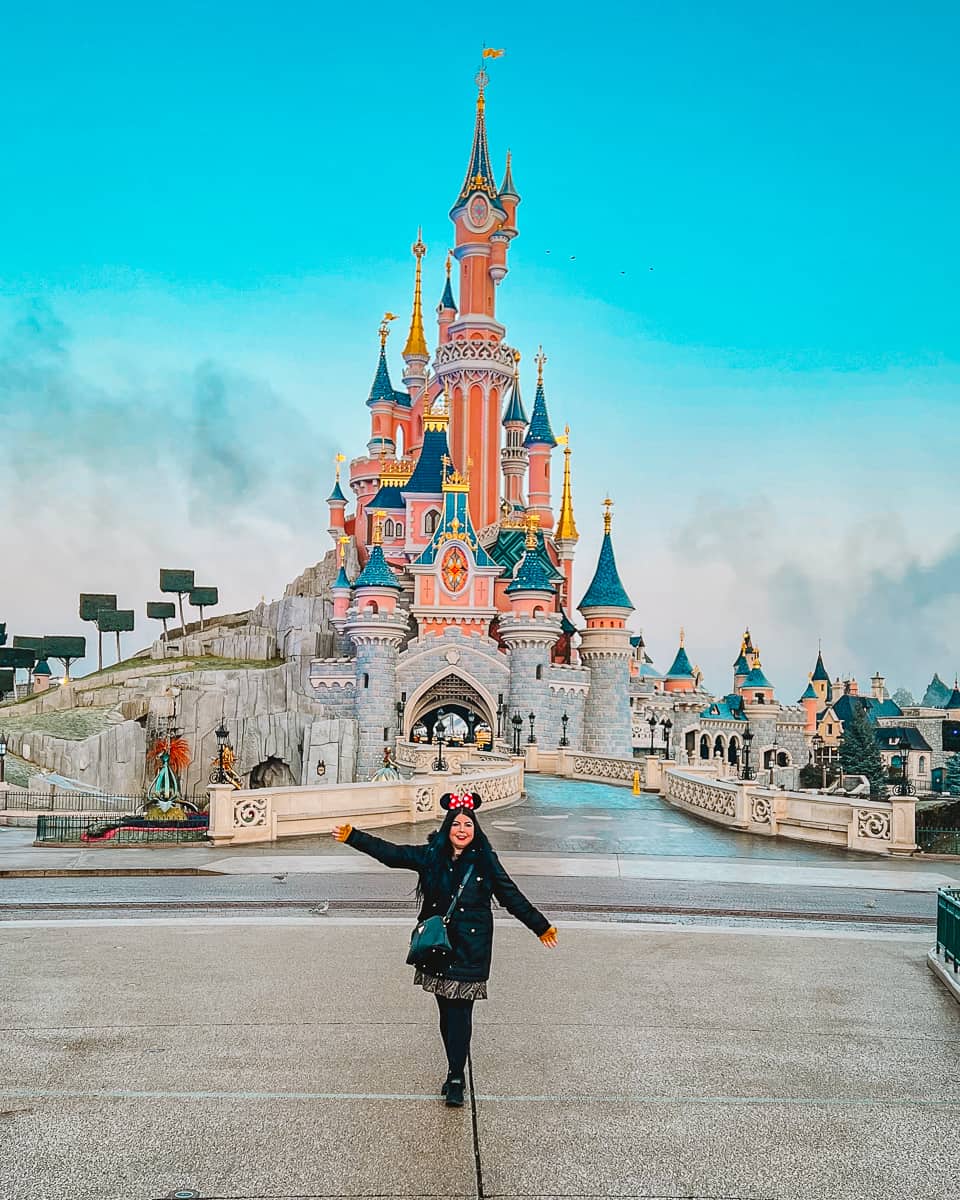 Book your tickets for Disneyland Paris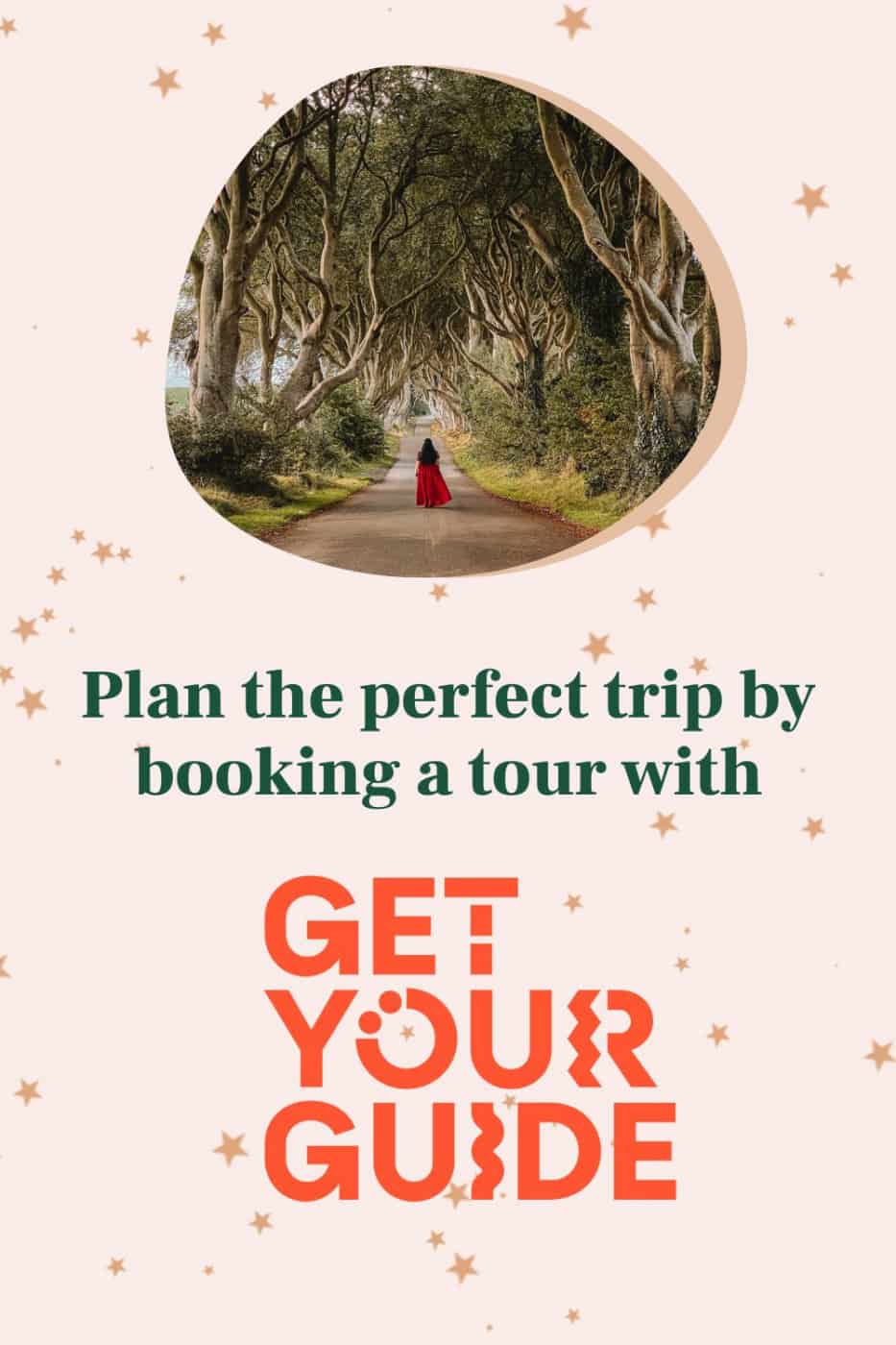 Pre-book tickets to Disneyland Paris!
Read more of my Paris guides
Pizzeria Bella Notte Review – Lady and the Tramp restaruant
Walt's An American Restaurant Review
How to get an empty Versailles Hall of Mirrors Photo
Pink Mamma Paris Review – is it worth it?
How to eat at Bistrot Chez Remy Ratatouille Restaurant
How to find Jim Morrison's Grave at Pere Lachaise Cemetery
How to visit Merlin's Castle aka Chateau de Pierrefonds
A guide for visiting Saint-Chapelle Paris
Is Auberge de Cendrillon Princess Dining worth the price?
Save this list of Disneyland Paris secrets & hidden gems for later!