One of my favourite haunts in the North York Moors has to be Sherlocks Whitby.
It's a delightful coffee shop, escape rooms, and lodging house dedicated to Sherlock Holmes, the Great Detective of 221b Baker Street.
As soon as you set foot in the door, you'll feel like you've been transported back to Victorian times and you can lose yourself in the chinking of china teacups and some mouth-watering baking.
It's a must-visit for any fan of Sherlock Holmes and you cannot miss doing some super-sleuthing whilst you're here.
The game is well and truly afoot! Here is a complete Sherlocks Whitby review.
Sherlocks Whitby history
According to Sherlocks Whitby, this coffee shop on Flowergate had its humble beginnings as a lodging house in the 17th-century. Then, it became a butcher and later a Quaker meeting house.
It was finally purchased by the Holmes family in the 1800s and a young Master Holmes would enjoy time in the sea in Whitby before 'taking the waters' at Bagdale Spa and Pennett Park.
It is said that young Mr. Holmes would muse on his logic and solve puzzles while enjoying a cup of tea and home baking.
Sherlocks invites all its customers to enter the café and do the same while they are here. After all, it's elementary!
Sherlocks Coffee Shop
As soon as you walk into Sherlock's Coffee Shop you'll feel like you have been transported back in time and have landed in 221b Baker Street!
The whole café has been decked out in Victoriana with a hodgepodge of paintings, books, and curios. You'll feel that The Great Detective will walk in to greet you at any moment.
You won't find Mrs. Hudson but you will be greeted by some lovely staff who will show you to your seat and present a menu to inspect.
Sherlocks Coffee Shop, naturally, sells some incredible coffee but they also serve up Yorkshire Cream Teas too. There are light lunches and the most incredible cakes.
The last time I was here, I had a cheesecake that was set in an Easter egg and it was glorious. You can lose yourself entirely for a while here.
Sherlock Holmes escape rooms Whitby
If you wanted to extend your stay, you can now experience a Sherlock Holmes Escape Rooms in Whitby too.
The Great Detective has been invited to a Curio exhibition at Whitby Museum which includes a rate Golden Hand…only to find it's gone missing!
Can you help Sherlock solve the case? You'll have one hour to try and solve the mystery and escape the room.
To play you need a minimum of 2 people and it can hold a maximum of 6. Prices start from £40 and you can book a time slot throughout the day.
Click here to book the Sherlock Holmes Escape room
How to visit Sherlocks Coffee Shop in Whitby
Sherlocks Whitby can be found on Flowermarket, a street that can be found almost opposite the Whitby Bridge.
Look out for a 'Custom House' sign opposite the bridge and walk past the Golden Lion pub. Head around the corner and straight up that street to find the coffee shop.
Be warned that Flowermarket is a very steep street! It's also a very popular coffee shop so you may have to queue for a table at peak times or on weekends.
Sherlocks Coffee Shop opens from 10 am Sunday – Friday and 9 am Saturdays but closing times vary throughout the week. The latest it remains open is 9 pm on a Tuesday.
Sherlocks Whitby address is 10 Flowergate, Whitby YO21 3BA. Click here for a Google Pin!
Sherlock Lodgings Whitby
If you are a Sherlock Holmes fan, you'll be happy to know that can now stay in this favourite haunt of the Great Detective whilst in Whitby too!
Sherlocks Whitby has two delightful B&B rooms that you can book overlooking the Flowergate or the River Esk.
Each room has modern amenities including tea and coffee making facilities, Bluetooth radios, fluffy towels, and complimentary homemade toiletries.
As a bonus, you also get 10% off Sherlocks Coffee Shop and 20% off any escape rooms that you visit.
Click here to book your stay at Sherlocks Whitby
Looking for more things to do in Whitby?
Whitby is one of my favourite seaside towns on the North York Moors coast. It's famous for its connection to Bram Stoker's Dracula!
Click here to read my Dracula travel guide for Whitby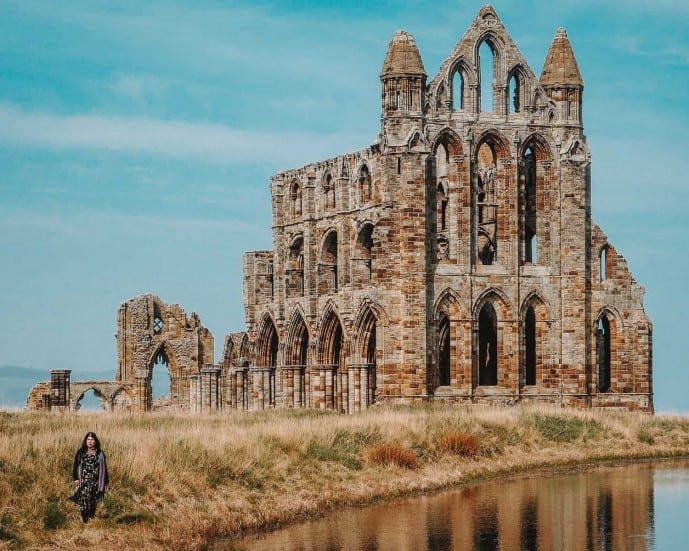 After you have finished your coffee at Sherlocks Whitby, you can make your way up the 199 steps (make sure to count them) and visit the famous Whitby Abbey.
You can take an open-top bus ride around the town and stop at many places along the coastline. Or, take to the seas and ride a pirate ship on the Captain Cook Experience.
You can take in the sea air on Whitby Pier or take a walk up to West Cliff to see the Whitby Whalebones.
Read more – the most Instagrammable places in Whitby!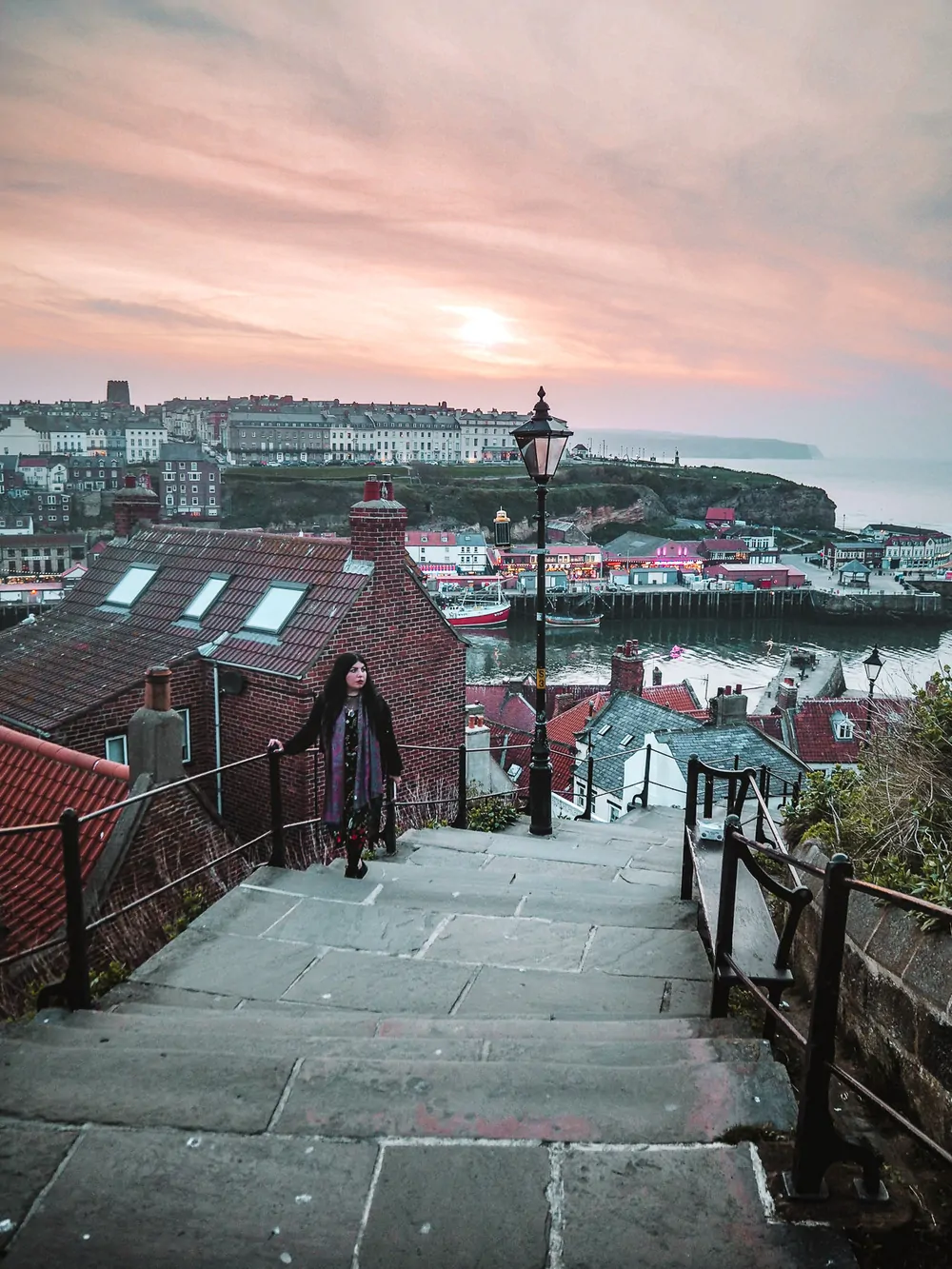 Read more of my Sherlock Holmes travel guides
How to visit 221b Baker Street in London
Sherlock Holmes' guide for Reichenbach Falls in Switzerland
Read more of my Yorkshire travel guides
Best things to do in Robin Hood's Bay
A complete travel guide for Staithes
Best things to do in Scarborough
Harry Potter guide for Goathland Station
A complete guide for The Druid's Temple in Yorkshire
Deathly Hallows filming location at Malham Cove
Gordale Scar Walk in Yorkshire Dales
Witcher guide for Fountains Abbey
Brontë things to do in Haworth
How to visit the Brontë waterfall
Magical Things to do at Mother Shipton's Cave
Save Sherlocks Whitby for later!