One of the best waterfalls in Ireland has to be the magical Powerscourt Waterfall which is the highest cascade in the country.
You'll find it deep within the Wicklow Mountains National Park and it's where the River Dargle crashes down from a height of 121 metres or 397 feet.
The water dramatically cascades over a cliff face in a lush valley of the vast Powerscourt Estate. So, there's plenty of woodland, walking trails, and wildlife to discover.
But, many people use this green space as a place to relax as it's so easy to visit. There are lots of places to set up a picnic with an incredible view.
It also makes a great day trip from Dublin as it's less than an hour's drive away!
Here is a complete guide to the majestic Powerscourt Waterfall and how to visit it in County Wicklow, Ireland.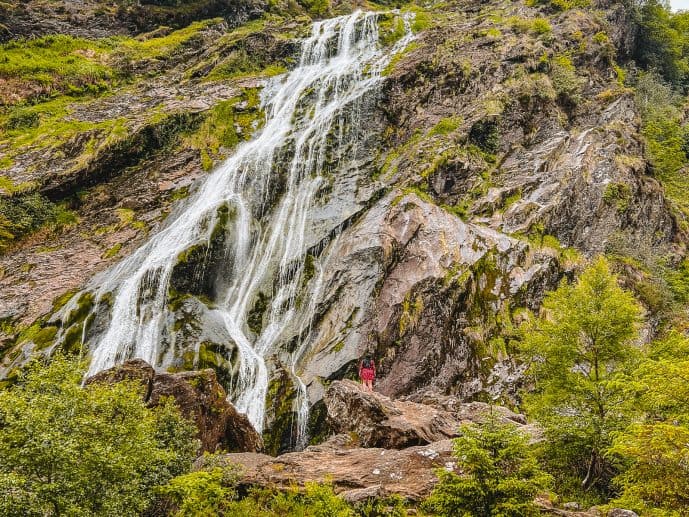 Powerscourt Waterfall history
Powerscourt Waterfall was formed over 20,000 years ago from a melting glacier during the last Ice Age.
The cliff where the River Dargle falls from is 121 metres high or 397 feet. It's known as a horsetail waterfall as the water stays in contact with the bedrock.
Later, it became a prominent feature of the Powerscourt Estate which has been the home of Viscount Powerscourt for centuries.
In 1741 Richard Wingfield, 1st Viscount Powerscourt, commissioned Powerscourt House to be built in the Italian style. The waterfall was often used to impress notable visitors.
In 1821, King George IV was a guest of the 5th Viscount Powerscourt and took up lodgings in Powerscourt House.
They stopped the cascade by creating a 'dam' above the waterfall and the plan was to let the cascade fall in his honour as a surprise after their sumptuous banquet.
They even made him a special viewing platform for the occasion where he could stand to watch.
Luckily, King George never made it to the waterfall during his visit as he was too full and in his cups. When they released the dam, the water crashed down and washed away the viewing platform where he was meant to stand!
Today, Powerscourt Waterfall is a popular attraction in the Wicklow Mountains National Park and is advertised as the highest waterfall in the country.
Is Powerscourt Waterfall the tallest in Ireland?
This is widely debated but Powerscourt is advertised as the highest waterfall in Ireland by the estate at 121 metres or just under 400 feet.
But, it seems it's actually the second-highest waterfall in Ireland. The tallest is Sruth in Agaidh an Aird aka 'The Devil's Chimney' that is 150 metres high (492 feet).
You can visit the cascade above Glencar Lake of the Dartry Mountains between County Sligo and County Leitrim.
Regardless, Powerscourt Waterfall is an impressive cascade that's a must-visit in County Wicklow.
What is the best time to visit?
The best time to visit Powerscourt Waterfall would be after a few days of heavy rains for the best cascade. Luckily, this isn't difficult for Ireland.
I have to admit, I went in May during a heatwave and it was a pretty cascade but more like a trickle compared to what the water levels normally would be.
If you want to avoid the crowds, I would skip weekends and go for a weekday instead. Also, visit early in the morning or later in the evening.
Visitors like to use the area surrounding the waterfall as a picnic field and set up BBQs with loud music. Some people camp out and spend the entire day here if it's warm weather!
If that's your vibe, great. But, if you just want to appreciate the natural beauty of the waterfall in peace, I would pick a quieter time.
How to visit Powerscourt Waterfall
Powerscourt Waterfall is located on Powerscourt Estate in County Wicklow and is part of the Wicklow Mountains National Park.
The easiest and most convenient way to visit the waterfall would be to drive.
It is around an hour's drive from central Dublin or a 20-minute drive from south Dublin so it makes an easy day trip from the city. Or, it's a two-hour drive from Belfast.
You can take the N11 road southbound towards Wexford. Then, you can take the Enniskerry exit towards Powerscourt Gardens. It will be signposted the entire way.
Once you reach the gardens, you'll see brown tourist signs guiding you toward the waterfall.
Powerscourt Waterfall is around 6 kilometres drive further than the Powerscourt Gardens turning and will take you another 10 minutes in the car.
If you're not driving, the walk from Powerscourt Estate or Enniskerry village is 6 kilometres on a narrow road with no pavement.
The cars drive really fast here so it's not recommended to walk as it's simply not safe. It's better to cycle.
Powerscourt Waterfall's address is Deerpark, Powerscourt Estate, Co. Wicklow, A98 WOD0. Click here for a Google Pin!
Powerscourt Waterfall opening times
The opening times for Powerscourt Waterfall change throughout the year depending on the season. So, it's always best to check before you arrive;
November to February – the waterfall is open from 10 am to 4 pm. It's closed on December 11th – 25th and reopens on 26th December/Boxing Day.
March/April and September/October – It's open every day from 9.30 pm to 5. 30 pm.
From May to August – it's open every day from 9.30 pm to 7 pm.
The last entry is 30 minutes before close from September-April and 60 minutes before close from May-August.
Do you have to pay to get into Powerscourt Waterfall?
Yes, you do have to pay to get into Powerscourt Waterfall and you pay on arrival. There will be a volunteer at the barrier on entry as you drive/walk in.
Payment can be taken in cash or contactless. You can't book tickets online or reserve a time slot.
Powerscourt Waterfall ticket prices are 7 euros for an adult and 3.50 euro for children under 16.
There are concessions for seniors and students (6 euro a ticket), family tickets for 18 euro and children under 2 go free.
You don't get any discounts or advantages for visiting Powerscourt House & Gardens or staying at the Powerscourt Hotel either – everybody pays the same fees!
Where do you park for the waterfall?
After you have paid your entrance fee at the barrier, you'll drive a further 1 kilometre to the dedicated parking area. Parking prices are included with your ticket.
Just be mindful that this drive is quite narrow and is a single lane with passing places. So, go slow and remember to give way when necessary.
You'll be parked a few hundred metres away from the cascade next to The Bug Buffet kiosk and the public toilets.
There are no toilets further down to the waterfall so I would use them at the car park before you set out on your walk.
How long is the Powerscourt Waterfall walk from the car park?
I was pleasantly surprised to find out that it only takes around 5-10 minutes to walk to the waterfall from the car park.
The walk is on a concrete path and is only a few hundred metres to get there. You'll get great views of the cascade the entire way.
Saying that, the walk down from the car park area nearest the Bug Buffet kiosk is a little steep so keep that in mind if you plan to take a pushchair, or wheelchair and/or require accessibility.
There are a few blue badge parking spaces available a bit further down so that you don't need to walk so far.
Things to do at Powerscourt Waterfall
So, once you reach Powerscourt Waterfall, there are lots of things that you can do around the area.
From admiring the cascade, setting up a picnic, chasing filming locations, or heading out on a scenic walk!
Here are all the things to do at Powerscourt Waterfall.
See Powerscourt falls up close & feel the water
Of course, the first thing you'll want to do is head to the waterfall in the valley and see it up close!
The cascade is very dramatic as it's in the Wicklow Mountains and it falls from 121 metres or nearly 400 feet down a cliff face.
Apparently, after the water falls the droplets are broken up and release negatively charged particles. So, when it hits you, it's meant to leave you feeling refreshed and relaxed.
There are lots of places to climb and get closer to the waterfall. But, heed warning signs and be careful as you go. There have been a few accidents recently and it's best to play it safe.
Set up a picnic or BBQ
As you approach the waterfall, you'll notice an entire green area that sits in front of the cascade and the mountains.
This is used as a picnic area and there are lots of benches dotted around to perch on. Or, you can set up a picnic blanket on the ground to enjoy an outdoor lunch.
There are also lots of BBQ stands if you wanted to have a cookout with a fabulous view!
Remember to leave no trace by putting all your rubbish in the bins provided. Don't expect people to clean up after you.
Take a hike around the waterfall
After you've visited the cascade up close and had a look around the base of the waterfall. There are some short walks that you can take on the Powerscourt Estate.
There is a short, 1.5-kilometre walking trail that has been set up in the woodland that gets you a look at the waterfall on the other side.
This walk is very scenic and you'll hike over lakes, bridges, and lush trees.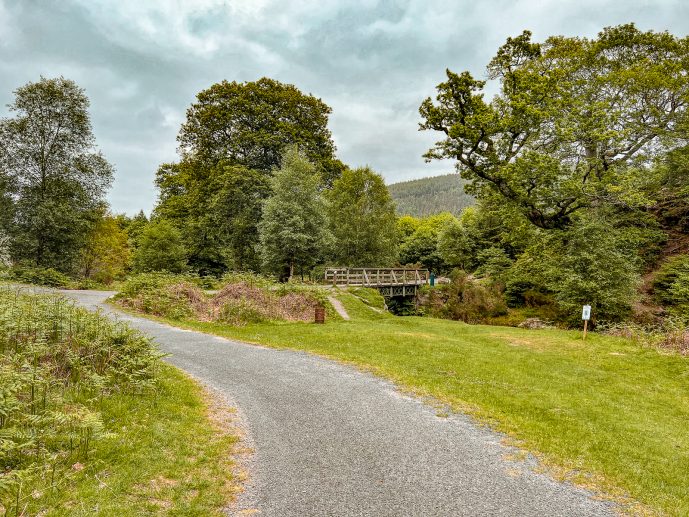 On the way, you'll see Beech, Oak, Larch, and Pine trees that were planted over 200 years ago. Also, there are Giant Redwoods too that are over 80 metres high.
You can spot lots of wildlife such as ravens, cuckoos, and willow warblers. Or, you may be lucky enough to spot a Sika Deer or red squirrel.
It only takes you around 25 minutes to complete but be warned there are some steep paths so sensible walking shoes are recommended.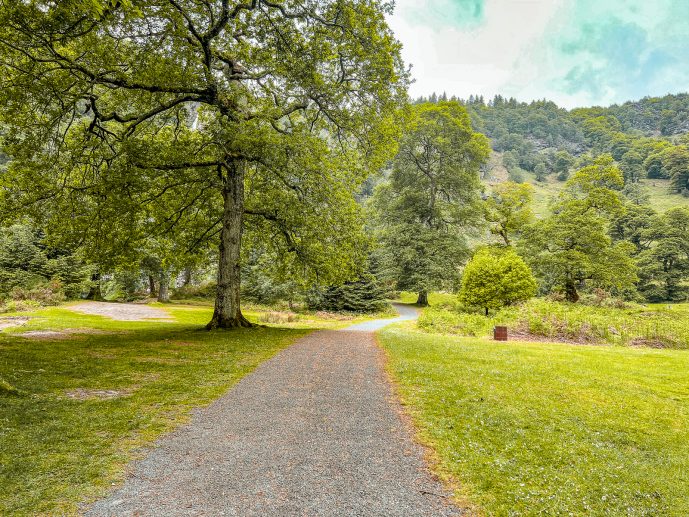 Chase down Excalibur and Vikings filming locations
Did you know that over 50 movies and TV shows have been filmed in Powerscourt Waterfall since the 1920s?!
One of the most famous is Excalibur (1981) which was filmed entirely in Ireland. Powerscourt Waterfall was used to film the fight scene between King Arthur and Lancelot.
If you are a fan of the movie, there is an entire 'Excalibur Drive' you can take to nearly all the filming locations used in the area.
It's 65 kilometres and you can relive the adventures of King Arthur and his Knights of the Round Table.
If you are a fan of the Arthurian Legends then you may also recognise this waterfall in scenes from the King Arthur 2004 movie.
The most famous TV show filmed here in recent years has to be History Channel's 'Vikings'.
In the show, this waterfall was where we are first introduced to Aslaug, Ragnar Lothbrok's future wife.
Ugh, I'm still SO bitter about that after all this time. Ragnar truly did Lagertha dirty and it was his biggest mistake. That powerful self-respecting queen left him with dignity but she deserved so much better.
Love the Vikings TV series? You can visit Kattegat nearby from Vikings & Vikings of Valhalla. Click here to read my visitor guide to Lough Tay aka Guinness Lake!
Visit The Bug Buffet Kiosk & playground
If you didn't have a picnic but fancy a pick-me-up, you can head back to The Bug Buffet kiosk near the car park.
Here, they serve up hot drinks, cold drinks, snacks, and ice creams throughout the day.
If you have little ones with you, they may enjoy the play park just outside with swings and slides!
Is Powerscourt Waterfall worth it?
100% YES! Powerscourt Waterfall is well worth visiting and it's one of the prettiest waterfalls you can visit in Ireland.
The cascade is so dramatic and falls within a scenic valley in the mountains but it's also very easy to access.
Although there is a small visitor fee, it's so convenient to park up and visit on a short and simple walk.
There are places to set up a picnic, filming locations to scout, walking trails and wildlife to discover, and places for kids to play. There really is something for everyone here!
Don't miss a visit to Powerscourt Waterfall on a road trip through Ireland. You won't regret it.
My top tips for visiting
Visit early, on a weekday or evening – Powerscourt falls can get very busy, especially on weekends. People spend the whole day here as there are picnic areas etc. I would visit on a weekday and either early morning or later in the evening for fewer crowds. I visited around 6 pm in May and had it pretty much to myself.
Watch out for midges – there were SO many bugs here in summer by the water. Bring DEET if you're the type they like to bite. They are not poisonous but you'll get itchy red blotches.
Be careful exploring – there have been some tragedies here. Recently, a poor boy climbed up the falls, slipped, and fell to his death. So, heed warning signs, be cautious, and watch your step.
Commercial photography and drones are banned – you can't do commercial photoshoots here or fly a drone unless you have prior permission.
More things to do around Powerscourt estate
Powerscourt Estate is way more than just the waterfall. If you have the time, I would recommend heading to Powerscourt House and Gardens.
There are 800 years of history on this estate and was home to a medieval castle once upon a time. But, the house is an 18th-century structure built by the 1st Viscount Powerscourt and completed in 1741.
Today, this house is filled with local businesses like the Avoca Terrace Café and boutiques. It's actually free to enter the shopping area, you only pay to visit the gardens.
Powerscourt gardens are designed in an Italian style and you can visit 47 acres of beautiful landscaped grounds.
On the way, you'll see features like the ornamental lake, statues of mythical creatures, Gods and Goddesses, a pet cemetery, and Japanese gardens.
I loved visiting the Pepperpot Tower in Tower Valley where you can climb up to the top and see sweeping views over the park to Sugar Loaf Mountain.
Fun fact: Pepperpot Tower is where they filmed scenes for The Tudors TV show. Anne Boleyn is carrying a baby Elizabeth I through the gardens and begs Henry to have mercy.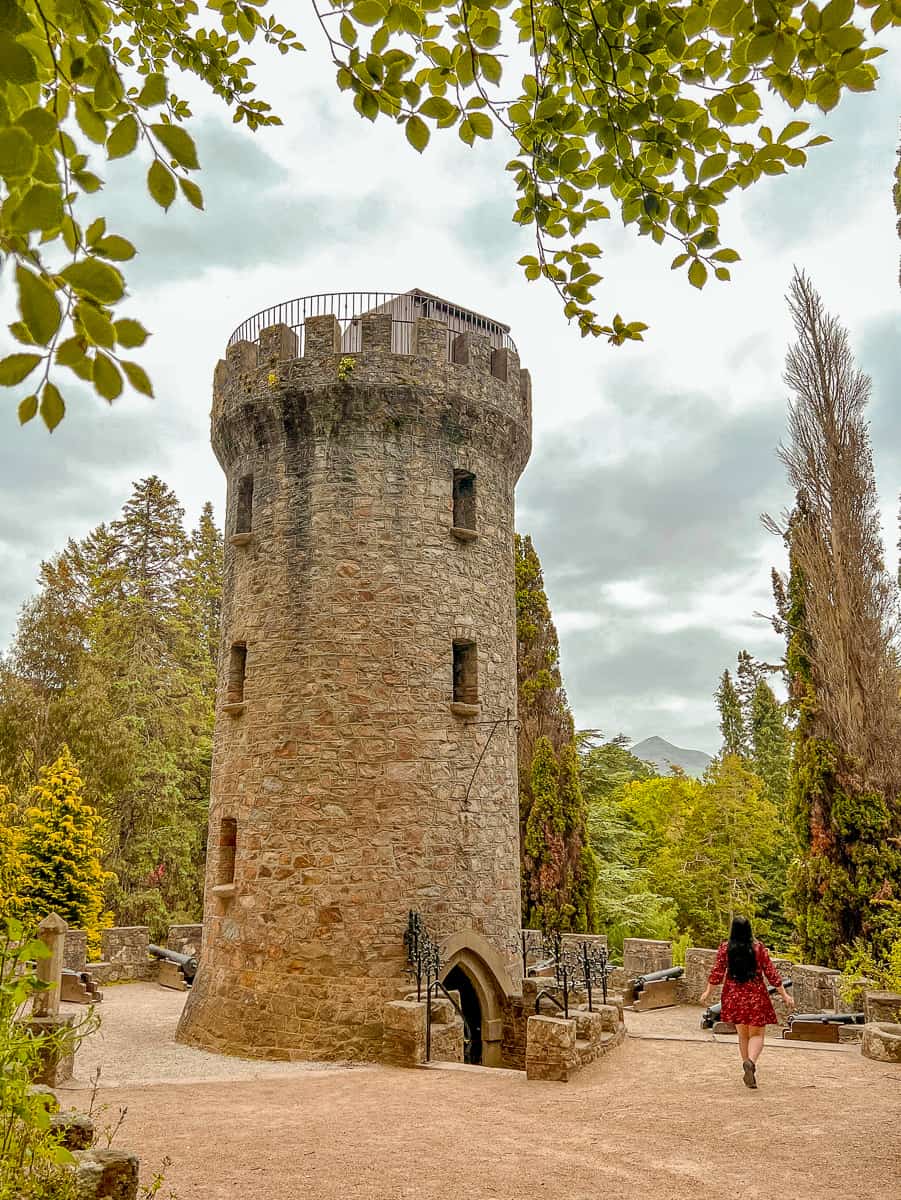 Discover the beauty of the Wicklow Mountains
After your visit to the Powerscourt Estate, there are plenty of places to visit in the Wicklow Mountains National Park.
One of my favourite places has to be the Ballinastoe Woods where you can find a magical boardwalk that feels like you're in Lord of the Rings.
Nearby is Lough Tay which is also known as the Guinness Lake. It was owned by Arthur Guinness and was used to film Kattegat in Vikings and Vikings of Valhalla.
If you're a movie buff, you may like to visit the bridge from P. S. I Love You in Blessington Lakes.
There is also the Djouce Mountain Walk, Glendalough, Sally Gap Drive, and Killruddy House and Gardens too.
You could honestly spend a week in County Wicklow and not see everything!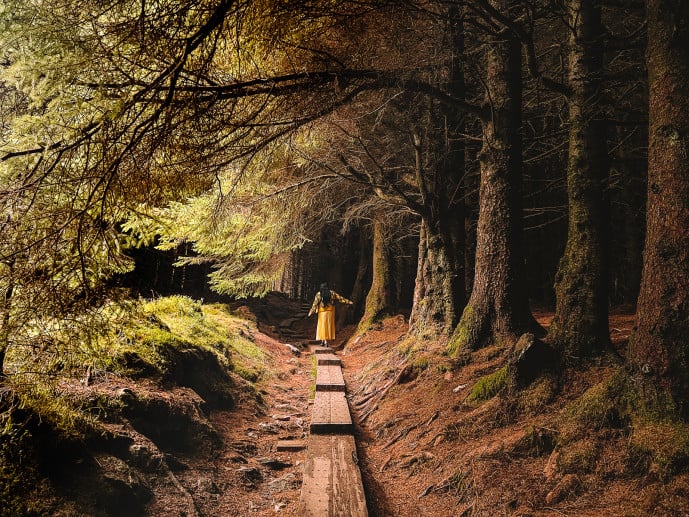 Extend your stay in the famous Powerscourt Hotel
One of the best hotels in Wicklow, and arguably in all of Ireland, has to be the Powerscourt Hotel on the 1,000-acre estate.
It's designed like a Palladian-style palace and has incredible views of Great Sugar Loaf Mountain.
It's part of the Autograph Collection and is a 5-star resort that has many luxurious rooms, sumptuous suites, delectable restaurants, and a relaxing spa.
I had the pleasure of staying here and got upgraded to a suite. My room was bigger than an apartment and had two double beds, a huge bathroom, a lounge area, and a walk-in wardrobe.
The breakfast room overlooked the Sugar Loaf and the grounds were so peaceful and tranquil to explore.
I would highly recommend staying here if you plan to visit Wicklow. It's the perfect base to explore the area.
Click here to book your stay in the Powerscourt Hotel & Spa
Read more of my Ireland guides
Visit the Cliffs of Moher Harry Potter Cave
A magical guide to Torc Waterfall
Visit the magical Muckross Abbey ruins
How to capture Deck of Cards Cobh
How to find the Umbrella Street Dublin
Visit Trinity College Long Room Library in Dublin
Marsh's Library – visit the oldest public library in Ireland
How to visit the Pollnagollum Cave Game of Thrones location
How to find the Umbrella Street Belfast
Guinness Storehouse in Dublin review
Save how to visit Powerscourt Waterfall for later!