Rajasthan is filled with incredible hotels, but there aren't many properties that can compare with the likes of Narendra Bhawan Bikaner.
As soon as I was graciously welcomed in by my hosts, I knew I was going to love it. A red sandstone palace fit for a queen with a stylish Art Deco design, what isn't there to love?!
I'm very much a traveller that picks a hotel to spend time in rather than just a base for sleeping and Narendra Bhawan was the perfect place for that. I felt instantly at home.
This hotel is packed with history, incredible rooms, spectacular views, delectable food and has so much character to boot.
Here's a detailed Narendra Bhawan Bikaner review with the top seven reasons to stay here on your trip!
Disclaimer: I was sponsored for two nights at Narendra Bhawan Bikaner, but I loved it SO much I extended for an extra night on my own dime! All photos and opinions are my own.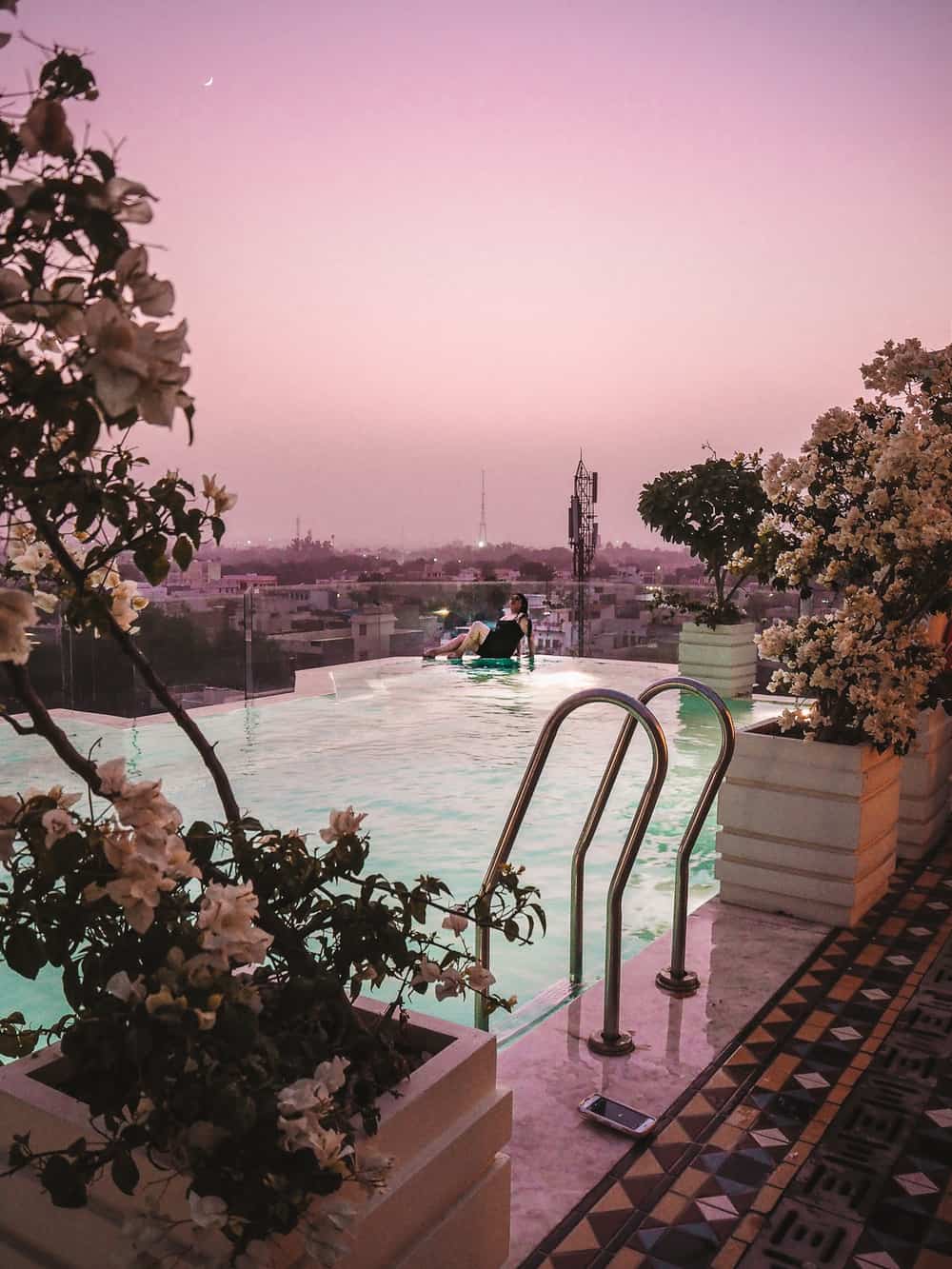 Is Bikaner worth a visit?
100% YES! To tell you the truth, having lived in Jaipur, I am kicking myself that I have not made it to Bikaner sooner than this.
It doesn't get as much tourism compared to the likes of the bigger cities like Jaipur and Udaipur, so it's the perfect chance to see some of the 'real Rajasthan' without all the crowds.
Bikaner has so much to offer visitors in terms of forts, palaces, temples, food, sweets, shopping, and the mysteries of the desert too!
So, I wouldn't hesitate to add it to your Rajasthan itinerary on your travels.
Where is Bikaner in Rajasthan?
Bikaner is in the North West of Rajasthan, it's actually only around 100 kilometres from the border of Pakistan!
It's located in the middle of the Thar Desert, similar to Jaisalmer, and so the temperatures can reach highs of up to 50 degrees in the summer months!
It's easily accessible from the likes of Jaipur, Jodhpur, and Ajmer by road and you can reach there within around 5 hours.
How to reach to Narendra Bhawan Bikaner
Despite Bikaner not seeing as many tourists, the good news is that it's easily accessible by public transport when you're in the state of Rajasthan.
There are even direct flights to Bikaner if you're coming from further afield so it makes the perfect weekend getaway without the fuss of long-term travel.
Direct flights to Bikaner
Bikaner has a domestic airport which is located around 15 kilometres from the main part of the city.
There are currently direct flights that run from Delhi and Jaipur and the prices are pretty reasonable. From Jaipur, I found tickets for less than 1,500 rupees (£17!) for one way!
From here, you can organise a luxury car transfer with Narendra Bhawan Bikaner to reach the hotel.
Click here to look up flights to Bikaner with Skyscanner, this is my go-to flight booking website!
Trains to Bikaner
Bikaner has a railway station, Lalgarh Junction, that connects with cities such as Jaipur, Jaisalmer, Kota, Mumbai, and New Delhi.
I always use Cleartrip to book train tickets in India as usually, the IRCTC (Indian Railway Catering and Tourism Corporation) website makes me want to tear my hair out. Saying that it is quite simple once you've set it up to book tickets.
Trains are comfortable but not necessarily the quickest option to travel to Bikaner if you're in Rajasthan.
If you're unfamiliar with train travel in India, don't forget to look up some of my best India train travel tips here.
Direct Bus to Bikaner
It may surprise you but actually, the quickest way I could find to travel from Jaipur to Bikaner was by bus!
The RSRTC (Rajasthan State Road Transportation Corporation) has a luxury AC bus that runs from Jaipur bus station straight to the Bikaner bus stand.
It only took four and a half hours on the way there and it was really comfy. We even got free water too!
Regular bus tickets cost around 650 rupees. But, ladies get a discount on tickets in Rajasthan and so my ticket cost a mere 510 rupees (£6)! Not bad.
Click here to access the RSRTC Bus website to book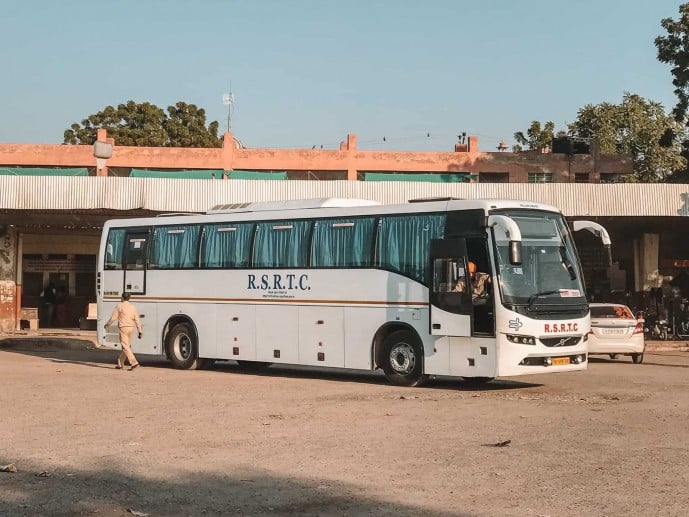 7 reasons to stay at Narendra Bhawan Bikaner in Rajasthan
So, without further ado, we'll move on to all the amazing reasons to check into Narendra Bhawan Bikaner!
I'm not going to lie, there are honestly countless reasons to stay at this Haveli but I thought I'd boil it down to my top seven for you.
1. It was the Royal Palace of the last Maharaja of Bikaner
The history of Narendra Bhawan Bikaner is what makes this place ooze with character. This regal residence used to be the home of the last reigning Maharaja of Bikaner!
His name was Narendra Singh Ji who was born in 1948. So, If you know you're history, then he was born just a year after India's independence.
He was influenced by the Bombay Art Deco Movement which was fashionable in the 1960s. So, when he built his palace in 1969, he chose a more modern interior design and threw traditional Rajasthani architecture into the mix.
He also loved to travel, so you can see a little bit of European flair too!
This was Narendra Singh Ji's home until his death in 2003. In 2005, it was acquired by hotelier Manvendra Singh Shekhawat who designed the hotel to celebrate the life of the Maharaja; hence the name.
By 2008, Narendra Bhawan Bikaner was born and the building had been converted to accommodate 80+ rooms, luxury dining restaurants, a rooftop pool, and amenities.
So, although you're staying in a lavishly modern property, you're actually living in history – sleeping in a palace that was built by a king!
2. The rooms at Narendra Bhawan Bikaner are fit for royalty
When I walked into my room at Narendra Bhawan, I think my jaw dropped. I couldn't believe the sheer size of it!
I had a very cute Deco bathroom with a walk-in shower that was decorated in the most beautiful design.
Then, when I walked through my hallway through to my dressing room area (!), I had a full wardrobe with a dressing table/writing desk, mirror, and pouf stool to sit on.
The bedroom was exquisite with a huge and soft king-size bed, a TV cabinet with tea and coffee, and even a sofa to relax on.
I made myself at home very quickly and almost melted into the bedsheets! It was the perfect retreat for a few days.
I had the Prince Room category on my visit. But, you can book the Residence Room which is one category below. Or, if you're feeling flush you can book the Regimental Rooms, India Rooms, or the Republic Suite!
3. It has the most incredible view from the rooftop pool
I'm a sucker for a rooftop view, I really am. So, when I found out that Narendra Bhawan not only had a rooftop view but a rooftop POOL too, I had to run up and jump in.
As I was visiting in December, every morning the clouds would roll in. So, the sunrise wasn't an option for me. But, the sunsets were to die for at this time of year!
Watching the view of the whole city from up there and seeing the different colours of the sunrise was magic. By the time the sun went down, I could see the moon, stars and the whole sky went purple. I was so addicted to the view, I pruned up big time.
As it was winter, no one was swimming in the pool really as it isn't warm. But, I found the temperature perfect. I mean, when you come from the UK if you swim anywhere outside it's cold so I'm used to it!
As well as swimming in their incredible pool, you can sunbathe in their little cabanas during the day. Or, sit on their terrace to admire the view with a cocktail at sunset.
4. You won't forget the delectable food at Narendra Bhawan Bikaner
I'm getting hungry even now just thinking about the amazing food that I ate there!
From waking up to their incredible buffet breakfast each morning, to lunching at their Pearls and Chiffon restaurant and enjoying dinner under the stars in the Thar Desert, every meal was a dream.
There is so much choice while you're here whether you want traditional cuisine or something closer to home. I'll go through all the restaurants at Narendra Bhawan below.
P&C – Pearls and Chiffon
Pearls and Chiffon, or P&C for short, is the main restaurant that you'll find at Narendra Bhawan. It is beautifully designed in Art Deco with flowers, chandeliers, mirrored walls, and spacious interiors.
I got excited to wake up each morning for breakfast with their huge buffet. They had Indian and continental hot dishes to gorge on as well as your healthy fruits, juices, health shots, and porridge!
As a Brit I loved the fact they had Baked Beans on the menu, it had been so long since I had beans on toast haha.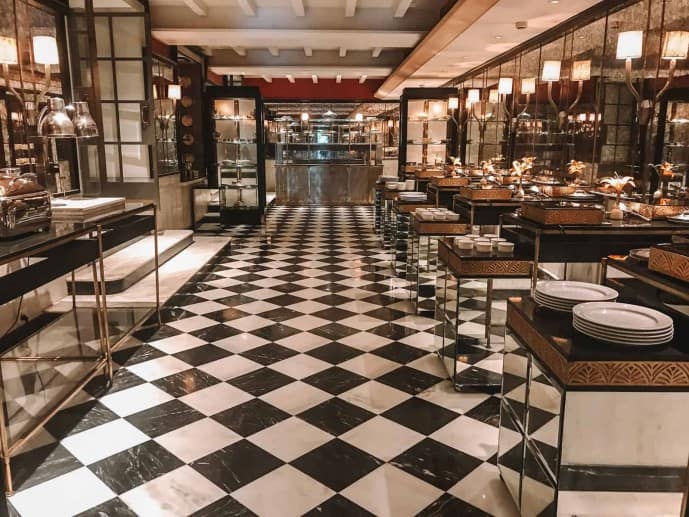 As well as breakfast, they serve up a delectable lunch and dinner here too. I was obsessed with their Italian options and treated myself to Pizza and Pasta. All tasted extremely authentic and used organic ingredients too.
It was so devilish but I couldn't help but eat their Lemon Tart. It was honestly one of the best desserts I've had in India so far. I'm a big fan of lemon and this was just up my street. You have to try!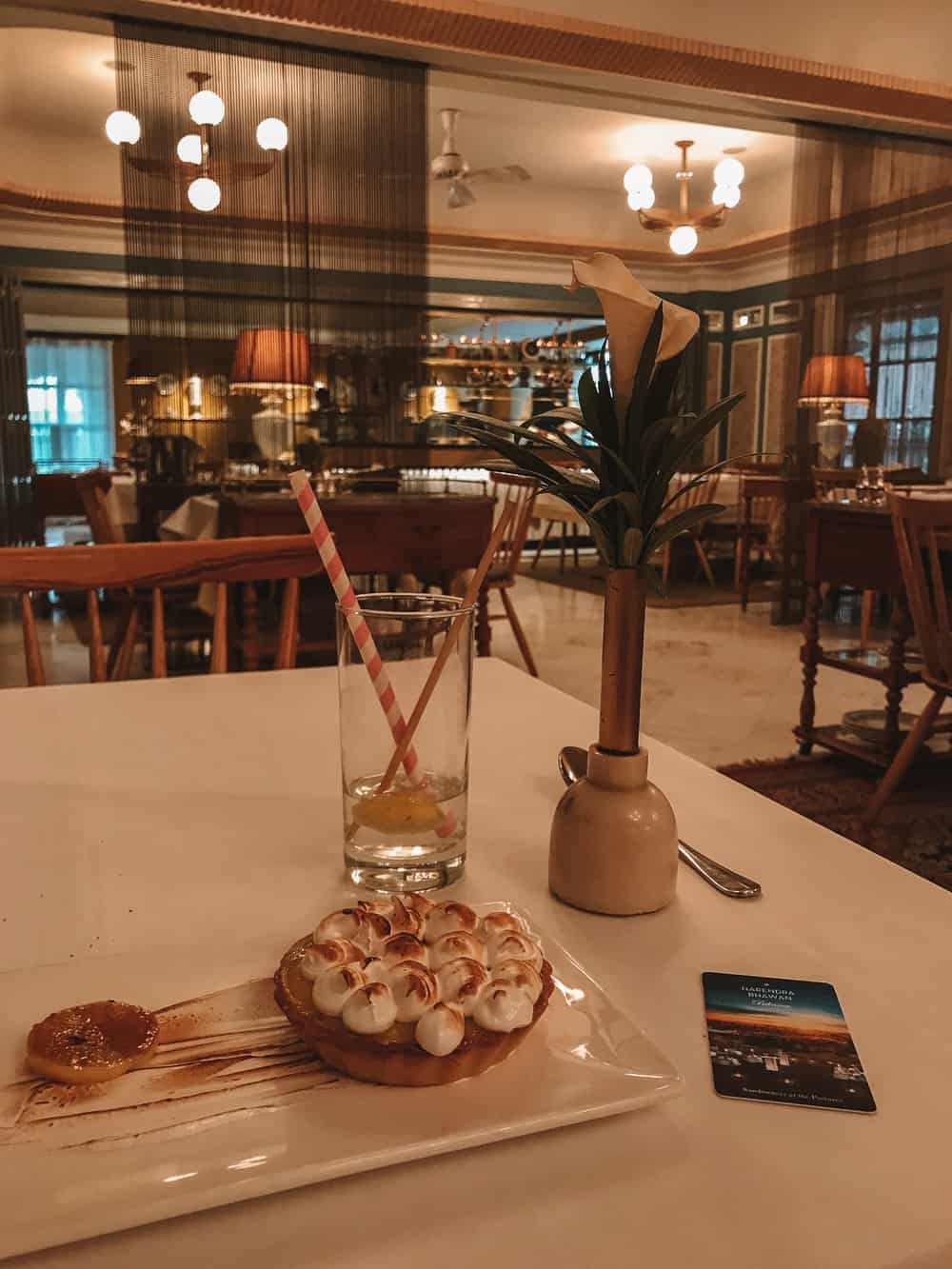 The Mad Hatter Bakehouse
Tucked away next to the P&C restaurant is the quaint Mad Hatter Bakehouse. Keeping in line with the quirky style of the hotel, just outside you'll see the crockery inspired by Alice in Wonderland.
In the Bakery, you'll find cakes, chocolate rum balls, pies, bread, and all sorts of baked goods which you can indulge in.
If you fancy a tea or a coffee to accompany it, they will rustle up a tasty espresso too!
5. They can organise unforgettable experiences for you
One of the highlights of booking into Narendra Bhawan is the amazing experiences that they can organise for you while you're here.
Whether you'd like to have a dinner party on their rooftop terrace with music or have a by-gone feast fit for a Maharaja in their night room, that can all be arranged.
For me, one of the most unforgettable experiences will be the sundowner that was organised for us to enjoy.
Narendra Bhawan has a private piece of the Thar Desert where you can organise an evening under the stars with musicians, a bar, BBQ grill, dining room, and lounge area- All in the middle of the desert!
I honestly felt like royalty at this private party and felt very grateful and blessed to experience it here. If you're looking for somewhere special to celebrate – this would be the memory of a lifetime.
6. They have just introduced new spa treatments for wellness
Something I am trying to get into more this year is self-care and wellness and I think a big part of that is scheduling time to relax.
So, I was really intrigued to find out what treatments they had at Narendra Bhawan.
Interestingly, the spa here concentrates on the medicinal power of plants and flowers. Inspired by the Bach Flower Therapy, each holistic treatment has been expertly prepared to bring balance and harmony.
Not only is the design absolutely stunning, but the whole place is a sanctum of comfort and is designed to help you relax and take away your worries.
7. Narendra Bhawan Bikaner is the perfect base to explore the city
Of course, it will be hard to pull yourself away from Narendra Bhawan as it feels like home. But, if you did want to explore around the area there is so much to do you'll be spoilt for choice with Narendra Bhawan as a base.
Bikaner is an incredible city that was founded all the way back in the 15th Century by Rao Bika. He was the first son of Maharaja Rao Jodha of the Rathore clan. The same king who founded the city of Jodhpur.
So, the past has left an interesting legacy to explore through its royal forts and palaces, religious temples plus its heritage Havelis.
If you're more of the foodie type there are lots of local cuisines, snacks, and famous sweets to try as you wander around. Although Bikaner is not famous for its textiles as much as Jodhpur there are plenty of markets to explore for souvenirs too!
As a bonus, you're in the middle of the Thar desert so exploring the mysteries of the dunes is only a few kilometres away. Here are some of the highlights of places I recommend you visit as a minimum.
Read more of the top things to do in Bikaner here
Junagarh Fort / Bikaner Fort
I mean did you even go to a Rajasthani city if you didn't visit a fort? If you're travelling through Rajasthan you may be getting bored of all the forts to visit. But, I promise that Bikaner's fort has something unique to offer.
Junagarh Fort stands proud in the middle of modern Bikaner today. The construction originally started in 1589 and was named Chintamani fort during those times.
When the royal family switched locations in the 20th century to Lalgarh Palace they renamed the fort to Junagarh Fort meaning "old" fort.
Within its walls you can explore 16th-century fortifications, palaces dripping with gold and jewels like the impressive Chandra mahal, temples, museum exhibits, and some incredible views of the city too.
The great thing about exploring the fort in Bikaner is that it's not as busy as the other forts in Rajasthan. So, you can pretty much have the place to yourself, even in peak season!
Junagarh Fort is open from 10 am – 4.30 pm and costs 50 rupees for Indian tourists and 300 rupees for foreign tourists.
Bhanda Shana Jain Temple
After you've explored the fort, head over to the Bhanda Shana Jain Temple in Bikaner. It is one of the oldest temples in the city and was constructed by Bhandasa Oswal in the 15th-century.
The Jain temple is dedicated to the 5th Tirthankar Sumatinatha. Apparently, there is a legend that says that 40,000 kilograms of ghee were used when the temple was built!
I was absolutely blown away by the beauty of this temple and could have spent hours admiring all the paintings.
It's a must-visit but it will get extremely busy in the evening time so if you don't want the crowds I'd visit in the morning.
Bhanda Shana Jain Temple is FREE to visit (but remember to give a donation), its is open 24 hours
Laxmi Niwas Palace / Lalgarh Palace
If you're still not over admiring the houses of royalty yet, there is one more place that is worth checking out while you're here.
The Laxmi Niwas Palace and Lalgarh Palace, which still has a wing that is home to the Bikaner royal family, used to be owned entirely by the Maharajas of Bikaner.
Now, both palaces have been converted into heritage hotels for people to enjoy and you can also visit to enjoy some luxury dining at one of their restaurants.
I had the pleasure of visiting both in the day and the evening. Narendra Bhawan had organised a special dinner just for us in the Swan Mahal room.
Every wall was decorated in blue and gold and we had their expert chefs serve us some of their finest menus.
It truly is fit for a queen, so make sure you schedule some time to enjoy it in Bikaner!
Rampuria Haveli
One of the photos that would constantly pop up when I was researching Bikaner was its heritage Havelis in the Walled City.
These historic buildings have been here since the 15th century and have Rajput, Mughal, and British Colonial influences. So say, there are over 400 Havelis that have survived over time.
Although nowadays these are mostly empty and owned by families who moved to Mumbai/Delhi, the architecture is something to be admired.
Each Haveli is made of the signature Bikaner red sandstone and has some of the most exquisite carving work.
The most famous of these is the Rampuria Haveli which Aldous Huxley famously called the "pride of Bikaner". You can this picture-perfect spot on Joshiwara street.
Unfortunately, you cannot go inside Rampuria Haveli, but you can visit the Havelis here 24 hours a day. Definitely best paired with a walking tour of Bikaner Old Town.
Karni Mata Temple (Mandir)
Another popular temple which is located around 30 kilometres from Bikaner is the famous Karni Mata Temple.
Now, I'll warn you before you decide to go, there are thought to be 25,000 rats that reside here. So, safe to say if you don't like rats or rodents of any kind…avoid it! But, if you are not too fussed it makes for a fascinating day trip out of the city.
The temple is dedicated to Goddess Karni Mata who is the miracle goddess. The legend has it that her son, Laxman, drowned in a pool while trying to drink from it.
Karni Mata begged the God of death, Yama, to revive him. He initially refused, then relented, allowing Karni Mata's male children to be reincarnated as rats!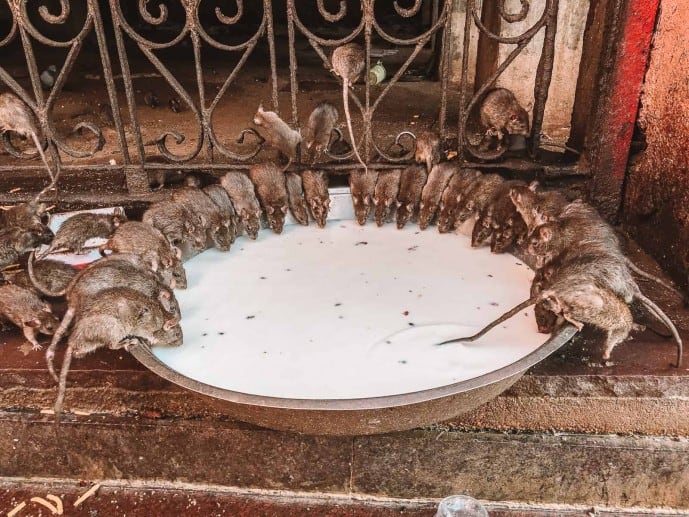 If the rat passes your feet, it's supposedly good luck, as well as if the rat bites or touches you.
Apparently, eating food that has been nibbled on by a rat is an honour but I wouldn't recommend it. If you accidentally kill one you must replace the rat with a solid silver one.
Out of the 25,000 rats at the temple, the majority of these are black rats but there are a few white rats that are here too. If you see a white rat, so say, Karni Mata will grant you anything you desire.
I was so happy when I got to see the white rat, but so were the other hundred pilgrims crushing me to death to see it too haha!
It's not for everyone, but it's not as bad as it sounds. I would recommend visiting during the day as at night is when they are covering the floor.
Karni Mata Temple is FREE to visit but you must buy a photo/video pass for 70 rupees.
Click here to read my complete guide for Karni Mata Temple with some important tips!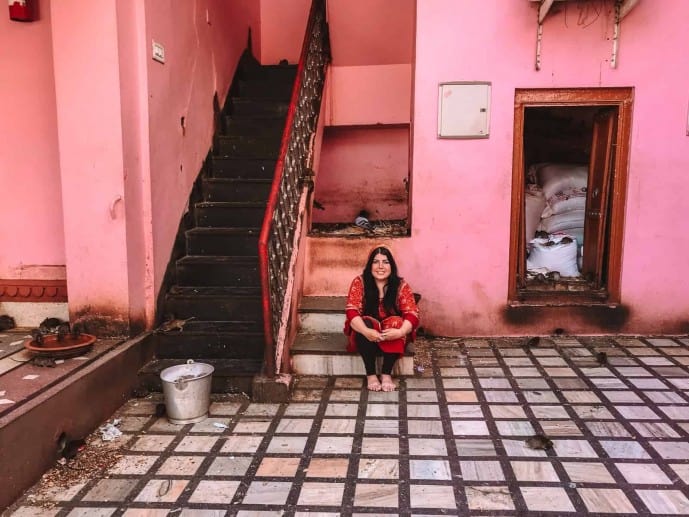 How to get around Bikaner
Of course, you can get around in Auto-Rickshaws while you're here, or order taxis which the staff at Narendra Bhawan Bikaner will be happy to organise for you.
But, I would also highly recommend taking one of their customised day tours too. Not only did I have a comfy, air-conditioned luxury car we also had the kindest driver and a BUTLER SERVICE. Every time we stopped, my driver would get out little cold drinks of water and coca-cola. It was so refreshing when out and about in the heat.
What I also loved was that my guide, Salendar, was so knowledgeable about everywhere that we visited. He knew all the locals, where to go, the history of places (which I love), and even pointed out things to look at while we were driving by.
It was an excellent service and it really made my trip more memorable!
How to book your stay at Narendra Bhawan Bikaner
So, if you'd like to book your stay in Narendra Bhawan Bikaner, it's easy to book via their website. They always have seasonal offers on so make sure to check back every now and again to check for discounts.
Of course, if you'd rather book via booking.com, you can click here to check it out too.
Staying at Narendra Bhawan was an unforgettable experience and I'm already planning how I'm going to return this year. I just loved it so much. Why can't I just live as a Rajasthani princess forever?!
Heading somewhere around Rajasthan?
If you're heading elsewhere around Rajasthan, don't forget to check out my articles. I've travelled extensively in this state and know my way around;
The perfect itinerary for Rajasthan
A tourist travel guide for Jaisalmer
Why you will fall in love with Pushkar
Everything you need to know before visiting Jaipur
Places that you must not miss in Udaipur
A luxury guide to Jodhpur
A complete guide for the Blue City of Jodhpur
Why you need to visit the peaceful city of Bundi
Alwar – a hidden gem in Rajasthan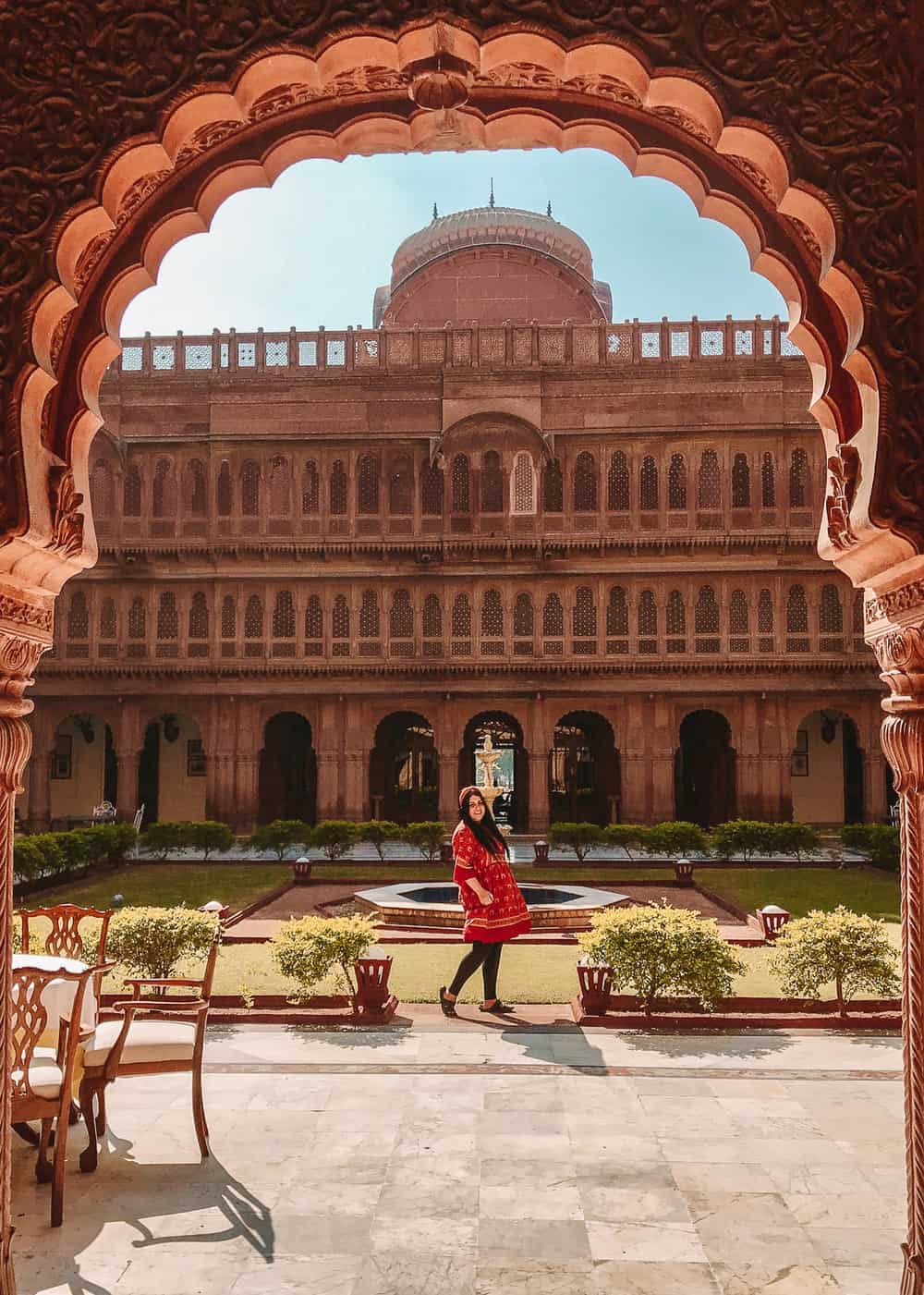 Like it? Pin it!