Are you ready to meet the Konyak tribe Nagaland headhunters?!
The fearless warriors of Mon. With tribal face tattoos of triumph and skulls laced around their necks of the heads that they have taken in battle.
Are you ready to come face to face with a head hunter?
It was an incredible feeling of admiration and anguish. To see the years of opium take an effect, the surprising kind eyes staring back, the wrinkled skin with the tribal tattoos over their face and bodies.
I had so many questions that would remain unanswered. To look at them was like looking through time. Imagine how many chapters in their life they'd written.
Even more surprising to me, was how friendly the Nagaland Headhunters were!
Most of the head hunters are now going on 90. So, if meeting them was something you really wanted to experience, I would make a trip to Nagaland sooner rather than later.
It's not easy travelling through Nagaland to the remote village of Longwa and sometimes a challenge to meet the head hunters even when you're there.
So, I've put together some fail-safe tips for meeting the Nagaland headhunters for your visit.
How to reach Nagaland & Permits
Nagaland is in North East India and can be easily reached by Dimapur airport. It's Nagaland's only airport located on the Western side.
If you have the budget, it may be worth flying from Guwahati into here. But, you'll have a journey getting to Mon which is on the East side of Nagaland. Perfect if you want to explore, not so great if you're on a time limit.
Alternatively, you can fly into Jorhat airport in Assam and make the journey into Nagaland to the East where Mon is located. The home of the Konyak tribe Nagaland headhunters.
Personally, I took a direct bus from Kohima (capital of Nagaland) to Mon but this was as I was on a budget and strict time limit. It took 18 hours and was a bumpy ride!
If you're booking through a tour, you'll most likely be driven in and they'll direct you to the best route for your journey.
Click here to read some of my tips for travelling around North East India
Do I need a permit for Nagaland?
You do not need a permit to enter Nagaland itself but you will need to inform the police station or local government official of your arrival by giving a photocopy of your ID if you're staying over.
1. Read up on Nagaland before you visit
It's always important to research what you're going to be walking into and I'd say for Mon it's a must.
The language barrier here is obvious the minute you walk in as the majority speak Nagamese and there are only a few that speak basic English.
Add to the fact it's not overly tourist-friendly, you will feel like an outsider the minute you arrive.
The history of Nagaland Headhunters
For the head hunters, I think that the Konyaks' are more than just a pretty face! The history of their culture is really interesting.
The Konyak tribe is one of 17 major tribes in Nagaland. For more information Naga tribes, make sure you check out my guide to Hornbill Festival which celebrates all 17 and their culture.
This is definitely the event to visit if you'd prefer a more tourist-friendly experience of Nagaland.
After every battle and if heads were taken, the Konyak warriors were traditionally inked for their triumphs.
First on the face, neck, and then other parts of the body.
The taking of heads was a symbol of bravery and honour. Heads were traditionally presented as decorations or hung around the necks of the warriors as a symbol of their superiority.
Nowadays, these are illegal and are represented in brass. They actually sell these as souvenirs to buy in Nagaland, I couldn't resist.
The different tattoos worn by Naga tribes represent the different stages, status, and achievements in their life.
For men, they were inked once they became a man and went into battle and for women it represented different life cycle stages.
Headhunting was banned by the British in 1935, so these are truly the last surviving head hunters on our planet!
Although headhunting became illegal, the battles between tribes here were frequent until Mon and Longwa completely converted to Christianity in the 1980s.
Today, these face tattoos are against the law but many people have them in Mon from previous battles.
2. You'll find most of the Nagaland headhunters can be found in Longwa near Mon
Longwa is a village which is a two-hour drive away from Mon and it's the place that most tourists go to come face to face with the notorious last surviving Nagaland headhunters.
If you're backpacking on your own path, you'll need to make your way to the large township of Mon. From here, you can catch a sumo jeep up to Longwa.
It's a bit hit and miss if you'll get one that day. I was lucky one extra was put on at 'special request'. This is the only way that locals can get around so you may want to book your sumo jeep as far in advance as possible.
Just like there is only one way in, there is also one way out.
As soon as you reach Longwa – book your return jeep. You don't want to get stuck longer than you need to!
If you would like to read up a bit more on Longwa and what to do there, see my essential travel guide to Longwa here.
3. Stay at the Traveller's Inn
For a better chance to meet the Nagaland headhunters, I would suggest a couple of days.
This is why I would recommend a stay over in Longwa rather than a day tour. Not only will you be able to explore the area better, but you'll also have a better chance to meet as many as possible.
Luckily, I was put in touch with Namei (by Holiday Scout) who was from Longwa for my visit.
As with most places in North East India, it's not what you know it's who you know. So, I felt very grateful to book a room at the Traveller's Inn there. Rates were 1500 rupees a night.
There are limited guest houses in Mon and Longwa so I would personally make sure you know where you're heading before you get there.
I had a local phone and so was able to contact someone before my arrival to reserve a few nights' stay.
The guesthouse looks intimidating due to the barbed wire fence but I guess that's for tourist protection.
You're also next to Chief Angh's residence. So, you've got the royal army to protect you
The guest house is a comfortable and safe haven for any traveller with two beds, a private bathroom, running cold water with hot provided by the bucket on request, electricity, warm blankets, and breakfast is included.
They also prepare a Lunch/Dinner buffet for 350 rupees per meal per day. This is a lifesaver as there are no restaurants in Longwa. Only guesthouses that prepare meals.
Of course, the alternative is to stay in a traditional hut. But you may not find running water, electricity or a bed. Not ideal if you need to charge equipment.
For availability call +91 9856015152 or email travellerinn12@gmail.com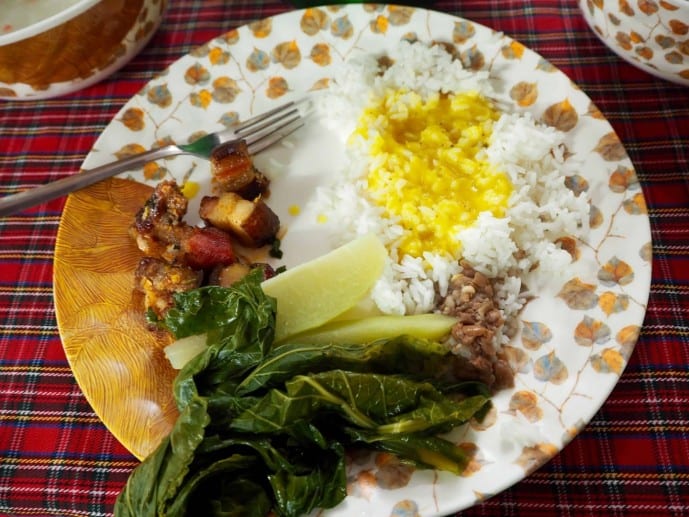 4. Hire a local guide
If you want to meet the Nagaland headhunters of Mon, hiring a guide is an absolute must. As before, there is a massive language barrier here and people aren't so welcoming or friendly.
Add to the fact that the head hunters will be chilling in their homes with family, you need a local guide who knows the area and the families. It can literally open doors.
I had an awesome guide called Namei who showed me around Longwa. His own father was a head hunter with face tattoos and so it was amazing to get to meet them with a person who could translate. Plus, It made the whole experience a little less uncomfortable.
5. Don't forget you'll be visiting them in their houses
Meeting the Nagaland headhunters isn't really seen as a tourist attraction and, as such, they won't be waiting in some perfect location for you to photograph them.
As they are getting older they spend most of their days smoking opium or with their families in their houses.
That's why it's so important to hire a guide and feel welcomed inside or outside of their house.
When I met Namei's father, who is not a head hunter but had the most amazing face tattoos from his battles, he took me around the back of his hut.
At that moment, he moved a load of washing on a clothesline to reveal a picturesque wall of buffalo skulls to photograph against.
This just goes to show that they're not averse to or opposed to tourism, but they just don't advertise or give it away it freely. I guess if they did tour guides wouldn't make money and nor would they! It's only fair that they get income from tourism.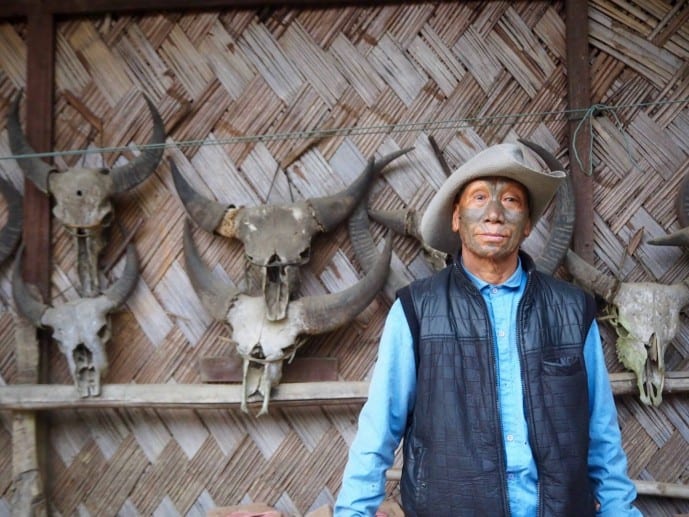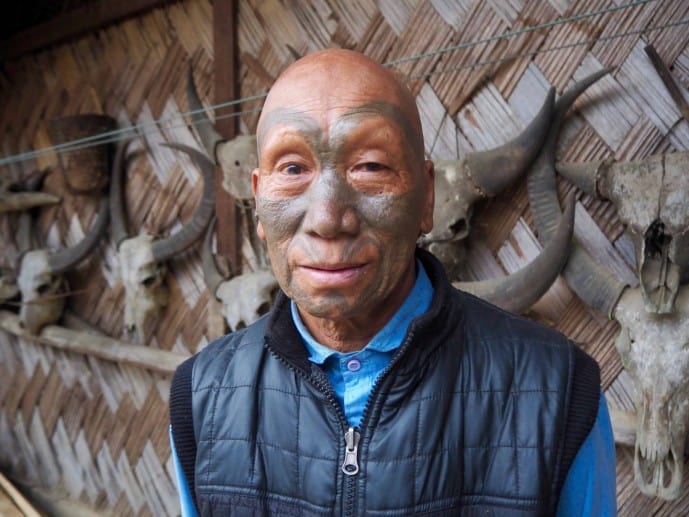 6. If you want photographs, you'll need to request traditional dress
Unlike the Hornbill Festival, which gives an air that everyone in Nagaland walks around in tribe dress, nowadays the people of Nagaland dress like you or me.
If you were after the authentic style for your photographs, I would personally request this through your guide. He can organise and let the headhunters know that they need to dress in traditional dress.
I know this all sounds false, but unfortunately, it really isn't like the old times anymore. Most of the Naga people are devout Christians today and left their warrior days behind them long ago.
Not all the Nagaland headhunters I photographed were traditional. In fact, it was only one. He was so kind to dress up and of course, I paid him extra for the service.
7. Come armed with tips and a smile
Regardless of who you're photographing make sure you have some cash for a tip.
Through the years a lot of documentary crews, working with the likes of BBC, have set a standard that they should get paid every time.
I think that it's only fair as this is a big source of income for them. These people are kind enough to work for your blog, portfolio, or even for your family album so it's only fair that you pay them a little bit back.
Of course, you won't be able to converse directly but your guide can translate. I always think that a smile is an international language that everyone can understand. Show kindness and it will be returned to you.
Bonus tip: There are no ATMs in Longa so stock up on rupees on Mon before you visit. Also, ATMs shut down on a Sunday.
8. If you're not comfortable going at it alone, go on a tour
I was travelling here as a solo female traveller and I didn't organise a tour or my hotel in advance but, looking back, maybe that was a better choice.
The transport links are quite a challenge, hardly anyone spoke English, the village itself was completely remote and the very definition of off the beaten track!
It certainly wasn't the most typical place to travel solo that's for sure.
Although I was comfortable with my guide, I didn't feel completely safe going out by myself at times. You can read more about that here.
If you are looking for a tour company to show you around, I would personally recommend Holiday Scout.
Not only is he one of the top 50 people to know in the Himalaya's, but his tours are also the very best North East India can offer. For my full review of my experience with Holiday Scout, see here.
9. Be patient, you may be waiting a while
I was glad that I spent a few days here in the end.
As I booked last minute, I didn't have the chance to let people know that I wanted to meet the Konyak headhunters.
If I had, I may have got some more authentic-looking photos for my blog.
But, looking back, I was really happy with the photos I got! I met the locals over a series of days. Sometimes they were there, sometimes not.
As before, the Nagaland headhunters aren't in a particular location when you arrive for tourists. They're over 90 years old and prefer to stay at home with their families. Some could hardly walk or see.
So, you may have to be patient with your guide. He will try his best to let you meet them but there is no guarantee you can see them on any particular day.
If you're doing a project like photography, documentary or writing a book – I'd leave adequate time to complete your work. You may be disappointed otherwise.
10. Make sure you explore the village and meet the Chief Angh – King of Longwa
Beyond meeting the Nagaland headhunters of Longwa, exploring the village where they live is also a must-see. It's perched high on the hills of Nagaland which makes for some incredible views.
As part of the tour, my guide took me on a stroll through the whole village and even to the borders of Myanmar! You must take some time to explore the lush green valleys and plains.
Every guest of Longwa is expected to meet the Cheif Angh or King of Longwa and present him with a donation.
It doesn't have to be extensive, say 2 – 300 rupees but it's a gesture. You'll find the king and his officials smoking Opium in the palace.
You must check out his skull collection! For more things to do check out my Longwa Guide here.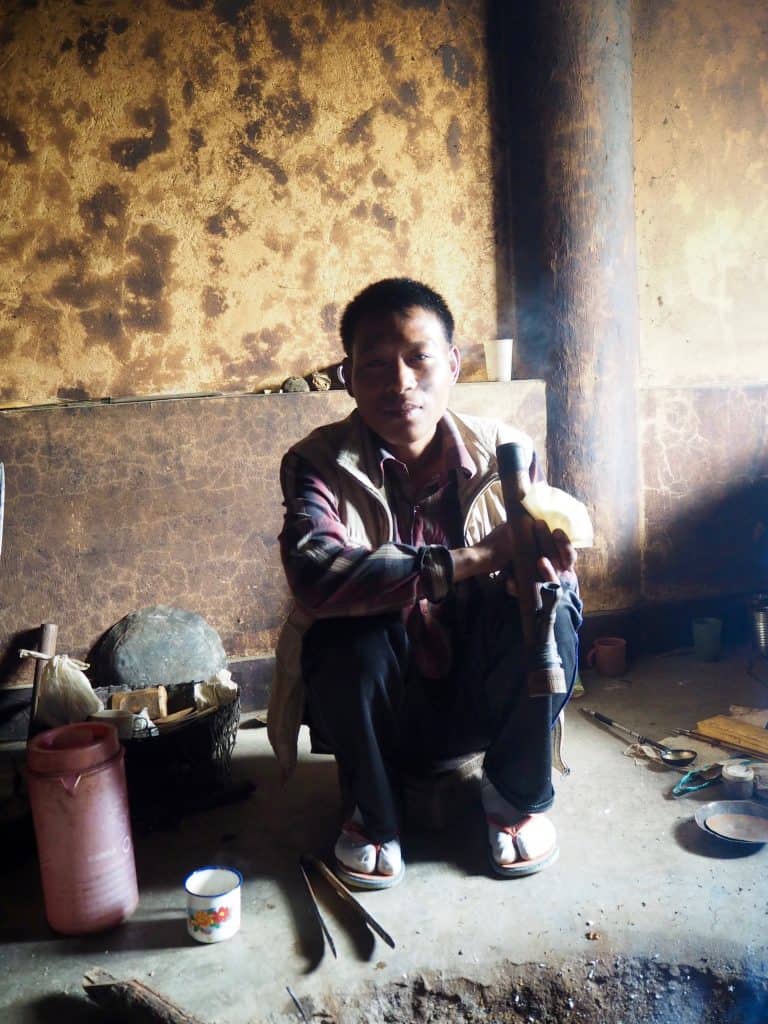 11. Don't miss out – visit now before it's too late!
Mon and Longwa are both popular with tourists as it's home to the last surviving Konyak Nagaland headhunters!
These guys no longer are the fierce warriors of old but sit out their days at home, smoking opium and melting their memories away.
In 10 years or so, all the head hunters won't be around which is such a shame.
We, and the Earth, aren't getting any younger. So, make sure you put Nagaland on your bucket list and come face to face with the famous Nagaland headhunters of Mon!
With thanks to Traveller's Inn for hosting my stay. All reviews, opinions and pictures are my own. For availability call +91 9856015152 or email travellerinn12@gmail.com.
Read more of my Nagaland articles
If you liked this Nagaland Headhunters post, make sure to read more of my articles on Nagaland!
My complete Longwa travel guide
The ultimate Hornbill Festival guide
Top tips for Hornbill Festival
How to get the best photos at the Hornbill festival
Read more of my posts on North East India
Top things to do in North East India
My top transport tips for North East India
Best places to visit in Arunachal Pradesh
My ultimate Tawang travel guide
How to find the double-decker root bridges in Meghalaya
A complete travel guide for Guwahati
A complete Kaziranga Safari guide
My top North East India travel tips
Save my Nagaland Headhunters post for later!