If you're like me and this will be the first time you've explored North East India, I'm sure you don't know what to expect.
That's why I've created this Guwahati travel guide.
There's limited information on the internet, Lonely Planet is four years out of date and it's a little bit of a gamble when organising travel plans.
Well, not to worry! Having been to the Guwahati and backpacked over the majority of North East India solo, I can assure you things are gonna be just fine…if you're willing to be a little bit adaptable with travel plans.
Guwahati is in the state of Assam and you'll be surprised to know it's a very up-and-coming city that's building up.
It's the emerging sports capital of India and they have big plans for the city's development.
I wasn't expecting there to be tall buildings, tonnes of traffic, good transport links and a wealth of hotels. But it had all that and more, even Western shops & restaurants like Marks & Spencer, KFC, and Domino's! Haha!
Regardless of all the modern stuff, it also has a wealth of traditions and cultural attractions for tourists such as the Kamakhya temple.
Known as the gateway to spirituality, it's a must-visit if you find yourself here. Here is a first-timers guide for the Guwahati travel guide. discover what's on offer in the gateway of the North East!
Where is Guwahati in North East India?
Guwahati is in the state of Assam in North East India.
It's connected to and is part of the 7 sister states of Arunachal Pradesh, Meghalaya, Manipur, Mizoram, Nagaland, and Tripura. There's also a brother state of Sikkim to the West.
Guwahati has amazing transport links that can get you pretty much anywhere you need to go!
Do I need a permit to enter Assam?
No. Although in the past North East India has been extremely strict, it's getting more relaxed to try and encourage more tourists to come!
When I was in North East, I thought I had to inform police stations of my whereabouts in all the different states which used to be the case.
But, the only times I did have to do this were in Arunachal Pradesh (permit points) and Mon in Nagaland. Now, it's getting easier and foreigners can travel more freely.
You don't need a permit to enter the states of Assam, Meghalaya, Manipur, Mizoram, Tripura, or Nagaland. (But check for the latest requirements i.e. registering with the police station – these things could change at any time!).
You only need to get a special permit to enter Arunachal Pradesh (foreigners need a PAP or Protected Area Permit and Indian Nationals require an ILP or Inner Line Permit).
If you're planning on visiting the 'brother' state of Sikkim, you will also need to obtain an Inner Line Permit.
How to reach Guwahati & travelling around
Guwahati isn't called the gateway to North East for nothing!
Unless you're already in Sikkim or Kolkata, the easiest and most convenient way is to fly.
There are daily direct flights to Guwahati from New Delhi, Jaipur, Mumbai, Bangalore, Chennai, Hyderabad, and Kolkata.
I flew with Spicejet direct from Jaipur, it took 2 hours and it was really cheap!
If you're flying internationally (for example from the UK) then you will stop over in Delhi before your onward flight.
You can get a direct train from Varanasi to Guwahati but it will take around 30 hours.
I'm not sure if it's actually much cheaper than flying but it's up to you if you like the long road.
As I said, Guwahati transport links are vast and well connected as is most of Assam.
Take advantage of the easy transport now before you get into the other states. The transport options are a challenge for those!
Government buses to Jorhat, Kaziranga National Park, Dimapur, and Tezpur you can book from Paltan Bazaar.
See my helpful guide for booking train tickets in India here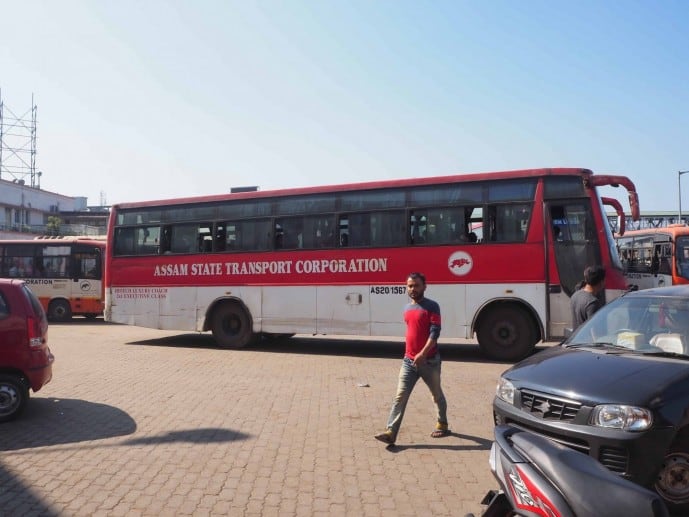 If you're heading to the city of Shillong or the amazing area of Cherrapunjee via public transport, you can travel by Sumo!
Sumo's are essentially sharing jeeps. You wait for it to fill up and you head on out! They're super cheap if you have the time to wait.
Landing into Guwahati Airport
I loved Guwahati Airport. As soon as I landed and saw the Majuli Island vignettes and the rhino (the state animal of Assam), I knew it was going to be awesome here!
It had everything you needed to connect you with the other states.
I was pleasantly surprised that every sister state had its own kiosk at the airport.
So, you could pop into each one for maps, information, hotel bookings, tour operators, or just general information.
It was super handy and I definitely took advantage of the up-to-date information! (No thanks to Lonely Planet ;) )
The airport also runs a government-funded (ASTC) airport bus service which runs from the airport to the main bus stand of Paltan Bazaar.
Tickets are around 130 rupees and the buses run every 30 minutes. For more info see their official website.
It's a lot cheaper than a taxi service as the airport is around 20 kilometres away from the main city. It will take around an hour to reach.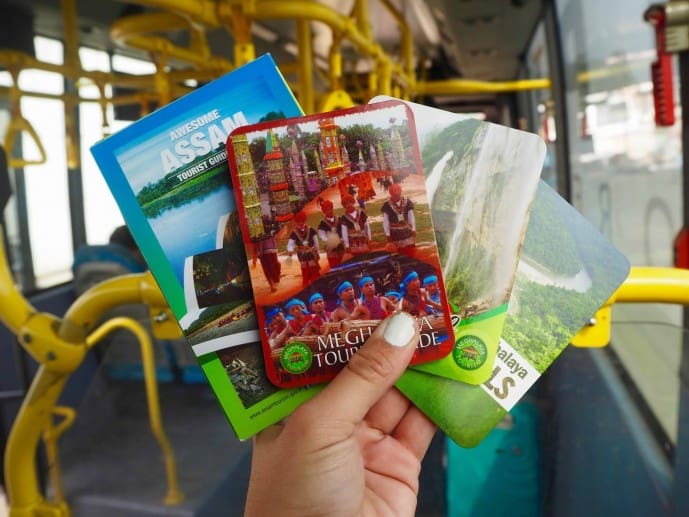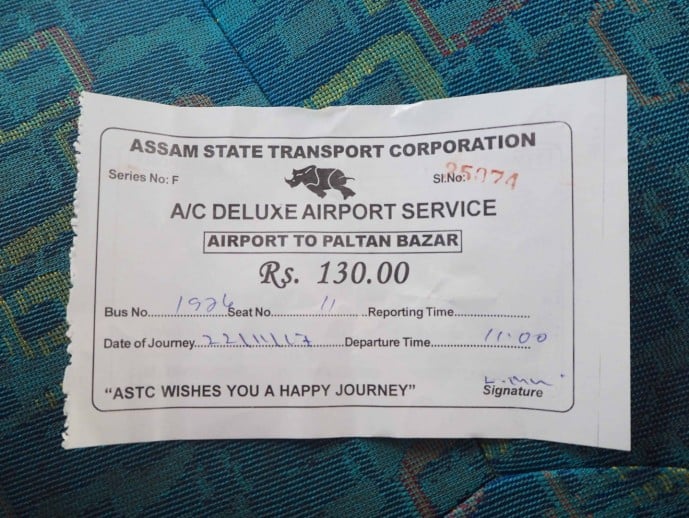 Where to stay in Guwahati
Guwahati has quite strict rules for hotels and guesthouses for foreign tourists.
So, it's always best to check with them beforehand if they will allow you to stay there.
There are a lot of options for Guwahati on Booking.com to suit all budgets.
On the high end, there is a 5* Vivanta by Taj Guwahati if you wanted to splurge out on a fancy place. But this is quite a way out of the main centre.
But, on the flip side, It's close to the highway which leads to Meghalaya for Shillong and Cherrapunjee. So, if Meghalaya was next on your itinerary, then it would be a perfect stopover.
Check here for available dates and rates.
If you're looking for budget and homely accommodation I would highly recommend Aditya's B&B in Guwahati.
Not only is it your slice of paradise in the Gateway to North-East India, but it's also run by the loveliest family.
I stayed here a total of 3 times, so I can attest to the fact it felt like home when I checked in.
I had a massive bedroom, clean bathroom, sitting room (!), complimentary wifi, breakfast, and a welcome of Assamese tea and cake!
It couldn't get any better. Rates are really cheap at 1000 rupees a night which is a steal for a place of this quality. You can book online via Air BnB here.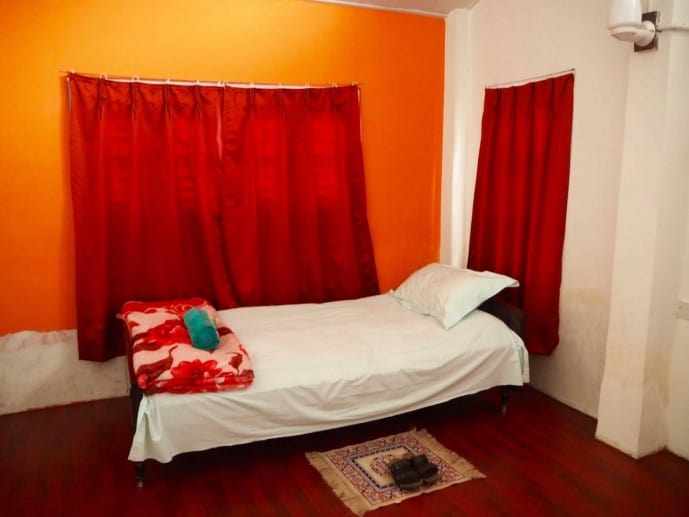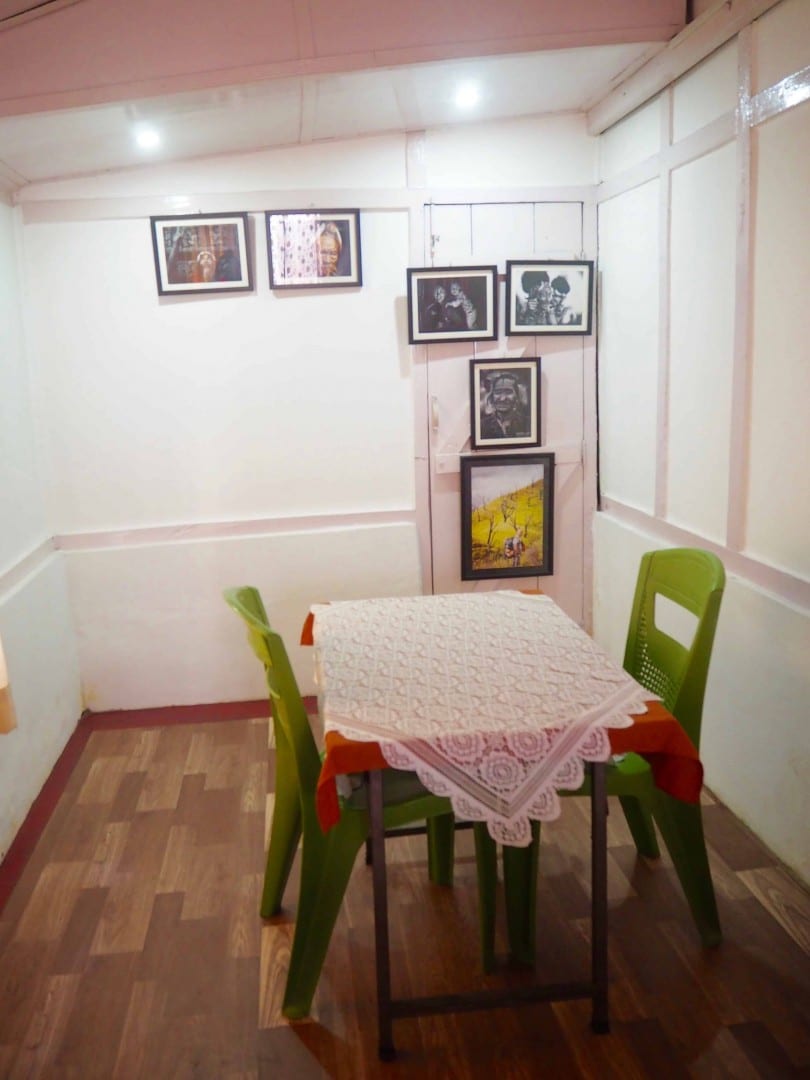 How to travel around Guwahati – Transport, Money, Climate etc.
Money – It doesn't always seem like you're in India, but the whole of North East India uses the Indian Rupee.
Timezones – Although North East India should technically be in a different timezone due to the latitude distance, it remains the same as the rest of India. So, be prepared for it to get dark at around 4pm each day in winter.
Language – Here the language barrier can be quite a problem. English is spoken but not widely, so you may struggle with taxi and rickshaw drivers. The majority of Guwahati speak Assamese and a variety of local dialects. Hindi is recognised and widely spoken too. But, if you speak Hindi, you'll stick out like a saw thumb. So, haggle hard when it comes to transport and shopping is all I'll say!
Transport – Government bus links can be found all over the city which is the cheapest way of getting around. If you're here on a spiritual pilgrimage for Kamakhya temple, under Dharmajyoti, you can take advantage of 50% off. Rickshaws can be found all over the city but prepare for sky-high prices if you're not local. Uber and Ola (yep, there's Uber in the North East too) was probably my favourite way of getting around if you have more cash to spare. Simply download the apps and book through that. This way you know how much you should be paying too!
Climate – As the peak season for North East India is winter (Nov – Feb), I was prepared with a big fat winter coat! How stupid I felt when I got off the plane and it was a tropical 27 degrees. Guwahati sees a pleasant climate most of the year. But, definitely come prepared for colder weather in the sister states!
Places to visit in Guwahati
Kamakhya Temple
Many believe that a trip to Guwahati isn't complete without a visit to the Kamakhya temple.
Standing on Nilachal at 562ft high, it definitely holds an air of mystery about it as you wind your way up to visit.
The temple was built to honour Kamakhya and the Feminine Power. But, as opposed to an idol to worship, there is only a yoni (vagina) of the deity here.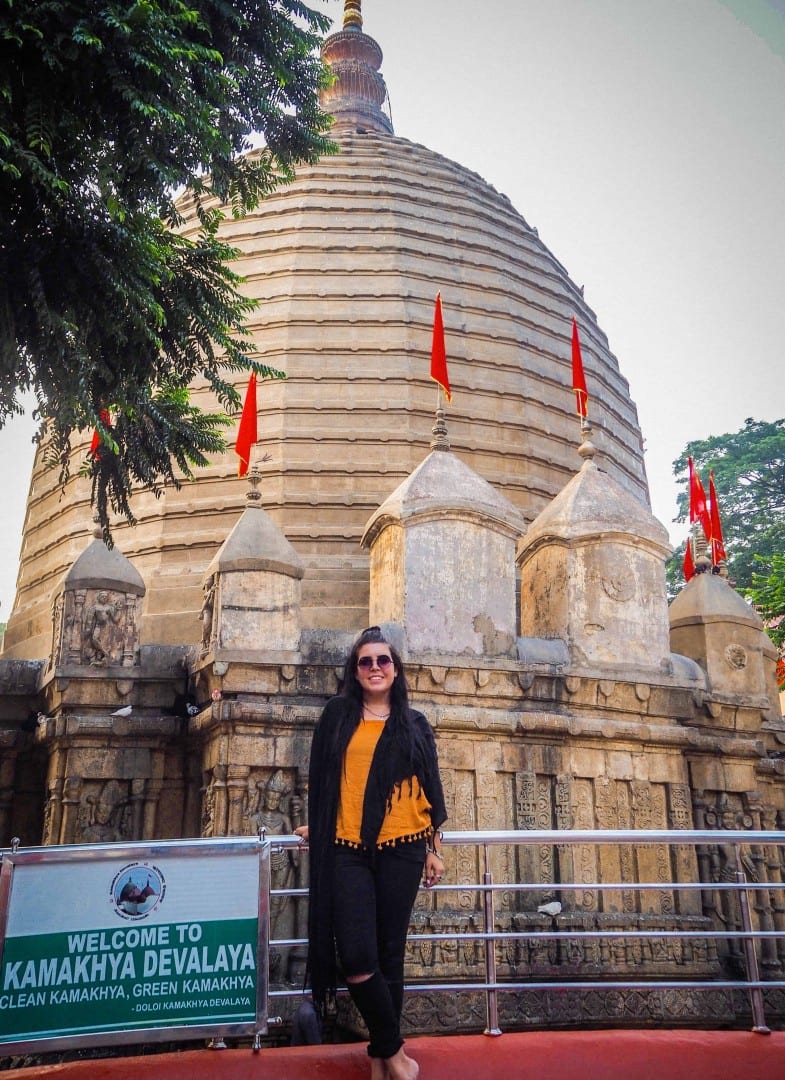 The main temple is the oldest of the 51 Shakti Pithas. But, it's also surrounded by ten other temples which were built to represent each of the personalities or facets of Shakti, the Feminine Power.
These are also worth a peek on your visit. Thousands of pilgrims visit this temple each year so prepare for busy crowds and a queue to enter the inner sanctum.
Official opening times are 5:30 am until 10 pm. For Puja timings, visit their official site.
FYI – there is some goat sacrifice that goes on here, so be prepared for that.
You don't have to witness it, but it can be quite hard not to! I saw a baby goat's head at the temple altar :( . To read more see:
Related post – The 5 things you must know before your visit to Kamakhya
Take a sunset cruise on the Brahmaputra river
Guwahati is probably the start or end of your trip in North East India, so why not kick it off with a cruise or end the trip on a high?
There are many boats to pick for a ride on the Brahmaputra river but Alfresco Grand is an award-winning cruise company and the most professional.
For a mere 350 rupees, you'll have your own allocated table and a beautiful setting to watch the sunset.
There are different cruise options to choose from, so if you did want to treat yourself to a buffet dinner with a dance show, there's that option too.
Related post – 9 reasons why you should pick a cruise with Alfresco Grand here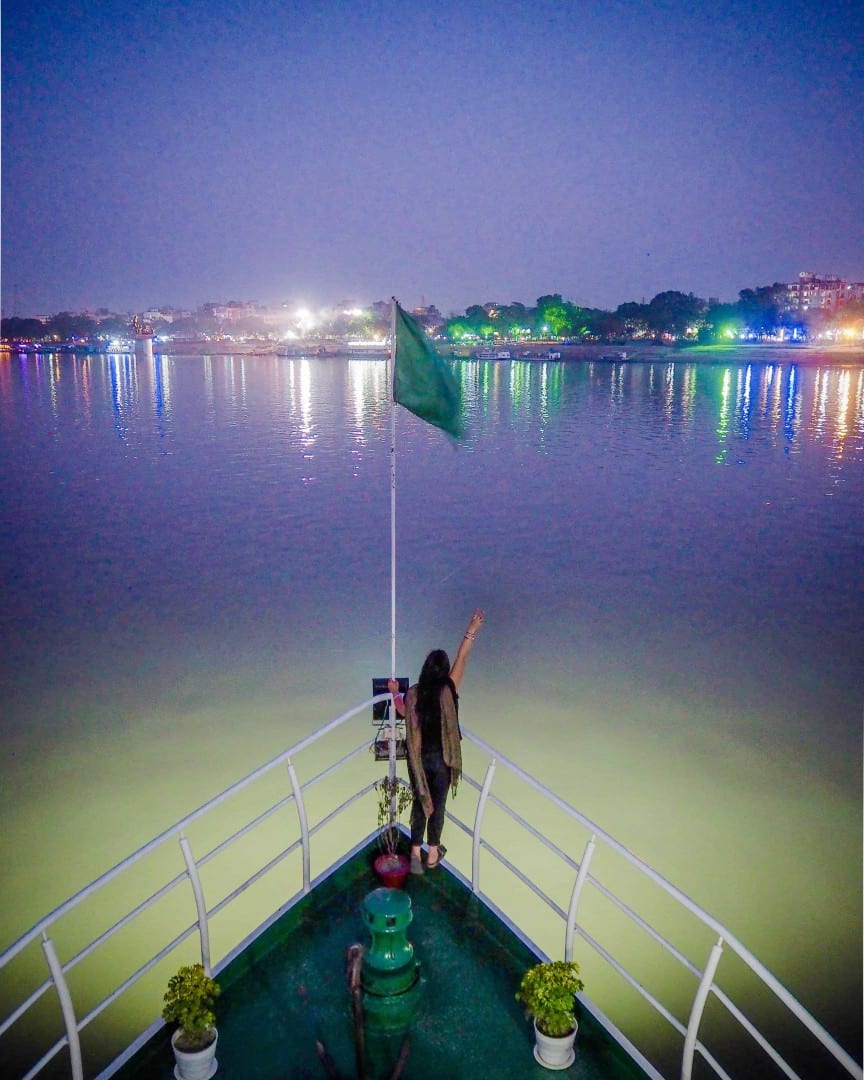 Visit Fancy Bazaar
There's a wealth of shopping destinations all over the city but Fancy Bazaar has to be up there as one of the most chaotic and fun I've been to.
Placed at a busy intersection, with cars everywhere, there are around 4 streets you can explore full of stalls selling just about anything.
Popular for clothes shopping, you'll find so many rip-off brands, 'designer' shoes, saris, dresses, bags, and purses.
But, they also sell thali sets, tiffins, furniture, and classic Assamese bamboo souvenirs to take home.
Make sure you head here in the evening for cooler temperatures!
It's popular with locals, so it's great to see the life that goes on around here. I wasn't brave or hungry enough to try the street food, but I loved the decoration of the stalls. So cool.
What to eat in Guwahati – Assamese Thali!
Similar to Kolkata, an Assamese Thali typically includes grilled fish or fish curry as your 'Non-veg' option.
If you're not familiar with a Thali in India, it's basically a set food menu.
You'll receive a massive helping of rice in the middle of your plate with little dishes around the side. The dishes will be anything from chutney, curry, dahl, veg, and sometimes sweet.
If you're lucky it will also come with chapati, but you may not need it!
Despite the portion, a Thali is a budget food option. They can be anything from 60 – 200 rupees. Bargain!
I always went for this if I was unsure of what to order off the menu. You receive so much, you're bound to like something.
So, that's my Guwahati Travel Guide
Guwahati is an amazing city that I could quite happily spend a few days exploring.
It really has it all with modern amenities mixed in with tradition, history and culture.
Make sure you spend some time in the gateway to North East India!
If your next stop is Meghalaya, Kaziranga National Park, Tezpur (for Arunachal Pradesh), or Jorhat (Majuli Island) – make sure you read my posts on them!
Read more of my posts on Assam
If you liked this Guwahati travel guide, make sure you read more of my helpful blog posts on Assam in North East India!
My complete guide for Kaziranga National Park
A complete guide for Majuli Island
Read more of my North East India articles!
Top things to do in North East India
A complete guide for Hornbill Festival
Best places to visit in Arunachal Pradesh
My ultimate Tawang travel guide
How to find the double decker root bridges in Meghalaya
My top North East India travel tips
Like it? Pin it!