Did you know that there is a Jurassic World experience in London where you can come face to face with dinosaurs?
You'll sail to Jurassic World and get a rare opportunity to enter the famous gates of the pre-historic theme park.
Here, you'll meet herbivores, carnivores, a T-Rex, and baby dinos. You even have the chance to dig for fossils.
Unlike other dinosaur exhibitions, this one is entirely immersive so it will feel like you've stepped right into the movies.
Here is a complete London Jurassic World ExCeL review with reasons to visit, top tips, and prices!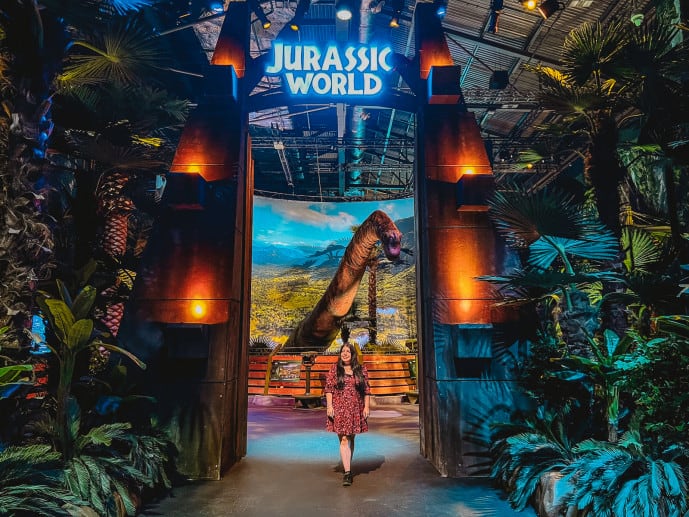 What is the London Jurassic World experience in London?
The Jurassic World ExCeL exhibition is your chance to enter the Jurassic World theme park from the Hollywood blockbusters.
Inspired by the movie franchise, this is an entirely immersive experience where you can meet pre-historic dinosaurs.
All of the rooms are interactive with Jurassic World employees to guide you through the experience.
You'll come face to face with dinosaurs, visit the Hammond Creation Lab, see raptor training, dig for fossils and even meet a T-Rex. There are also plenty of photo opportunities along the way and a gift shop.
The Jurassic World experience by Fever is currently in London at the ExCeL centre. This is located near Greenwich at Custom House near the Royal Docklands.
So, if you wanted to meet some dinosaurs, you'll need to make your way over to the capital before it's too late.
Click here to book your tickets to the Jurassic World exhibition in London!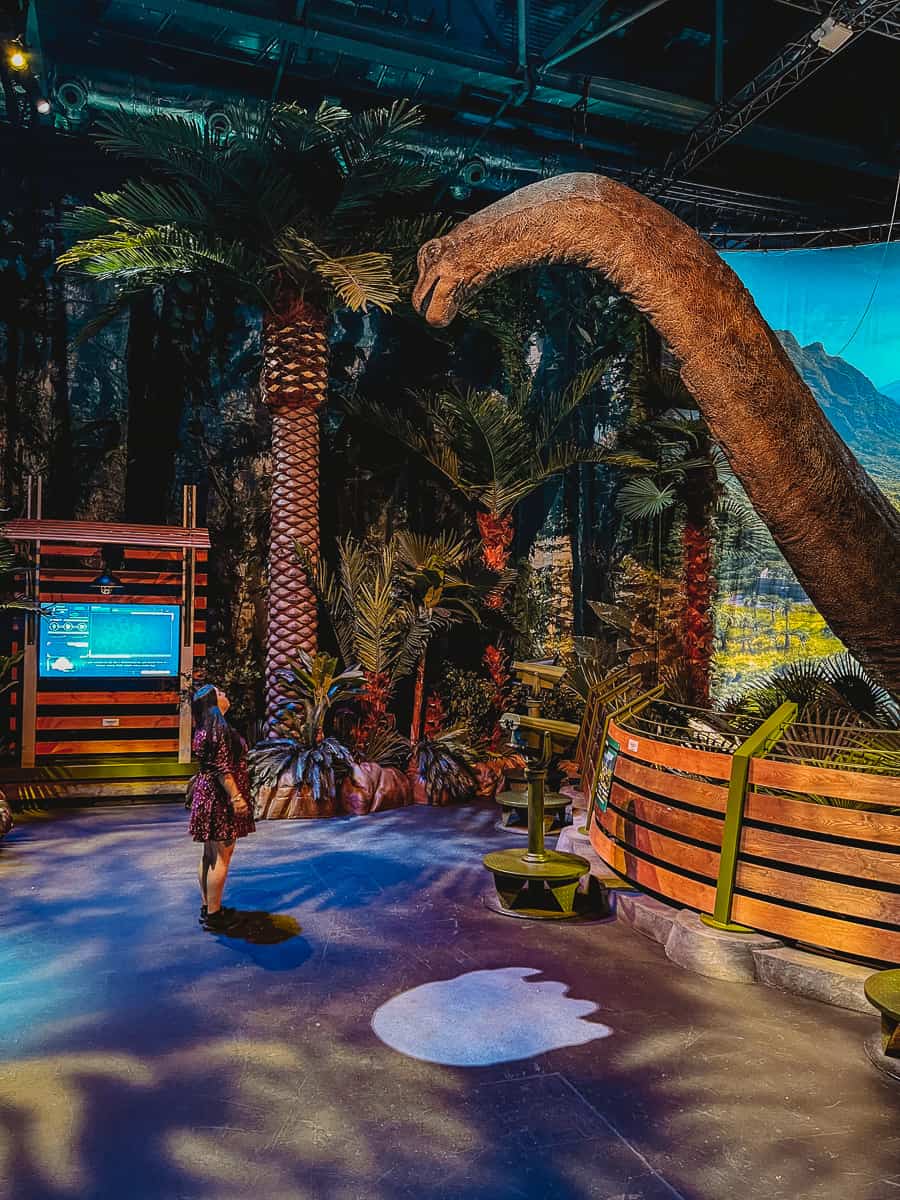 Magical reasons to visit the Jurassic World ExCeL experience in London
So, what are the things to do at the Jurassic World experience that make it worth visiting?
Well, from start to finish you'll be immersed in a pre-historic jungle filled with dinosaurs and archaeological experiences.
These are all the amazing reasons to visit Jurassic World ExCeL in London.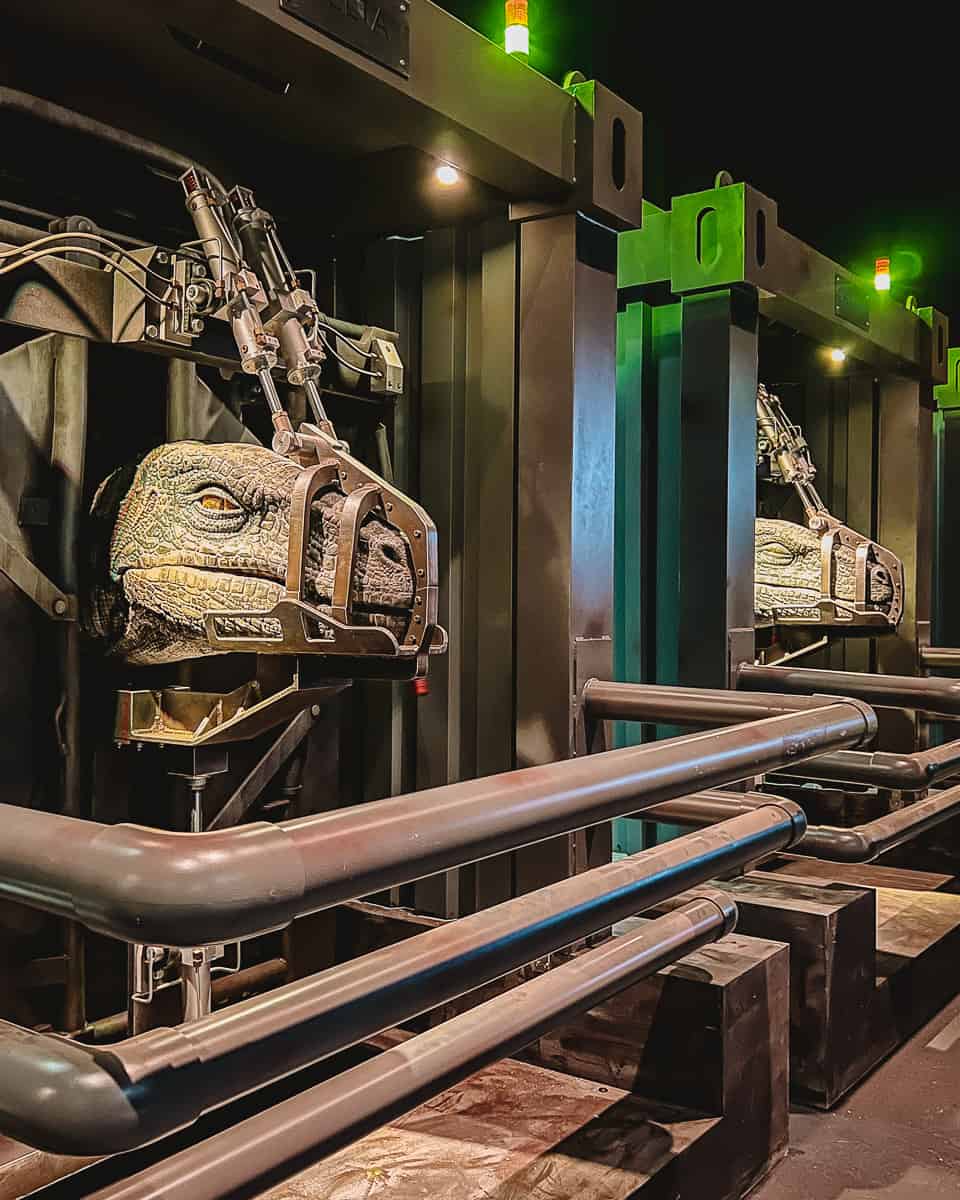 1. Get the ferry to Jurassic World
So, you'll need to sail from London to Jurassic world first which is on Isla Nublar near Costa Rica. It will take a few weeks so make sure to buckle in for the ride!
Just kidding, it will only take a few minutes to get there and you'll get to see a movie introducing Jurassic World on the way.
When you've reached the shores of the island you'll finally be able to enter the gates of Jurassic World.
This is when you can walk through their jungle of pre-historic Jurassic giants and come face to face with dinosaurs.
2. Come face to face with dinosaurs!
So, as expected, there are plenty of dinosaurs to be found at the Jurassic World experience.
As soon as you enter the iconic gates you'll come face to face with their resident-friendly Brachiosaurus. There are also some unruly dinosaurs heading away in their animal transport.
I personally loved seeing all the wee baby dinosaurs that you could find around the exhibition. You could even stroke some!
But, not all the dinosaurs you'll meet here will be friendly. You'll also find some carnivorous predators who may not be happy to see you on your visit.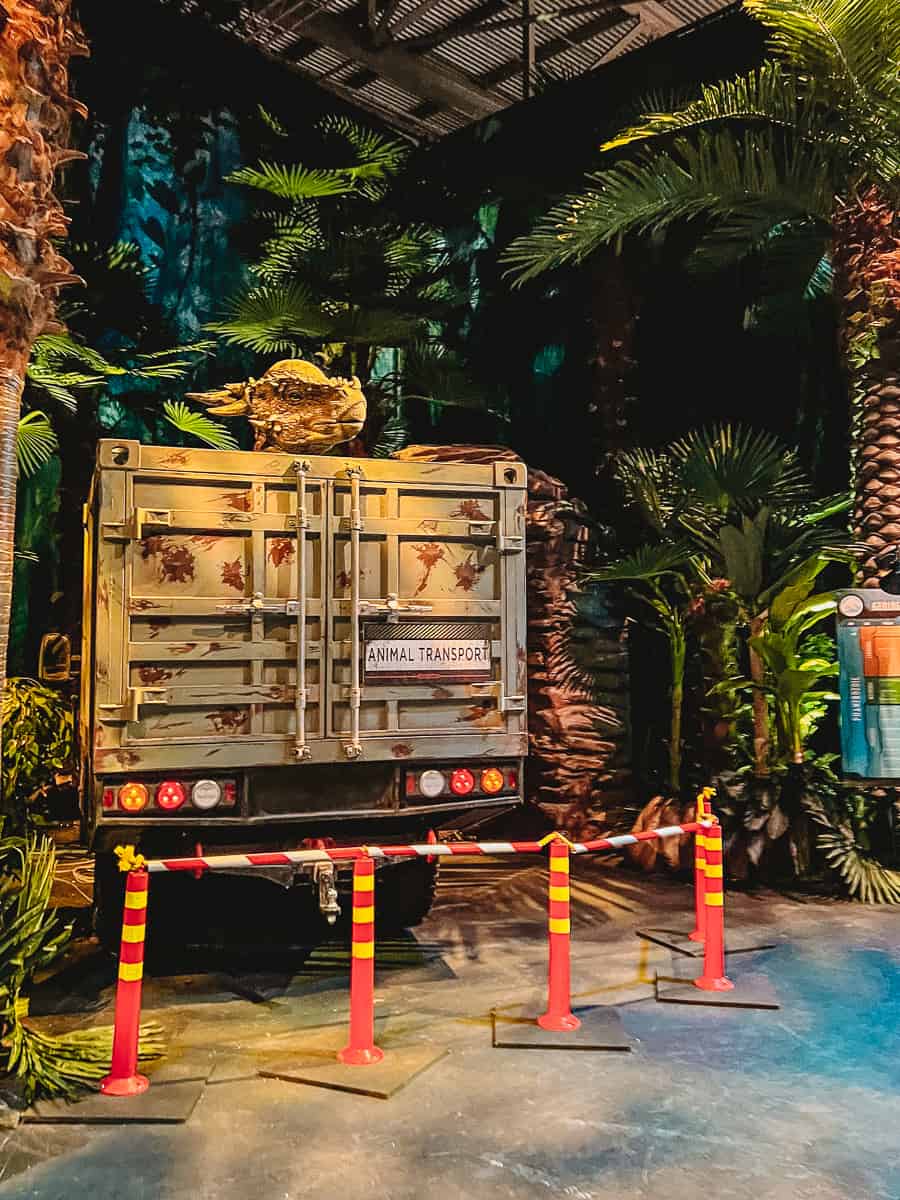 3. Visit the Hammond Creation Lab
One of my favourite rooms was the Hammond Creation Lab where you'll meet one of the resident professors at Jurassic World.
You'll see baby dinosaurs in incubation, the famous amber collection, and dinosaur eggs of all sizes. You even get to fondle some rather curious-looking dinosaur dung while you're at it (don't worry you'll have gloves on).
There will be DNA samples and research on the walls, so make sure to look around at what they have discovered and created inside.
4. Watch Velociraptors being trained
You may remember the Velociraptor Blue and her sisters Delta, Echo, and Charlie from the Jurassic World movies. The ones who are trained by Owen Grady?
Well, they are all here at the Jurassic World experience and don't worry, they are caged for your protection.
You will get a unique opportunity to enter the raptor training space to see Blue with one of her trainers.
It's a great show but make sure to not touch the cages as there are 10,000 volts of electricity passing through it!
5. Go digging for dinosaur bones
Another one of the cool experiences at the Jurassic World exhibition is seeing the huge dinosaur bones that have been recovered.
You'll also get the chance to dig for fossils on your visit in one of their archeological sand pits!
I absolutely loved seeing this huge T-Rex skull on display. It looked so realistic and reminded me of the ones at the Natural History Museum.
6. Meet a Tyrannosaurus rex
Of course, you really couldn't have a Jurassic Park exhibition without seeing an apex predator Tyrannosaurus rex!
There is a group show where you'll come face to face with a T-rex in its pen and you can watch their daily feeding.
One of the scenes I always remember from the first Jurassic Park movie was the poor cow getting lowered into the T-Rex cage so it was pretty surreal to experience it here.
I won't give the ending away but there is a bit of a surprise with a dinosaur that's escaped! So, watch out for that.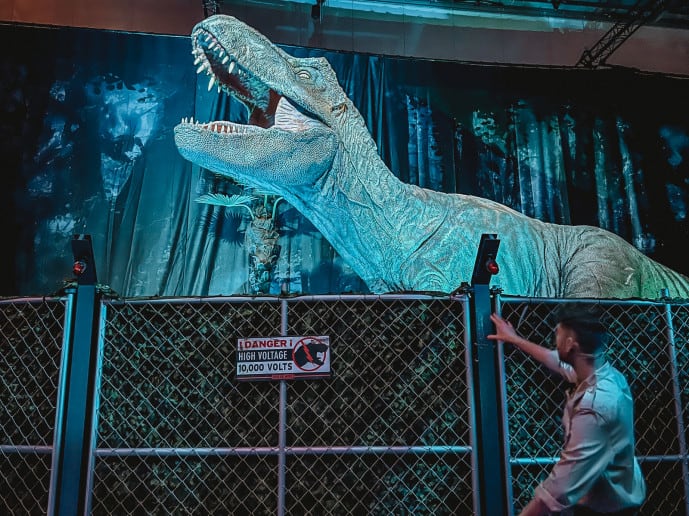 7. There are plenty of photo opportunities
What I loved about the Jurassic World experience was the number of photo opportunities throughout.
As soon as you enter you can get some official green screen photos to purchase later on but you can get some really lovely photos just with your phone!
You and your friends can have your photo taken with herbivores, baby dinosaurs, and even a giant dinosaur skull.
My favourite had to be the Jurassic World gate sign at the very beginning and having the chance to sit in one of the Jurassic World pods.
So, get your camera ready as there will be plenty of chances to capture your experience. Make sure to use the hashtag #JurassicWorldExhibitionLondon.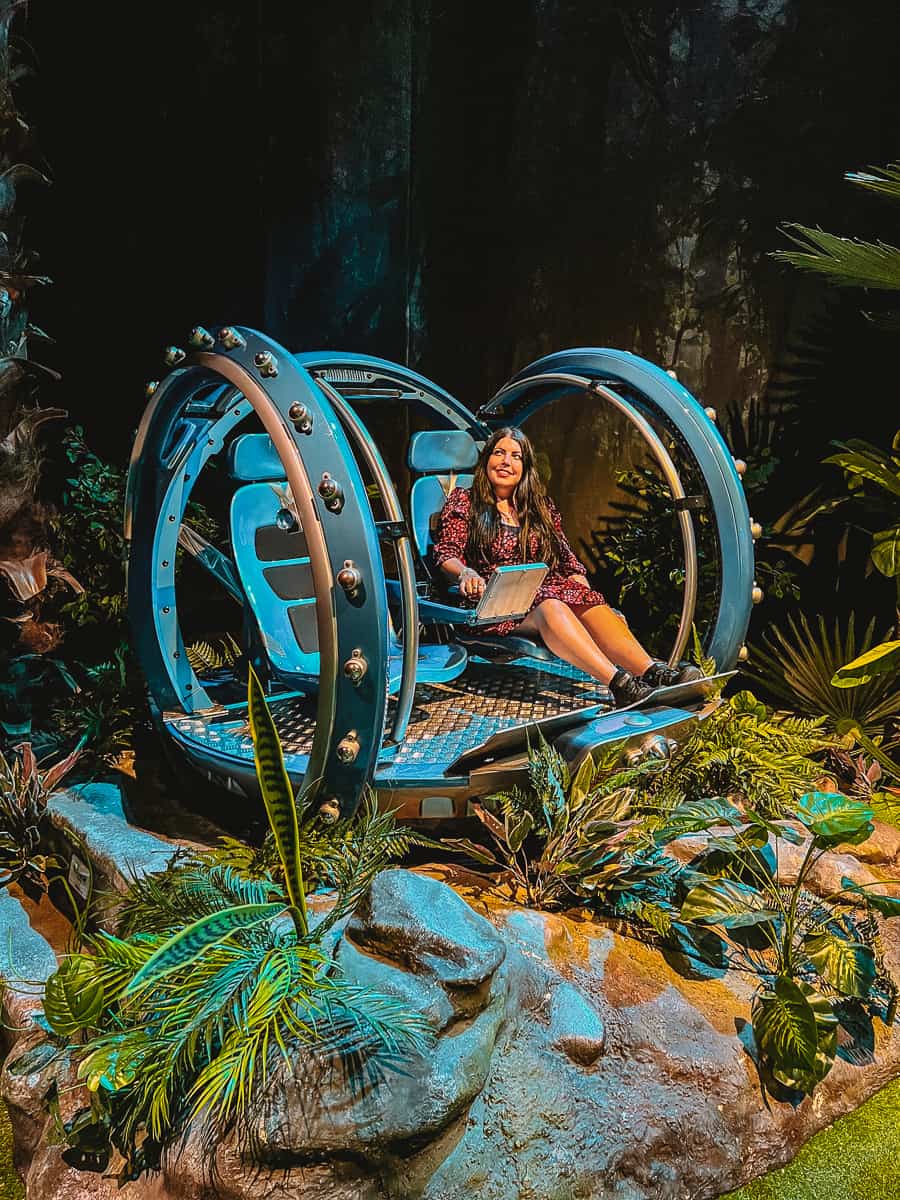 8. Exit through the Jurassic World gift shop
After you have left Jurassic World, they have an extensive gift shop to explore with officially licensed merchandise.
You may notice there are no price tags on anything, that's because all the prices are on the boards at the top of the displays.
They have lots of dinosaur-themed things to buy like t-shirts, hoodies, plush toys, keyrings, and mugs. I bought a khaki Jurassic Park embossed mug and loved it!
This section is where you can buy the green screen photos that you took at the very beginning. They had an offer of two photos for £15. I got some printed and they are so cool!
My top tips for Jurassic World ExCeL
Plan your journey – the ExCeL is a 30-45 minute journey on the tube from central London. So, plan your tube journey in advance to get there in time.
Get there around 15 minutes before – you'll need time to queue to get your tickets scanned. So, arrive in plenty of time.
Budget enough cash – the gift shop sells official merchandise and the photos are amazing but are a bit expensive. So, make sure to budget spending money.
Have your camera ready – there are SO many opportunities to take photos and videos throughout so have your camera ready.
Don't rush – The experience is a minimum of 45 minutes to an hour. But, you don't have to rush. Take your time and enjoy the experience of Jurassic World.
Is the Jurassic World exhibition in London worth it?
100% yes! After the Jurassic World Dominion movie came out I've been watching the old Jurassic Park movies again and so visiting the exhibition is a great way to experience this Hollywood blockbuster!
Unlike a museum about dinosaurs, the Jurassic World experience is entirely immersive with interactive exhibits and great shows that put you right in the action.
The staff are super friendly and really get into their role as Jurassic World employees so you do feel like you are in the theme park.
It's a fabulous pre-historic experience in London and I would recommend going if you're a fan of Jurassic Park and dinosaurs!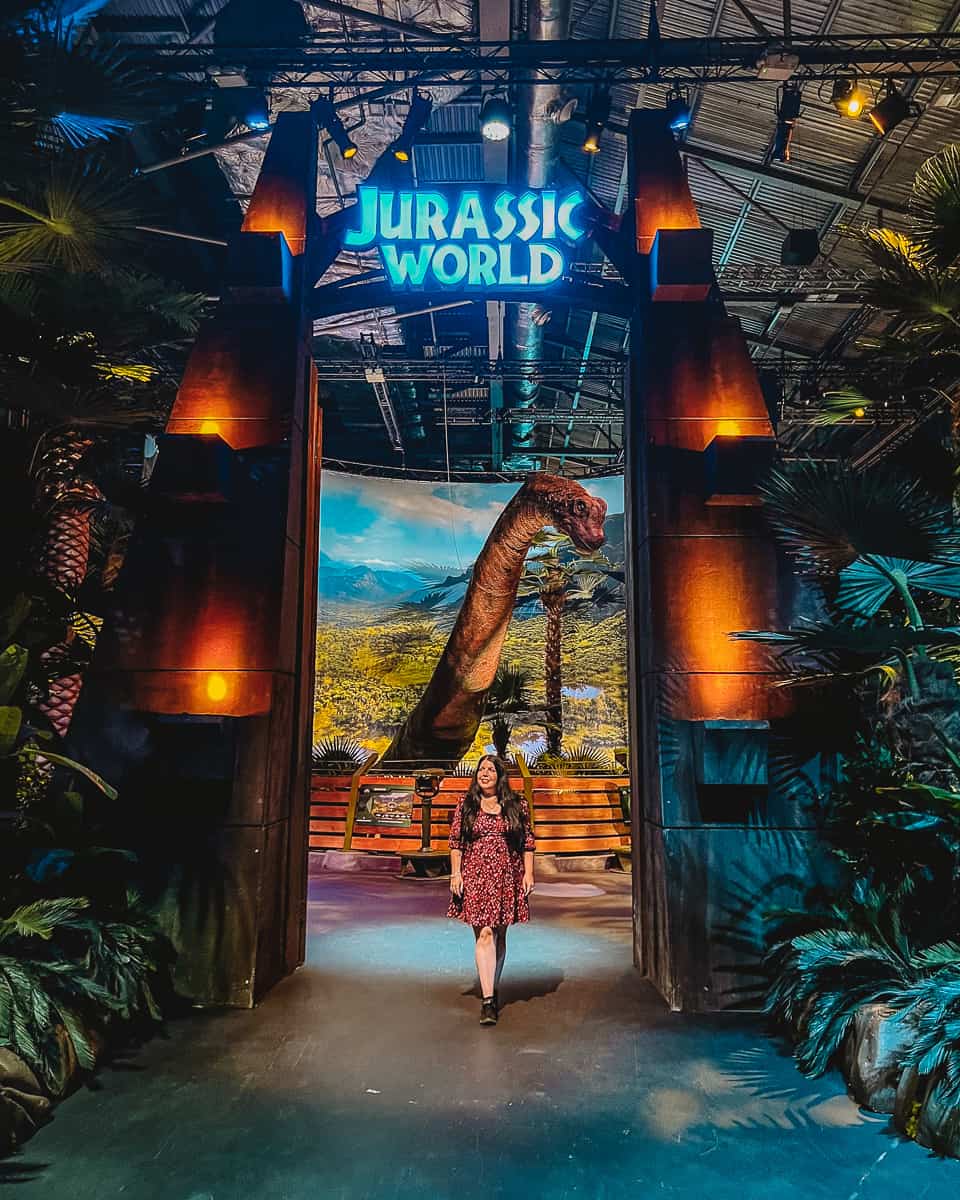 How do you book the Jurassic World exhibition?
Jurassic World: The Exhibition in London is a very popular event and so you must book your tickets online and in advance.
You can book tickets on the Fever website but places are limited and so I would aim to book sooner rather than later.
There is a Fever app where you can book your tickets or you can book via their website. You'll be given an e-ticket with a QR code to scan on the day.
Click here to book your tickets to the Jurassic World exhibition in London!
How much is the Jurassic World experience in London?
Tickets for the Jurassic World experience start from £15 for a child and £23 for an adult ticket on weekdays.
The prices do tend to jump up on the weekends to £28 for an adult and £19.50 for a child.
There are group and family bundles plus some senior and student discounts available. Also, there are some VIP flexible tickets you can book as well.
If you wanted to enhance your visit, there are some add-ons like a Carnivore and Herbivore bundle where you get some souvenirs and toys, etc!
This may be a good idea if you're planning on buying souvenirs as the gift shop was quite pricey.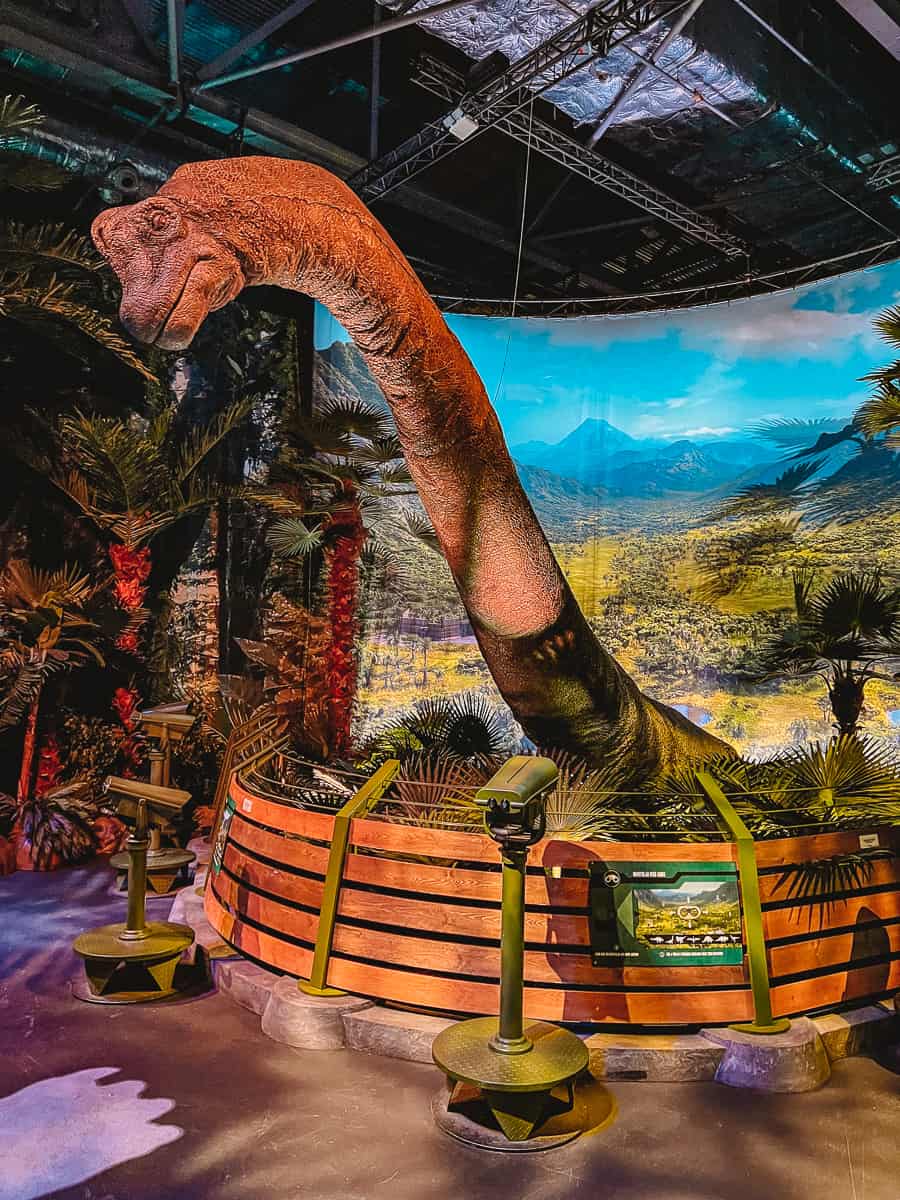 When is the Jurassic World experience on until?
At the moment, the London Jurassic World exhibition is running until early November on their website.
But, like most Fever events, if there is enough popularity with the exhibition this may be extended for later months! Always keep an eye on the website for updates.
Jurassic World experience opening times
You can book your Jurassic World ExCeL event for any day during the week. The opening times are;
Mondays – Wednesdays: 10 am – 6 pm
Thursdays – Fridays: 10 am – 8 pm
The last entry is always an hour before closing. But, I would try to get to the Jurassic World exhibition around 90 minutes – 2 hours before they close to make the most of it!
Where is the Jurassic World experience and how to get there
The easiest way to access the London ExCeL centre is by public transport. The most convenient option is to take the London Underground/Overground.
You can now use both the DLR and the Elizabeth Line service to travel straight to the ExCeL. The nearest tube station to ExCeL is Custom House.
From Custom House station, the walk is less than five minutes through an undercover walkway straight to the ExCeL centre with the Jurassic World Experience London.
Or, why not travel here via the London Cable Cars from the Royal Docklands? You can take them from Greenwich!
There is parking at the ExCeL for the experience (£12 for 4 hours) but London operates congestion charges for driving in central London and outer areas. Always check the government website if your car would be subject to a charge.
ExCeL centre address is Royal Victoria Dock, 1 Western Gateway, London E16 1XL. Click here for a Google Pin!
Jurassic World London FAQs
Are there toilets at the Jurassic World experience? Yes, but they are located outside of the exhibition in the ExCeL centre so make sure to use the loo before you go in!
Is there any food or drink served at Jurassic World ExCeL? No, but there are coffee shops in the ExCeL centre. I stopped at the Starbucks just outside!
How long is the Jurassic World experience? It's just over an hour but you can spend as long as you like! You don't have to rush through if you don't want to.
Do you go in as a group? Initially, yes when you first enter the exhibition you go in as a group. There are also some group experiences throughout when you watch the shows. But, after the initial boarding to Jurassic World on the ferry, you're free to explore as you like. You don't have to stick with the same group you went in with the whole time.
Is it suitable for children? I would say so yes, it's perfect for children as they think it's real. I saw lots of kids here having an amazing time! There are plenty of interactive things to do plus meet and greets with baby dinosaurs. But, there are some scary encounters with bigger dinosaurs throughout that may be a little frightening for little ones.
Is it accessible? Yes, there are no steps to access the exhibitions or within them. Also, the Elizabeth Line is step free from street to platform. It's all flat pathways throughout. I saw both pushchairs and wheelchairs on the day. If in doubt, always check the website for a contact!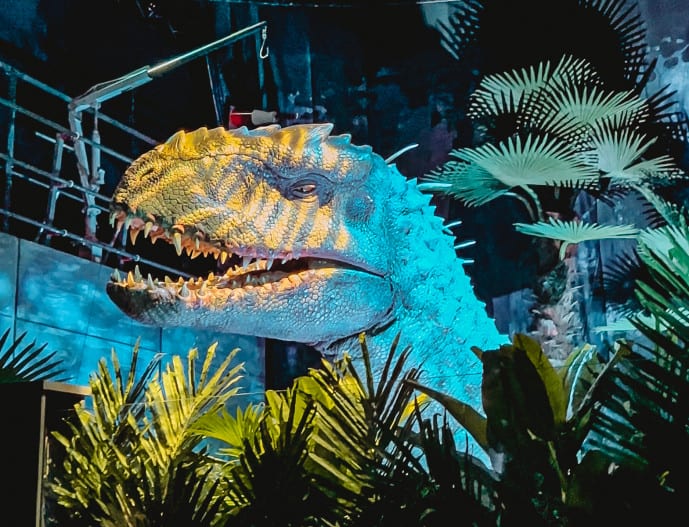 Looking for more dinosaurs in London?
If you love dinosaurs then you have to extend your visit to London with a visit to the Natural History Museum.
It's filled with dinosaur bones, interactive displays, exhibits, and discoveries plus even more animatronics like a giant T-Rex!
They have some of the most well-preserved dinosaur skeletons in the country so make sure to book your free tickets online.
There are also plenty more exhibits to see there including mammals, fossils, and gemstones. Plus, volcanic and earthquake experiences! You'll need around 3-4 hours to see it all.
Save time and book a tour!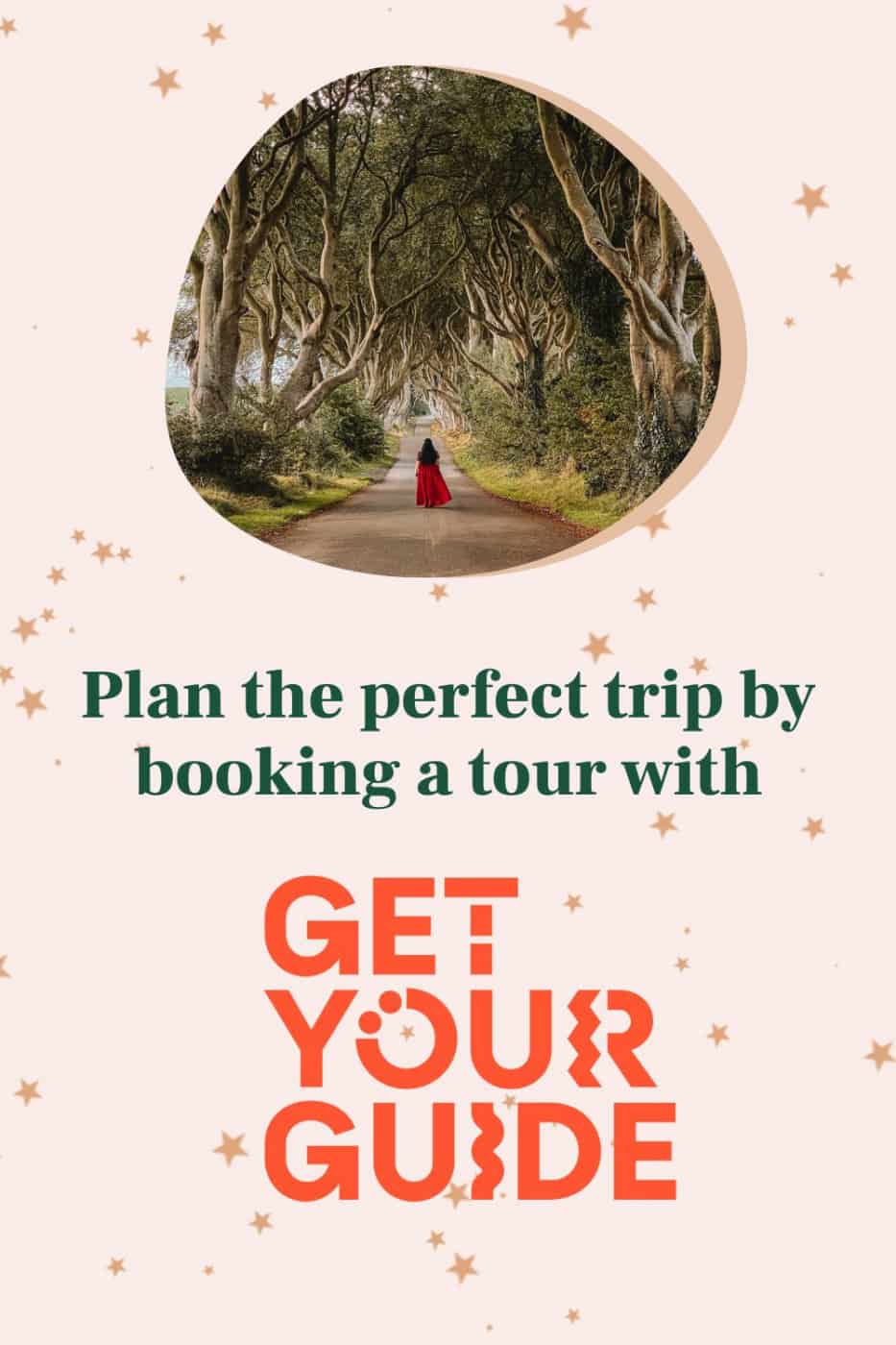 Book tours & tickets for London!
Read more of my London travel guides
How to visit 221b Baker Street
Why you must visit God's Own Junkyard
The hidden gem of St Dunstan in the East Church Garden
FREE things to do in the London Bridge District
How to find Diagon Alley at Cecil Court
A Harry Potter guide for Leadenhall Market
Magical cocktails at The Cauldron
Why you must visit the Harry Potter Photographic Exhibition
How to visit Harry Potter's 12 Grimmauld Place
Why you must visit the House of MinaLima
Dark Arts at Harry Potter Studios London
The secret Anne Boleyn symbols at Hampton Court Palace
Visiting Hogwarts in the Snow at Harry Potter Studios
How to visit the Hogwarts Divination Stairwell at St Paul's Cathedral
How to visit Word on the Water – London's Bookbarge
Why you must visit Daunt Books Marylebone
The best London Christmas lights and displays to visit
A complete Mr. Fogg's Tavern review
Save this Jurassic World ExCeL review for later!
Third Eye Traveller was kindly sponsored by Fever for this review. Although I was invited, all opinions are my own.