Classic bops float through the air, signs that time forgot to hang on the walls while people sip drinks and chat under a neon glow in a warehouse in Walthamstow. That's the vibe of Gods Own Junkyard.
A place where neon never dies and an art gallery in its own right hidden away North East London, this place won't be listed on the 'TripAdvisor top 10'. But I would certainly go out of your way to pay a visit.
Not only is this hidden gem one of the coolest and quirkiest exhibits in London, but you can also make an evening of it too and relax in their bar.
As I was heading to London for the day, I was determined this time to make my way over there and see this neon wonderland for myself.
Here's a complete guide to visiting Gods Own Junkyard and why you need to put this place on your list!
Heads up: the owners at Gods Own Junkyard very kindly gave me permission to use my camera here for photos. Usually, it's phone photos only! If you wish to do a photoshoot, see below for prices. Thank you.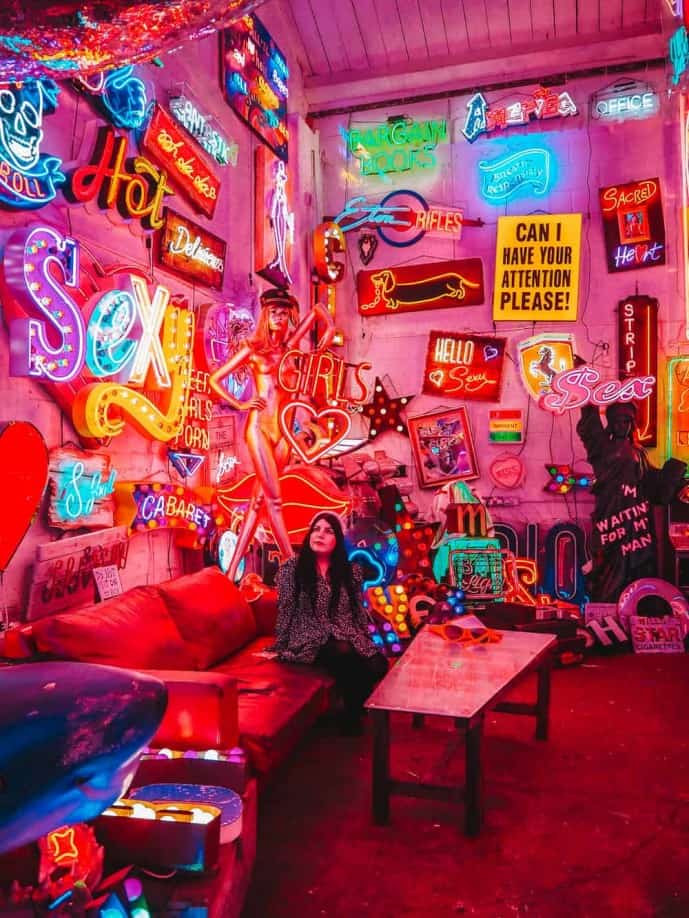 What is Gods Own Junkyard?
First of all, I want to put it out there now that although this place is Instagram heaven, it is way more than just an Instagram spot in London for your squares on social media.
It's a legendary place, a labour of love, and is the result of over 40 years of hard work.
Gods Own Junkyard is where neon never dies, an Aladdin's cave of lights and the brainchild of Chris Bracey. More on that below.
It's one of the largest collections of neon signs in Europe (maybe the world) and is home to many signs that would have fallen by the wayside.
Throughout the years this warehouse has been featured in Vogue, had some of its signs play a role in Hollywood movies, and has fascinated countless people.
As well as selling and renting signs, Gods Own Junkyard is an art gallery and neon museum with a café and shop inside.
The history of Gods Own Junkyard
Although Chris Bracey is known as the 'Neon Man' behind Gods Own Junkyard. It actually had its humble beginnings from his father Richard or Dick Bracey.
He was a Welsh coal miner from Monmouthshire (where my family are from and my great gramps was also a miner!) but got bored of working the mines. So, he packed up his cases and moved to London.
Being used to working in darkness, he eventually set up his own company 'Electro Signs' in 1952.
As well as lighting up London, his signs were used all over the South-East of England for funfairs, cafés, and strip clubs.
His son Chris Bracey started out as a graphic designer in the 70s but then took over his fathers business making signs for strip bars and brothels for the seedy side of Soho.
As well as making and designing neon signs, he started collecting those that were being thrown away.
He established his own neon museum in 1978 and named it after 'God's Own Junkyard: The Planned Deterioration of America's Landscape', a book by Peter Blake that campaigns against capitalism.
He got his big break when meeting the director of Mona Lisa, Neil Patrick Jordan, which starred Michael Caine.
He then became known in Hollywood and provided signs for movies like Eyes Wide Shut, Tim Burton's Charlie and the Chocolate Factory, and Blade Runner.
As well as Hollywood, he provided sets for some kingpins of the fashion world like Vivienne Westwood and Alexander McQueen.
Gods Own Junkyard today
Sadly, the "Master of Glow" passed away in 2014 from prostate cancer. But, he left behind the amazing legacy of this neon collection and handed down his craft to his family.
The multi-million-pound business now lives on through his sones Matthew and Marcus Bracey. They still make and provide neon signs for Hollywood and lighting up places like Las Vegas!
His son Mathew Bracey is now a third-generation neon artist and has released a book, 'Steel Dogs', about his father and his life.
You can purchase a copy online or buy a copy inside the museum.
Fun facts that you didn't know about Gods Own Junkyard
There are over 1000 neon signs in the museum, this is just 10% of the Bracey family collection!
The electric bills at Gods Own Junkyard cost over £3,000 a month to power it
They own many warehouses across London to keep all the signs inside with 40 staff members
The business dominates a lot of the neon sign industry across the globe
Approximately 1000 people visit Gods Own Junkyard each weekend
Vogue did a photoshoot here plus many fashion brands like Urban Outfitters use this place for photo shoots
Is Gods Own Junkyard a bar?
Yes and no.
I think you can probably tell by now that this place is way more than just a bar. But, yes, there is a bar on site where you can have a few casual drinks.
Their 'Rolling Scones' Café not only serves up a delightful menu of breakfast, lunch and dinner choices with the option of an afternoon tea if you fancy it.
It also serves up beers, wines, and spirits on the menu too.
The café is open until around 9 pm on Fridays and Saturdays and 6 pm on Sundays, so it's a great place to visit for the evening if you fancy it.
If you were looking to sample some of the local gin that's distilled in the area, The Mothers Ruin Gin Palace is right next door that opens on weekends too.
Is Gods Own Junkyard free to visit?
YES, this neon Narnia is completely FREE of charge to visit which completely amazed me. I mean it is London after all.
But, I have to admit that I saw a lot of people who popped in to take a thousand photos on their phones just to walk away, not spending a single penny.
As well as it being an art gallery, it's also independent and there are a lot of ways that you can support this family business that won't break the bank.
Buying a coffee, a beer, or even a postcard or pin badge from the gift shop can go a long way in preserving the museum.
Plus, it's a nice gesture of support for the staff that works here. Rant over, I'll get off my soapbox now…
Things you can do while visiting Gods Own Junkyard
So, what makes Gods Own Junkyard worth a visit?
Well, not only is it awesome but there are plenty of things to do while you're here too.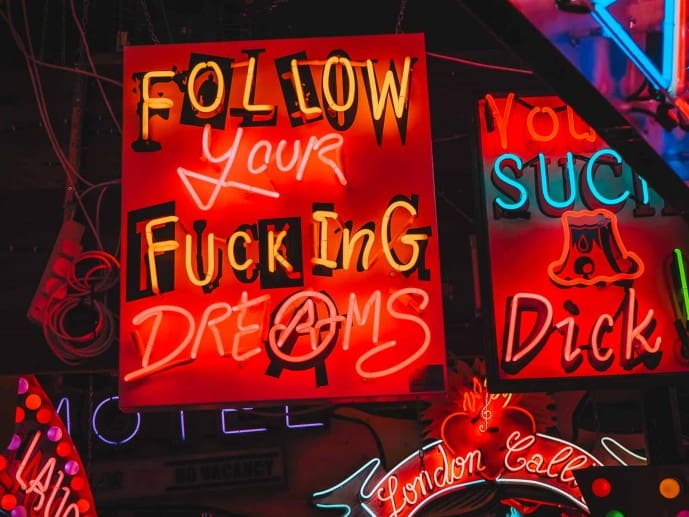 Explore this quirky neon wonderland!
This neon wonderland has so much to it while you're looking around. Neon signs are hanging and located almost everywhere in this Aladdin's cave. On doors, on walls, even on the ceiling!
You can find signs for strip clubs, quotes from The Doors, Rolling Stones, and the Velvet Underground too.
And it's not just neon signs, there are all sorts of quirky statues like Jesus, horses from merry-go-round rides, jukeboxes, and even gramophones.
What I also loved while you're wandering around is the eclectic soundtrack that plays on. From Blondie, Joan Jett, Rolling Stones, and even Elvis Presley, there are some amazing tunes to bop too.
The whole place glows in so many colours and you can't help but feel fuzzy while admiring it.
Every corner you turn in this labyrinth leads to something new to discover.
Visit the Rolling Scones Café
Once you're finished wandering around the museum have a few photos for your camera roll. I would highly recommend stopping by the Rolling Scones Café while you're here.
They have an awesome menu on offer which includes a Full English breakfast, or light lunches of soups, sandwiches, and slap-up meals too.
As I was here in the afternoon, I decided to stop for a pick-me-up coffee and try one of their homemade cakes.
I asked for a recommendation and was suggested to try their seasonal creme egg cheesecake! It did not disappoint.
As before, they also have some adult beverages if you fancied it and you can sit indoors or out in their beer garden too if the weather is nice.
Shop for Gods Own Junkyard souvenirs
If you wanted to take some of the magic home with you, the museum also has its very own gift shop.
They sell custom-made t-shirts, mugs, pens, badges, and even notebooks of Gods Own Junkyard. Plus, some prints and postcards if you wanted to hang them on the wall.
There is also a selection of books including Steel Dogs which tells the story of Chris Bracey, his incredible life, and how this amazing place came to be.
Buy or rent neon signs
Yep, these neon signs are not just there to ogle at! You can actually buy or rent one while you're here.
Whether you have a wedding coming up, an event, or just want to display one of their original creations in your living room – you can enquire about buying or renting at the front desk.
But, I will warn you now, renting one doesn't come cheap, so buying a sign will be quite the investment.
A Gods Own Junkyard photoshoot – can you take pictures at Gods Own Junkyard?
So, since it's become an Instagram superstar, a LOT of people want to take photos inside Gods Own Junkyard. But, the staff have very strict rules about professional cameras being used on the premises.
You are not allowed to take professional photos here with a DSLR camera without explicit permission from the owners.
Renting out the warehouse during the week will come at a cost of £250 if you want to run a photoshoot for weddings, celebrations, modelling – whatever it is you want.
So, I would only bring your phone camera here if you want to take photos for your Instagram feed.
In my case, I rang Gods Own Junkyard before my visit. I spoke to Matthew who very kindly allowed me to take photos with my camera as I'm a blogger. This meant signing a waiver too.
The staff is super friendly so I'd email or call them, to enquire what is and isn't allowed before you visit.
Gods Own Junkyard opening times
Gods Own Junkyard are open only on weekends, that's Friday, Saturday, and Sunday at the following times;
Fridays: 11am – 9pm
Saturdays:11am – 9pm
Sundays: 11am – 6pm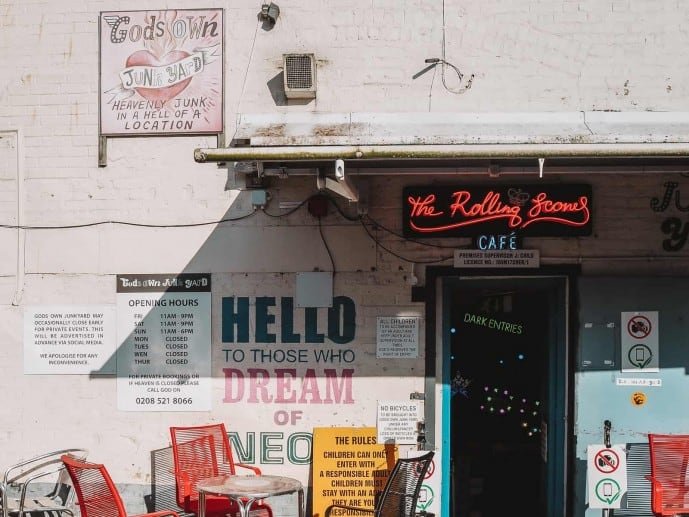 Where is Gods Own Junkyard in London?
Gods Own Junkyard can be found in Walthamstow a district in North East London. The full address is;
Gods Own Junkyard, Unit 12 Ravenswood Ind Estate, Shernhall Street, London, E17 9HQ.
It's tucked away in one of the side streets, but it's fairly easy to find when you alight at Walthamstow Central tube station.
How do I get to Gods Own Junkyard?
By Tube: The nearest tube station to Gods Own Junkyard is Walthamstow Central which is the terminus station of the Victoria Line. From Westminster, it took me almost an hour to reach it! So, make sure you leave enough time. From the Tube Station, it's around a 13-minute walk to the Ravenswood Industrial Estate.
On Foot: When you exit Walthamstow Central, head out onto Selborne Road, then St Mary's Road, and then down Church Lane passed the Almes houses.
When you reach Shernhall Street, turn right and then head down that road until you see the Ravenswood Estate on your right. There will be a sign.
Other places to visit around Gods Own Junkyard
Before visiting Gods Own Junkyard, I had heard Walthamstow was very drab with grey buildings and housing estates. But my visit completely surprised me and there is so much to explore around the area.
The High Street had some amazing markets, restaurants with food from all over the world. Plus, some quirky boutique coffee stores.
In Walthamstow Village, I passed the quaint Squires Almes Houses founded in 1795, the Vestry Museum, and even found 'The Ancient House' which was a Tudor cottage gem built in the 14th century.
This stands opposite the delightful St Mary's Church that was founded all the way back to the Norman Era in the 12th century!
I'm a bit of a history nerd so this was fascinating to me and I decided to stroll around a while to the Old Town Hall originally built-in 1876.
Further on you have the William Morris Gallery, a Georgian house to explore with an arts and crafts gallery. Also, you can head out to Walthamstow Wetlands to see London's newest nature reserve.
Read more of my London travel guides
How to cross the Beatle's Abbey Road in London
How to visit Word on the Water – London's Bookbarge
How to visit The Hardy Tree in London
Jurassic World Exhibition in London review
How to visit 221b Baker Street – Home of Sherlock Holmes
The secret Anne Boleyn symbols at Hampton Court Palace
FREE things to do in London Bridge
How to visit 12 Grimmauld Place in London
How to visit Platform 9 3/4 at King's Cross Station
How to visit the secret St Dunstan in the East Church Garden
Leadenhall Market – Home of the Leaky Cauldron in London!
Is Goodwin's Court a real Knockturn Alley?
Visiting a magical Harry Potter Cocktail bar in London
Cecil Court – Visiting a real Diagon Alley in London!
Magical reasons to visit the Harry Potter Photographic Exhibition
Why you must visit the only Butterbeer Bar in London
How to visit the Millennium Bridge Harry Potter Filming Location
Visit the House of MinaLima in Soho!
A complete guide for the Greenwich Foot Tunnel
Hogwarts in the Snow Review at Harry Potter Studios London
How to visit Highgate Cemetery in London
Dark Arts at Harry Potter Studios London
How to visit the Hogwarts Divination Stairwell at St Paul's Cathedral
Why you must visit Daunt Books Marylebone
The best London Christmas lights and displays to visit
A complete Mr. Fogg's Tavern review
Like it? Pin it!