An activity you have to add to your bucket list in the UK would be to ride the London Cable Cars or the IFS Cloud Cable Cars.
It's a unique sightseeing experience where you'll take to the skies over the River Thames and be greeted by some of the best views in the entire city.
I rode these cable cars when they first opened so, on my most recent visit to London, I wanted to ride them again. Not much has changed – the views remain just as spectacular and the entire journey is breathtaking.
Here is a complete London cable cars guide on how to ride the IFS Cloud Cars with opening times, prices & top tips!
Note: The London cable cars have now changed from the Emirates Air Line to IFS Cloud Cable Car. It's the same experience, just with a different colour wrapping and advertisements on the cars – have fun!
Where do the London cable cars go?
The London cable car experience takes you on an aerial cabin journey from the IFS Cloud Greenwich Peninsula by the O2 Arena and the IFS Cloud Royal Docks by the ExCeL.
It's a 1 kilometre journey over the River Thames where you'll reach heights of up to 90 metres, the highest observation point over the Thames.
Whilst you're in the sky, you'll get to see iconic sites in London such as the O2 Arena, St Paul's Cathedral, Olympic Park, and the Thames Barrier!
How to find the London cable cars
There are two ways that you can find the London cable cars;
IFS Cloud Royal Docks – The nearest tube station is Royal Victoria on the DLR service. It's then a 4-minute walk to the London Cable Cars from there. You'll find it on the Royal Victoria Dock. Click for a Google Pin.
IFS Cloud Greenwich Peninsula – The nearest tube station is North Greenwich on the Jubilee Line. It's a 5-minute walk behind the O2 Arena to the cabin station. If you're on a riverboat it's North Greenwich Pier. If you're driving, you can park up at the O2 Arena. By bus, you can take the 188 services to North Greenwich Bus Station. Click for a Google Pin.
You can either take a one-way journey between either station or a return journey depending on where you want to travel next.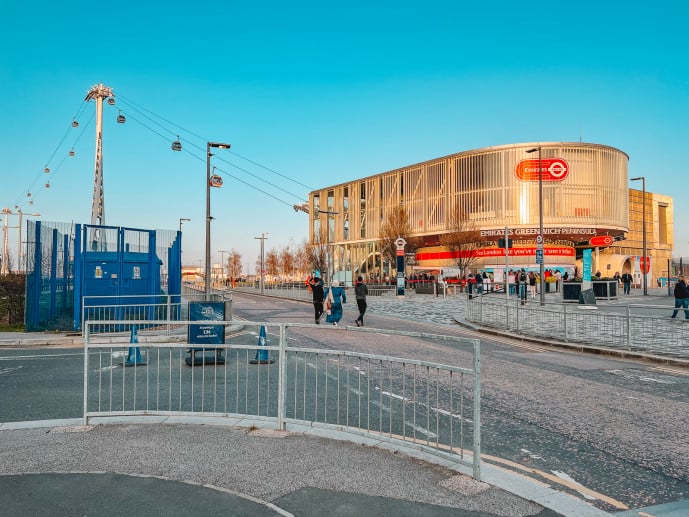 London cable cars opening times
The great news about London cable car is that they are open all year except Christmas Day! Opening times are;
Mondays to Thursdays: 7am – 10pm
Sundays and Bank Holidays: 9am – 10pm
These times can alter slightly in the winter season and IFS Cloud Cable Cars may suspend flights in bad weather, risk of lightning, or high winds.
Top tip: visit in the evening for their 'Night Flight Experience' to see sparkling lights all over London! Round trip flights are extended to 25 minutes after 7 pm so you get even more time in the sky at no additional charge.
London cable cars ticket prices
You can pre-book your IFS Cloud Cable Car tickets online or you can buy them on the day at either of the Royal Docks or Greenwich Peninsula ticket counters.
You buy tickets to fly at any point during the day of your ticket purchase, you can't book specific time slots.
Tickets cost £6 for adults one way or £12 for a return journey (£1 cheaper if booked online). It's £2.50 for a one-way children's ticket and £5 for a return.
If you didn't want to buy beforehand you can also use your contactless/Oyster cards, simply tap the barriers before you board.
As well as standard cable car tickets, they have a range of river packages for Thames Clipper/Uber boats that saves you some money on both of these top London attractions.
Click here to book your IFS Cloud Cable Car tickets online!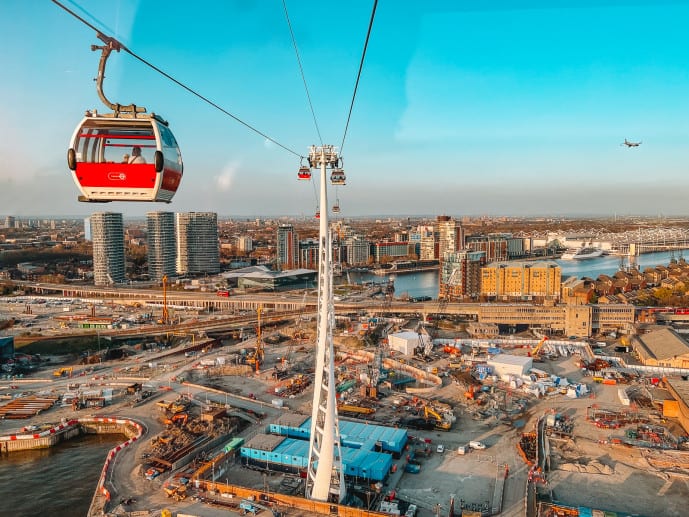 How long is a London Cable cars journey?
London cable car cabins arrive every 30 seconds throughout the day and a journey from the Royal Docks to Greenwich Peninsula takes roughly 10 minutes.
You'll be travelling at a steady pace for 1km over the River Thames in East London near Greenwich.
This is plenty of time for some incredible photo opportunities in the sky but if you wanted to extend your journey I would book a round trip so you can stay longer.
At night time, the journey is extended to 12-13 minutes each way so you get a little bit longer to enjoy the city lights over the Thames.
What to expect on your journey & top tips
There may be long queuing times for London cable cars in the summer months and on weekends. Queues can be up to 1-2 hours. I would recommend visiting as early as possible for the least queues. There are VIP Fast Track experiences available at an extra cost.
Many cable car cabins are full with those taking a return journey hence the long waiting times.
At the moment, London cable car cabin experiences are private for 2-9 people travelling together. If you're travelling solo, you may be asked to join up with other single riders.
You'll reach up to 90 metres over the River Thames which is the highest observation point available.
Try to pick a clear day for your IFS Cloud cable car journey for the best views. If it's raining, the cabin views will be covered in raindrops or steam up with condensation!
Looking for more things to do in Greenwich?
After your visit to the London cable cars, there is plenty to do in Greenwich to keep you busy. You can visit the O2 Arena one of the biggest music venues in the city. You'll find the Emirates Aviation Experience here.
You can walk along the Thames and under the river via the Greenwich Foot Tunnel to reach places like the Queen's House Tulip Stairs or shop til you drop in the bustling Greenwich Markets.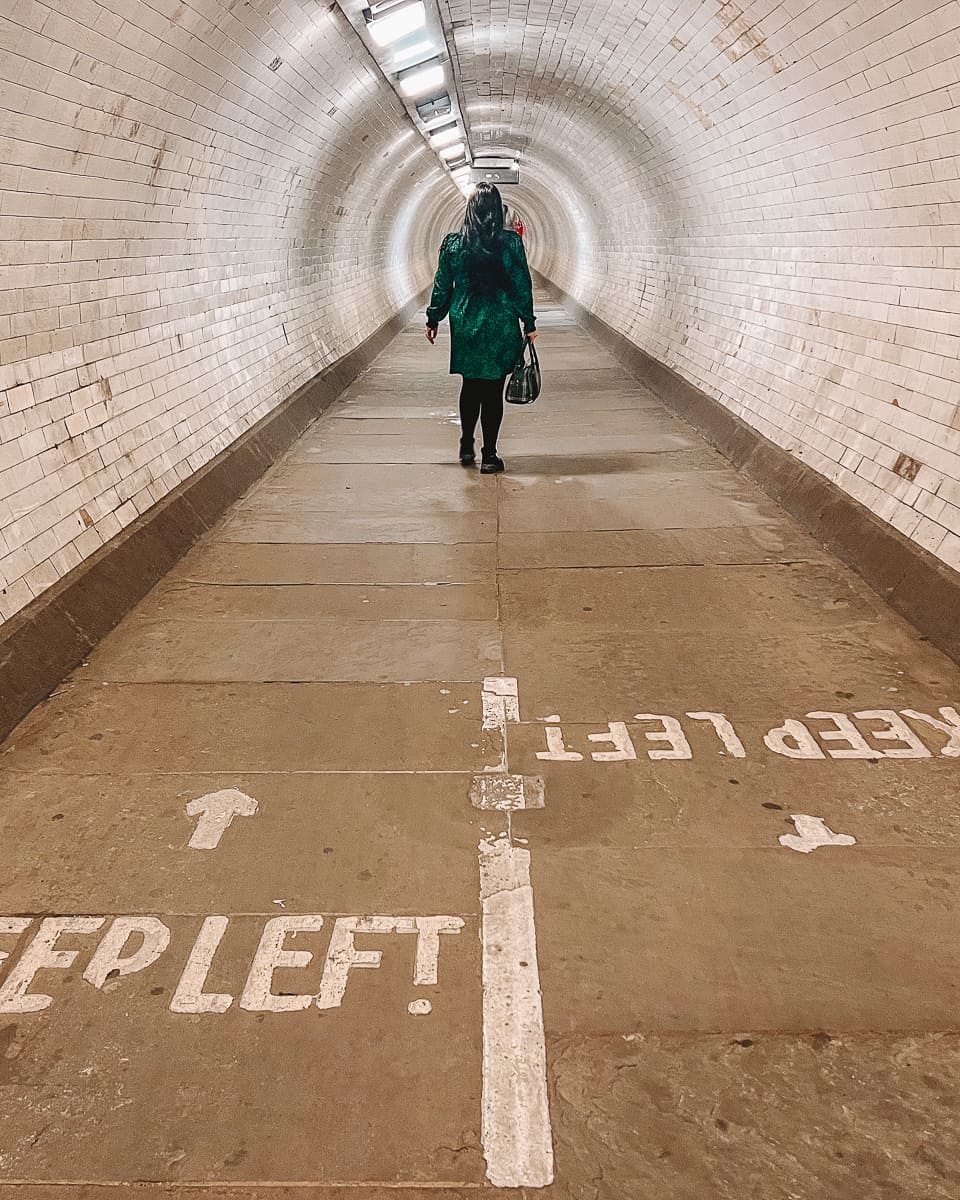 Just beyond that is the Royal Greenwich Observatory and you can visit the National Maritime Museum.
The Maritime theme can be found all over here and the Royal Naval College is a sight not to be missed.
This is a TV & Film favourite and can be seen in many popular productions like Bridgerton, Poldark, Cruella, Skyfall & Pirates of the Caribbean. You can buy a ticket for their Painted Hall or visit some free attractions like the chapel of St Peter and St Paul and the campus green.
You also cannot miss a visit to Cutty Sark clipper ship which was one of the fastest in its day.
Click here to read my complete guide for the Greenwich Foot Tunnel!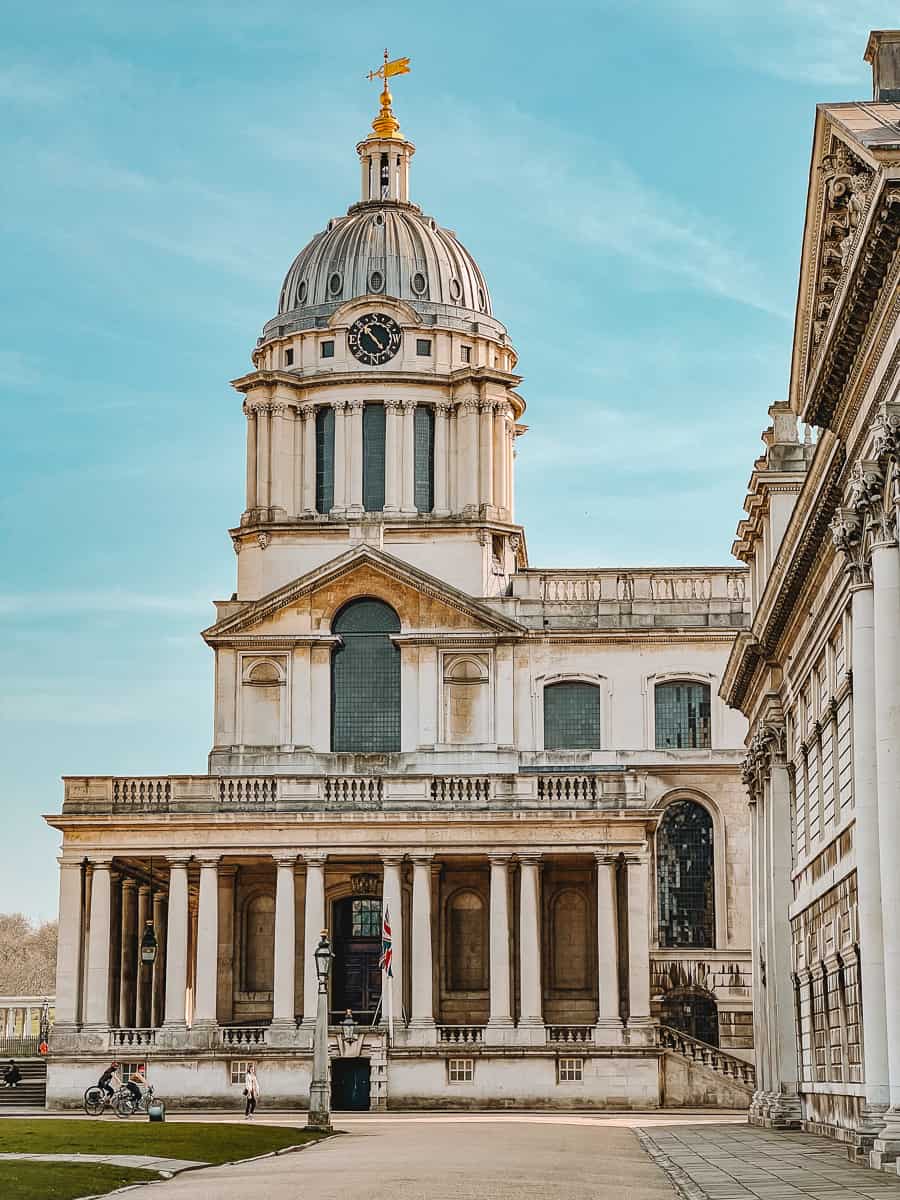 London Cable Cars FAQs
Are London cable cars free? No. Adult tickets are £5 for one way and £10 for a return (slightly more if bought at the desk). You can get tickets at the IFS Cloud Cable Car counter or use your contactless/Oyster cards at the gates.
Can you just turn up to London cable cars? Yes, you can book online beforehand but you can also just turn up on the day as well. The queues can be pretty long but you wait in them regardless.
How much did the London cable cars cost to build? Around £60 million!
Are London cable cars worth it? YES, 100%! it's a unique sightseeing experience in London and one to tick off your bucket list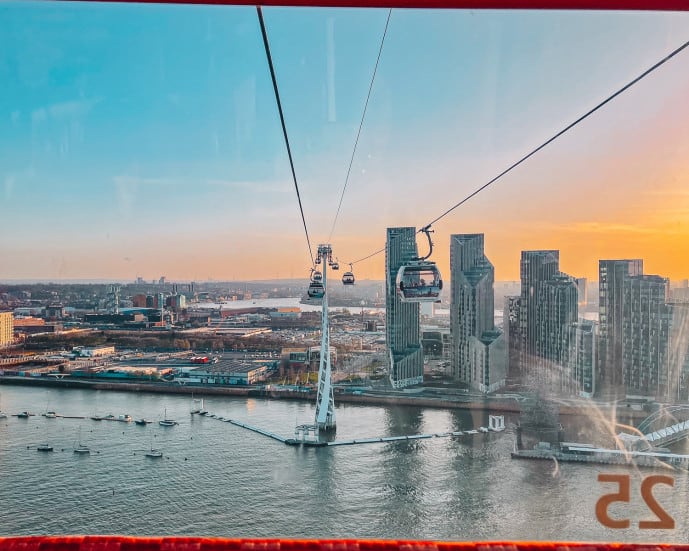 Read more of my London travel guides
How to visit 221b Baker Street
How to visit Word on the Water – London's Bookbarge
Why you must visit God's Own Junkyard
Jurassic World Exhibition in London review
The hidden gem of St Dunstan in the East Church Garden
FREE things to do in the London Bridge District
How to find Diagon Alley at Cecil Court
A Harry Potter guide for Leadenhall Market
Magical cocktails at The Cauldron
Why you must visit the Harry Potter Photographic Exhibition
How to visit Harry Potter's 12 Grimmauld Place
Why you must visit the House of MinaLima
The secret Anne Boleyn symbols at Hampton Court Palace
Visiting Hogwarts in the Snow at Harry Potter Studios
How to visit Highgate Cemetery in London
Dark Arts at Harry Potter Studios London
How to visit the Hogwarts Divination Stairwell at St Paul's Cathedral
Why you must visit Daunt Books Marylebone
The best London Christmas lights and displays to visit
A complete Mr. Fogg's Tavern review
Save this London Cable Cars guide for later!