Howdy folks, if you're looking for some hidden gems in the Scottish capital then you must visit Wild West Edinburgh.
Also known as the cowboy street, this themed alleyway in Morningside will make you feel like you've stepped onto a movie set.
It's a Frontierland worthy of a western that includes a jail, cantina, blacksmiths, stables, and stores. But, the big question is, why is there a cowboy town in Scotland?!
Here is the story that uncovers the mystery of Wild West Edinburgh and how to visit.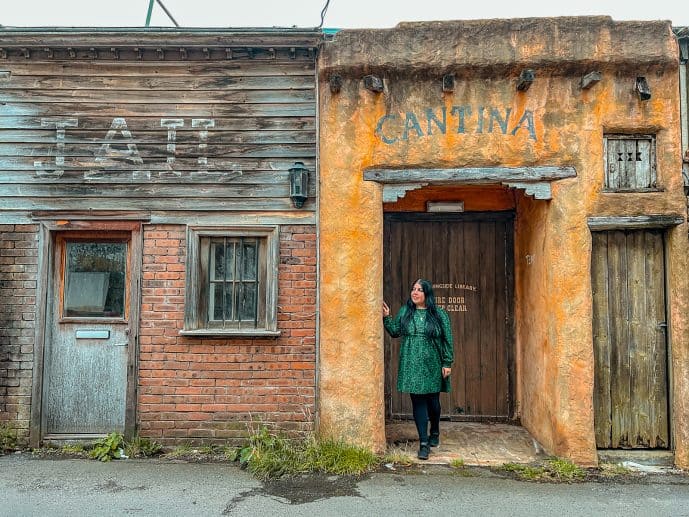 What is Wild West Edinburgh?
Wild West Edinburgh is the name given to a street that is tucked away near Springvalley Gardens in Morningside.
It's an alley that is themed like a Western town and has been decorated with wooden facades and painted advertisements.
Although most tourists visit Edinburgh for history, this scene from America's Old West may come as a total surprise.
It's a cowboy ghost town and visiting poses more questions than it does answers.
The story behind Edinburgh's cowboy street
So, the question most people ask is how on earth did a cowboy street end up being built in the city of Edinburgh?
Well, apparently, the themed alleyway was constructed as part of an advertisement for a furniture store in the 1990s.
It was called 'The Great American Indoors' and sold lots of quirky Western-style furniture and homewares.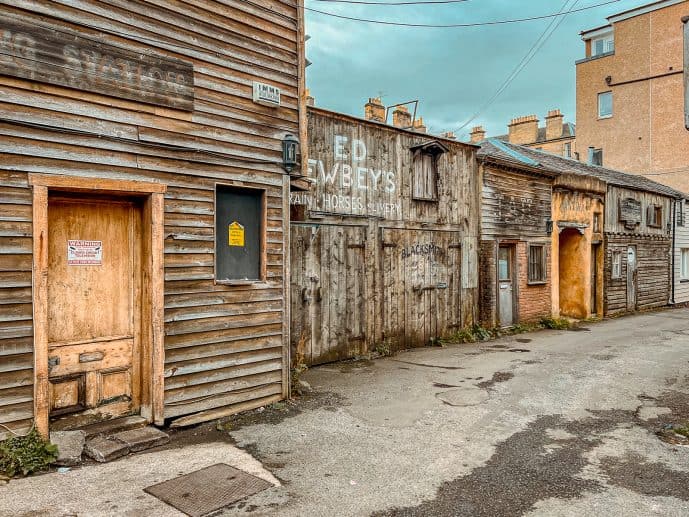 The attention to detail is truly immaculate and allegedly it was an old Disney cast member that made the designs.
Unfortunately, the furniture store is no longer there and so now Wild West Morningside looks like a creepy cowboy ghost town.
They've been threatening to demolish it for years but it's still here today and it's now one of the city's best-kept secrets.
Where is Edinburgh's Wild West?
Edinburgh's Cowboy Street is a hidden gem that is tucked away in the Morningside area of the city.
Morningside is quite a 'posh' district with a wealth of swanky cafés, bars, a canal, and parks.

It can be found in a small courtyard that is just off Springvalley Gardens and it's very easy to visit.
How to get to Edinburgh Morningside
Morningside is a 2-3 mile walk from the centre of the city with attractions like Edinburgh Castle and Calton Hill.
It can take you nearly an hour to walk here. So, it's best to take public transport to Morningside.
From Edinburgh Waverley station, you can transfer to a bus on Prince's Street that heads to Morningside Road and drops you off right outside Springvalley Gardens.
It's also possible to drive and there are plenty of off-road parking spaces. Most are permit holders only during the day but are free before 8.30 am or after 5.30 pm.
Edinburgh Wild West's address is Morning Side Road, Edinburgh, EH10 4QG. Click here for A Google Pin!
What to expect when visiting Wild West Morningside
Although the cowboy town is just an alleyway hidden behind some residential buildings in Morningside. As soon as you enter it, you'll feel like you're on a movie set.
Sure, there's no desert sand on the floor, cacti, or horses and it's almost guaranteed that there won't be any desert temperatures in Scotland.
But, the buildings will make you feel like you've been transported to a ghost town in the Wild West.
On your visit, look out for a jail, blacksmiths, a cantina, an outpost, and stables. Plus, a wealth of other signs and advertisements. The only thing missing is a rowdy saloon.
You'll probably only need around 10-15 minutes to have a look around. The themed buildings are great but the area is very small.
Make sure to bring your camera as it's a great photo opportunity. Bonus points if you wear a cowboy hat!
My top tips for visiting
Visit after business hours for a quieter time – unless you need a car service you should visit after hours for a quieter visit.
Be respectful – on that note make sure to be respectful of the space as it's still a business area and residential neighbourhood.
Hold your nose – This cowboy alley is themed but it's still an alley so it didn't smell like roses. That's all I'm going to say.
Bring your camera – the buildings make a great photo opportunity and you'll feel like you're in the Wild West.
Wild West Edinburgh opening times and prices
Edinburgh's Wild West is a business area but it's open 24 hours a day, 7 days a week.
It is quieter in the early morning or later in the afternoon. I wouldn't recommend visiting at night though.
It's also completely free to visit this Scottish cowboy town and makes a great hidden gem to add to your list.
Is Wild West Edinburgh worth visiting?
I thought so but I have been to the city many times before so I was looking for alternative things to do over the popular attractions.
If it is your first time in the city and you only have a few days, I wouldn't prioritise this cowboy street on your itinerary.
You do you though. If you're a huge fan of Westerns then this cowboy town may be right up your alley (excuse the bad pun).
If you're like me and are looking for hidden gems in the city, Wild West Edinburgh makes a great pitstop in Morningside.
It's themed, it's fun, it's free and it's downright weird being in Scotland. What's not to love?
Places to visit in Edinburgh Morningside
Edinburgh Morningside & Bruntsfield is often overlooked by tourists in Edinburgh so it makes a great place to explore if you were looking to avoid the crowds.
There are lots of cafés to visit like Salt Café, Honeycomb & Co, and Sweet Paradise Deserts.
You can check out Holy Corner or visit John Livingston's Tomb. Take a stroll down Union Canal or visit the Meadows.
Or, why not visit in the evening? You can head to McLarens who have quirky Ski Gondalas to relax in with a cocktail.
Read more of my Edinburgh guides
My complete photography guide to Edinburgh
Secrets of Queen Mary's Bath House
A complete list of Outlander film sites in Edinburgh
Why you must visit Bakehouse Close
A complete guide to the Vennel
How to visit the Ross Fountain
The hidden gem of Tweeddale Court
Why Craigmillar Castle has to be on your list
Afternoon Tea? The Colonnades & The Balmoral are the best!
Discover Liberton Kirk in Autumn
The ultimate list of experiences in Edinburgh
Harry Potter locations in Edinburgh
Exploring the fairytale Dean Village

Save Wild West Edinburgh Morningside for later!