There's something so therapeutic about taking some time out and indulging in an afternoon tea. It's an escape into some peace and quiet with a cup of cha and a few (a fair few) delicious treats savoury and sweet.
New Delhi is definitely a massive culture shock when you land off the plane. It's hot, dusty, manic, bustling, and all the rest. So, what better than to escape into a luxurious oasis in the centre of the city?
I was on the lookout for an afternoon tea that fit the bill and the Imperial seemed to check all the boxes. A luxurious five-star hotel? Check. A gorgeous range of tea and treats? Check. An affordable price? Check.
I was so excited to book myself for The Imperial Tea Ritual in their Atrium and enjoy a bit of pampering. Here's my full and honest review of the whole experience.
How to book yourself in for The Imperial Tea Ritual
The Imperial is open for High Tea in its award-winning glass-domed Atrium each day of the week. The peak time to arrive is from 3 pm to 6 pm.
To book a table you can visit their website and fill in their reservation form. Alternatively, you can call (+91) 011-41116606.
It's good to note that you don't need to reserve a table for High Tea on weekends from 3 pm – 6 pm.
How to reach the Imperial New Delhi
The Imperial New Delhi is located near Connaught Place and is only around a 10-minute drive or 20 minutes walking from there.
New Delhi has a variety of amazing transport options to take advantage of;
You can book a taxi – both Uber and Ola are great apps to download. Not only can you pay by card or cash through the app, but you also don't get ripped off either. Here's how to use Uber in India.
Take a Tuk Tuk or Auto Rickshaw – A 3-wheeler is also a good option as it's convenient and there will always be one available. However, you may find that the hotel will not allow the 3-wheeler to pull up outside reception! Most 5* places don't. BE CAREFUL of scams with Tuk Tuks, it's notorious in Delhi. Always haggle.
Metro – Delhi has a super cheap metro line that runs through the heart of the city, all the way to the International Airport. Alight at Janpath on the Violet Line, it's a few minute's walk from there.
A look inside the Imperial New Delhi Hotel
As soon as I arrived all of the staff were so friendly! I definitely felt a little out of place pulling up to such a swanky hotel in Delhi so it was lovely to be greeted at the Imperial with open arms.
And the welcome was even better when I walked through the doors. I was immersed in the magical air conditioning and every room was wall-to-wall opulence!
It had such a beautiful decoration infusing modern class mixed with Delhi's heritage. As I meandered, snooping from room to room, I couldn't help but gawp and have a twinge of jealousy of the guests that were lucky enough to stay there!
If you did fancy having a look at the prices for rooms or availability, see here.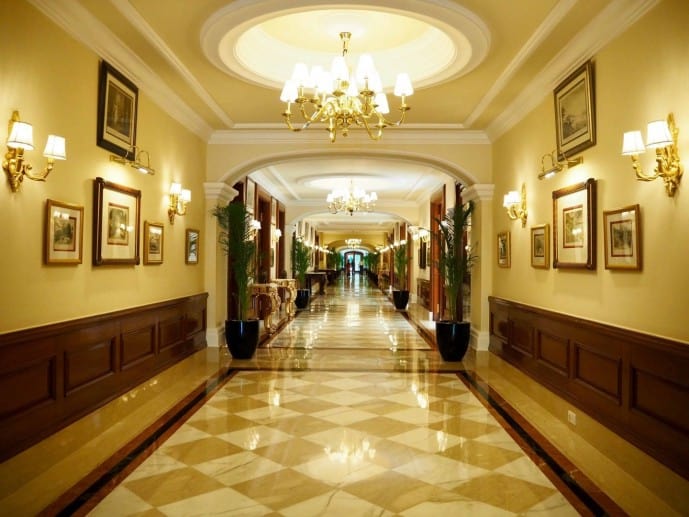 The Imperial New Delhi hotel grounds
As I was a little early for my afternoon tea, I had a good wander and stroll about the grounds!
Pathways were laced with swaying palm trees, calm classical music played as you walked around and the smell of jasmine filled the air. Surely, I had to pinch myself to check if this was real.
It was such a contrast compared to the manic, hot, and busy streets outside. I could only imagine waking up at sunrise and going for a swim in their pool. If you do find yourself here, make sure you have a walk around their lawns, they're honestly divine.
As I walked through the atrium, I could only smile and look up!
Whereas the rest of the hotel was a little dim, the glass-domed roof of the Atrium let through the sunlight. Casting a warm glow on the setting for tea.
The colour of the orange cushions really popped against the white wicker chairs and tables and I couldn't wait to choose my seat.
As I was sitting alone, I decided to pick a seat in the corner!
It was super comfy and magnificent yet totally relaxed. There was no straight back or stiff upper lip needed here. The music in the Atrium was so lovely to hear and I just felt like I could unwind and enjoy.
What's the Imperial New Delhi afternoon tea cost?
I was slightly surprised that it wasn't your normal afternoon tea affair with a cake stand and finger sandwiches. It was actually a buffet style in which everything was laid out for you.
Although it was convenient to just get up and grab what you like in abundance. I was slightly missing the tier. Usually, that's one of the perks.
There was a wide range of international teas available to order from English Breakfast, smoky Assamese, and Chai all the way to your Broken Orange Pekoe. It was a hard choice but I simply wouldn't be a Brit if I didn't choose the all-time classic, English Breakfast.
There was a wide range of savoury snacks on offer which were mostly in Asian style. There were chicken satay skewers, samosas, curries, chutney, flatbreads, and bruschetta.
Also, they had some 'healthy shots' in interesting combinations including cucumber and lemon. They were delicious.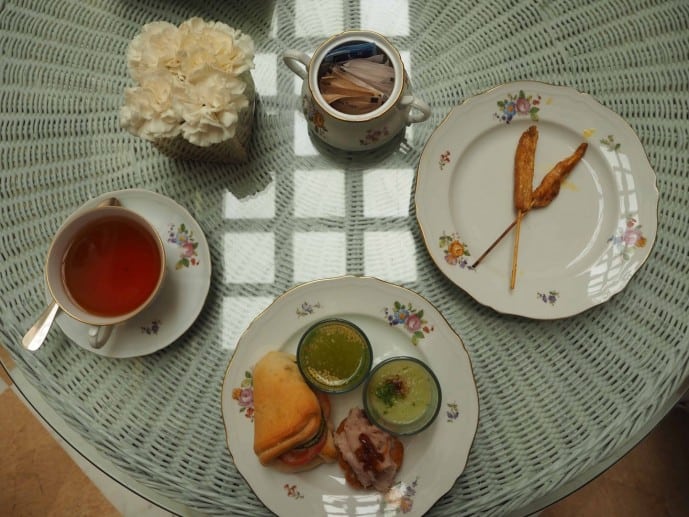 Then it was onto my favourite course of sweets. They had some amazing artisan chocolates, jellies, cakes, scones, and all the naughty things you could think of! I certainly over-indulged to try and get the most for my money.
The price of the Imperial New Delhi afternoon tea was 1300 rupees per person, that's pre-tax.
Don't forget that India adds on 20% GST and also sometimes a 'luxury tax' at fine hotels. Luckily, that didn't happen here. That made the total price around 1640 rupees or thereabout.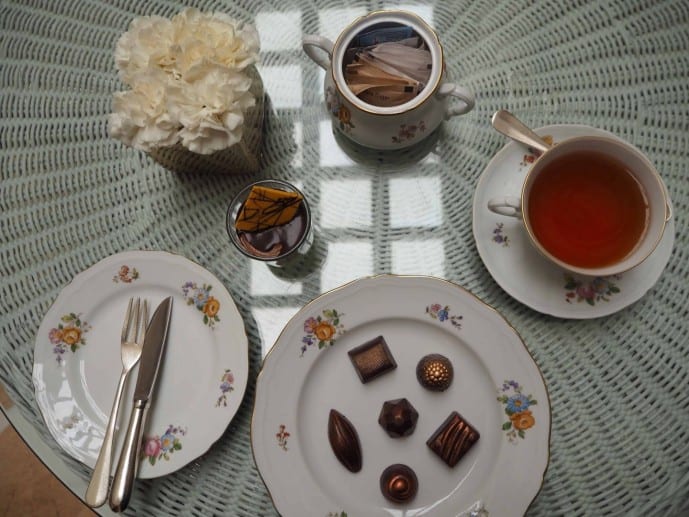 My Imperial New Delhi afternoon tea verdict
I have to admit, it didn't feel as luxurious as most of the afternoon teas I have taken.
There's something so lovely about getting your afternoon tea served on a tier.
But, the atmosphere in the Atrium and the location more than made up for that. Plus, for the price you're paying for an unlimited 5* buffet, you can't really complain.
It was simply lovely to take some time out of the bustling city of Delhi and unwind. The service was incredibly efficient and the staff truly make you feel welcomed into their extravagant hotel.
Make sure that you put having an afternoon tea at the Imperial in New Delhi on your list!
Need some travel tips for Delhi?
If it's your first time in the capital of India, it can be a bit overwhelming to decide what to do first.
So, I've created a first timer's guide to Delhi of how to spend your first 24 hours here.
In this guide, I take you through all the must-do sights to tick off your Delhi bucket list.
Also, I've just created a guide on the haunted Agrasen Ki Baoli that you can read here!
If you want photography locations, the Old Delhi Spice Market rooftop is one of the best.
Read more on the most Instagrammable places in Delhi!
Read more of my India articles
The ultimate Rajasthan itinerary
My complete guide for Rishikesh
Like it? Pin it!