If you're heading to the coast and looking for how to spend one day in Brighton, you've come to the right place.
Ever since reading Brighton Rock by Graham Greene and watching the recent movie remake, I've wanted to visit Brighton. It just looked like such a hip retro seaside town.
I added it to my never-ending bucket list around 3 years ago and I kept meaning to go there. Each year I said I'd make the journey, but the opportunity didn't surface. I mean, for me, it's not that far.
It's only in the UK, right? This year, I was determined. I was going to make it happen. And now finally, I'm proud to say, in my 28 years on this beautiful Earth; I made it to Brighton!
Brighton is a little bit of a mixture of sorts. It's got a great vibe!
The Edwardian pier, the pebble beach and promenade, the Indian architecture, the super-cool retro Lanes, and the i360 all make it the perfect place for a day out!
Here's how to spend one day in Brighton & 8 brilliant things to do.
8 Brilliant things to do with one day in Brighton
1. Head to the Brighton beach
Although from afar it looks like a sandy shore, the Brighton beach is actually full of pebbles.
They can be really uncomfortable to walk on if you have sandals so be prepared to remove stones out of your shoes if you're taking a stroll.
At one point, when I was near the deck chairs, there seemed to be some sort of pebble sinkhole and I ended up falling over a few times! It was quite hilarious.
On the day we were there, it was a scorcher!
I couldn't get over the turquoise colour of the sea. It made me want to dive right in to cool off from the British summer heat.
Unfortunately, I didn't bring my Bikini as the weather forecast signalled for rain. So, I just had a little paddle.
I cannot tell you how painful the stones were on my feet to get to the water, but it was so worth it!
The beach is the perfect place to relax, sunbathe, have some food and watch the waves crashing onto the shore.
2. Buy a 99′ on Brighton Palace Pier
In the UK, we call an ice cream with a chocolate flake a '99 or a Mr. Whippy.
It's strange but the only place where these taste like gold is in the UK. You can get yours on a cone, a double cone, in a tub, an oyster shell, and in all manner of ways. Best to have it with sauce and sprinkles :P
Whenever I come home, I always get a '99. It just isn't the British summer if you don't have ice cream spilling down your hands or on your face! You have to try it!
The Brighton Palace Pier is a stunning place to take a stroll.
Although the attractions and arcades have been updated, the structure is still a step back in time.
It was an avid pastime for Victorians to take a visit to the seaside for their health and piers were the main attractions back in the day.
The Palace pier makes you feel like you're in that era. There are 3 bars, a tea room, rides, arcade games, souvenir shops, and the best fish and chip shop in Brighton for you to take your pick of.
I would allow at least an hour to explore. The best thing about it for me was the breeze and chilling out on their free deck chairs!
I love ice cream. You deserve someone who looks at you the way I look at ice cream ;)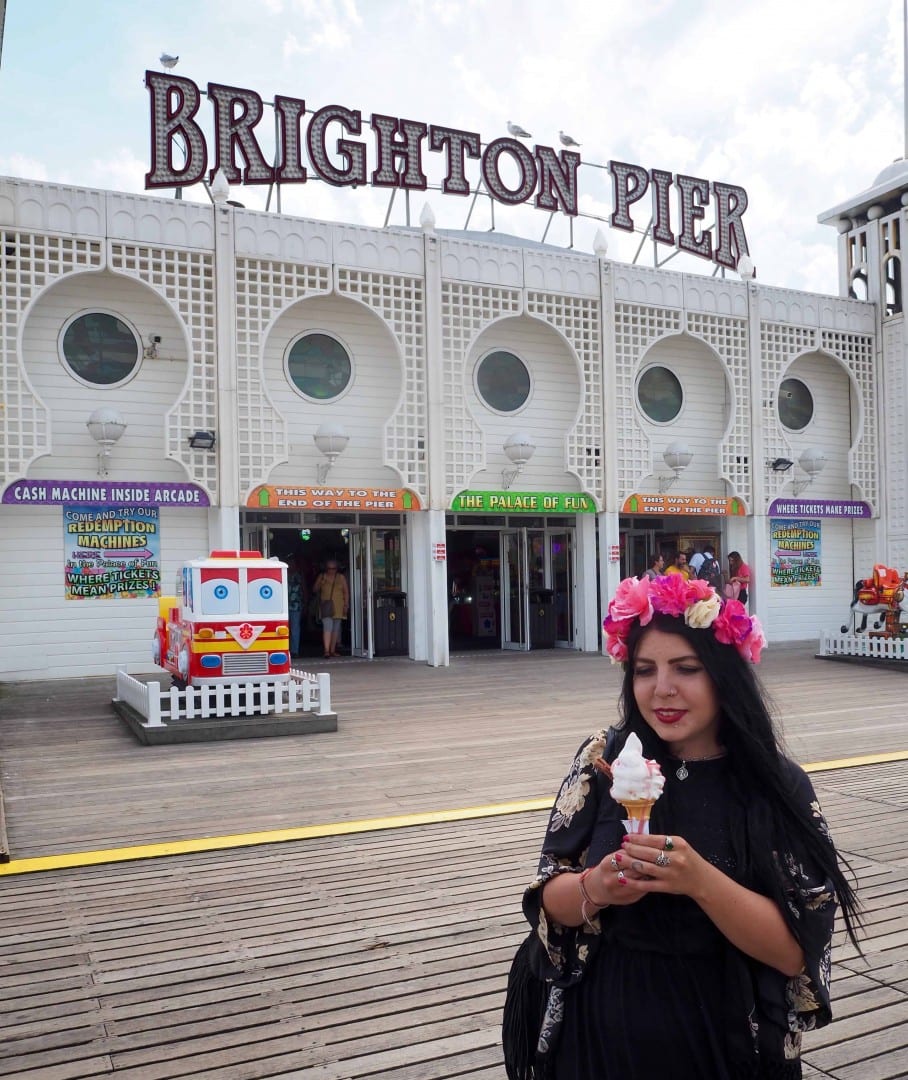 3. Go shopping on The Lanes in Brighton
The Lanes of Brighton are world-famous and for good reason.
We spent a few hours here and didn't even scratch the surface of this cool little area. It's the perfect place for vintage clothes shopping and there are hundreds of shops to choose from.
My favourite shop was the antique market called snoopers paradise which literally looked like a rag-n-bone treasure trove.
They had all sorts of vintage crockery, cameras, posters, and even an old photo booth!
There were also awesome little cafes, deli's, restaurants, bubble tea shops, boutiques, art installations, and more. So, get lost and enjoy it!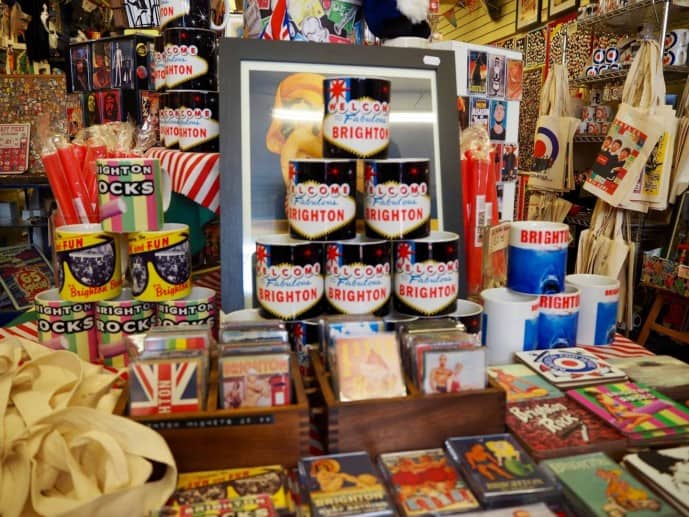 4. Go back in time to the 50's in Rock-ola!
Tucked away somewhere in the Lanes of Brighton is the cutest little cafe that takes you right back to the 1950s.
Rock-Ola in Brighton is filled wall to wall with Rock 'n' Roll memorabilia.
This café is run by the nicest family and they'll be more than happy to have a chat.
They serve up a tasty classic British menu and it does a mean fry up! Make sure you select a track from the jukebox and shake ya tail feather.
5. Feel some Desi vibes at the Brighton Royal Pavillion
When I saw this place I kept thinking "am I in England or India?!" haha. The Royal Pavillion is one of the main reasons I wanted to visit Brighton.
This was before I lived in India for 9 months and got my fill of Indian architecture. But, as I was dearly missing India that day, this brought me right back to the Taj Mahal!
It is a short walk from the beach in the city centre and is the perfect setting to relax with a picnic in the park, especially when the sun is shining.
The Pavillion is 'exotic' by British standards and used to be a summer palace for King George IV.
It's now a concert hall and they have shows you can watch throughout the year.
If you wanted to explore the inside, you can book your tickets online at £13 an adult. Personally, I think it's too pretty from the outside to go in!
6. Don't forget a stick of Brighton Rock to take home
Oh, the classic British souvenir. A stick of rock from the beach!
I think it's almost a criminal offense not to buy a stick of rock once in your lifetime if you've visited the British seaside!
It's essentially just a tonne of sugar made into a stick, but it's really tasty.
For me, getting a stick of Brighton rock seemed all the more special as it took me so long to get here and because of the book.
If you did fancy buying some for your family or friends, they have all sorts of personalisations you can buy.
It's the perfect gift as they're light and easy to take home in your suitcase. Just warn them that they will get a sugar high and a sticky hand or face :P
7. Stroll along the prom, prom, prom (Brighton Promenade)!
One of the nicest things about Brighton is a stroll along the promenade.
There is so much going on at all times of day!
There are fairground rides, bars, restaurants, art installations, fishing museums, free volleyball courts, table tennis, caricatures, and the bandstand.
You could walk for hours down the prom and not get bored.
An exciting new addition is a zip wire along the beach which is due to open soon, perfect for you adrenalin junkies out there. Make sure you leave enough time to explore.
8. Finish with Fish and Chips on Brighton beach…but BEWARE of the seagulls!
I saved the best until last. When you're by the seaside, your daily diet pretty much consists of Fish 'n' Chips!
It's the perfect meal when you're travelling as it's tasty, cheap, and filling. Plus, you have the perfect location of the beach right next to you to enjoy them.
Better than a fancy restaurant any day.
The only thing I will say if you're planning on eating on the beach is BEWARE OF THE SEAGULLS.
As I decided to have the sausage and chips instead of fish, I asked my friend if I could innocently take a picture of his fish supper for my blog.
Little did I know the carnage that would ensue…!
Within seconds, at the speed of lightning, a seagull literally grabbed the cod in his beak and made a run for it! I couldn't believe my eyes.
Around 10 seagulls then joined him to grab some of the chips which had fallen on the beach.
Although I'm laughing now until my sides hurt, it was actually pretty terrifying at the time!
Of course, I profusely apologised to my mate and got him another cod. It was heartbreaking for him haha.
So, my advice would be to watch out! Don't take pictures of your fish 'n' chips on the beach for the gram. Or, you'll get this view…
So, that's 8 ways to spend one day in Brighton!
I was so impressed with Brighton and all it had to offer.
I would highly recommend you take a bit longer than a day to visit.
There's so much to see and do and its laid-back hipster vibe will make you want to keep coming back.
Don't delay as I did, go visit Brighton as soon as you can! :)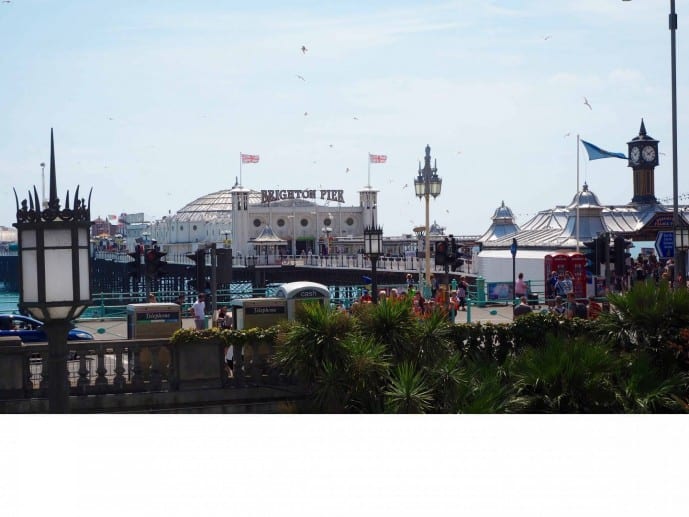 Looking for more England or London travel inspiration?
How to visit Ouse Valley Viaduct
A complete guide for Mermaid Street in Rye
Butchery Lane Canterbury photography location
How to spend the perfect day in London
Why you must visit Gods own Junkyard
St Dunstan in the East church garden
Crossing the Abbey Road like the Beatles
How to see a lavender field in UK
The best places to visit in Bath, UK
Why you need to put Bristol on your list
Why you need to visit Robin Hoods Bay
Top things to do in Scarborough
The top places to visit in Bibury, Cotswolds
Top places to visit in Wiltshire
How to visit Stonehenge for FREE