One of the more interesting attractions that you can visit on Scotland's NC500 road trip is The Wee Hoose Lairg.
It's a tiny house that sits on an islet of Loch Shin in the Scottish Highlands and is a much-loved tourist attraction.
You can read an inspiring legend about how this hoose came to be but you may find that not is all as it seems…
Here is the story behind The Wee Hoose Lairg and how to visit in the Scottish Highlands!
What is The Wee Hoose in Lairg?
Lairg's Wee Hoose is a tiny cottage that sits on the gorgeous Loch Shin in Scotland.
Loch Shin is a large picturesque lake that is 17 miles long but it's a tiny house on a corner of the lake that garners more attention in the village these days.
The Wee Hoose sits on an islet off the lakeside and has white-washed walls, two windows with curtains, a red door, a chimney with a TV aerial, and a slate roof with miniature tiles!
It never ceases to pique the interest of travellers and there is even a legendary tale that comes with it.
The story behind Lairg's Wee Hoose
Along the lochside, you can read the 'real' story of how this Wee Hoose came to be. According to the signs, it was built in 1824 by a man named Jock Broon.
Broon was a poacher but he was gifted the small island by a local Laird after he taught the Laird the art of how to distill whisky.
He built the Wee Hoose as a proud statement of being a new land owner. But, he tragically died shortly after he built it in a hunting accident by 'shooting himself in the foot'.
After the accident, Broon's Hoose was split between his extensive family – including Henry, Daphne, Joseph, and Margaret.
The Wee Hoose has been here ever since as Jock's legacy…. Or has it?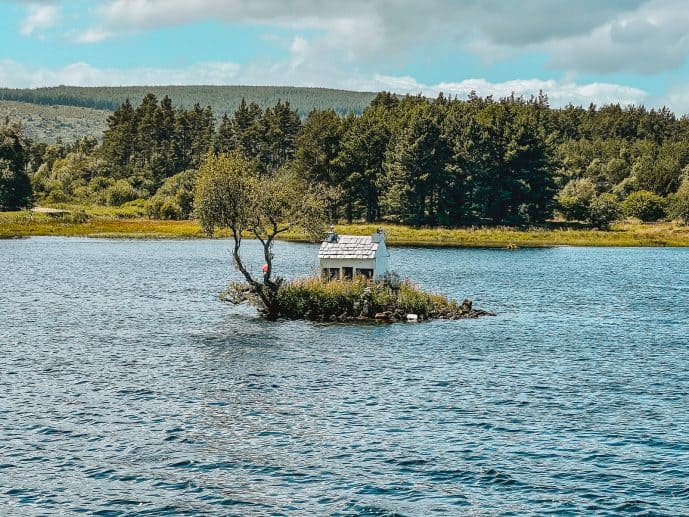 The true story of Broon's Hoose
Although the legend is nice to believe, this is a bit of a tall tale. In actual fact, Lairg's Wee Hoose was built in the 1990s as a float for the Lairg Gala.
The residents of Lairg didn't want to be rid of it and so decided to place it on this small islet instead. They then made up the Jock Broon legend as a 'wee joke'.
They even dressed up local residents in Victorian gear to take photographs for the notice boards to make it more believable.
The Wee Hoose legend did such a good job that people started believing the story including the BBC who mentioned it in earnest during their travel documentary 'Grand Tours of Scotland's Lochs'!
There are some clues that this is a work of fiction including the fact the tiny house is so small it can't fit one person in there let alone 11 extended Broon family members.
Also, the names of Jock's extended family including Henry, Daphne, Joseph, and Margaret were characters from The Broons cartoon series in a Scottish newspaper!
But, whatever the case, it has captured the hearts of many and is now a popular tourist attraction in Scotland.
It never fails to bring in curious travellers on the NC500 road trip and has now become synonymous with the village.
Who lives in The Wee Hoose in Lairg?
The Broon's Hoose we see today is actually the third version. It has been rebuilt twice on Loch Shin due to storms.
The first version had its own conservatory and wind turbine that generated electricity!
The Wee Hoose is no bigger than a doll's house or fairy hut and so humans can't live there. So, it's off the cards as a holiday home, unfortunately.
The only things that you may see on your visit are birds that have perched on top of it judging by the amount of bird poop on the roof.
How to visit The Wee Hoose in Lairg
If you wanted to visit for yourself, The Wee Hoose is located on a tiny island off the banks of Loch Shin in Lairg.
You can easily see this tiny house from the Loch Shin lakeside. It's open 24 hours a day and is completely FREE.
Lairg is a small and remote place that is located in the far reaches of Northern Scotland in the Scottish Highlands.
It is best to plan a visit as a pitstop on a Scotland road trip like the NC500.
It's easy to do on the stretch from Inverness to John O' Groats or vice versa on the A9. You can make stops at Dunrobin Castle, Lairg, Wick, Kiess Castle, and then John O' Groats.
It will take around an hour to drive to The Wee Hoose from Inverness and 2 hours from John O' Groats.
Lairg has a train station and there are ScotRail services that run from Thurso and Inverness.
There are also buses that run to Lairg from Inverness as well. You can use Traveline Scotland to plan your journey!
The Wee Hoose address is Loch Shin, Lairg IV27 4AZ. Click here for a Google Pin!
Broon's Hoose parking
There is a large car park on the banks of Loch Shin off the A836 / Church Hill Road that you can park up in when you reach Lairg.
When you reach the junction facing the Loch, turn right when you see the brown 'Moray Firth Tourist Route' sign pointing left. It's just after the right-hand turning. Click here for a Google Pin.
This car park is less than a minute's walk away from The Wee Hoose. In fact, you'll be able to see the tiny house from the car park!
There is also a small Churchill Woodlands trail you can take from here that has some cute carvings of woodland creatures to admire.
At the time of writing, there was no parking charge for Loch Shin. But, always check that there is no charge before you leave your car.
Alternatively, there are many lay-by's around Loch Shinn on the A836 that you can park up in and then walk over to The Wee Hoose.
Looking for more things to do near Lairg?
If you'd like to stick around Lairg for a bit longer you can visit both the Inchnadamph Bone Caves and Ferrycroft Visitors Centre nearby.
But, if you're ready to head down towards Inverness, you'll find lots to do in this Capital of the Highlands!
On your way down, I would recommend stopping at the fairytale Dunrobin Castle. It's a French chateau-style castle and looks like something from a Disney movie!
Click here to read my complete guide for Dunrobin Castle or the Disney Castle of Scotland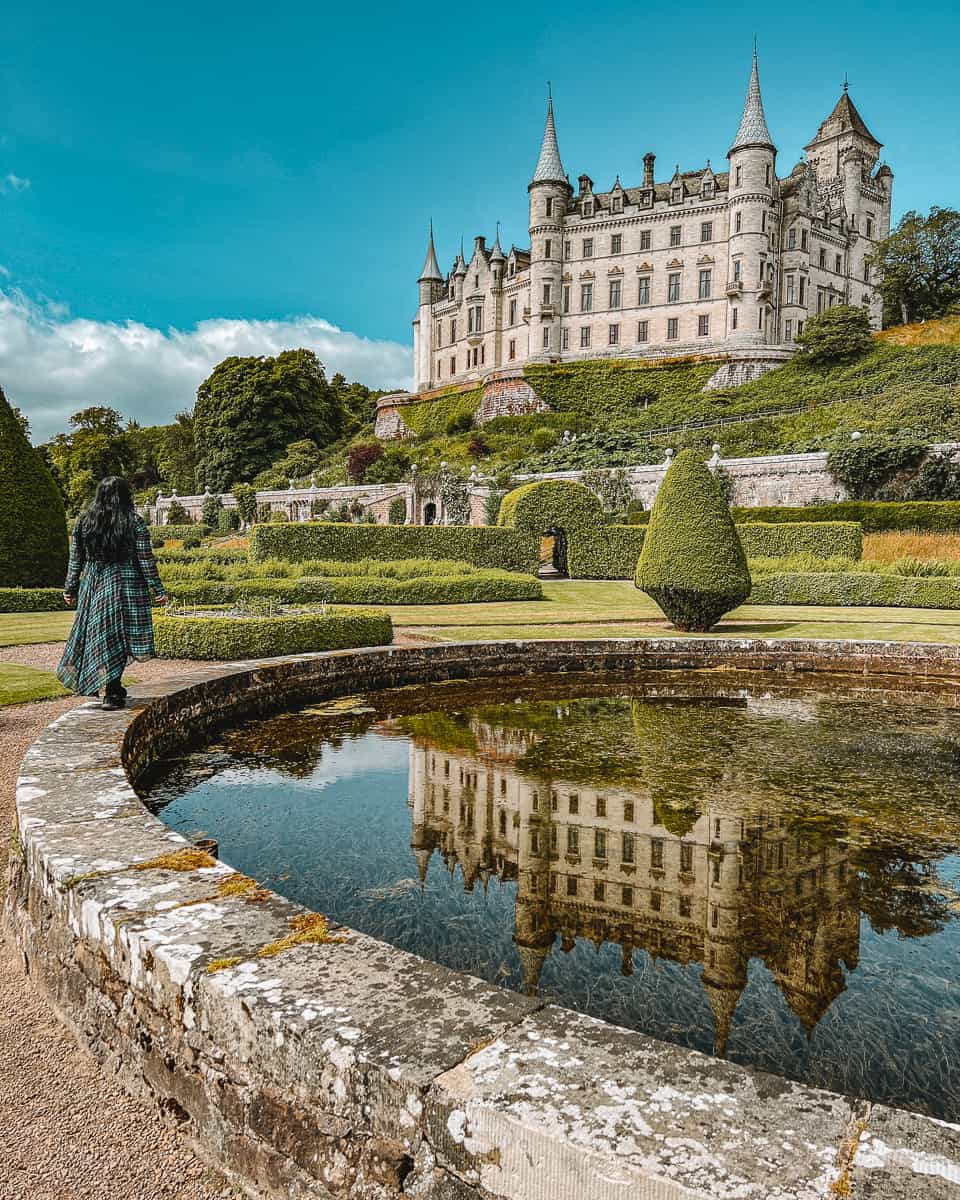 You can visit the city centre with Inverness Castle, Black Isle Brewery Bar, and the magical Leakey's Bookshop.
Also, you can head further afield to the likes of Culloden Battlefield which is owned by the National Trust.
Or, why not visit Clava Cairns inspired Craigh Na Dun in Outlander?
Cruises run on Loch Ness, the home of Nessie the Lochness Monster, and you can visit the historic Urquhart Castle too.
If you're heading upwards towards John O' Groats, you can stop off at Wick on your way up. This is a gorgeous coastal town that's home to one of the shortest streets in the country.
After that, you can visit the remains of Kiess Castle and then head up to John O' Groats harbour. This is a great place to visit and you can get a photo with the famous sign.
Don't miss a stop at Duncansby Stacks nearby. It's a breathtaking beauty spot with a chance to see puffins.
If you have a day spare, I would highly recommend taking an Orkney Islands Day Trip from John O' Groats. I did this and it was fabulous, I can't rate it enough.
Click here to book your Orkney Islands Day Trip from John O' Groats!
We visited highlights like the Italian Chapel built by Italian POW, Kirkwall, Stromness, Skara Brae pre-historic village, Skaill House, and the Ring of Brodgar.
Or, why not head further afield to places like Thurso, Smoo Cave, and then Ullapool on the NC500?
Save time and book a tour!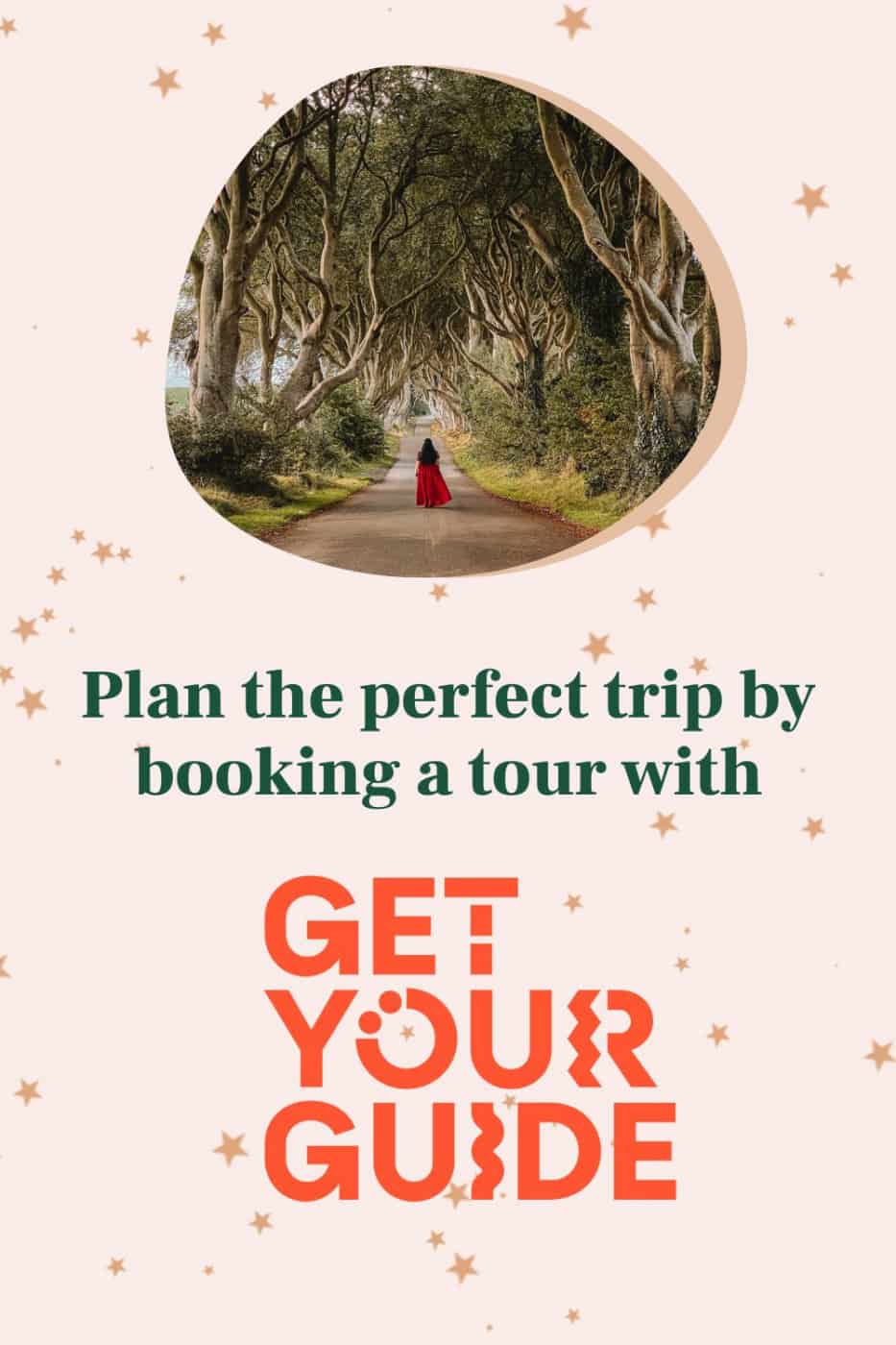 Book tours & tickets for Inverness!
Where to stay in Lairg
Most people are on a road trip through the Highlands or driving the NC500 when they visit Lairg in Scotland.
The Wee Hoose is a great place to stop off if you're heading up to John O' Groats and Thurso.
However, if you fancy extending your stay, there are a few hotels, camping pods, and Bed & Breakfast places to book near Lairg.
The closest city would be Inverness. It is a 1-hour drive away from Lairg but there is much more choice in the accommodation. There are also supermarkets and petrol stations.
So, you could choose Inverness as a base and then drive out to Lairg and other attractions nearby from there.
Find your perfect place to stay in Lairg or Inverness in Scotland with Booking.com!
Read more of my Scottish Highlands articles
Black Rock Gorge Harry Potter guide
Visit the Fairy Glen on the Isle of Skye
A complete guide for the Fairy Pools Walk
How to visit the colourful houses in Portree
The best view of Eilean Donan Castle
Why you just visit Manuela's Wee Bakery
Steall Falls Harry Potter Guide
How to find the Hagrid's Hut filming location
A guide to the Wee White House Glencoe
Where is Dumbledore Buried in Harry Potter?
Visit Glenfinnan Viaduct Viewpoint to watch the Hogwarts Express
Scotland Harry Potter filming locations
How to visit the Callanish Stones on the Isle of Lewis
How to visit the Green Loch Aviemore
How to visit the Pink House on Loch Glass
Visiting the Puck's Glen Fairy trail
Isle of Mull Cheese Glass Barn Café review
Save The Wee Hoose Lairg for later!