Okay witches and wizards, did you know that there is a London Heathrow Harry Potter shop? I didn't until recently and it's now my happy place at T5.
Although it's my job, I always find flying a little stressful. Making sure I've packed my luggage correctly, preparing liquids for carry-on, important documents, endless queues etc. It can all get a bit overwhelming.
So, when I passed through security and saw the Heathrow Harry Potter shop, I was over the moon. It was a wee bit of welcome magic in my otherwise tiring travel day.
This boutique worthy of Diagon Alley was perfect as it was my two favourite things rolled into one, travel + Harry Potter.
Here is why you must visit the Heathrow Harry Potter Shop, a magical experience before you fly!
What is the Heathrow Harry Potter shop?
The Heathrow Harry Potter shop is a magical boutique that is located in Terminal 5 and sells officially licensed Wizarding World merchandise.
Many people associate Harry Potter with London and so this location couldn't be more perfect for international travellers.
The front of the store is shaped like a boutique straight out of Diagon Alley. Inside, you'll find stars, lanterns, suitcases, lamposts, and Ministry of Magic wanted posters on the walls.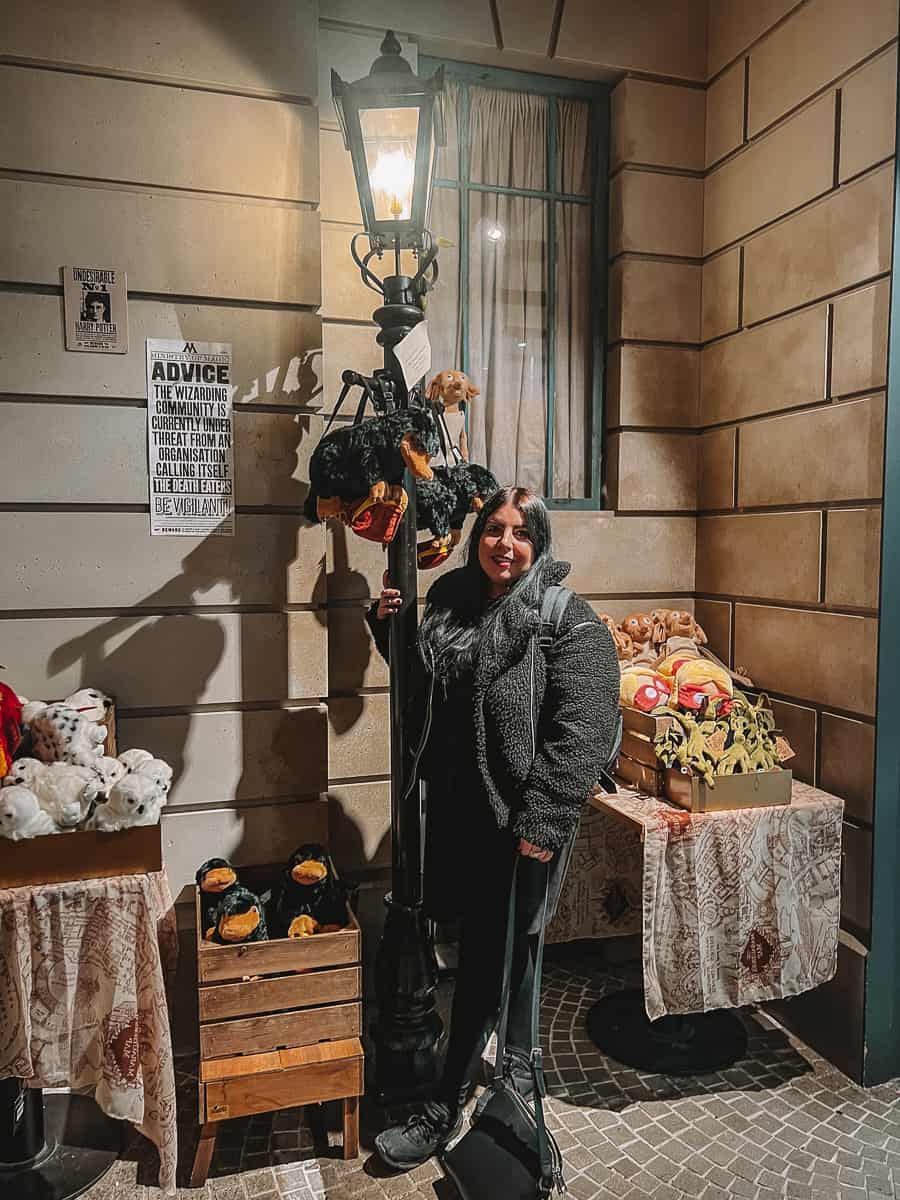 They even play the Harry Potter movie soundtrack and it is a welcome respite from all the airport hassle.
It's the ideal place for Potterheads to shop before they fly and they sell a huge range of magical gifts and travel accessories.
Tom Felton, who played Draco Malfoy, visited the new shop when it first opened!
What do they sell at the Harry Potter shop in Heathrow?
If you have ever visited the Harry Potter Studio Tour or the Harry Potter Shop at King's Cross, you'll find it very similar.
There are wands to buy of all your favourite characters, figurines, keychains, and clothes like Molly Weasley's initial jumpers.
I loved their huge collection of toys and plushies. You could purchase, Fang, Crookshanks, Buckbeak, Dobby, Hedwig, and even Fawkes. Plus, some Fantastic Beasts Nifflers and Bowtruckles.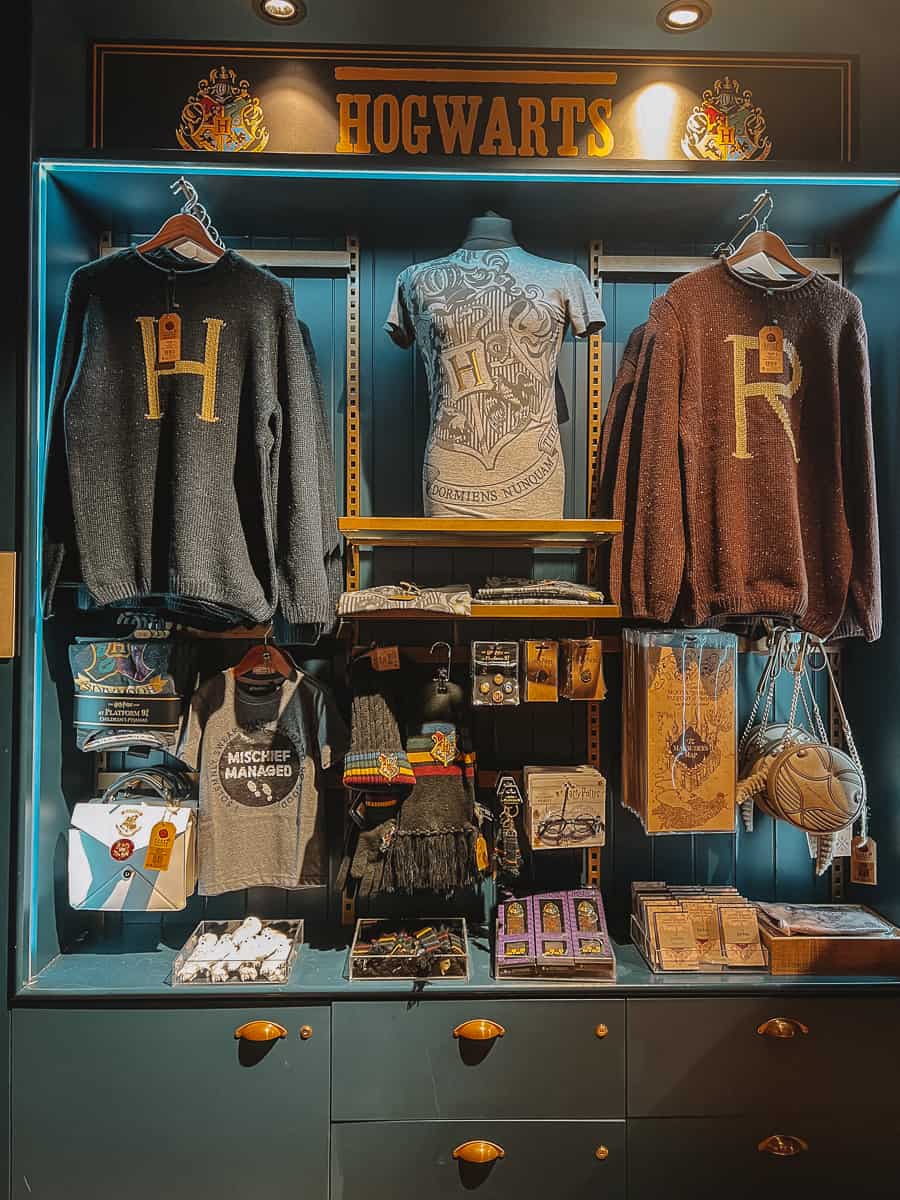 They also have a great section of makeup. I love using the Deathly Hallows liquid eyeliner and black nail varnish (it's Barry M but with Harry Potter labels).
So, I picked up some whilst I was here as postage from the online Harry Potter Shop is eye-watering expensive…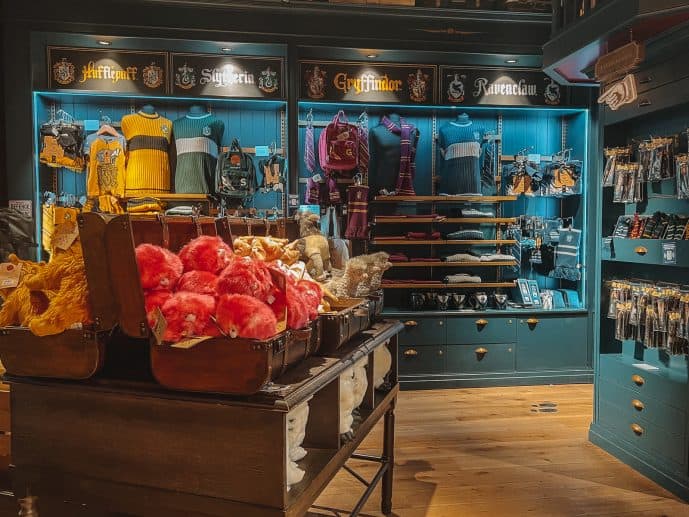 Purchase magical travel accessories!
Okay, so beyond Quidditch jumpers, toys, and magical wands, there are some practical things that you can pick up at the Heathrow Harry Potter shop.
They had some great passport covers in all the Hogwarts Houses as well as lanyards and travel document wallets.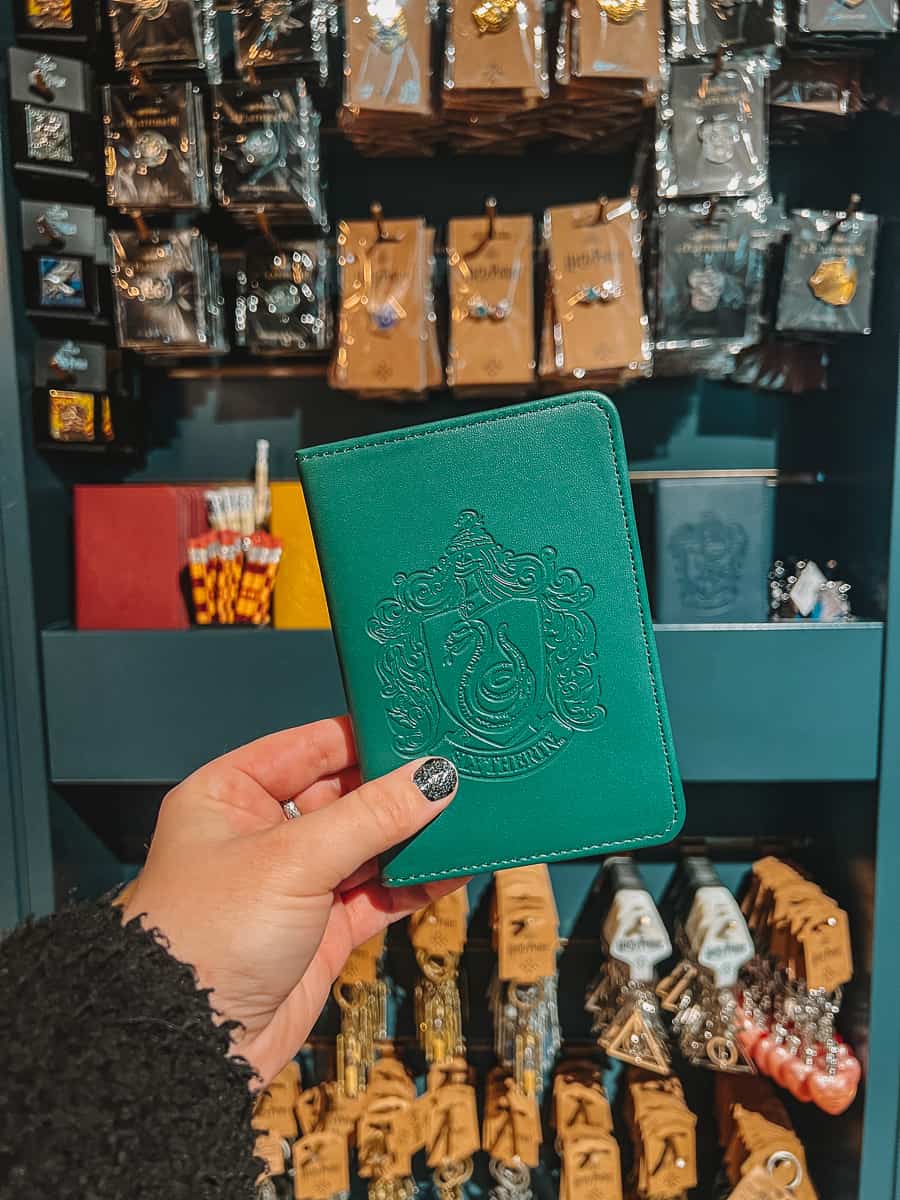 There were pens, notebooks, and all-important luggage tags (although granted you've probably already checked your suitcases in by now).
If you fancied picking up some new travel gear, I loved their rucksacks that make awesome day packs.
Also, there were some Hogwarts House hats and scarves as well if you were flying to somewhere chilly.
Buy travel snacks from Honeydukes
My favourite part about any Harry Potter shop is the fact that they sell Chocolate Frogs and bottles of Butterbeer! It's like strolling into Honeydukes.
You'll find the sweet trolley tucked away in the corner and it provides some much-needed magical travel snacks for your flight.
I bought a pack of Bertie Bott's Every Flavour Beans. They didn't have the tins but they did have them in the cardboard packets.
They also had Fudge Flies, Explosive Bon Bons, Peppermint Toads, Honeydukes Fudge and bars of Hogwarts House chocolate – you could seriously take the lot!
Pick up some light reading for the plane
I used to be someone that couldn't live without onboard entertainment when I flew. But, now I put on a pair of noise-cancelling headphones, play some ambience and bury my head in a book when I travel.
I'm a big fantasy romance novel reader (aka Romantisy) and I find time always flies when I immerse myself in those magical worlds.
If you want to be like Hermione and indulge in a bit of light reading *ahem* they sell all of the Harry Potter books at the Heathrow Harry Potter shop.
They were mostly paperbacks that you could buy separately or as an entire set. They would make the perfect bookish companion for your flight.
FYI, if you're looking for books in general, there is 'The Bookshop by WH Smith' located on the lower floor of Terminal 5.
They had an amazing fantasy section as well as non-fiction books. I saw Tom Felton's Beyond the Wand on sale!
What time does the Heathrow Harry Potter Shop open?
Although it is located at Terminal 5, the Heathrow Harry Potter Shop will not be open in the wee hours I'm afraid.
This magical boutique is open from 6 am – 6 pm but this still gives you lots of time to go shopping for wizarding supplies before you fly.
So, if you had your heart set on visiting, you'll need to pass through the lines at security before it closes. An Alohomora spell or an invisibility cloak isn't an option here, muggles!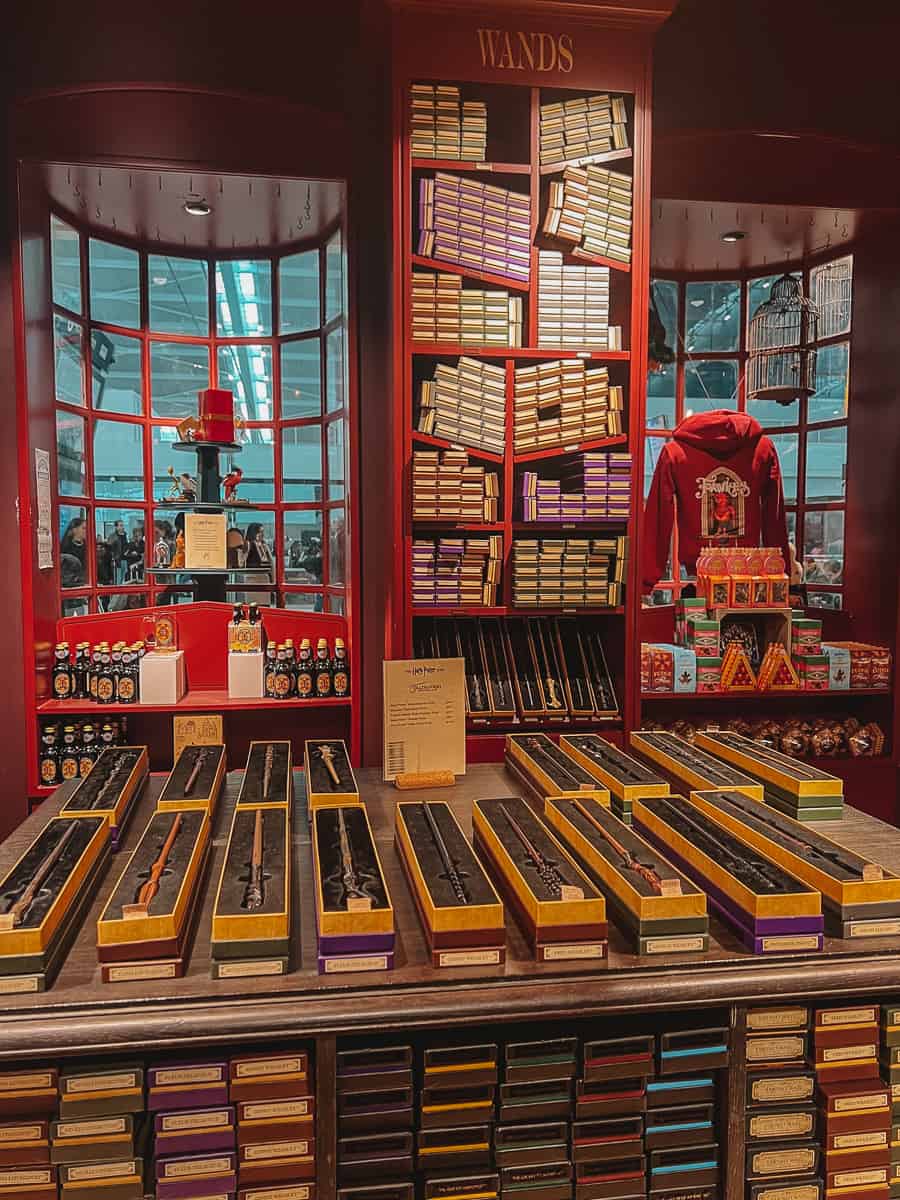 Heathrow Harry Potter shop FAQs
Which airport has a Harry Potter shop? London Heathrow airport and it's a magical experience before you fly!
Did Tom Felton visit the Heathrow Harry Potter shop? Yes, just after it opened. He was surprised there was no Draco shop…which there should be..! As a Slytherin and Dramione stan, I would 100% shop there.
What terminal is the Heathrow Harry Potter shop? Terminal 5 just after security.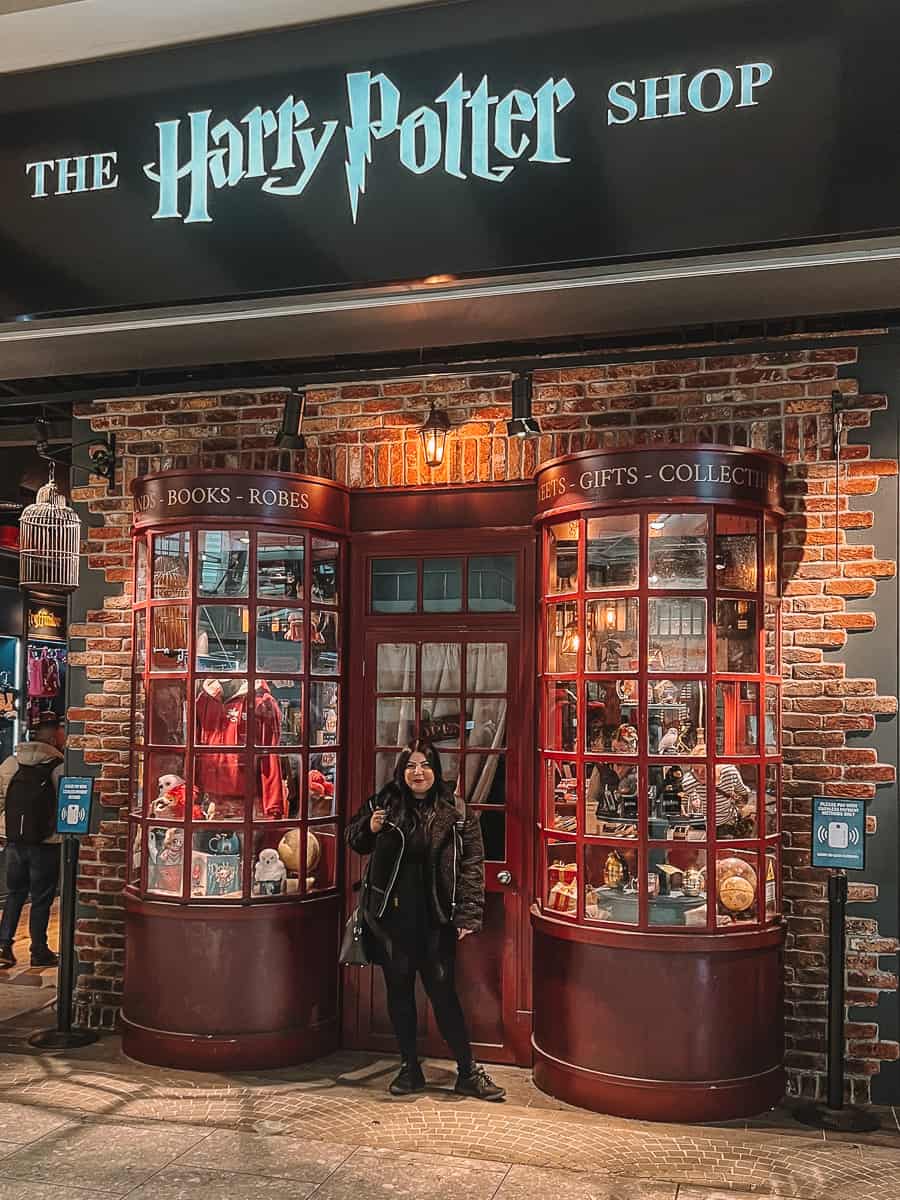 Don't forget to visit the Harry Potter Shop at King's Cross Station
Although you're probably jetting off somewhere abroad, if you get the chance – you should visit the Harry Potter Shop at King's Cross Station in central London.
It's a huge store that sells all sorts of Wizarding World merchandise. You'll find Hogwarts robes, Quidditch jumpers, wands, toys, badges, and all sorts of souvenirs.
A highlight for visiting is getting a photo with the Platform 9 3/4s trolley while you're here.
You can wait in line to get a photo with a luggage trolley that looks like you are teleporting through the wall. They even have Hogwarts house scarves and wands to pose with.
Getting a photo with the trolley is completely free with your phone or camera but you may have to wait in a rather long line.
They didn't have one at Heathrow. But, Fingers crossed they install one at T5! It would be such a cool thing to do whilst waiting for your flight.
Click here to read my complete guide for finding Harry Potter at King's Cross Station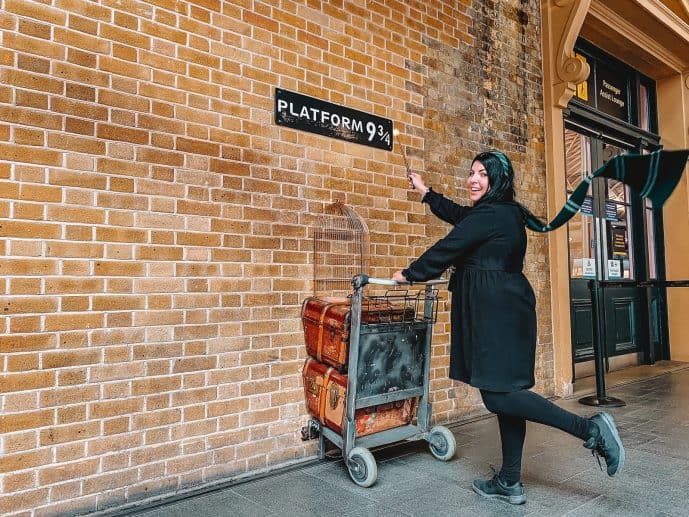 Looking for more Harry Potter locations in London?
There are plenty more locations and experiences that you can seek out if you're a Potterhead in London!
I would recommend visiting the House of MinaLima and The Cursed Child performances at the Palace Theatre.
Or, you can visit some of the inspirations for Diagon Alley like Cecil Court and Goodwin's Court.
Talking of Diagon Alley, one of my favourite locations I visited has to be Leadenhall Market. A gorgeous Victorian wonder that featured as the entrance to the Leaky Cauldron and Diagon Alley.
You can head into St Paul's Cathedral to see their Geometric Staircase which was the Divination Stairwell at Hogwarts.
I would then catch the tube over to the River Thames to see sights like the Millennium Bridge, Tower Bridge, London City Hall, and Borough Market which all featured as filming locations.
You could go for a Harry Potter afternoon tea at Cutter & Squidge and then finish the day off with immersive experiences like magical cocktails at The Cauldron.
Plus, you can't forget the Harry Potter Studio tour. It's a must-visit for any Potterhead! You can visit the regular tour and add extras like their magical afternoon tea.
Or, if you're visiting in the Fall you can book to visit their Dark Arts event or the magical Hogwarts in the Snow at Christmas time!
Click here to read my complete guide on London Harry Potter locations
Read more of my Harry Potter posts
Visit the Deathly Hallows filming location at Malham Cove
Harry Potter filming locations in Oxford
How to visit Hogsmeade Station in real life
How to spend a night in Hagrid's Hut
How to visit the real Godric's Hollow in Lavenham
A complete Forbidden Forest Experience review
Harry Potter locations in Lacock
Harry Potter filming locations in Alnwick Castle
Harry Potter locations in Edinburgh
All the Harry Potter filming locations in Scotland
Where to find Harry Potter in York
How to find the Harry Potter Tree at Blenheim Palace
The Shop That Must Not Be Named Review
How to find Dobby's Grave in Wales
Harry Potter filming locations in Gloucester Cathedral
How to see the Hogwarts Express in Scotland
How to visit Dumbledore's Grave in Scotland
Visiting Malfoy Manor in Real life!
Where to find Tom Riddle's grave in Edinburgh
Visiting the Quidditch Town of Tutshill Tornados
Harry Potter locations in Exeter along with Gandy Street and the Room of Requirement
Virginia Water – the Other Hogwarts Lake
Instagram locations at the Wizarding World of Harry Potter
How to visit Hagrid's Hut in Scotland
How to visit the Harry Potter Waterfall in Scotland
Harry Potter filming locations at Durham Cathedral
Save the London Heathrow Harry Potter shop for later!