I recently went on a Harry Potter visit to London and I absolutely loved some of the immersive experiences that I booked while I was here.
One of these experiences was the Wizard Exploratorium Afternoon Tea in Soho!
The Wizard afternoon tea is the perfect experience for witches and wizards of all ages to enjoy some sweet treats and stir up some magical brews on their visit to the capital.
Here is a complete Wizard Exploratorium Afternoon Tea in London review and everything you need to know before you book.
What is the Wizard Exploratorium in London?
If you've never heard of the Wizard Exploratorium before now, it's a fantasy realm in Soho where you can escape from the muggle world and practice some magic!
They have many workshops and experiences to book like their signature Wand Building Experience and even a Potion's Class where you can mix up some cocktails in your very own cauldron.
There are also lots of sweets to purchase from a familiar unicorn and some mystical souvenirs to take home. But, their most popular experience here at the Wizard Exploratorium is the Wizard's afternoon tea.
What is the Wizard Exploratorium afternoon tea?
So, the Wizard Exploratorium afternoon tea is a fantasy culinary experience that involves solving riddles and using your wand to wield magic!
It's an interactive tea brewing experience where you can practice spell casting using real science and technology.
This afternoon tea is not only a tasty treat filled with homemade scones, cakes, and finger sandwiches but also has some surprises, intrigue, and extraordinary delights in store!
It's an escape into a different reality where anything is possible. You can wield your wand and discover your secret powers within!
Is it a Harry Potter themed tea?
Technically, no. The Wizard Exploratorium is not affiliated with the Wizarding World or Harry Potter in any way. So, it won't be Harry Potter themed at all.
Saying that the exploratorium was inspired by many fantasy worlds including the Wizarding World so you'll still get a very magical experience.
Just like at Hogwarts, you can rent your very own wand and practice some magic (through technology and science), brew your own potions and feel like you're a wizard or witch at Hogwart's.
You could even wear your house robes here if you really wanted to! No one is going to stop you from immersing yourself in the world of Harry Potter while you sip on your witches brew!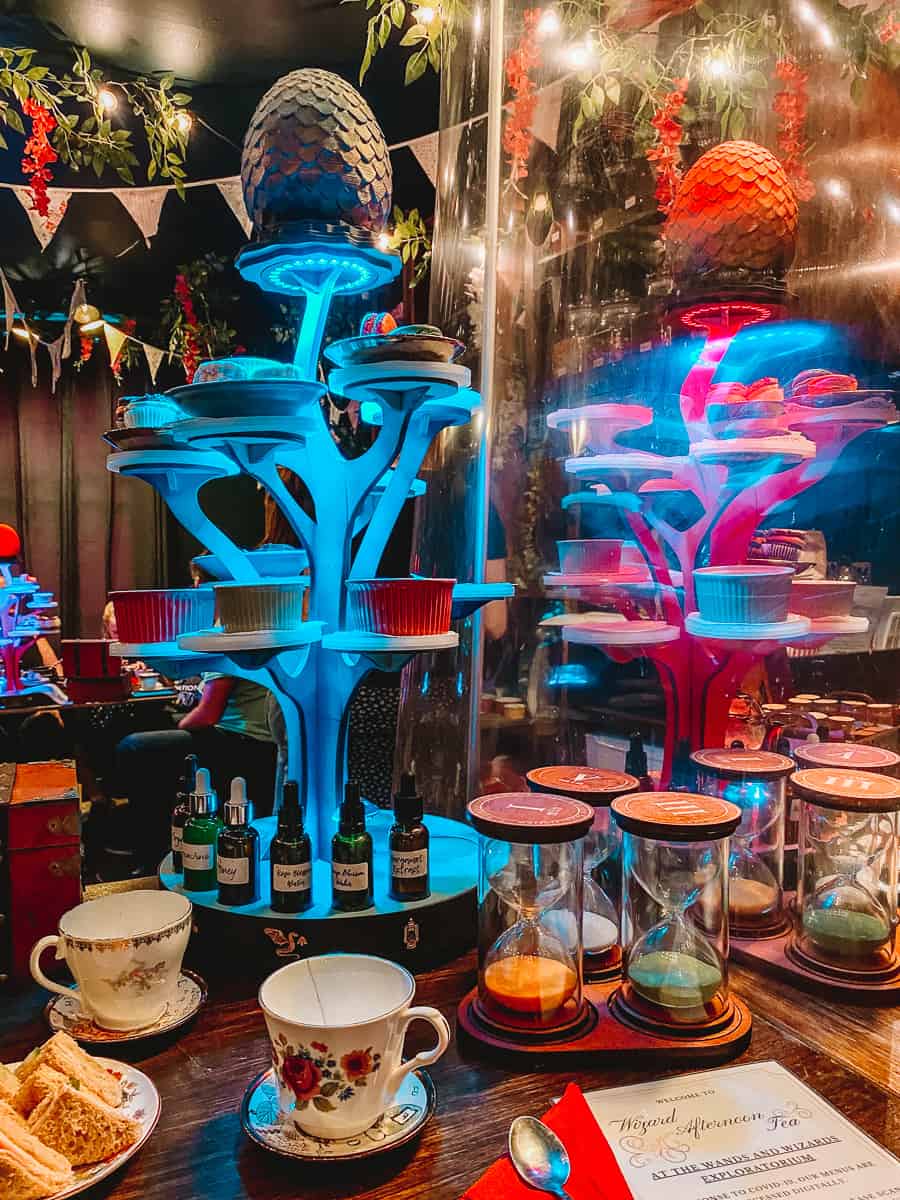 What's included in the wizard afternoon tea in London?
So, as part of your Wizard Exploratorium afternoon tea, you'll firstly get access to their wizard parlour that is spectacular in itself.
You also receive two magical teas that you can brew by following their magical instructions and you'll also get a wand that you can rent as part of your experience. This is an important part of your journey for spell casting.
You'll also be solving some riddles along the way that will unlock all sorts of treasures that are waiting for you!
Everything will be presented on a colourful Dragon Egg tea stand that includes finger sandwiches, scones, and a lot of sweet treats and morsels to enjoy as part of your visit.
I'd definitely come prepared with lots of room to spare as you'll be getting a lot of food and sweet treats here!
How much is the Wizard Exploratorium Afternoon Tea?
The prices for the Wizard Exploratorium Afternoon Tea are pretty reasonable and similar to most of the afternoon tea experiences you can find in London.
The Little Wizard's afternoon tea costs £32 a person and adults can book the Arcane Afternoon Tea for £42 per person.
You can book the Wizard Exploratorium Afternoon Tea from Tuesday to Sunday and it starts from 11 am – 5 pm.
Sessions and times change throughout the year though so make sure you book as far in advance as possible to avoid disappointment.
Click here to book your Wizard afternoon tea!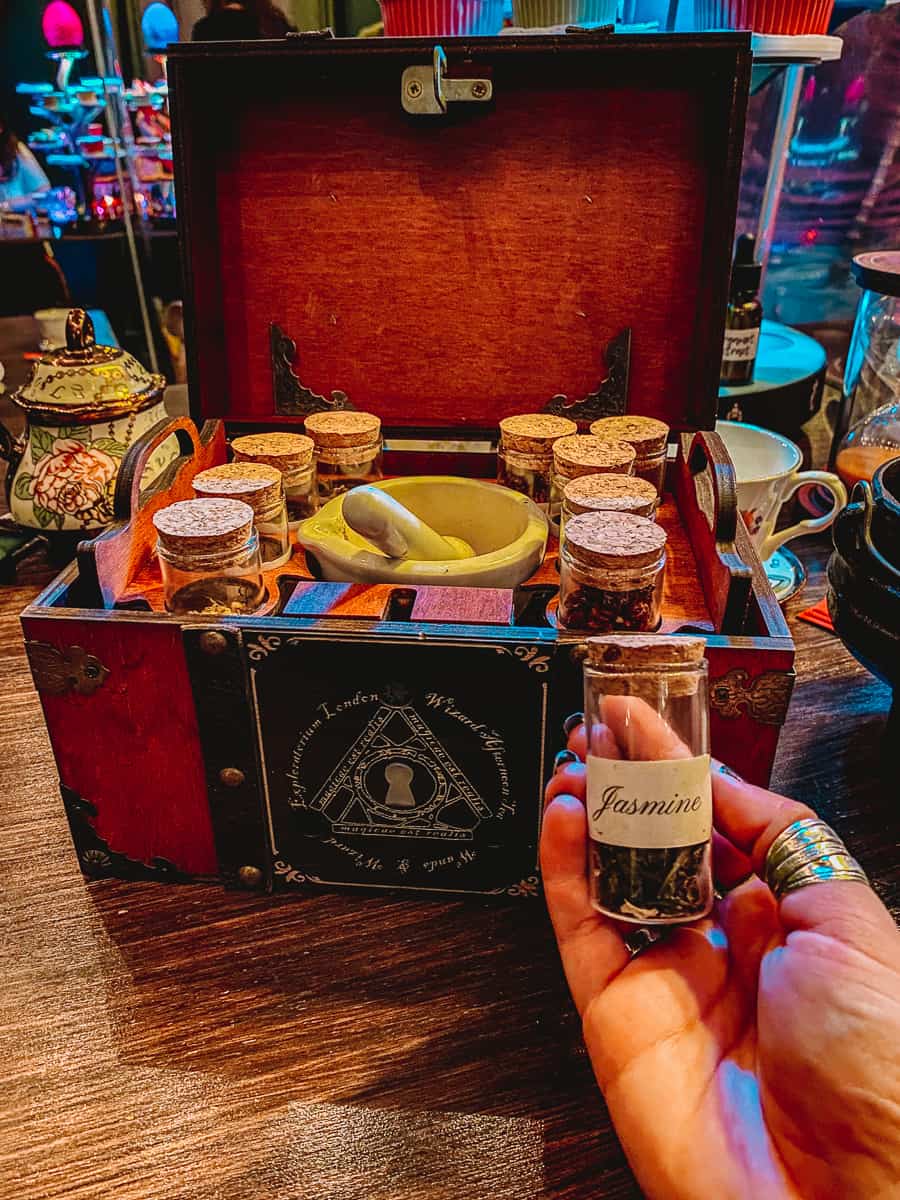 Is the Wizard Exploratorium Afternoon Tea worth it?
I would definitely recommend the Wizard Afternoon tea if you're looking for magical and immersive experiences in London!
If you're a Harry Potter fan, although the tea isn't 'technically' Harry Potter themed there is still a lot of magic in this experience that will make you feel like you're at Hogwarts!
It's also the perfect option if you're watching the Cursed Child play in Soho and you're looking for somewhere magically themed to grab food between shows.
The only thing I would say about this is that you should be prepared for this tea to be a very sweet treat.
There isn't much savoury involved at all save the small finger sandwiches at the start. Most of the dishes are just pure sugar. But, this is perfect for little witches or wizards!
Overall, it's an amazing fantasy experience from start to finish and you'll definitely escape the muggle world for a few hours which is always a good thing!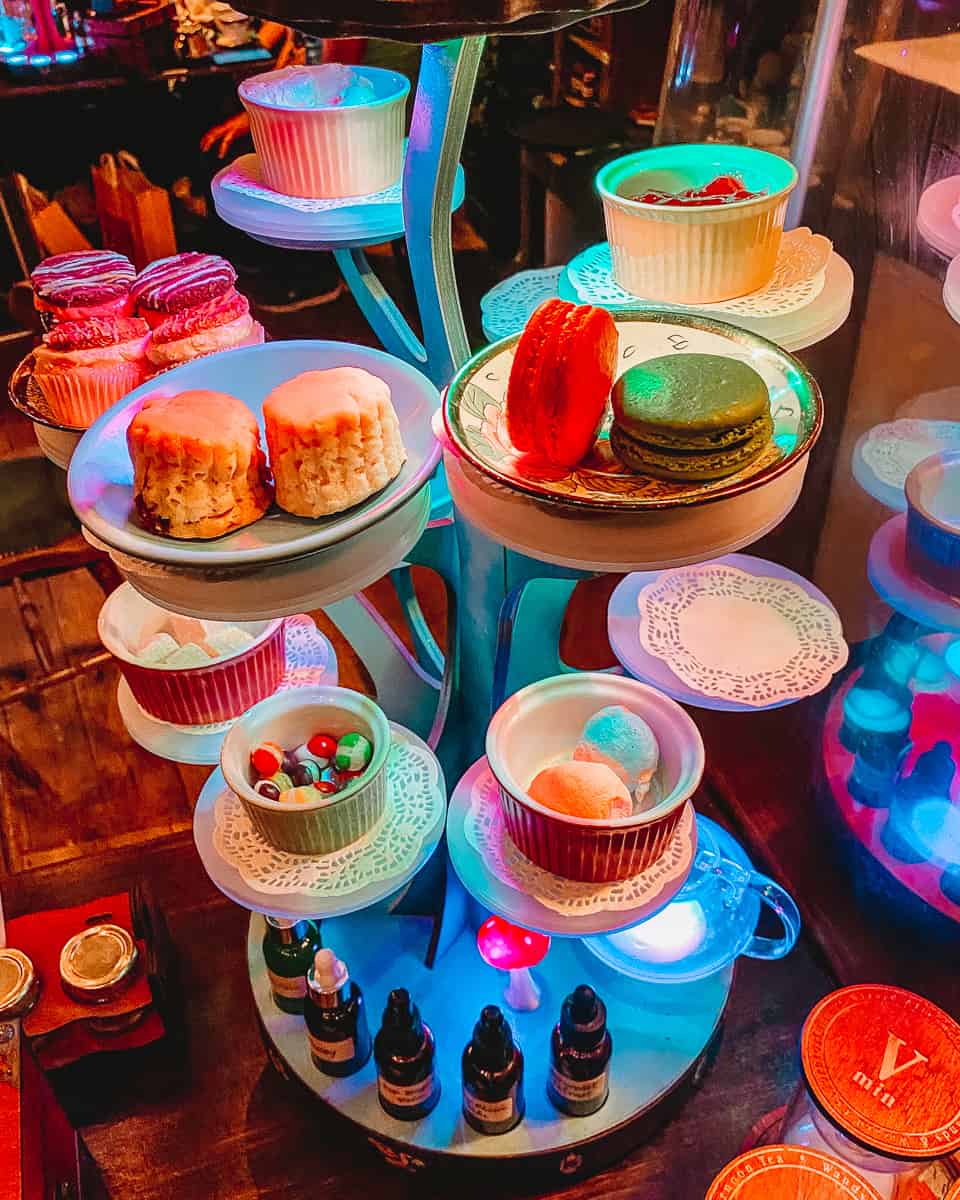 How to find the Wizard Exploratorium in London
The Wizard Exploratorium can be found in the heart of Soho in London. The full address is 26 Greek Street, Soho, London. Click here for a Google Pin!
I would not recommend driving to this tearoom though. The easiest way to locate it is to take the tube or the London Underground.
The closest tube station for the Wizard Exploratorium is Tottenham Court Road serviced by the Central and Northern Line. Click here to plan your journey with TFL.
What else can you do at the Wizard Exploratorium in London?
So, as well as the Wizard Afternoon Tea, the Wizard Exploratorium has some additional magical surprises that you can book on your visit.
Their newest venture is their Wizard Wand Building Experience where you can customise and build your very own wand! It's a 30-minute workshop and you get to take your magical illuminated wand home with you.
They also run adult Potion's Cocktail Experience where you can mix up your very own boozy brews in a cauldron!
As part of the experience, you'll get to mix two cocktails in class with a potion's master using magic and a wand! Or, molecular mixology as the muggles would say but don't let them get you down.
They often hold seasonal events throughout the year for Halloween and Christmas so make sure to check their website to see the latest events.
Why not visit The Cauldron for a magical cocktail experience?
If you're looking for another magical venue to visit in London, then I would recommend The Cauldron that is owned by the same company.
They have a potions cocktail experience waiting for you in their venue and you can take a Potion's Class just like Professor Snape's!
You'll get to brew some cocktails in your very own cauldron and there are lots of magical surprises in store for you throughout the night.
I would highly recommend it for Harry Potter fans as it's such an immersive activity that makes you feel like you're back in the Wizarding World.
Read more – The Cauldron Potion's Class review!
Are you looking for more Harry Potter experiences in London?
There are plenty more locations that you can seek out if you're a Potterhead in London!
After your visit to the Wizard Exploratorium, I would definitely visit a few magical places in the area!
Nearby, you can watch The Cursed Child at the Palace Theatre or lose yourself in the House of MinaLima.
You can also visit some of the locations that inspired that wizarding shopping street like Cecil Court and Goodwin's Court.
The Harry Potter Photographic Exhibition is also in Covent Garden that is home to London's only Butterbeer Bar.
I would also catch the tube over to the River Thames to see sights like the Millennium Bridge, Tower Bridge, London City Hall, and Borough Market that all featured as filming locations.
You can head into St Paul's Cathedral to see their Geometric Staircase that was the Divination Stairwell at Hogwarts.
One of my favourite locations I visited has to be Leadenhall Market. A gorgeous Victorian wonder that featured as the entrance to the Leaky Cauldron and Diagon Alley!
You can't leave London without a photo at Platform 9 3/4 at King's Cross Station outside the Harry Potter Shop!
Then you can visit the St Pancras Renaissance Hotel where Ron flies his Ford Anglia or the Order of the Phoenix HQ.
Of course, the ultimate Harry Potter experience can be found on the Warner Brothers Studio Tour.
This has plenty of sets, props, and costumes from the movies. You can even walk down a real Diagon Alley, see how they filmed Hogwarts Castle and sip on Butterbeer.
If you can I would recommend a visit around one of their special events like the Dark Arts at Halloween or Hogwarts in the Snow.
Click here to read my complete guide on London Harry Potter locations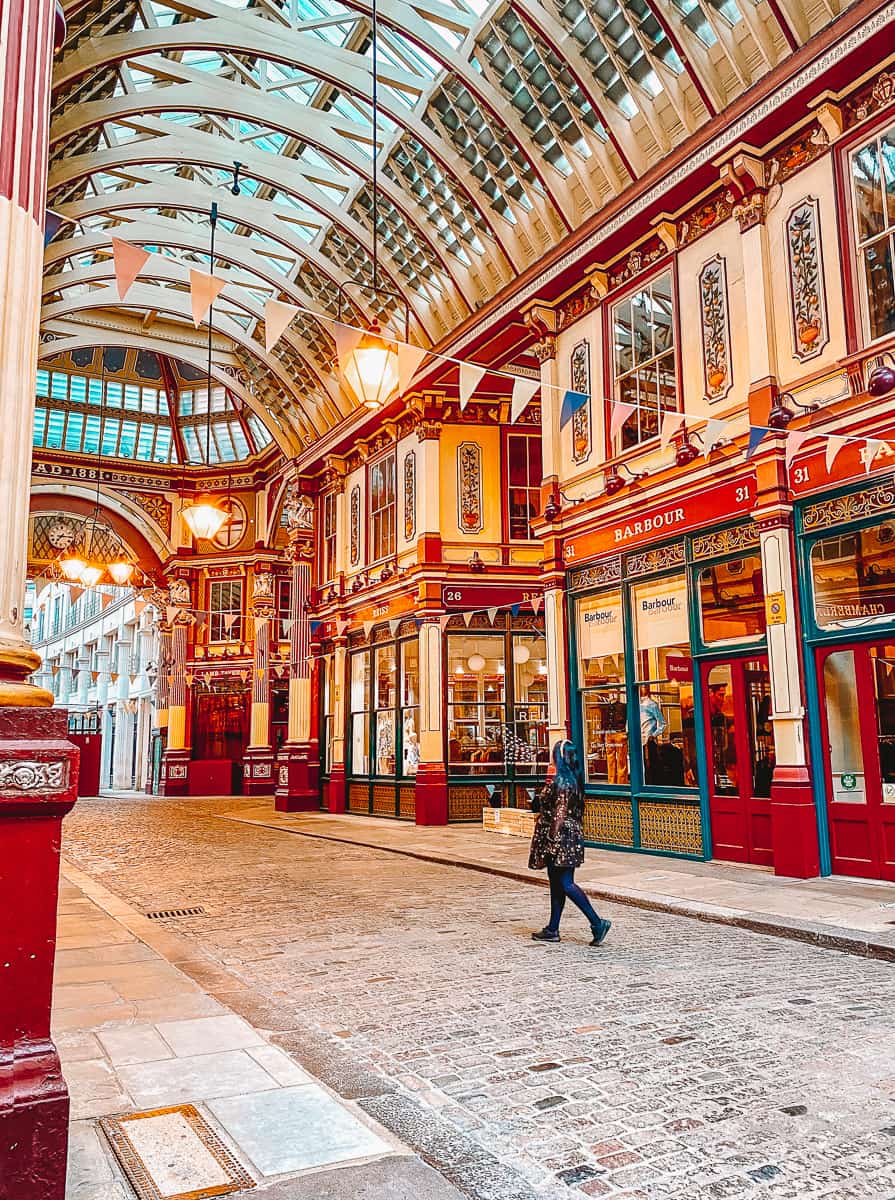 Read more of my London blog posts!
Why you must visit God's Own Junkyard in London
Free things to do in the London Bridge area
The hidden gem of St Dunstan in the East Church Garden
Why you must visit The Beatles Abbey Road in London
A complete guide for London Cable Cars
A complete guide for Greenwich Foot Tunnel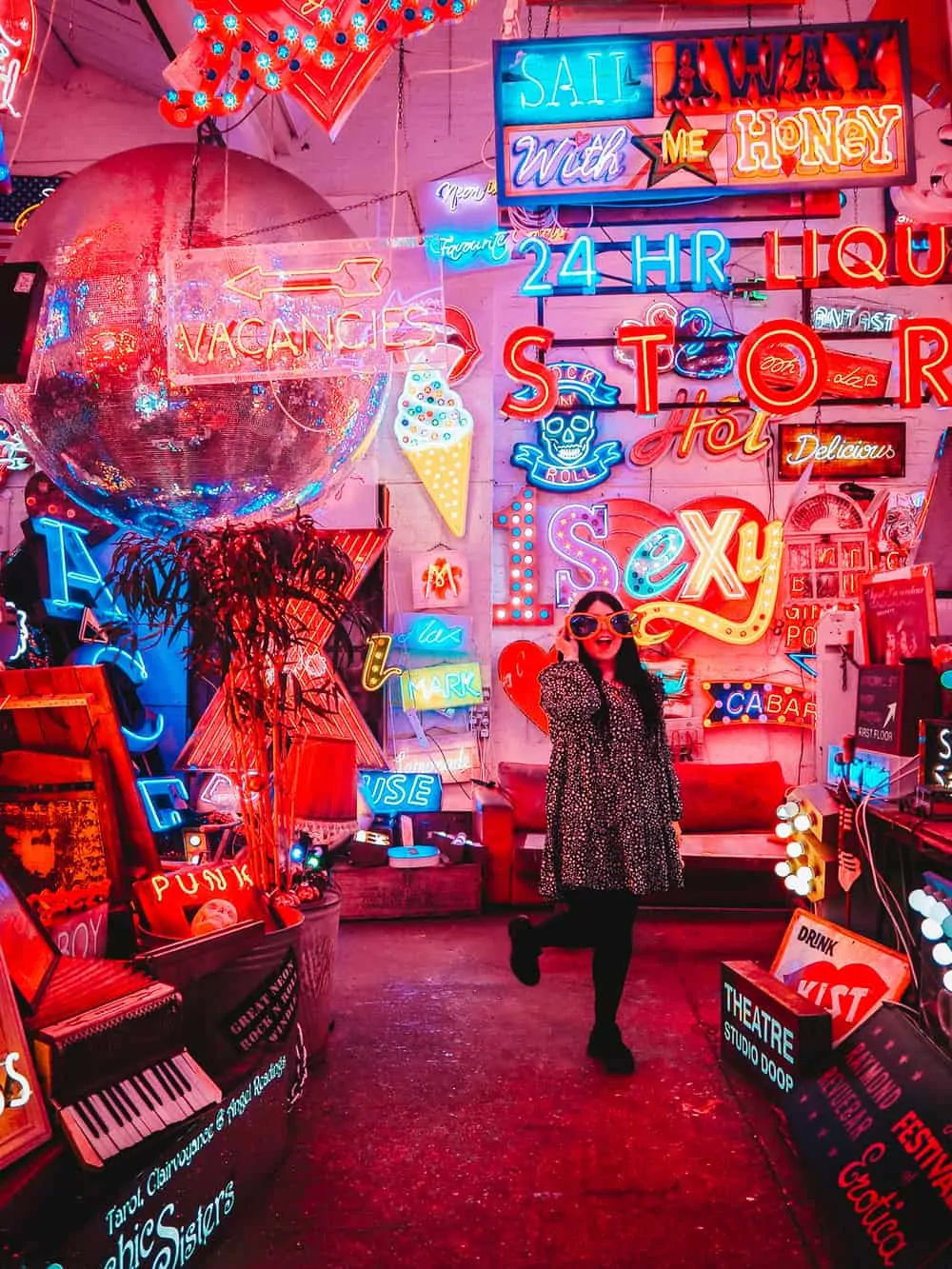 Read more of my Harry Potter posts
Harry Potter locations in Lacock
Harry Potter filming locations in Alnwick Castle
How to spend a night in Hagrid's Hut
Where to find Harry Potter in York
How to find the Harry Potter Tree at Blenheim Palace
The Shop That Must Not Be Named Review
How to find Dobby's Grave in Wales
Forbidden Forest Experience review
Harry Potter filming locations in Gloucester Cathedral
How to see the Hogwarts Express in Scotland
How to visit Dumbledore's Grave in Scotland
Visiting Malfoy Manor in Real life!
Where to find Tom Riddle's grave in Edinburgh
Visiting the Quidditch Town of Tutshill Tornados
Harry Potter locations in Exeter along with Gandy Street and the Room of Requirement
Virginia Water – the Other Hogwarts Lake
Instagram locations at the Wizarding World of Harry Potter
How to visit Hagrid's Hut in Scotland
How to visit the Harry Potter Waterfall in Scotland
Malham Cove Harry Potter filming location
Harry Potter filming locations at Durham Cathedral
Save this Wizard Exploratorium Afternoon Tea review for later!